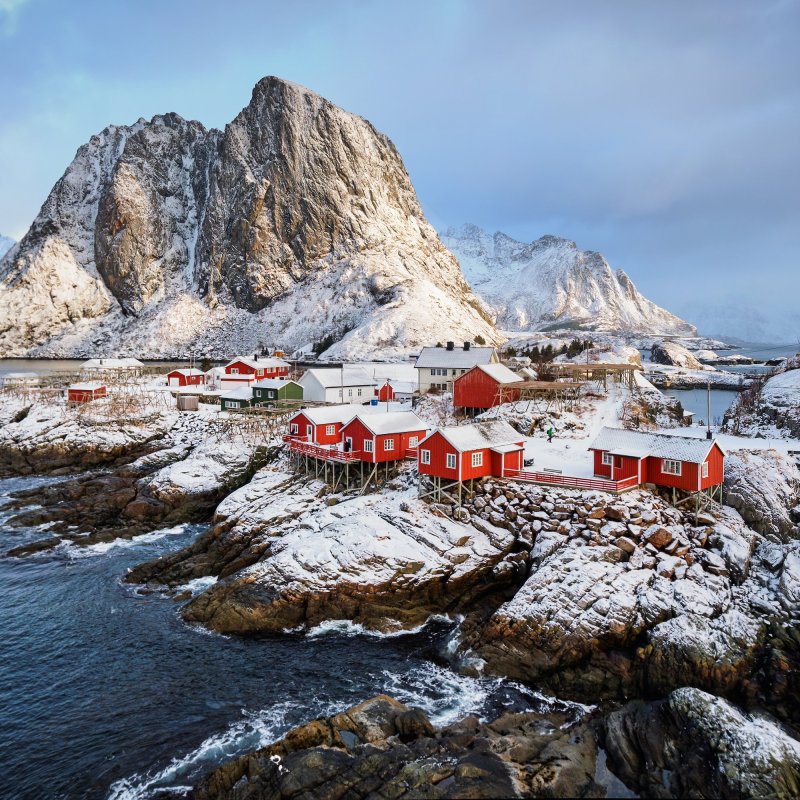 Say it with us: Norway. That sounds nice, doesn't it? Close your eyes — it looks nice, too, huh? Yeah, you should go to Norway.
Why wouldn't you? It's unwaveringly happy — measurably happy, in fact, routinely ranking near the peak of the United Nations' World Happiness Report — and it's uniquely beautiful, offering sights only visible in a country carved by glaciers and marked with an artist in practically every town. Every view holds wonder. The skies, seen through jagged mountains, hold wonder; the waters, passing through gouges in the polished bedrock, hold wonder.
Norway is most famous, perhaps, for those gouges. Fjords, as we know them. Even their names are captivating. Take its most famous fjord, Geirangerfjorden. Say it with us: Geiranger — okay, we'll come back to that one.
Norway is a must-visit Nordic destination, and it deserves a spot on your travel bucket list. We've compiled the main reasons why.
1. The Northern Lights
Between late September and late March, northern Norway is an ideal destination to view the northern lights. We can't put it any better than the folks at Visit Norway do: "It's like a celestial ballet of light dancing across the night sky." Green, blue, pink, and violet sashay beyond stark mountain views all through the night. At twilight, during "blue hour," the colors undulate before a glassy blue backdrop.
Prediction apps like NorwayLights crunch real-time data to give travelers a precise idea of when it's best to fix their gazes at the sky. Generally, though, the northern lights are best viewed on clear nights in northern towns with low light pollution — maybe one of these hotels will strike your fancy.
2. The Fjords
Speaking of unique scenery, Norway's fjords provide sights you'll forever cherish.
Millenia ago, massive glaciers trudged through what is now Norway's coastline. The icy behemoths simultaneously dug into and polished the bedrock, and today, the country contains more than 1,000 unique fjords to prove it. They're deep, u-shaped inlets with soaring cliffs on either side — many run for several miles.
Geirangerfjorden (or Geirangerfjord), along with Naeroyfjord, are listed as UNESCO World Heritage sites.
Norweigian fjords even host cruises. When the time is right — the summer brings sun while the winter brings northern lights — here are a few Norweigian cruises we recommend.
3. You Can Sleep In An Igloo
This needs no elaborate introduction. In Norway, amidst its heart-stopping scenery, you can snooze in igloo hotels.
At Lyngen North in the northern town of Rotund, you rest your head in the Glass Igloo 360. The Lyngen Alps and Lyngenfjord are right outside your glass walls. The northern lights put on a show in the sky above.
If you want a more natural-feeling igloo experience, consider the Tromso Ice Domes in Overbygd. They're actual ice structures rebuilt every fall. They're filled with ice sculptures, and you sleep on reindeer-skin mattresses. Your guide cooks your meals over an open fire and leads snowshoe tours.
4. The Wildlife
The Scandinavian wonderland hosts plenty of Arctic animals — you'll see reindeer, wolverines, elk, and lemmings throughout its 47 national parks. You might spot a bear, wolf, or lynx up north, and you're bound to run into a badger or beaver just about anywhere. Marine and freshwater fish populate its waters, and the abundance of salmon in Norweigian rivers attracts fishing enthusiasts from far and wide. Thick forests pack its valleys and climb into its mountains, hosting partridges and grouse, and its coastal islands are filled with nesting birds. Bring a camera and admire.
5. The Midnight Sun
In the Arctic Circle, there are weeks at a time where the sun never sets. The axis of the Earth is tilted so that even at midnight, the sun is low but still leaks its light out over the land. In the U.S., you can witness this phenomenon in Alaska. In Norway, you can witness it in the far north — in some towns, the Midnight Sun visits from May to August, while in others it only visits for a few weeks. Visit Norway has more information here.
We've written about the best ways to witness the Midnight Sun before — in Norway, you can even whale watch while basking in the low midnight glow. And if you do plan to make a visit, here are 7 ways to visit the Arctic Circle responsibly.
6. It's A Winter Wonderland
And if you think Norway shines in the summer, you should see it in the winter.
Norway's Lofoten Islands made our list of storybook winter towns in Europe. Reine, a town within them, "is located above the Arctic Circle, which means snowy landscapes and frosty views with yellow, stilted buildings edging the mountains." Magical winter towns can be found throughout the northern landscape, and even in the more temperate areas, Christmas is celebrated for weeks on end. Picturesque (and downright holly-jolly) Christmas markets and fairs are everywhere. If you're interested in planning a Christmas-market road trip throughout Europe, we've got you covered.
Skiing, no surprise, is their national sport, with particularly fantastic ski resorts in the central and eastern mountains. (If you need ski boots, we reviewed the best here. Same goes for ski gloves.) And if you'd rather not ski, book a dog-sledding tour.
A reminder: Especially if you're visiting a colder part of Norway, bring plenty of wool layers, thermal underwear, and water-resistant outerwear. That'll make this bucket-list trip a lot more enjoyable.
Before You Go
No matter the season, Norwegians strive to attain kos, a difficult to define but all-encompassing coziness. You can read up on it here. Get this place on your bucket list. Get there, then get kos.