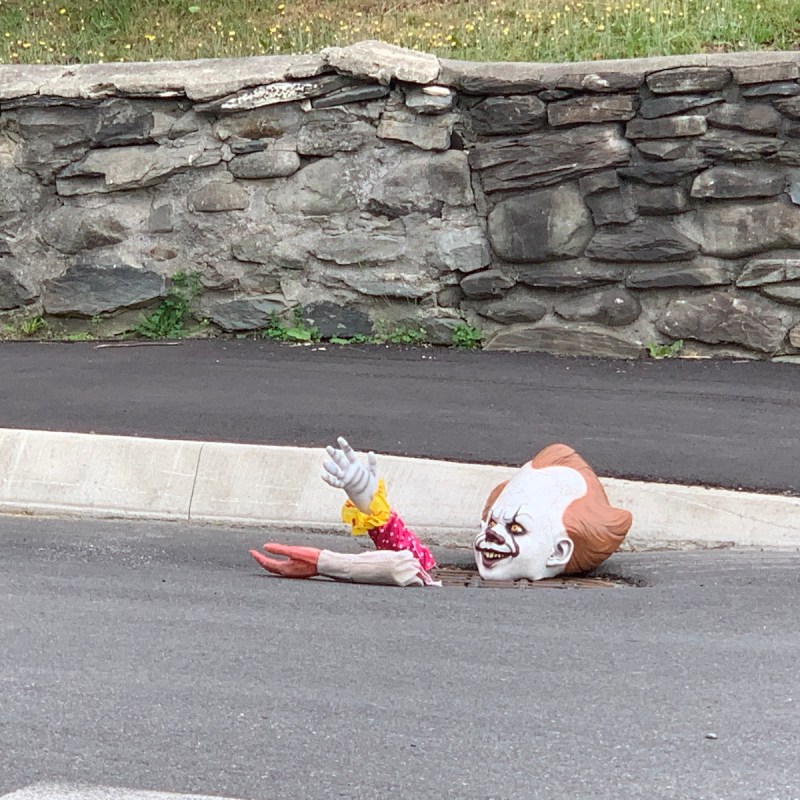 Beautiful Bangor, Maine, home to Stephen King, his family, and his fictional town of Derry. As an unsuspecting tourist, you can drive around Bangor and, perhaps, never even notice that you are passing by sites that every Stephen King fan is dying to visit.
As a Stephen King novice, I joined along on a tour of the most infamous King film and literary venues around Bangor. I have only read two Stephen King books, The Girl Who Loved Tom Gordon and Carrie. After the tour, I began to think I should read another one. The question was which one? Pet Sematary, It, The Green Mile, or maybe Night Shift would be good options. Any way you turn the page, I know for certain, I will be hiding it in the freezer when the plot becomes too scary.
Aside from King's literary and cinematic locations, be sure to check out these fantastic things to do in Bangor, Maine.
Some of the information in this piece was obtained during a sponsored press trip, but all recommendations are my own.
1. Stephen King Tour
I was fortunate to be a guest of Jamie Tinker, owner of SK Tours, for a Bangor Stephen King Tour. I was blown away by the eager enthusiasm of the others on the ride. It was completely contagious and I found myself giddy with expectation. I had no idea what I was getting into. The tour takes you to places where the lines between real life and the fictional town of Derry blur.
I have highlighted a few must-visit notables below. On the 3-hour tour, you will see between 20 and 30 different Stephen King literary and movie locations. Additionally, Tinker highlights the King family history, their attachment to Bangor, and the many generous philanthropic endeavors the Kings undertake.
2. The Corner Of Jackson And Union Streets
The van stops at the corner of Jackson and Union Streets which looks like many other intersections across the U.S. Tinker shouts, "Everybody out!" I, of course, had no idea why. The clown head and severed arm are artfully placed on the drain at the intersection and the tour group goes crazy snapping photos, staging tableaus, etc.
As it turns out, this is where, in the novel It, Pennywise, the evil clown, lures Georgie Denbrough with promises of candy, balloons, and a floating paper boat. Spoiler alert: Georgie doesn't fare well in this young-boy-meets-crazy-clown scene.
3. The Bangor Waterworks
It is amazing how an ordinary brick building can induce spine-tingling chills and hair-raising goosebumps. The Bangor Waterworks was featured in King's Graveyard Shift where it is home to a thriving army of giant mutant rats. This dark piece can be found in his short stories collection, Night Shift, which includes other short stories that are the beginnings of classic King novels.
While on the tour, Tinker was reading Night Shift and connecting the dots from short stories to novels for his eager guests. Many characters and their future stories were born in the shorts you find in this collection. It is a highly recommended read for every King fan.
4. Mount Hope Cemetery
Established in 1834, Mount Hope Cemetery is a beautiful garden cemetery that encompasses over 250 acres of land.
The famous burial scene in Pet Sematary was filmed at Mount Hope Cemetery. This outdoor stage is where King can be seen in his cameo role in the 1989 movie. King plays the minister presiding over one of the Creed family member's burial services. In a warped way, the scene plays out full circle since King's pen architected this untimely death and funeral.
Tinker recommends taking the Bangor Historical Society walking tour through the cemetery. While the tour isn't King-focused, it is a beautiful historic tour through the second oldest garden cemetery in the U.S.
The Creed House in Pet Sematary is a private home in nearby Hancock, Maine. You can drive by, but be respectful of the homeowners.
5. Thomas Hill Standpipe
The Derry Standpipe featured in It is actually the Bangor Water's Thomas Hill Standpipe, a National Historic Landmark. Tinker recalled, "I grew up next to the water tower and used to play baseball in Summit Park at the base of the tower. Living next to a landmark like that made the book It even more exciting. Stephen King made me afraid of the dark in my own corner."
It is widely reported that King sat on the park bench at the foot of the water tower and penned much of the book. The water tower is open four times a year for visitors to climb the stairs to the promenade deck for a panoramic view of Bangor (or Derry if you choose).
6. Paul Bunyan Statue
Lumberjack Paul Bunyan, a legendary woodsman, stands 31 feet tall in downtown Bangor. He represents the history of the logging industry in Maine and is beloved by visitors and residents.
However, Stephen King had an entirely different version of Bunyan when he penned It. King's Bunyan was possessed, stepped off his podium, and attacked Richie Tozier with his mighty ax. The gigantic Bunyan smashes the bench where Tozier had just been sitting.
When you stand at the base and look up at Bunyan, it is terrifying to think of this massive character coming to life and swinging his enormous ax your way.
7. Dysart's Truck Stop
The short story Trucks, which was the precursor for the movie Maximum Overdrive, is believed to be inspired by Dysart's Restaurant & Truck Stop in Hermon, Maine. Dysart's also has a truck stop location in Bangor. When you are visiting, you should stop in for a meal. They take a classic truck stop and amp it up to the max, offering great food, a fun pub atmosphere, and gas pumps to fill up your car before you leave.
8. Bangor International Airport
If you are flying into Bangor International Airport, you will recognize its runway and terminal from the TV miniseries, The Langoliers. In the series, passengers on a flight out of Los Angeles heading to Boston discover Bangor International is their only hope.
9. Gerald Winters And Son
Gerald Winters And Son Bookstore on Main Street in Bangor is the place to find all things Stephen King. Shop for King books, including first edition and autographed copies, along with memorabilia and collectibles.
10. Stephen King's House
Perched on a hill high above downtown Bangor is the family home of Stephen and Tabitha King. Wrought iron bats, spiders, and other creepy guests guard the stately Victorian mansion. The foreboding gate and dark red — some would say blood red — painted house coupled with the quirky Victorian architecture present a perfect house fit for a King.
Be sure to study the chainsaw wood carving on the side lawn. The carving features cute woodland creatures and phantasmagorical beasts coming together to create a fascinating art piece.
The King's purchased and renovated the old mansard house next to their own home. It is slated to house five authors for a writers in residence program somewhere in the future. Interested writers should stay tuned for details.
While the King family allows respectful visitors on the sidewalk at the gate of their home, however, they do not tolerate trespassers. Please note that the King family home does not host any tours nor does the house intended for the writers in residence program.
A Chat With Jamie Tinker
Tinker is a fountain of information about Stephen King, his fictional works, and his philanthropic legacy. Tinker passed on some thoughts about King's legacy and what is coming in the future.
When it comes to favorite books, Tinker said, "My favorite book is It; the first book that took place in the town of Derry (Bangor). That book showed me my town through the eyes of Stephen King. I know most of the locations personally, and that book scared the wits out of me."
Tinker is instrumental in working with film crews who visit Bangor. He has the inside track on what's happening and what's being planned. "I know of about 30 film adaptions in the works right now. The most recent one to come out is Lisey's Story on Apple TV. That is a great book and a great adaptation." Tinker also noted, "An adaptation of the short story from the Night Shift collection, Jerusalem's Lot, will come out on the Epix channel in August. That one is starring Adrien Brody and looks to be great fun. Also in the works is a very exciting documentary called King on Screen."
"A Stephen King Dollar Baby production titled I Know What You Need, will be filming at the University of Maine," reports Tinker. The King Dollar Baby program is a way for aspiring filmmakers to adapt one of King's short stories to film. Young producers and filmmakers can be authorized by the King foundation to use one of the short stories for $1.
Pro Tips: While these locations are important pieces of King's fictional legacy, they are also private homes and businesses. Please be respectful of individual privacy. You will need to book a tour with Tinker at SK Tours at least a month in advance. They book up quickly because they offer the best tour. And keep a sharp eye out for the red balloon!
If you're heading south after you visit Bangor, go check out this epic road trip from Bangor to Boston.