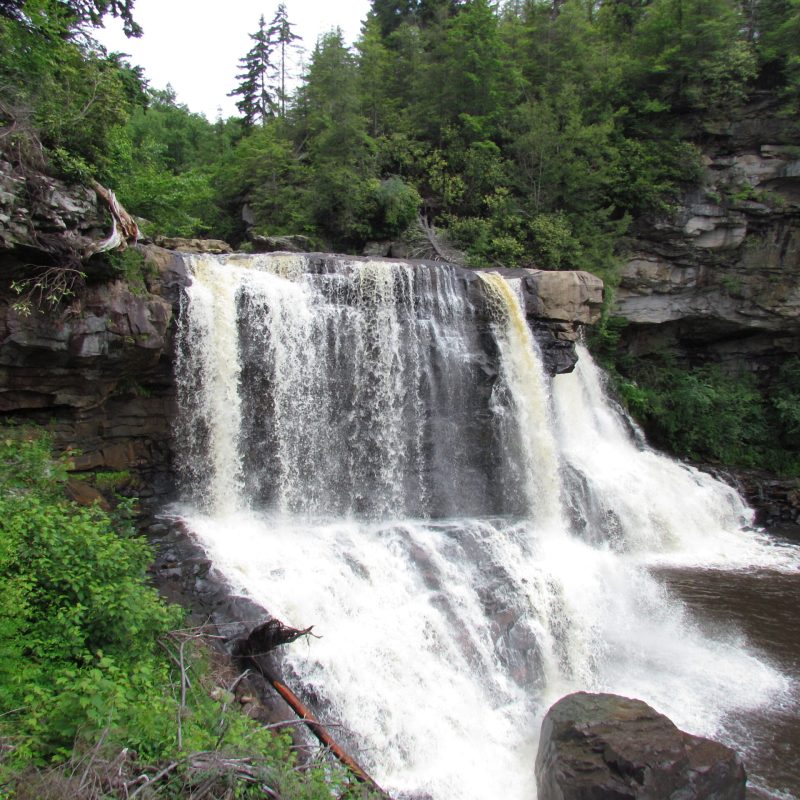 Wild, wonderful West Virginia is a nature lover's dream. Gorgeous trees and native plants are scattered through the river valleys, picturesque mountains, and majestic landscape. Visiting state parks is a great way to explore the beauty of the Mountain State, and the drive to get to them is equally impressive. Here are nine beautiful state parks to visit in West Virginia that I've either been to or heard friends raving about for years.
Blackwater Falls State Park, Davis
One of the most photographed state parks in West Virginia is Blackwater Falls, with impressive 57-foot cascading falls that require a semi-easy hike to get to. There are viewing platforms for those who cannot make it down the steep stairs to the water's edge so that anyone can enjoy the magnificent photo-ops.
The pathway winds through magnolia-laden grounds, where the dampness in the air invigorates your mind and body — a great place to experience a dose of nature. Blackwater Falls State Park is located in the Allegheny Mountains of Tucker County and has 20 miles of hiking trails among its 1,688 acres.
Pro Tip: If you decide to hike to the bottom of the falls for optimal views and photos, you will not be disappointed. Take your time going back up and allow for several resting stops between the flights of stairs.
Watoga State Park, Marlinton
You'll fall in love with Pocahontas County when you visit Watoga State Park, the largest in the state. This rustic setting has cottages and campgrounds that are mostly booked up year after year by families returning for an annual vacation. You may be surprised to know that many of these families are from New York. Many of the cabins (legacy, classic, and vacation) are pet-friendly.
Cast your line in Watoga Lake for excellent fishing opportunities. It is part of the Department of Natural Resources' stocking program.
Watoga State Park is by Stomper's Creek, in nearby Seebert. It is an easy place to launch your kayak or canoe or go for a brisk swim in the Greenbrier River. Tubing is popular in the area. The 77-mile Greenbrier River trail (wheelchair-accessible) runs through, as well, and is great for biking, hiking, horseback riding, and cross-country skiing.
Pro Tip: You can rent floats, bikes, and canoes, plus purchase sundries and souvenirs from Jack Horner's Corner.
Pipestem Resort State Park, Pipestem
It's been ages since I visited Pipestem Resort State Park, but my husband and I had a romantic stay in one of the darling little cabins years ago. The park has a couple of onsite restaurants and two lodges (one open seasonally) with hiking and walking trails and attractive grounds.
Pipestem is one of West Virginia's most popular state parks. It offers a unique aerial adventure, "Pipestem Peaks Zipline Tour," with heights of 1,600 feet, nine zips, and acceleration up to 50 miles per hour. There are 4,050 acres of the park to enjoy outdoor activities, plus an indoor pool, 18-hole championship golf course, mini and disc golf. Novelty attractions unique to Pipestem are ax throwing, 3-D archery (with equipment rental), laser tag, skeet shooting, and drone and remote control car racing.
Pro Tip: Pipestem State Park has horseback riding stables, as well as E-bike (electric bike) rentals and bike tours geared for your skill level.
Canaan Valley Resort State Park, Davis
Canaan Valley Resort State Park's sheer elevation in the Allegheny Mountains allows this destination to be a top ski attraction. Even if you are not a skier, you can still enjoy the New England-style setting and ride the scenic chairlift during the summer.
Canaan Valley's mountains are splattered with sturdy evergreens and abundant wildlife and are also a top golf destination with a par-72 Geoffrey Cornish-designed course.
You'll find choices for lodging at Canaan Valley ranging from a full-service lodge to cabins and a campground. The park also boasts 47 trails for downhill skiers and snowboarders, trails for snowshoeing and cross-country skiing, and a fun tubing park. A new feature at Canaan Valley is the archery range with five ground-level shooting lanes.
Babcock State Park, Clifftop
Visiting Babcock State Park is about as West Virginian as it gets. Here you will see the gorgeous and iconic Glade Creek Grist Mill, seen in so many pictures of my Mountain State. The magnificent property is spread over 4,127 acres. It is suitable for typical outdoor recreation (hiking, fishing, mountain biking) and just walking around to soak up the topography. On my last visit, I met people from seven different states while stopping for photo-ops and souvenirs.
Babcock State Park features 28 cabins, with 13 easy-to-get-to ones near Glade Creek, where the gristmill is located. All have Wi-Fi.
Geocaching is another activity at Babcock State Park and I saw several families partaking in the hunt this spring. In the summer, guests can swim, boat, or fish at Boley Lake.
Pro Tip: Drone photography is only permitted daily from 1 to 3 p.m.
Hawks Nest State Park, Ansted
I could drive West Virginia's Route 60 day after day and never tire of the dangerously curvy roads and the thrill of the terrain. Hawks Nest State Park is as close to home as it gets for this West Virginia gal. The scenic views are impeccable, and the rhododendron bushes add even more to the beauty.
Hawk's Nest State Park is in the midst of a huge facelift, including every inch of the lodge and its 31 rooms. They are shooting for a Labor Day weekend grand opening, but the restaurant is still open in the meantime. I hear the chicken salad is out of this world!
You'll find short hikes at the overlook (which also has a rest area and souvenir shop), or you can go directly to the lodge where you can also ride down the aerial tramway (it's fun!) to the bottom and then take a jet-boat ride if you wish. Another new type of lodging offered at Hawk's Nest is Tentrr campsites, a pre-set canvas tent on a wooden platform.
Hawks Nest is a melting pot, and you will almost always see dozens of motorcycles and cars from neighboring states, all eager to see the beautiful Mountain State.
Pro Tip: You can get a fantastic "birds-eye view" at the scenic overlook of New River Gorge National Park, West Virginia's newest and only National Park.
Cacapon Resort State Park, Berkeley Springs
One of the state parks I've heard a lot about is Cacapon, in West Virginia's eastern panhandle. Cacapon Resort State Park has mineral waters that are renowned for their healing powers. Other points of interest are the lake, golfing, and hiking. Courts are available for sand volleyball, basketball, and tennis.
You can find overnight accommodations at West Virginia's newest State Parks' lodge, Cacapon Resort's 124-room luxury lodge at the base of Cacapon Mountain. Perks include a seasonal beach with lake swimming, nature center, horseback riding, Pro Shop, and full-service restaurant.
Pro Tip: Climb to the top of the observation deck on Cacapon Mountain for views of four states: Pennsylvania, West Virginia, Maryland, and Virginia.
Chief Logan State Park, Logan
Found in southern West Virginia, Logan is growing by leaps and bounds and making quite a name for itself. Years ago, I enjoyed staying at Chief Logan State Park's Lodge, complete with indoor and outdoor pools, mini-golf, and modern hotel rooms. The conference I attended for this stay used the food and beverage services and the conference rooms, and everything went as smoothly as silk.
Chief Logan State Park is a 4,000-acre slice of heaven with lodging, conference facilities, hiking trails, and a 26-unit campground with a centrally located bathhouse. It is near the Hatfield-McCoy trailheads, an 800+ mile trail system that showcases the grandeur of the West Virginia hills. The Hatfield-McCoy Trail System is one of the most extensive off-highway ATV facilities in the world.
Chief Logan State Park itself is fantastic, and if you are adding leaf-peeping to your fall calendar, this would be an excellent place to pencil it in. At holiday time, visit "Christmas in the Park," a drive-thru holiday lights extravaganza.
Pro Tip: Celebrating a special occasion? Splurge for the West Virginia Suite in the park lodge.
Stonewall Resort State Park, Roanoke
Stonewall Resort State Park is one of West Virginia's crown jewels and makes for a perfect family getaway or vacation. Picture the setting: rolling hills with an Adirondack-style lodge overlooking the pristine grounds, three restaurants, indoor and outdoor pools, two hot tubs, and a plethora of amenities from golf to boating. The Arnold Palmer Signature Course is a delight and was one of my husband's favorite courses to play in the state.
On my stay, I took advantage of the outdoor fire pits, a perfect place to unwind with a good sweet tea at the day's end. Another ultimate way to relax would be with a visit to the Mountain Laurel Spa.
Stonewall Resort's signature restaurant, Stillwaters, is delicious. From Crab Hushpuppies and grilled mahi-mahi to a grilled cauliflower steak, you'll love everything about this menu.
Pro Tip: Take the grandkids on this adventure. They will love the mini-golf and indoor rock climbing wall.
West Virginia will appeal to nature lovers who want to experience mountains, woodlands, rivers, and waterfalls: