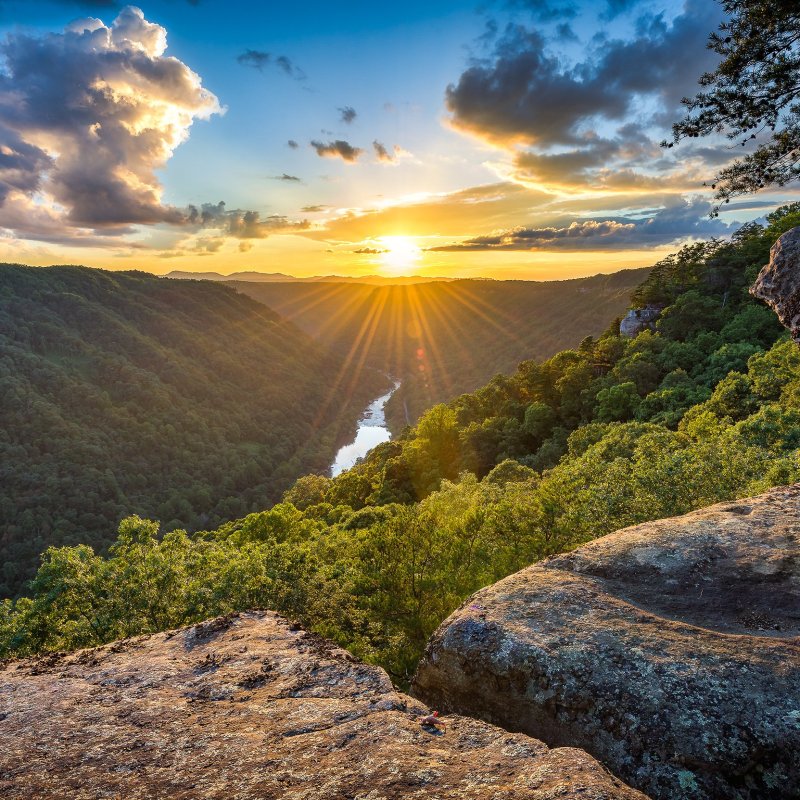 From the breathtaking natural beauty of the Appalachian Mountains to the quiet charm of its historic small towns, West Virginia has something for everyone. This often-overlooked state is full of adventures for the whole family to enjoy.
Whether you prefer to lace up your hiking boots and hit the trail, explore vast underground caverns, or step back in time to the turn of the century, you'll find a plethora of family-friendly activities to love in West Virginia.
Here are some of the best multigenerational things to do in the area.
1. Hop Aboard The Cass Scenic Railroad
Cass Scenic Railroad State Park is equal parts natural park and living history museum focused on the state's bygone lumber industry. At the turn of the 20th century, the area was owned by the West Virginia Pulp and Paper Company and housed a lumber mill. One of the best ways to enjoy this unique park is to hop aboard the Cass Scenic Railroad, where you can ride in style in a refurbished lumber car to Bald Knob, one of the highest peaks in the state and an incredible lookout site.
The entire excursion takes roughly 5 hours and passes through some of West Virginia's most impressive countryside. You'll be treated to a "King of the Road" lunch at the historic Whittaker Station, and you'll have the opportunity to take plenty of pictures along the way.
You'll begin your trip through West Virginia's impressive past at Cass Depot, right off of Route 66. Adults pay between $59 and $60 depending on the season and time of the week. Children pay between $51 and $56, and kids under three ride for free. There's also the option for an overnight trip. Tickets for the Cass Railroad tend to sell out quickly, so we strongly recommend that you book in advance by calling (304) 636-9477 or visiting the website.
2. Learn About West Virginia's Coal Industry
Learn about West Virginia's coal industry through a guided tour of Exhibition Coal Mine, one of Beckley's most intriguing tourist attractions. Although the experience is certainly child-friendly, it does highlight the harsh realities of working in the coal mines. The docents and guides are retired miners, so they have an encyclopedic knowledge of the mining industry and what has changed to make it safer and more pleasant.
The mine is only open to the general public between April and November from 10 a.m. to 6 p.m. You can book a private tour for 15 people or more during the winter by calling (304) 256-1747, depending on the weather.
Adults pay $22, seniors pay $16, and children pay $12.50. Plan to spend at least 3 hours at Exhibition Coal Mine. In addition to the mine itself, there's a youth museum and other mining artifacts to explore. The temperature inside the mine is always 58 degrees, even on the hottest summer days, so dress accordingly. Although the refurbished mining cars have padded seats, the journey might be uncomfortable for people with back problems and may not be suitable for the claustrophobic.
3. Go Spelunking
Below the crags and peaks of the Appalachian Mountains, there lies a whole new world of towering stalagmites, otherworldly creatures, and gorgeous terrain. The Lost World Caverns are roughly a mile long and widely considered one of West Virginia's must-do caving experiences.
The Snowy Chandelier, a magnificent stalactite, is one of the major highlights of the adventure, as is the Lost World Caverns Museum, where you can learn about some of the prehistoric remains that were unearthed in the caves.
To explore these ancient wonders, you'll need quality sneakers or hiking boots plus a jacket. The temperature in the caverns is always just a hair above 50 degrees. You can venture into the caverns on your own for $12, or book a Wild Cave Tour that takes you deep into the caverns to explore off-the-beaten-path tributaries of the main caves. The Wild Cave Tour is not suitable for children under the age of 10, and if you are claustrophobic or have trouble with your knees or back, you should skip it. There is quite a bit of crawling, and the tour itself takes 6 hours.
4. Stroll Through West Virginia's Past
For a quaint stroll through West Virginia's past, spend the day at Heritage Farm Museum & Village in Huntington. This interactive living village is the perfect snapshot of life in early Appalachia.
The museum comprises restored buildings, such as a traditional one-room schoolhouse and church, as well as plenty of museums that will keep both the kids and adults busy. Catch a lesson from the town blacksmith or indulge in some artisan bread at Heritage Farm's Bread Oven. Accommodations for families and larger groups are available right on the property.
If you'd like to check out the museum for the day, stop by between 10 a.m. and 3 p.m. during the week or on a Saturday. Heritage Farm Museum & Village is closed on Sundays and holidays. Adults pay $12, seniors pay $10, children pay $8, and children under two enter for free. Make sure to check the calendar to see if something special is happening the day that you want to visit.
5. Explore One Of The Last Remaining Trolley Parks In The Country
If you're traveling through Huntington, you can't miss Camden Park. This iconic 26-acre amusement park is the true embodiment of summer fun. It's one of the last remaining trolley parks in the United States, making it as historically relevant as it is fun.
Camden Park's busy season is between May and mid-August, but it remains semi-operational until October. For hours of operation, as well as special events, visit the website. Camden Park is fairly reasonably priced also, with general admission costing roughly $20 for adults and $15 for children and seniors. If you want to pop in for the evening only, prepare to pay half the general admission for the Starlight package, which runs from 4:30 p.m. until the park closes at 10 p.m.
Parking will set you back $5, and you can bring a picnic basket full of goodies to snack on while you catch all the thrills at Camden Park, making this a relatively affordable and very enjoyable day trip.
6. Take A Dip In George Washington's Bathtub
Want to take a dip in the same spot that George Washington did? Berkeley Springs State Park gives you the chance the unwind like a Founding Father with a balmy 74.3-degree bath in the middle of a glorious natural park.
Bathing in mineral water is thought to be good for both the mind and body, and you can treat yourself to additional spa services to round off the experience. Prices vary, but be prepared to spend at least $30 for adults and $12 for children for basic soaking rights.
Visiting Berkeley Springs is a great option for families because the mineral springs are kid-friendly, and many of the spa services are decidedly geared toward tired adults. It's the best of both worlds.
7. Enjoy An Epic Water Park
If you're looking for a place to cool off in Oak Hill, ACE Wonderland Water Park will fit the bill. This massive park features an obstacle course, a zip line, dizzyingly high water slides, and giant inflatable toys that will put puny pool noodles to shame.
It's all part of ACE Adventure Resort, but you don't need to be a guest to enjoy the water park. Half- and full-day passes are available. Plan to spend $20 to $30 per adult and $10 to $15 per child, depending on how long you want to stay. Children under five enter for free.
ACE Wonderland Water Park is open daily from May 24 to September 2, with weekend hours from early May through the end of September. No outside food is permitted, but there are vendors on the premises, so you certainly won't go hungry.
A Bonus: Feed The Llamas At Posey Thisisit Llama Farm
This attraction is technically located in Virginia, not West Virginia, but it's only a 25-minute drive from the Virginia-West Virginia border, and it's too cute not to mention.
In scenic Toms Brook, you can catch a glimpse of animals that are usually only spotted on the highest Andean peaks. Posey Thisisit Llama Farm is an excellent place to teach children about animal husbandry and llama care.
The llamas on this 27-acre farm are used for wool, and you can learn all about the process of rearing, caring for, and cultivating wool from these animals. Children (and adults) can pet, interact with, and feed the resident llamas.
Farm tours are free, but donations are appreciated. To schedule a tour, call the farm at (540) 436-3517. It's open year-round, but the spring and summer months are generally better for touring the property.
Hit the road and explore West Virginia for some of the most interesting family fun you'll ever have. This state has plenty to offer, and many of the best attractions are affordable, one-of-a-kind, educational, and memorable. Go explore, enjoy, and soak up the rugged beauty of Appalachia. West Virginia is the spot to be, so make sure that you put the Mountain State on your family's bucket list.