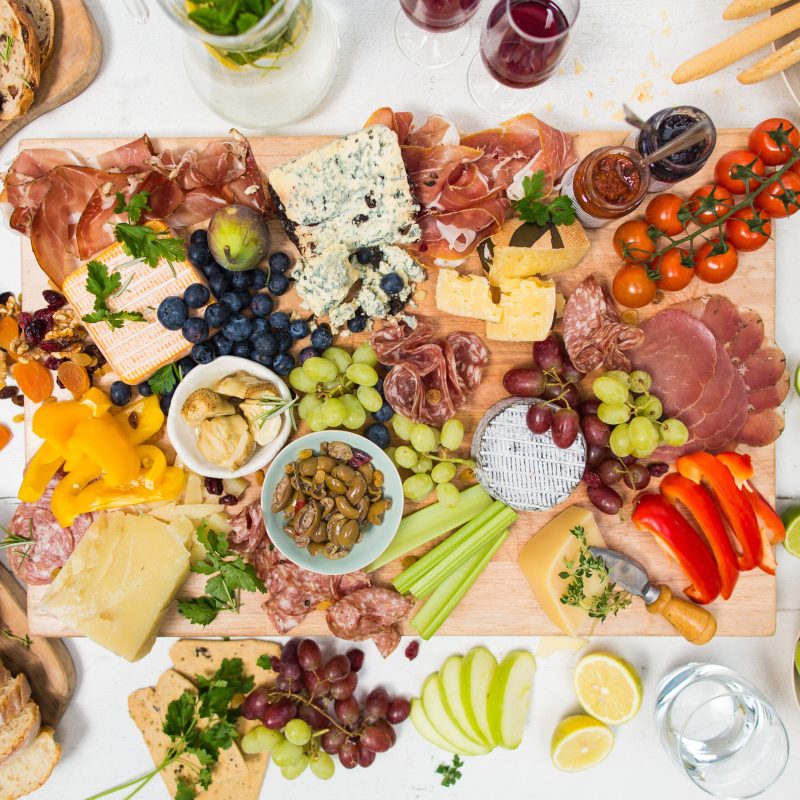 There's something very pleasing about spreading out a picnic blanket, settling yourself down in beautiful surroundings, and opening up your prepared picnic. Even better if it's placed in a traditional picnic basket. Better yet if someone else, a professional chef, has prepared the picnic for you! With a shift in how the hospitality sector works over the last year, many food businesses have started offering prepared picnics for you to buy and take away to your favorite spot for an alfresco meal. In no particular order, here's our pick of the best-prepared picnics to buy in the UK.
Noble House Picnics, London
High-end London food delivery brand Noble House Prepared has three picnic hamper (basket) options available, including savory, sweet, and mixed hampers featuring incredible products such as H. Forman & Son Smoked Salmon from the east London based smokehouse, homemade giant sausage rolls, and chef-prepared cheesecakes. These amazing prepared picnics are available exclusively online and delivered to your chosen address, so where you enjoy them is up to you. And so you don't have to second guess the British weather, all the baked items in the hampers come frozen so you can pop things like sausage rolls and scones in the oven to have fresh on a morning when the sun actually comes out! This is a luxury picnic with everything thought of for you.
Pro Tip: I especially love the scones with jam and cream, a traditional English cream tea. It even comes with smoked salmon and cream cheese.
Devon Hampers, Lifton, Devon
Devon Hampers was founded in 2014 and has always been an online business. Based in Lifton, Devon, it has expanded its workforce from two to 25 and moved to larger premises with its own bakery to cook fresh scones daily. It stands out for allowing customers to pick their own hamper contents. The firm has now added bunches of fresh flowers to its widening range of West Country products. Owned by Adam Fox-Edwards, former proprietor of the Arundell Arms Hotel in Lifton, Devon Hampers sells products from over 30 local artisan businesses.
Pro Tip: Although you can order from Devon Hampers and have your picnic delivered anywhere in the UK, their spot in Devon is especially beautiful. The village of Lifton where the business is based is a quaint English village with thatched cottages and sleepy lanes. The perfect place to enjoy a picnic.
Sweet Things, London
In London's Primrose Hill, neighborhood café and bakery Sweet Things has created a delicious picnic box that makes for a hassle-free accompaniment to picnics this summer. The box includes a smoked salmon cream cheese bagel, an avocado-roasted red pepper bagel, two mini handmade free-range pork, and caramelized onion sausage rolls, a coronation chicken quinoa salad with roasted peppers and mixed roasted seeds, two brownie bites, two salted caramel flapjack bites, two packets of crisps and two bottles of water.
Pro Tip: Primrose Hill is a great location for picking up a picnic. Head over to Regent's Park and enjoy your picnic in this vast former royal park. Wander down the tree-lined paths and lounge by the open-air theater, and relax near the lake.
Mandira's, Surrey
Mandira's Kitchen is an award-winning producer of authentic Indian food. Its all-women team is based out of a 400-year-old cowshed, overlooking the magical Silent Pool in the Surrey Hills. They create delicious freezer meals, and accompaniments such as chutneys and ice creams and also provide custom catering and food experiences such as cookery lessons and spice tours. All the food is made using fresh produce, containing no gluten or unpronounceable bits with vegan and dairy free options. Delivered to any address, the food can be heated in four minutes to give you a wholesome homemade picnic option.
Pro Tip: I especially loved the sweet cinnamon samosas, and the chutney is delicious. Choose your picnic and then head down to the Silent Pool, where you can enjoy this amazing Indian meal by the tranquil water.
Regency Hampers, Cotswolds
For a little luxury, order a Regency Hamper and you'll receive a traditional picnic basket filled with luxury goodies. I loved the wicker basket this picnic arrived in and the products inside are clearly high quality — there was even a half-bottle of prosecco. You can choose which items you want in your picnic or order one of the set picnics. The luxury chocolates are amazing, and this is a true luxury picnic experience. This is another picnic that you can have delivered to your chosen address and enjoy anywhere you like, but if you want to enjoy your Regency picnic in the Cotswolds, there's plenty of beautiful places in this area. This is a place of wide open green spaces, farms, and quaint villages, so you can take your picnic basket and find a quiet spot to enjoy it.
Pro Tip: For a soft drink option, add some cans of Belvoir to your picnic, the sparkling elderflower is light and refreshing for a warm day and the raspberry lemonade is fruity and fizzy. Great for anyone avoiding alcohol.
Little Mercies, London
Little Mercies is a neighborhood gem of north London usually known for the coolest cocktail creations. Like many bars and restaurants, Little Mercies has diversified and now launched Picnic Boxes for Two to be enjoyed outside. "Pick N' Mix" style lets you decide which drinks you want to include with your picnic, whether you're in the mood for wine or cocktails. Alongside a variety of delicious and unique wines, two of Little Mercies' most popular bottled cocktails are also available to add to the boxes — The Lockdown Bellini, a bright and bubbly concoction, and the fresh and tart Grapefruit Spritz. The alfresco fun doesn't stop at the drinks though, as the picnic boxes include tasty treats to snack on in the sun. Think olives, pimped hummus, flatbreads and truffle crisps.
Pro Tip: This location might not suit everyone for a picnic, but Crouch End is the perfect place to sit and eat al fresco if you like a spot for people watching. It might not have the green spaces, but it does have all kinds of life!
Macknade, Kent
With strong roots in the garden of England and the island of Ischia in Italy, Macknade is on a mission to bring producers, suppliers, and consumers closer together in true community spirit. You can explore one of Macknade's Kentish Food Halls or you can enjoy the Macknade experience from the comfort of home, with hampers and gifts delivered directly to your door. The Blossom picnic is great if you're vegetarian, and includes creamy Kentish blue cheese and Kent oyster and vinegar chips. You have the option to add a bottle of Kentish bubbly, making this a truly local picnic.
Pro Tip: If you go to the Macknade branch at Ashford, Kent, you can enjoy your picnic in nearby Victoria Park.
Easy Cheazy Picnic Box, Buxton
Brought to you by Buxton's Bradbury's Cheese, the Easy Cheazy Picnic Box features nine delicious components to help you create the ultimate cheese board picnic platter. Featuring a variety of six cheeses, two Barbers Popped Cheddar Popcorn, Tyrrells chips, and Grandma Wilds Oaty Biscuits, this is one for anyone who loves the cheese board in a restaurant and wants a very cheesy picnic.
Pro Tip: Buxton is another area of beauty and great outdoor spaces. Bradbury's is close to Buxton Breweries so you can pick up a drink to go with your picnic. Close by are Cote Heath Park, Temple Fields, and the Peak District.
Letter Box Hamper, Cornwall
The Letter Box Hamper makes small hampers of luxury British food and drink, beautifully wrapped and sent through the post by Letter Box delivery. Simple and easy, lightweight and perfect for popping in a small bag, it's all ready for one or two people to take straight out on a picnic, perhaps with a bottle of their favorite tipple. This is such a cute idea and I loved receiving my Letter Box picnic in the post. Inside there are a surprising amount of treats. Good things come in small packages!
Pro Tip: This is clearly a picnic through the post, but if you want to enjoy your Letter Box picnic where it's made, Cornwall has the most stunning places to relax with a snack.
Vallebona, Wimbledon
Vallebona is a small family-run Italian cheese, charcuterie, and pantry goods supplier based in Wimbledon. Vallebona has a selection of Grazing Boxes perfect for picnics. They deliver the very same charcuterie, cheeses, and all sorts of mouthwatering Italian pantry goods that it supplies to the likes of the River Café, Alain Ducasse at the Dorchester and Le Gavroche, or right to your home. The range includes the Cenetta Grazing Box, filled with Sardinian pasta, Tuscan sausages, jarred artichokes, antipasti, and a delicious selection of cheeses, and Festino Grazing Box, packed with Taleggio cheese, prosciutto Toscano, Ligurian bread, wild thistle pâté, and truffle honey.
Pro Tip: For something sweet, add some slabs of Flapjackery. This is seriously the best flapjack I've ever had and great for sharing, or for keeping for yourself!
Check out these other fantastic UK attractions: