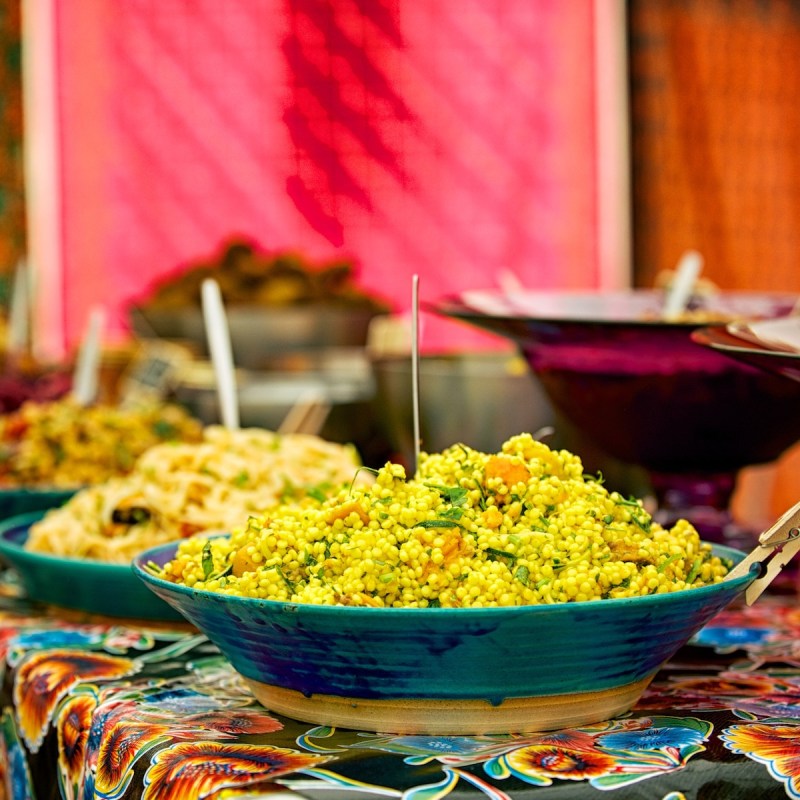 There's no better way to experience travel than through food, and visiting a food festival can be a great way to discover new dishes and foods from around the world. From local delicacies you'd never heard of to foods of faraway places, food festivals will introduce you to makers and producers right on your doorstep as well as those who bring their favorite food from other shores. The only problem is choosing what to taste! Get ready for a journey through food with our pick of food festivals to visit in the UK.
1. Bury St Edmunds Food & Drink Festival
With an annual line-up of cooking demonstrations from top celebrity chefs, the chance to taste and purchase food and drink from over 100 stalls and a popular farmer's market, the Bury St Edmunds Food & Drink Festival is a foodie's heaven. Celebrity chefs and TV stars don their whites and demonstrate their skills. The festival features professional chefs and self-taught cooks, and one multi-award-winning cheesemaker!
Pro Tip
The festival is held over the late summer bank holiday weekend on August 29 to 30, 10 a.m. to 4 p.m. The bank holiday weekend does get busy so make sure you book your tickets in advance.
2. Narberth Food Festival
Narberth Food Festival takes place in Pembrokeshire on September 25 to 26. The pretty market town has been home to the Narberth Food Festival for more than 20 years and the event features a range of stallholders displaying their wares, including wildflower honey, Welsh gin, gourmet fishcakes, brownies, fudge and artisan cheeses. There are also food demonstrations by chefs and foragers, live music, street food and a children's zone.
Where To Stay
Just outside Narberth is Grove of Narberth, a boutique bolthole (bolthole accommodations are lesser known boutique hotels, B&Bs, and self-catering hideaways). Set in a rural paradise, this 25 bedroom hotel has charm, history, and a gourmet restaurant to continue your food journey in.
3. Broadstairs Food Festival
Broadstairs Food Festival is a charming collection of stalls and demonstrations right next to the seaside in quaint Broadstairs. There are events at venues around the town, but the main festival with stalls, etc, is along the clifftop promenade and green above Viking Bay, meaning not only do you get a unique food festival full of local produce, you also get fantastic views of the bay.
Things To Do
Broadstairs is something of a hidden gem and there's lots to do while you're in town. There's a 1950s ice cream parlor, and independent art galleries and boutique shops. Don't miss a visit to Stark, the area's Michelin-starred restaurant.
4. VFest, Wokingham
More than a food festival, this vegan event features exciting headline acts, yoga, family entertainment, fun shows, and international speakers. VFest runs for three fun-filled days, June 11th to June 13 at Dinton Pastures Country Park, an idyllic oasis of woodland, meadow and lakes near Reading. The festival also features yoga classes, a club night, and circus skills workshops. The food is spectacular and varied, with a cornucopia of delicious vegan-world food dishes to choose from. There is also an onsite bar with a choice of vegan alcohol, as well as non-alcoholic drinks, juices, smoothies, tea and coffee.
Pro Tip
There will be a Rise and Shine DJ set — a morning rave to the sunrise — and an evening DJ set. Visitors can bring their own tent to three specially designated camping areas — Standard Camping, Family Camping, and Quiet Camping — which will be away from the main stage and entertainment, so if you want to avoid the rave and the rise and shine, this is a good option!
5. Bath Food Festival
In 2021, food festivals are making a comeback after having to stay quiet during the pandemic. And they are coming back bigger and better! Foodies are in for a treat this summer when Fantastic Food Festivals descends on Bath Recreation ground to transform it into a gourmet paradise on July 16–18. A passionate community of talented celebrity and local Michelin-starred chefs and experts will feature throughout the weekend. With a wide variety of local and national food and drink stallholders. Expect exciting family entertainment with circus skills activities and a live acoustic Jazz Band to create a party atmosphere.
Pro Tip
This festival changes locations year by year, so make sure you check where it's heading to next before you make any plans.
6. Lymington Seafood Festival
Now in its fifth year, the Lymington Seafood Festival is the boutique festival that everyone is talking about. Set in the heart of New Forest, it's a must-visit for any food lover. As well as incredible seafood, there's also live music, shopping, and other entertainment. But the main reason to visit is the delicious local food and drink, and all with a view of The Solent!
Where To Stay
Book a room at Balmer Lawn Hotel or stay in the self-catering lodge in nearby Brockenhurst. The hotel was originally a 19th-century hunting lodge and now offers guests a hotel, restaurant and spa, in stunning surroundings.
7. Gobefest, Manchester
For something a little different, head to Gobefest in Manchester, a celebration of Transylvanian food! The festival includes a Transylvanian barbecue, Transylvanian Chimney Cakes, langos — which are deep-fried flatbreads served with toppings including creme fraiche, cheese, and garlic — and high-end Transylvanian charcuterie, such as black pudding, liver pudding, deer salami, head cheese (pigs' head terrine), and smoked lard. It also includes an Istanbul grill of Bartha Beekeepers Natural Honeys gingerbread, Hungarian wine, Transylvanian craft beer, juices, smoothies, and vegan cake.
Pro Tip
Look out for the Transylvanian smoothie. Transylvania might be the home of the vampire and this smoothie is bright red, but not from blood, from berries!
8. St Albans Food And Drink Festival
Tickle your tastebuds and enjoy an exciting lineup of events at the legendary St Albans Food and Drink Festival. Now in its 13th year, the festival is hugely popular with locals and visitors looking for an incredible food and drink experience. The month-long festival takes place in September with a host of on and offline events that showcase the brilliant food and drink experts across the district. From online cookery classes to live demonstrations, meet and greets with brewers, chefs and growers to exquisitely paired tastings the festival is sure to please. The festival culminates with the vibrant Feastival street event on September 26. The central streets in the town will be peppered with over 100 food and drink stalls and bars with live music, entertainment, face painting and fun for all ages.
Where To Stay
St Albans is 20 minutes from London by train, so easy to get to from the capital. But if you want to stay over, book a room at St Michael's Manor, a privately owned historic hotel set in five acres of English country gardens.
9. Ginger And Spice Festival, Market Drayton
If you're looking for a festival that is very much representative of its place, the Ginger and Spice Festival is it. Market Drayton is famous for its gingerbread and so the town's annual festival is held in celebration of just that—gingerbread! The festival takes place in British Food Fortnight in September and is a real celebration of Market Drayton's heritage. Expect to see gingerbread sellers dressed in Victorian outfits and a town crier recreating a call for everyone to enjoy the festivities.
10. Dartmouth Food Festival
Dartmouth Food Festival first kicked off in 2002 and since then it has offered visitors a first class feast of food-based entertainment. There's workshops, seminars, tastings and demonstrations, all based around delicious Dartmouth food, and food from all over the world. This is a free festival so you can show up and enjoy the displays whenever you like. The festival is such a landmark in a food lover's calendar now, it's considered the best the South West has.
Pro Tip
There's lots to do in the area and Discover Dartmouth recommends taking advantage of a few attractions while you're there. The Steam Railway is a particular favorite and the Fizz Boat is just about the best way to enjoy the water — a champagne cruise! Stay at Dart Marina Hotel in a hotel room, junior suite or self-catering apartment, all with a stunning view of the marina.
11. Dorset Chilli Festival
This fiery festival only started in 2011 when they had just 5000 visitors. Fast forward and the Dorset Chilli Festival now has around 12,000 attending. Don't worry if you don't like chilli, there are plenty of non-chilli stalls for you to enjoy. The festival has recently changed venues and will now be held in Stock Gaylard, the deer park.
Where To Stay
To continue your festival feel, stay in a yurt, right onsite at Stock Gaylard, or go Farmstead Glamping near Stalbridge. If you prefer a little luxury, Plumber Manor is a nearby country house hotel.
12. Seaham Food Festival, Durham
The Seaham Food Festival literally transforms the area once a year with its stalls, demonstrations and cookery classes. Set alongside the sea, it's a beautiful spot for a festival that sends wafts of mouth-watering dishes into the surrounding air. Held August 7 to 8, it's a yummy day out in the sun where celebrity chefs mingle with local food producers.
Pro Tip
The festival also holds kids' cookery classes, so it's a great place to take the grandchildren.