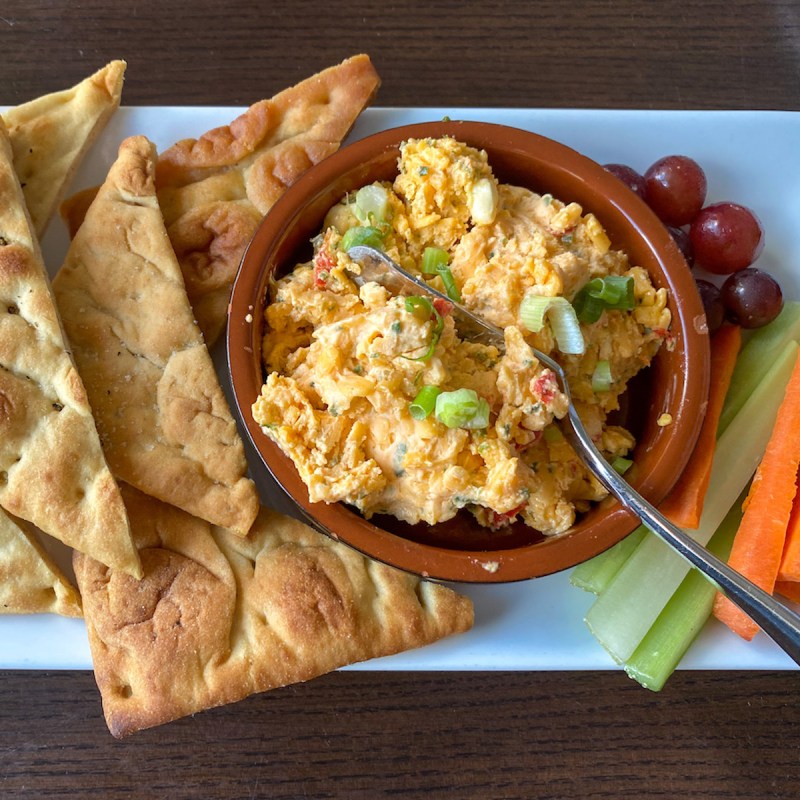 The dining scene in Wilmington is very eclectic. From high-end restaurants to dives with great food, there is something for everyone. Traditional Southern cuisine marries fresh ingredients from local farms and fishermen that make even the most finicky foodie happy. After visiting quite a few restaurants I found these are some must-try foods. Just about every restaurant had pimento cheese offered as an appetizer, each with its own version of this Southern classic.
Living in the Pacific Northwest, I don't often find truly well-prepared grits. It is an art to properly cook this traditional breakfast fare but my favorite style is shrimp and grits. Mac and cheese is another traditional Southern dish but you will find it jazzed up with seafood at many restaurants and is definitely worth a try. Wilmington is in the midst of the North Carolina Oyster Trail with many area restaurants serving these fresh local morsels.
Thank you to Visit Wilmington, NC River District and Island Beaches for hosting me on a Press Trip with an itinerary that allowed me to try these great restaurants. All opinions are my own.
1. PinPoint Restaurant
You can't go wrong with a restaurant named "one of the South's Best" by Southern Living magazine. PinPoint definitely deserves the designation. Dining here was a great leisurely experience with Luis Rodriguez who guided us through the menu. He is a jack of all trades: server, craft cocktail creator, marketing guru and I am sure much more. His recommendations for food and wine pairings were spot on and I loved learning about the history of the restaurant and where the food comes from. The menu changes nightly based on what fresh, local ingredients are delivered that day. The dinner menu always has a fish of the day, a chicken, beef, or vegetarian dish, and its famed double-cut pork chop cooked based on what fresh ingredients are available that day.
We got started with a little bit of everything: the appetizers we chose plus a few the chef sent out for us to try. The three types of oysters on the rocks were a good sampling of what you can find on the Oyster Trail and my husband enjoyed them. I did try the shrimp and mackerel-baked oysters, which were just fabulous. A beautiful presentation and so flavorful. The local carrots starter paired purple carrot hummus with crispy carrot tops, local honey, charred carrots, toasted pistachio, yogurt, carrot powder, and farm cheese served with toasted bread. This dish is the epitome of farm-to-table and so delicious.
I tried hogfish for the first time. Hogfish eat crustaceans, which give the fish the perfect combination of flavor, texture, flakiness, and richness. I always make a point of trying things that aren't available at my local restaurants. My husband had the insanely large pan-seared pork chop with ratatouille, collard greens, sweet heat pork rinds, beet mousse, pork jus, and local peach and blueberry mostarda. This dish had a lot going on and is a huge portion. I love the attention to detail the chef exhibits. Many times you have to wrestle with a pork chop but this was sliced in a way that made it easy to eat. This was an absolutely outstanding meal.
2. Kure Beach Diner
Get here early because the Kure Beach Diner fills up quickly. It's everything you expect in a diner. Great friendly service and stick-to-your-ribs food. Currently the diner is only open for breakfast. The specialty here is what they call a gravy biscuit. Just order one because they are huge. A giant fluffy biscuit is split in two and then smothered with a rich sausage gravy. Also offered are giant biscuit sandwiches with your choice of meat. Located right across from the pier, two-hour parking is available. We arrived at 7 a.m. when the diner opened and had no problem finding parking.
Pro Tip: Order a side of grits with cheese. So good!
3. Ocean Grill & Tiki Bar
The Ocean Grill & Tiki Bar is nestled between sand dunes and sea oats along a beautiful stretch of Carolina beach and overlooking the Atlantic Ocean. We opted for the upstairs dining room and had panoramic views of both. The menu offers a variety of fresh seafood prepared grilled, blackened, or fried. Try anything with the blackened mahi mahi, which was recommended by our server. My husband tried the blackened mahi mahi sandwich while I tried it in the fish tacos. Very fresh and tasty. If you don't feel like having a meal, head out to the pier and have a tropical cocktail at the tiki bar. Free, plentiful parking is conveniently available across the street.
4. Bluewater Waterfront Grill
Bluewater Waterfront Grill overlooks the Wrightsville Beach Marina and is famed for its coastal cuisine. The restaurant is very popular and only takes limited reservations for parties of eight or more. We arrived a little before 5 p.m. and only had to wait 10 minutes for a table. I enjoyed a handcrafted Sunset Margarita which hit the spot after a day at the beach.
The fresh seafood is the draw here. My husband tried the special, a Lobster Mac & Cheese while I had the Bluewater Shrimp & Grits. Large shrimp were sautéed with mushrooms and served atop stone-ground cheddar grits, smothered with a white wine cream sauce and generously garnished with bacon and chives. A really great dish with a comfort food feel to it. If you happen to be in the area on Sunday, stop by for Bluewater's live music series, "Patio Sessions," which runs all summer long featuring local musicians.
5. The Pilot House
I feel like I found the restaurant the locals love. Make sure you have a reservation, as this place is super busy. On a Sunday morning, a crowd was lined up to get into the restaurant, and even with a reservation, it took a good 20 minutes to be seated. It was worth it. Situated at the end of the Wilmington Riverwalk, the Pilot House overlooks the Cape Fear River with lovely views.
The Pilot House focuses on ingredients that are indigenous to the area and everything is cooked with fresh local ingredients with sustainably sourced seafood. This is traditional Southern fare with a modern twist. A case in point is the shrimp and grits, which is a unique take on this classic Southern dish. Slow-cooked collard greens are served with a fried grits cake. The crispy texture absorbs the jus from the collard greens without becoming a soupy mess. It is then topped with shrimp, kielbasa, mushrooms, heirloom red and green tomatoes, scallions, and Low Country seasoning. The flavor has a bit of spice to it without being overwhelming. Truly an outstanding dish. The service from our waiter Jay was great. He has only been at the restaurant a few months but is already very knowledgeable about the menu.
6. Cape Fear Rum Cake
This is not a restaurant, but I had to include this small family-owned business after receiving a sample of their rum cake in my welcome packet. These cakes are so incredibly rich, moist, and tasty with a rich buttery flavor without being too sweet. Anyway, after inhaling this delectable treat, I had to have more. What a perfect gift to bring home to family and friends. The cakes are offered in 5-, 16-, or 32-ounce sizes and come in a variety of flavors. The original Golden Vanilla Rum cake is the top seller. It is a buttery pound cake soaked in their secret rum glaze, which allows the cake to stay fresh for up to 6 months in the vacuum-sealed package. Danny and Angela opened their storefront right before COVID-19 hit but were able to pivot to online sales and local deliveries to survive. Their cakes are so popular, when I stopped by to purchase them Danny told me he can't keep them on the shelf and that everything in the store was no more than 2 or 3 days old. The cakes are made from scratch in their downtown storefront on Front St. in Wilmington. There is nothing like the smell of freshly baked cakes.
7. Taste Carolina
If all the restaurant choices seem overwhelming, try a gourmet food tour with Taste Carolina. Its Downtown Tasting Tour will take you throughout downtown Wilmington's Historic District, tasting and drinking along the way. You will meet the local chefs, owners, and bartenders at five to six restaurants and bars to learn all about this unique culinary scene. It is a great way to experience multiple venues especially if you are limited on time.
The restaurants on this list will give you a good taste of the local dining scene from downtown Wilmington out to the beaches. You definitely won't leave hungry after a weekend here. Bon appetit!
For more North Carolina inspiration, consider