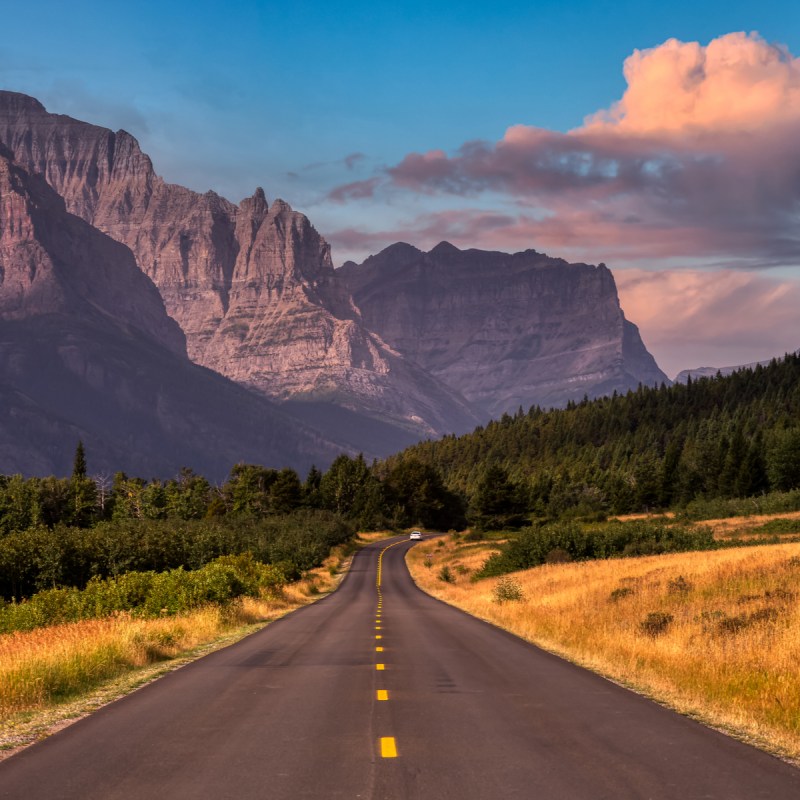 Although it is the impressive snowcapped mountains that inspired Montana's name, the Treasure State is also home to rushing rivers, lush prairies, and impressive geothermal features. From mountains to herds of bison, gorgeous glaciers to grizzlies, these unique spots can only be experienced in Montana.
Pro Tip: In addition to Glacier and parts of the northern and western extremes of Yellowstone National Parks, Montana has seven other National Park Service sites.
1. Watch For Wildlife
While you can certainly spot deer grazing on the Kansas prairie and bears lumbering through the Blue Ridge Mountains in Virginia, Montana is home to more animal species than any of the other 48 contiguous states. As long as your Montana adventure takes you at least a few feet outside of any city limit or along any hiking trail, you're highly likely to encounter wildlife in the Treasure State. Watch for deer hiding in the tall grass and snakes sunning themselves on rocks. And in the little town of Gardner near the north entrance to Yellowstone, it's not uncommon to see elk resting on the high school football field!
Naturally, Yellowstone National Park is an amazing place to spot a wide range of species, but so is the Charles M. Russell National Wildlife Preserve. Located about eight hours northeast of Yellowstone in Glasgow, Montana, it covers approximately one million acres of land and is the second-largest wildlife refuge in the continental United States. In addition to elk, deer, and bears, watch for foxes, coyotes, and a variety of songbirds when you visit.
Pro Tip: While it's exciting to see wildlife in its natural habitat, Yellowstone and the Russell National Wildlife Preserve aren't petting zoos, so be sure to follow these safety tips when viewing wildlife.
2. Examine The Evidence At Pompeys Pillar
Known by Native Americans as "the place where the mountain lion lies," Lewis and Clark dubbed a beautiful sandstone rock formation about 30 miles northeast of Billings Pompeys Pillar in honor of Sacagawea's son. Covering just 51 acres, Pompeys Pillar National Monument is one of the smallest monuments in the United States. However, it offers phenomenal panoramic views and something you can only experience in Montana — Captain William Clark carved his signature into the soft sandstone wall on July 25, 1806, and this is the only remaining in-the-field evidence of Lewis and Clark's journey through the west.
3. Study The Battle Of Little Bighorn From A Different Perspective
As European Americans followed in Lewis and Clark's footsteps, expanding westward toward the Pacific Ocean, Native Americans understandably fought to protect their land and preserve their way of life from encroaching settlers and expansionists. Most American school kids are taught that Lt. Col. George Custer was a war hero who paid the ultimate sacrifice for the Manifest Destiny doctrine on the plains of Southeast Montana. But when you tour Little Bighorn with a Native American guide, you gain a different perspective of the battle.
Pro Tip: Discover more of the U.S.'s Native American heritage by visiting these places.
4. Gaze Up At The Starlit Dark Sky
With just over one million people spread across the third-largest state in the contiguous U.S., Montana has one of the lowest population densities in the nation. And when the sun sets, its famous big sky turns dark and sparkles with stars. Located in eastern Montana, Medicine Rocks State Park lies below one of the darkest skies in the world. As a certified IDA Dark Sky Sanctuary, it's a truly unique spot to stargaze in Big Sky Country.
5. Wind Your Way Between Glaciers
Located in Northwestern Montana, Glacier is the state's other crown jewel national park. The only route that crosses through the heart of the park, Going-to-the-Sun Road is considered one of the most scenic drives in the country. But if you want to wind your way past glaciers and over the Continental Divide, you'll have to plan ahead. Going-to-the-Sun Road is only open seasonally based on snowfall and plowing progress.
Fun Fact: Montana is the only state with a triple divide, allowing snowmelt to flow into the Pacific Ocean, Atlantic Ocean, and Hudson Bay.
6. Walk Along The Shortest River in America
Montana is famous for its trout-packed crystal clear rivers and is home to the source of the longest river in North America. But Montana also boasts the world's shortest river. The Roe River in Great Falls runs just 201 feet from Giant Springs to the Missouri River.
7. Go Grizzly Bear Watching
In West Yellowstone, just outside Yellowstone National Park, the Grizzly and Wolf Discovery Center is a not-for-profit wildlife park. It houses nuisance and orphaned animals that aren't able to live in the wild, offering visitors the opportunity to observe these fascinating creatures and learn how to coexist with them in a shrinking world. While the grizzly bears at the Discovery Center enjoy a safe and comfortable life, they are put to work as product testers. Manufacturers of coolers, garbage cans, and other products send their goods to the center where it is filled with a piece of fish, a drizzle of honey, and other tasty treats then sealed and placed in an enclosure with a grizzly. A timer starts ticking, and the bear is given an hour to tear into the container. If the bear is unsuccessful, the product is certified as bear resistant. But if the bear finds his way to the tasty treats, the company's engineers go back to the drawing board.
8. World Museum Of Mining
Montana's rich copper, silver, gold, and other mineral deposits shaped its nickname, the Treasure State. And Butte once supplied over 25 percent of the world's copper. So there's no place quite like the World Museum of Mining to discover the history of hard rock mining. Built around the Orphan Girl Mine, it's one of the few mining museums in the world that's located on an actual mine yard, and visitors can descend 100 feet underground to tour a mine.
9. Pan For Gold
When a large gold deposit was discovered in southwestern Montana in the 1860s, Virginia City quickly developed into a bustling mining town. Although the town is now home to just 200 residents, it's been preserved as a national landmark and is a unique living-history experience in Montana. Sink into the padded leather seats of a restored stagecoach and enjoy a narrated tour of town, then head toward Nevada City where you can pan for gold.
10. Slurp Noodles In The Oldest Chinese Restaurant In The U.S.
It would be reasonable to surmise that the oldest Chinese restaurant in the U.S. is located in California, perhaps in San Francisco's Chinatown at Grant Avenue and Stockton Street. But as it turns out, the oldest continuously operating Chinese restaurant in the U.S. is Pekin Noodle Parlor in Butte. In an historic brick building marked with a neon chop suey sign, this family owned and operated eatery has been serving guests everything from chow mein to sweet and sour dishes for more than 100 years.
11. Spend Time On Flathead Lake
Just south of the Northwestern Montana town of Kalispell, Flathead Lake is the largest freshwater lake west of the Mississippi River. So when you fish in or hike around this beautiful lake, you are certainly enjoying a unique spot you can only visit in Montana. If you boat on Flathead Lake, be sure to visit Wild Horse Island. Covered with old-growth Ponderosa pine trees, Flathead Lake's largest island is also home to a herd of wild horses.
Pro Tip: In addition to enjoying Flathead Lake, here are 10 more fantastic things to do in vibrant Kalispell, Montana.
12. Take Stock Of The World's Biggest Steer
Cows outnumber humans about three-to-one in Montana, so you're sure to spot a lot of them grazing in fields as you explore Big Sky Country. And while he's no longer living his best life grazing on the prairies of southeastern Montana, you can still meet the world's biggest steer at the O'Fallon Historical Museum in Baker. Other steers have since surpassed Steer Montana as the world's largest, but standing nearly six feet tall and weighing just under two tons, he was the biggest of his breed back in the 1920s. Nearly 100 years later, the red shorthair steer is stuffed and preserved in a glass box. There is no admission fee to visit him or any of the other treasures on display.