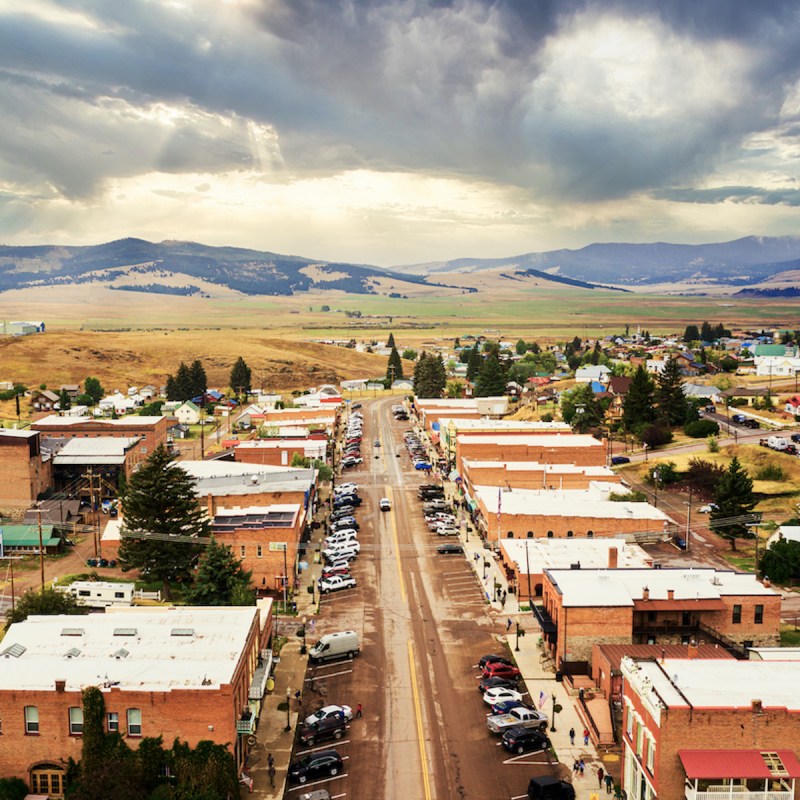 I have to confess, I lived in Montana off and on for nearly 40 years and never took the time to visit Philipsburg, located 54 miles northwest of Butte, Montana. On a recent road trip from Texas to Montana and Wyoming, I finally got off the interstate to explore this old mining town that has seen a revival in recent years.
Philipsburg is situated between two national forests and surrounded by lofty mountains that were still snowcapped in early June. The two-lane Highway 1 leaves Interstate 90 west of Butte, Montana, and passes through the mining town of Anaconda. The scarred earth gives way to lush valleys, crystal clear lakes, marshes that attract abundant wildlife, and exuberant creeks and fishing holes just waiting for anglers.
The town, named after mining engineer Philip Deidesheimer who designed the town's ore smelter, was founded in 1866 after miners discovered silver. The area boomed. Remnants of 24 ghost towns speak to the area's popularity in the late 1800s.
Philipsburg is enjoying a resurgence in popularity. Sweets and sapphires play a part. So does the walkable downtown lined with beautifully restored buildings that are home to shops, restaurants, and a brewery. For present-day visitors, here are some suggestions for how to spend a perfect day in quaint Philipsburg.
Best Things To Do In Philipsburg
Mine Sapphires
Main street is home to three sapphire galleries. The Sapphire Gallery and Montana Gems of Philipsburg have both hauled gravel to their storefronts for you to try your hand at mining for the gems. The Sapphire Gallery has set up an indoor, year-round facility to mine for sapphires and Montana Gems has an outdoor facility.
Gem Mountain, on the other hand, has a downtown gallery but its summer-only mining operation is in the appropriately named Sapphire Mountains, a scenic 23-mile drive from downtown.
If you've never mined for sapphires, the staff shows you how to work the sieve to get the sapphires to land in the center of the screen for easy picking. They'll also show you what to look for. Sapphires in this area come in a rainbow of colors.
All three sapphire galleries will look at the gemstones you've found. You can opt to have the stones heat-treated to enhance the color and cut if they are large enough.
I bought one bucket of gravel to sift through at Gem Mountain and had nine sapphires large and clear enough to facet. I used Sapphire Gallery to heat-treat and cut the stones.
Pro Tip: If you opt to mine for sapphires at Gem Mountain, wear a hat and bring water, as it is easier to spot the gemstones in the sunlight rather than the shade. Gem Mountain is wheelchair accessible.
Stroll Along Broadway
If you're looking to buy ready-made sapphire jewelry, all three shops I've mentioned have a beautiful selection of sapphire and gemstone jewelry.
In addition to jewels, the walkable downtown is home to Snookies Mercantile that has everything from souvenirs to a fully-stocked wine cellar. Across the street, check out the fine art photography at Fisheye Guy Gallery. Gizmos Toy and Novelty, Grassroots Gifts (which features made-in-Montana items), and Stuff and Such Antiques (an antique and vintage store that is sure to bring back some childhood memories when you see their reasonably-priced treasures) line Broadway, Philipsburg's main thoroughfare.
Satisfy Your Sweet Tooth
The Sweet Palace's motto is "Life is Short, Make it Sweet." I gave up sugar January 1. That all ended the day I walked into the Sweet Palace. I fell off the wagon in spectacular fashion. This shop makes its own saltwater taffy, fudge, and chocolates. You'll find a huge selection of nostalgic candies like Root Beer Barrels and Sugar Daddys. When it's taffy-making day, you can watch the process.
I can vouch for the chocolate Snicker-like fudge and truffles and the bear claws and Boston Baked Beans… you get the idea.
Pro Tip: The Sweet Palace and Sapphire Gallery, which is next door, are closed on Saturdays.
Visit A Museum Or Two
The Granite County Museum has artifacts from Philipsburg's early settlers as well as Native American arrowheads and beaded costumes. A Ghost Town Hall of Fame displays photos of the area's ghost towns with a brief description of their history.
The highlight of the museum is in the basement, where a mockup of the Granite Mountain Mine and a trapper's cabin give you a good idea of life in Philipsburg 100 years ago.
Pro Tip: The basement is not ADA compliant. Allow one to two hours for your visit. If you're interested in learning more about the area, check out the museum's comprehensive bookstore.
Nearby, the Montana Law Enforcement Museum is open Wednesday through Sunday afternoons. Along with a very small jail cell that is reportedly an excellent crime deterrent, a highlight included reading about Ruth Garfield. She was Montana's first female sheriff, appointed to the post after her sheriff husband was killed in the line of duty in 1921.
Take A Tour
In addition to strolling along Broadway, tour Philipsburg in the Gilmer and Salisbury Stage Line, drawn by a pair of handsome horses. The narrated 45-minute tour brings the early mining days to life as you pass the town's historic buildings, including the original schoolhouse, jail, and theater.
Take A Look At The Philipsburg Theater
Established in 1891, the theater is the oldest-running playhouse in the state. The newly refurbished historic playhouse hopes to host daily matinees of a documentary on the town, Saving the Burg: A Story of Blood, Sweat, and Beers. For current events, check the theater's Facebook page.
Visit A Ghost Town
Ghost towns are scattered throughout the mountains surrounding Philipsburg. Granite Ghost Town State Park is a five-mile drive from Philipsburg and was the site of a mine that yielded $40,000,000 in silver. Remnants of the mine, as well as building foundations and the miner's hall, remain.
Just one mile east of Philipsburg, wooden buildings remain from Kirkville Ghost Town. While the Granite County Museum showcases area ghost towns on their Hall of Fame wall, pick up a free newspaper/guide for a list and map of the county's ghost towns.
Pro Tip: Granite and Kirkville Ghost Towns are accessible by car. The others are reached more easily with a four-wheel drive vehicle.
Enjoy Georgetown Lake
Kayaking, boating, fishing, or a lakeside picnic are yours to enjoy at the 3,700-acre Georgetown Lake. Crystal clear water is home to trophy-sized rainbow and brook trout, as well as kokanee salmon. The lake, surrounded by the Pintler, Sapphire, and Flint Creek Mountain ranges, sits at 6,400 feet in elevation. Fresh mountain air accompanies the beautiful scenery.
Camping sites hug the shoreline. Grab some wine from Snookies Mercantile or fresh, organic fruit and cheese from Philipsburg Food Share (currently operating in the Philipsburg Theater lobby) for a picnic.
Pro Tip: You can purchase online fishing licenses on Montana Fish, Wildlife, and Parks website. If you happen to visit Philipsburg in the winter, ice fishing is popular on the lake as well as skiing at Discovery Ski Area.
Best Restaurants In Philipsburg
Most restaurants are located along Broadway. Across the street from the Philipsburg Brewing Company, Bricks Pub not only has the brewery's beer on tap, it has a full bar, great selection of wine, and a menu to please everyone's tastes.
For Mexican food, head to Kikos, a family-run restaurant. Check out its Facebook page for hours and the menu.
Head to Philipsburg Creamery for artisanal ice cream made in house with Montana cream, eggs, and even sugar from sugar beets grown in the eastern part of the state. To keep with a locally sourced flavor, try the huckleberry ice cream.
Sample a beer from Philipsburg Brewing Company. It is housed in the fully-restored Sayrs Bank, built in the late 1800s during the peak of the silver boom.
Pro Tip: Check its website for the live entertainment lineup.
If You're Spending The Night
I recommend staying at Kaiser House, which opened as a hotel in the 1880s. Fully renovated with comfy beds and fine linens, the historic building has five rooms. Each well-appointed room is unique and decorated in keeping with a hotel of this era. A hot breakfast is served each morning. It is conveniently located on Broadway.
Pro Tip: All rooms are on the second floor. Use the dumbwaiter for your luggage.