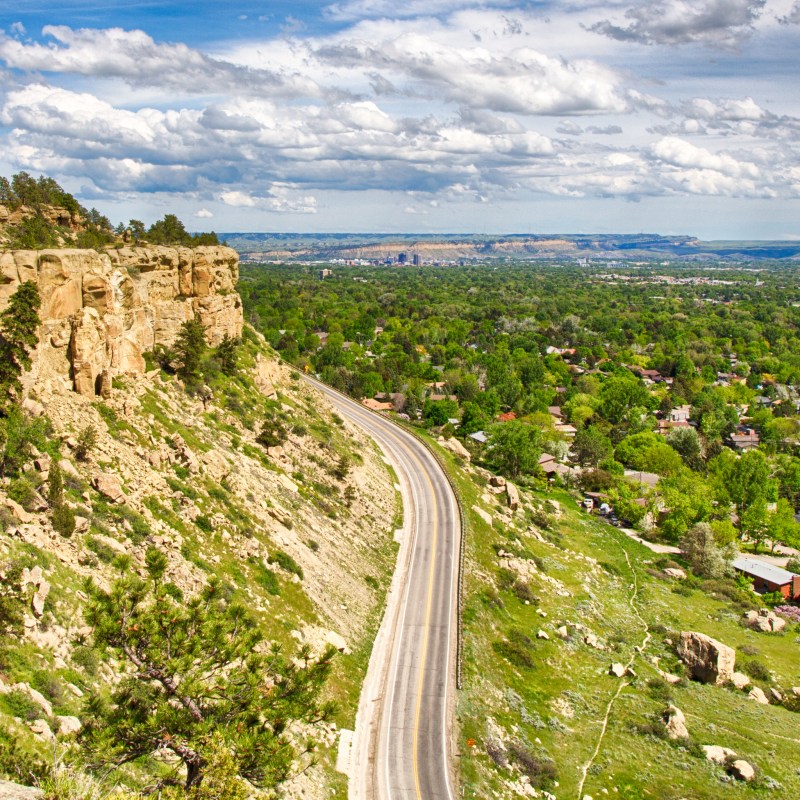 In Travels with Charley, a book that captures Nobel Prize-winning author John Steinbeck's road trip across America, he proclaims, "For other states, I have admiration, respect, recognition, even some affection. But with Montana, it is love." While it is unlikely that I'll ever earn a gold medallion stamped with Alfred Nobel's profile, I wholeheartedly agree with the 1962 literature laureate (as long as I'm visiting Montana in the summertime).
The best time to visit Big Sky Country is in May or June. By then, the snow is usually melting into thundering waterfalls and clear, fast-moving rivers. The meadows are thick with wildflowers and wildlife, and it's hard not to fall head over heels in love with Montana. This road trip through south central Montana can be stunning in other seasons as well — I've just discovered that I'm allergic to blizzards and Arctic temperatures.
Billings
The largest city in the Treasure State grew up around the railroad. In fact, the town was named for Frederick H. Billings, president of the Northern Pacific Railroad. Get an overview of Billings by climbing the stairs of the historic Parmly Library and visiting the Western Heritage Center. Learn about the indigenous Crow and Northern Cheyenne people who called this region home for thousands of years as well as the European immigrants who moved in on covered wagons and established its ranching legacy.
Next, travel a few blocks to the historic Moss Mansion. Built in 1903 by one of the city's most prominent and successful families, this three-story red sandstone home was designed by the same New York-based architect who designed the Waldorf Astoria and Plaza hotels. So prepare to be impressed! The 28-room, 14,000-square-foot mansion features delicate silk wallpaper, exquisite crystal chandeliers, and detailed stained glass windows. But the room I loved most was the bright solarium. With flowers lining walls of windows, this glass-domed space is where I would have wanted to spend every day that the temperatures dropped below 60 degrees.
Yellowstone Cellars & Winery
Wine connoisseurs don't often credit Montana with award-winning wineries, but that's exactly what you'll find at Yellowstone Cellars & Winery. From grapes grown in a small family-owned vineyard in the Yakima Valley, winemaker Clint Peck creates approximately 3,700 cases of wine each year. Sip a glass of chilled Summer Blend on the patio, or try some Rimrock Red while enjoying live music. Or if you visit Billings in September, join the annual crush that kicks off the new winemaking season.
Because Billings is known as Montana's Trailhead, be sure to hit the trails before starting this Montana road trip. One of my favorite spots is Zimmerman Park, named for the brothers who blasted a path through the rimrocks. It's hard to find more spectacular panoramic views of Billings than the ones at this spot.
Pro Tip: Although it is a short drive from Billings in the opposite direction, Pompeys Pillar is worth the detour. Not only is the rock outcropping a scenic sight on its own, but the sweeping views from the top of one of the nation's smallest national monuments are equally beautiful.
After you've experienced all the best things to do in Billings, it's time to head for the hills. Or, more accurately, the Beartooth Mountains.
Red Lodge
Located on the eastern front of the Beartooth Mountains, the quaint mountain town of Red Lodge is a popular ski spot in the winter. During the summer months, when temperatures typically top out at 80 degrees (and dip down to 50 degrees at night), Red Lodge is a refreshing break from the heat and humidity raging through much of the rest of the country.
Explore Broadway Avenue by popping into boutiques and galleries, grabbing a slice (or entire pie) at Red Lodge Pizza Co., and sipping a cup of joe at Coffee Factory Roasters. Just a few blocks off Broadway, Cafe Regis is another delicious option, especially if you are craving pork chili verde.
Red Lodge is known as the Gateway to Yellowstone National Park, and you'll be hard-pressed to find a more beautiful route to America's first national park than the scenic Beartooth Highway connecting Red Lodge to the Cooke City-Silver Gate entrance.
Yellowstone National Park
Having cumulatively spent nearly a month at Yellowstone National Park, I can confidently say that there isn't enough space in this article to do it justice. But you can discover the best hikes in Yellowstone and the best places to stay in other articles published on TravelAwaits. You can even discover eight reasons to visit Yellowstone National Park in the winter (but this cold-weather hater is not convinced!).
Willie's Distillery In Ennis
After you've seen Old Faithful erupt and navigated your way through a traffic jam orchestrated by bison in Yellowstone, head upstream along the Madison River to Ennis. You might think that a town with 1,000 residents won't have much to offer. But you'd be wrong. The most amazing liquor I've ever sipped is in this cowboy town.
Named after its founder, a North Carolinian from Appalachian moonshine country and an all-around badass (a former Army Ranger, Special Forces medic, forest firefighter, and smokejumper, to be precise), Willie's turns fresh mountain water and locally grown grains into some of the smoothest vodka, whiskey, and liqueur you'll ever drink. Because Montana is the land of everything huckleberry, I'm especially partial to the huckleberry sweet cream liqueur. Simply top off an iced glass of cream soda with a shot of it, and you've got the perfect summer cocktail!
Before heading to the next stop, grab a bite at the Gravel Bar right across the street from Willie's. Whether you keep things simple or order something more exotic (like the Bandito, Cowboy, or Sphinx), the burgers are delicious!
Virginia City
Just 20 minutes west of Ennis, Virginia City is a real step back in time. A bustling mining town after a large placer gold deposit was discovered in Alder Gulch in 1863, operations tapered off significantly at the beginning of World War II. Today, this National Historic Landmark district provides a unique living-history experience.
Get the lay of the land by taking a narrated fire engine tour or stagecoach ride through town. Then stroll down Wallace Street exploring historical landmarks like the opera house, mercantile, and bank. Before you call it a day, be sure to search for treasure by panning for gold. While you may not strike it rich, you're nearly certain to discover pyrite and small pieces of red garnet to bring home as souvenirs.
Butte
Speaking of mining towns, the next stop on this Montana road trip is Butte, the destination that may have single-handedly shaped Montana's state nickname, the Treasure State. Located on the western slope of the Continental Divide, Butte is home to some of the richest copper, silver, gold, manganese, zinc, and lead deposits in North America.
Start your visit with a trip to the World Museum of Mining, where you can discover the history of hard rock mining, explore an 1890s-era mining village, and descend 100 feet underground to tour a mine. Then admire the extravagant house known as the Copper King Mansion, built by William Andrews Clark, the Jeff Bezos of the early 1900s. The $500,000 he spent to build the 43,500-square-foot brick Victorian was a half day's income for the Copper King. Although the mansion is now a bed and breakfast, guided tours are offered daily from May through September.
Motorcycle daredevil Evel Knievel was born in Butte and briefly worked as a diamond drill operator in the town's copper mines. He is buried at Mountain View Cemetery.
Missoula
Nicknamed the Garden City, this college town on the western face of the Rockies produces many of the fruits and vegetables consumed in the region. One of the tastiest things to do in Missoula in the summer is to visit the farmers markets. (Yes, I said markets. Plural.) This town of 75,000 residents hosts three farmers markets weekly between mid-May and mid-October.
One of the biggest risks of visiting Montana in the summer is forest fires. While terrifying and destructive, fires are often beneficial to the plants and wildlife in the area. Explore the Missoula Smokejumper Visitor Center to learn about the techniques used to manage the wildfires that typically flare in mid-to-late summer.
From riding the carousel to rafting on a river, here are several more things to do in Missoula.
See why Steinbeck fell head over heels in love with Montana when you take this road trip between the state's two largest cities, absorbing the Treasure State's history, beauty, and wildlife.