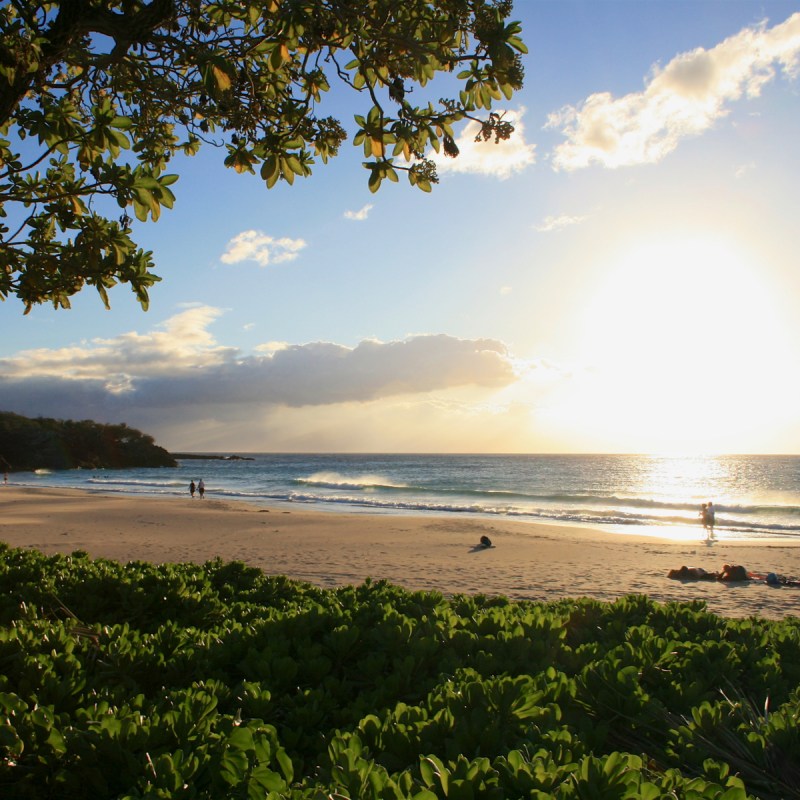 Memorial Day is a solemn day of remembrance, but the weekend leading up to it is also the unofficial start of summer. And it's when Dr. Beach releases his annual list of the best beaches.
As Dr. Beach, Leatherman curates a list of the best beaches each year, using 50 criteria. Those criteria include factors ranging from water and sand quality, water temperature, and beach slope to smell, the presence of pests, noise, and even crime levels. Dr. Beach has been creating his annual list of top 10 beaches — all of which are in the U.S. — since 1991.
Originally nicknamed "Dr. Beach" in 1989 by students, coastal expert Dr. Stephen P. Leatherman — who now is a professor at Florida International University — is internationally recognized as an authority on hurricane impacts, beach erosion, effects of sea-level rise, and rip currents.
So, let's get down to it. Here are Dr. Beach's Top 10 beaches for 2021.
10. Coast Guard Beach
Cape Cod, Massachusetts
As you would expect with a New England beach, the water is chilly — so visitors limit their time in the water to quick dips rather than extended periods of swimming. Coast Guard Beach, which is part of the Cape Cod National Seashore, is known for scenic views and its picturesque old Coast Guard station. If you're visiting the beach during the summer season, keep in mind that you'll need to park a short distance away and then ride a shuttle bus to the beach.
Pro Tip: Seals have moved into the area, which attracts great white sharks. Keep an eye out for red flags with shark images; they indicate sharks have been spotted that day.
9. Beachwalker Park
Kiawah Island, South Carolina
Beachwalker Park is a public beach on the southern end of Kiawah Island, not far from Charleston. Dr. Beach explains that although the water isn't clear, it is clean. While the water may not be ideal for swimming or snorkeling, it is a great place to canoe or kayak because you can explore the tidal inlets. You can also walk or bicycle on the beach while birdwatching — you can even bring your dog, as long as he or she is on a leash and behaves.
Pro Tip: Parking is limited, so plan to arrive early, and carpool if possible.
8. Coronado Beach
San Diego, California
Know what's great about Coronado Beach? The flat beach is hundreds of yards wide and features what Dr. Beach calls "fine sparkling sand" — making it perfect for walking and even skimboarding. Plus, the surf is warm and mild. The beach is also home to the area's local landmark, Hotel del Coronado, which was built over 100 years ago.
Pro Tip: Coronado Beach is on Coronado Island in San Diego's bay, which makes it a perfect place for ship-watching. Plan on spending time just watching ships entering and leaving the bay.
7. Caladesi Island State Park
Dunedin/Clearwater, Florida
First things first: Caladesi Island State Park can only be reached by ferry, private boat, or a long walk. But that shouldn't keep you from visiting. The water is sparkling and clear, plus the beach's white sand is soft and cushy, Dr. Beach explains. Anyone interested in canoeing or kayaking will love exploring the paddling trails among the mangrove trees.
Pro Tip: Birdwatchers take note: The island is a state park, so plan on seeing large blue herons and numerous other types of birds.
6. Duke Kahanamoku Beach
Oahu, Hawaii
Waikiki Beach can be crowded, but Kahanamoku Beach is far from the crowds because it sits on the western end of Waikiki Beach in Honolulu. Don't worry though — you'll still be able to see the picturesque Diamondhead volcano in the distance. Named after champion Olympic swimmer and the Father of Modern Surfing, Duke Paoa Kahanamoku, the beach is protected by an offshore coral reef, making it a popular swimming spot.
Pro Tip: The area is a watersport lover's paradise. Be prepared to swim, snorkel, bodyboard, surf, and kayak.
5. Lighthouse Beach
Buxton, Outer Banks, North Carolina
Named after the striped Cape Hatteras Lighthouse that was on the beach until 1999, Lighthouse Beach sits near the end of the island chain known as the Outer Banks. Lighthouse Beach also boasts the best surfing on the U.S. Atlantic Coast because Diamond Shoals — offshore sandbanks — focus wave energy at the beach. This makes the beach a paradise for surfers, bodyboarders, and skimboarders.
Pro Tip: Dr. Beach says you'll feel like Moses as you walk along this beach because the waves come at you from both sides.
4. St. George Island State Park
St. George Island, Florida
Sitting on a barrier island, St. George Island State Park offers miles of undeveloped beaches with plenty of places for swimming, canoeing, kayaking, boating, fishing — and just sitting in the sun on the park's fine, white sand beach. Dr. Beach notes that in addition to swimming in crystal-clear water, the beach is ideal for beachcombing and shelling.
Pro Tip: If you enjoy fishing, be prepared to catch flounder, redfish, sea trout, pompano, whiting, Spanish mackerel, and other fish here.
3. Ocracoke Lifeguarded Beach
Outer Banks, North Carolina
When you learn that a beach is Dr. Beach's favorite getaway beach, you know you're onto something special. So what's the appeal? Ocracoke Lifeguard Beach is on Ocracoke Island, 26 miles off the Carolina coast in the Atlantic Ocean. Part of the Cape Hatteras National Seashore, the island can only be reached by boat, ferry, or small plane. As a result, it offers what Dr. Beach calls some of the wildest beaches in the country. History buffs will love that Blackbeard the pirate once called Ocracoke home.
Pro Tip: The waves here get big in late summer, so families with children may want to come earlier in the year when the waves are smaller.
2. Coopers Beach
Southampton, New York
Shielded from the cold Labrador currents, Coopers Beach sits near the south end of Long Island, New York. The beach — made of grainy, white quartz sand — is hundreds of yards wide. The beach is known for both its large, grass-covered sand dunes and the views of historic mansions. Its facilities include concessions, a bathhouse, and chair and umbrella rentals.
Pro Tip: Weekends here are extremely busy. The beach has a $40-a-day parking fee, but considering the crowds, it may be worth the fee.
1. Hapuna Beach
Big Island, Hawaii
It probably isn't surprising that Hapuna Beach, located in a state park, comes out on top of Dr. Beach's list. After all, it has a beautiful white sand beach — and it's flanked by stunning black lava rock. What's more, the beach is known for its crystal-clear water that is ideal for visitors who want to swim, snorkel, or scuba dive. During the summer months, the beach swells to more than 200 feet wide, sloping gradually into the offshore waters
Pro Tip: There are plenty of restrooms, showers, and parking at Hapuna Beach.
Finally, as the weather warms, the school year ends, and the rate of COVID-19 vaccinations continues to rise, there's no doubt beaches will be crowded again this summer. Dr. Beach also offers some guidance as you plan your trip to a beach – or even beaches!
"Follow guidelines — and check them twice," Dr. Beach advises. "Everyone must take personal responsibility so that beaches can remain open to the public. Pay attention to all guidelines."