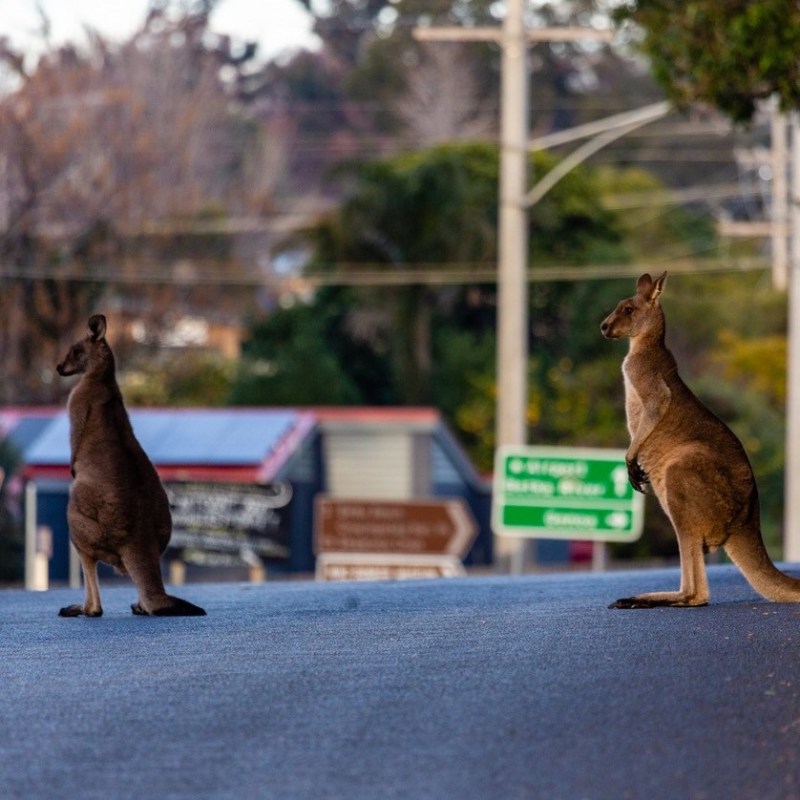 A friend expected to see kangaroos at the airport when she landed in Australia.
"That's absurd," I thought. "The only hopping kangaroos at our airports are Qantas logos bumping down the runways." But after Googling, I realized her claim was correct. In 2013, a kangaroo made headlines by hopping into a Melbourne Airport pharmacy, resulting in the entire airport being closed.
Normally, you won't see kangaroos in built-up areas unless visiting Mallacoota, where filmmakers shot the Skippy movie in 1968. Kangaroos still hop down the main street here. I'd seen photos. But I was as delighted as any overseas tourist when I stepped out of a restaurant at dusk, and a couple of roos overtook me.
Mallacoota is isolated but accessible. I visited onboard an AAT King coach on a press trip with Visit Victoria. The hamlet is a 20-minute detour off the Princes Highway, a famous coastal route between Sydney and Melbourne.
Surrounded By Nature & Wildlife
Mallacoota has just over 1,000 residents, nearly half aged over 60. Many holidayed here through their working lives and chose to retire here. The township is in the heart of the Croajingolong National Park — 338 square miles of coastal wilderness. Recognized as a UNESCO World Biosphere Reserve, there are over 1,500 plant species and diverse wildlife, including kangaroos, wallabies, echidnas, koalas, platypuses, and possums. Challenges include a 3-day Wilderness Coast Walk, scrambling over boulders, crossing river estuaries (which may require swimming), and trekking isolated beaches.
Fortunately for the less gung-ho, namely me, Mallacoota also offers short scenic walks close to town. Kangaroos on the local golf course often outnumber players. Short coastal walks mean spotting penguins, dolphins, and seals. Or whales from April to October during their migration. Twitchers — dedicated birdwatchers — can tick off over 300 species, including Crimson Rosellas, orange and black Eastern Spinebills, Black-faced Monarchs, green and red Olive-backed Orioles, and even elusive lyrebirds.
Water, Water Everywhere
The township is beside Mallacoota Inlet, comprising two lakes and an estuary system that opens to the ocean. Twelve rivers, creeks, and streams feed this inlet. Surfing is a local passion. When GQ asked Chris Hemsworth about his favorite Australian surf breaks, he said, "Mallacoota is responsible for my love of the ocean. I camped here every Christmas with my family, and it has everything – white sandy beaches, crystal-clear water, great surf, and an abundance of wildlife."
Such beauty lures families back through the generations. And while generally quiet, Mallacoota's population can swell to 7,000 during the Christmas holidays (our summer). Families often stay at Mallacoota's Foreshore Holiday Park, with its grassy sites and views of the inlet, making this the largest and possibly most social holiday park in Victoria.
Boating & Fishing Galore
Kayaking is popular because of the extensive waterways. Rent a houseboat or a small powerboat — no license required. Even in peak season, it's easy to find deserted coves for picnics. Hire a fishing rod as there are so many flatheads, snapper, whiting, tailor, luderick, garfish, bass, bream, and salmon it's impossible not to catch a fish. I loved watching the well-fed pelicans near the cleaning station where fishers fillet their catch. They are so tame they fly up to stand within inches of the hands about to feed them.
Skipper Dale Winward took us out aboard his MV Loch-Ard, a circa 1910 low-slung ferry he restored. The lakes are pristine, gentle blues with flashes of white from the underbellies of sea eagles that swoop down to trail the boat. Dale is one of Mallacoota's many great characters. And while knowledgeable about the town's history and wildlife, his stories are spontaneous and based on the questions tourists ask rather than rote commentary.
A Frontier Town For Abalone
Mallacoota introduces visitors to the amazing world of abalone diving. Locals are often retired divers, current divers, or related to a diver. They tell amazing stories about the hazards of the job, including the dreaded bends, where nitrogen bubbles circulate in the bloodstream and lodge in the joints. But they also relish the beauty of the undersea world that replaces the 9 to 5 and big-city traffic jams. Abalone is mainly exported to Asia, where it's considered a great delicacy. The industry began in the late 1950s when young men started coming down from Sydney on weekends to dive. The value of abalone increased after Asia depleted its stocks. In the early days, an abalone license cost $2. Today those licenses are worth up to $6 million and are handed down through families.
Sensational Seafood
Not all abalone goes to Asia. Occasionally the locals eat into their profits and toss one on the barbecue. Jodie York, one of Mallacoota's Wild Harvest Seafood Festival organizers, told me it tastes best after an initial bash, then thinly sliced and cooked in garlic butter.
"We demonstrate how to cook abalone at the festival," she said, "as well as feasting on local prawns and oysters. Guests can try abalone and pork sausages, sea urchin omelets, and Sailors Grave Brewing handcraft beers inspired by our ocean environment. Chris and Gab Moore's last offering was a Gose brewed with the subtle flavor of sea urchin and foraged lemon myrtle."
Outside festival time, Mallacoota still offers bounty from the sea. Enjoy fish and chips on a sunset beach or fresh fish on a barbeque. Lucy's Noodles is famous for seafood dumplings and tender abalone served over Lucy's handmade noodles and home-grown Asian vegetables.
A Pearl Of A Place
Have you ever seen an abalone pearl? Gerry Menke was a young man who came down to Mallacoota in the early years. Here he met his future wife, Mary, when she came over on a working holiday from New Zealand. They married in 1972 and had four children Sara, Brett, Anna, Paul, and then several grandchildren.
Gerry was an abalone diver for 30 years until he contracted the bends. The couple decided to try an exciting new business cultivating wild abalone pearls — an Australian first.
They left on a trip to France in 2014 to celebrate Gerry's 70th birthday, having only just won a Gippsland business award for their business MAPA (Mallacoota Abalone Pearls Australia) the previous year.
Tragically the Menke's return flight was on Malaysia Airlines Flight 17 (shot down over Ukraine), killing all on board.
The death of these long-time residents sent shock waves through the community. The Menke's adult children, who had gone their separate ways, decided to band together to continue their parents' dream of creating beauty from the wild ocean. Brett Menke said, "Abalone pearls are remarkable. Their natural imperfections make each unique. The opal-like colors can have swirls of vivid greens, blues, and even purples. People love to take away a small piece of this tucked-away corner of the world."
Tourists can see these pearls set in locally crafted jewelry at Mallacoota Art Space, next to Lucy's Noodles.
Rental, Lodge, Or Lighthouse?
I stayed at Gipsy Lodge, at the junction of the Genoa and Wallagaraugh Rivers, waking up to birds and wallabies. Dinner on the decking provides views of the 3 acres of gardens leading down to the rivers. Vrbo offers options, from quaint fishermen's cottages to multi-story houses with water views. The sprawling and historic Karbeethong Lodge (1922) overlooks the estuary. Or, for complete isolation, book the Lighthouse Keeper's Cottage on Gabo Island, home to one of the world's largest colonies of fairy penguins. Mallacoota has over 17 hotels — not bad for a small country town. But mostly, you'll find generations of Aussies camping on the foreshore, tucking into fish n' chips or barbecuing their catch.
Where There's Growth There's Hope
No one will forget the 2019 to 2020 Australian bushfires. They were the result of a far-reaching multi-year drought exacerbated by climate change. Many areas were affected, but it was the images of thousands of holidaymakers huddled on Mallacoota's waterfront under blood-red skies that hit the headlines. Thank goodness for all that water. The Navy sent in HMAS Choules to evacuate them. Locals lost 100 homes and their abalone processing plant (the co-op), the town's major employer. There is funding to rebuild. I was nervous about what I would find on my visit. But the main street is intact, saved by a change in wind direction. Endless beauty is everywhere. Australia's East coast has since had torrential rains. It's incredible to see how the regenerating bush shoots out wreaths of green. More light reaches the forest floor with less foliage, and there's a flush of wildflowers. Many wildlife died, but animals such as emus and flocks of Gang-gang cockatoos have returned. It's essential to replace previous images with scenes of Mallacoota as it is now. Even the kangaroos have returned to resume hopping down their main street. I hope you get to see them as I did.
Pro Tip: For more information, check out Visit Mallacoota.
Related Reading: