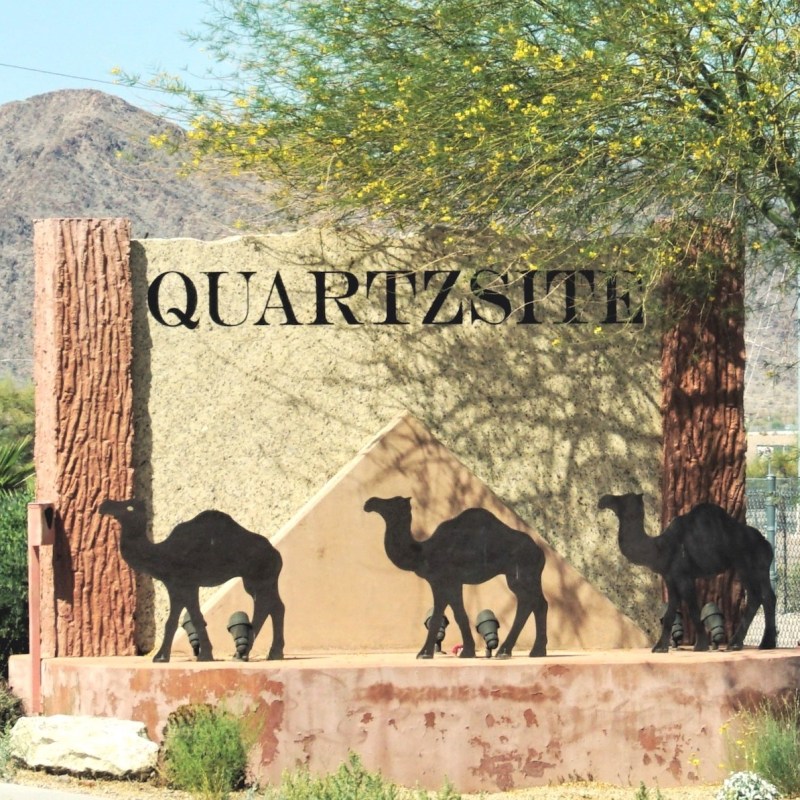 Last month at the Oscars, another Frances McDormand movie, Nomadland, won Best Picture. Having RVed across North America with my husband for eight years, we immediately identified with the storyline. Much of it was set in the small town of Quartzsite in Arizona where Fern (Frances) finally found her place in the sun.
Quartzsite was a usual stop for us along I-10, and this year, we decided to visit again. The sizzling 100-degree weather started at the end of April, so the winter visitors were all gone. We never stayed as long as they did, but we learned about Quartzite's mystique for RVers and other travelers alike.
Quartzsite, AZ Is A Fun, Almost Free Base Camp
1. There Are Unbelievably Wide Open Spaces To Camp For A Song
Bureau of Land Management Long-Term Visitor Areas (La Posa and Midland) surround the town. Primarily established to help preserve the desert, these public lands provide minimal facilities (vault toilets, dump station, and water faucets, but not power) for itinerant migrants with self-contained vehicles who seek to shelter in the area's mild climate during winter (when temperatures are in the 70s and 80s).
An annual pass costs $180 — or just $25 a month — and entitles van dwellers to stay from September 15 to April 15! As a matter of fact, stays of up to 14 days in any 28-day period are free at five designated campsites. The only caveat is that, after 14 days, campers must move to a new site outside of a 25-mile radius of their original site for at least 14 days before they can camp there again. Not a huge problem.
2. There Are Other Ways To Camp In Quartzsite, Too
There are also about 70 RV campgrounds in and around Quartzsite with full-service hookups. They are there for those who can afford them. These are for those who have opted to stay year-round. They may have found a permanent job, not just a seasonal post at an Amazon distribution center or the available winter posts at the shows (more on these below) like Fern did. And they may want to participate in the seasonal merry-making but do not like primitive camping. Still, some graduate into small mobile homes and end up staying forever.
3. There's Fun To Be Had With Like-Minded People
In the months of January and February, there are more than a dozen swap meets and a Prospectors' Panorama plus nine gem and mineral shows, craft shows, and the largest gathering of RVers, the Quartzsite Sports, Vacation & RV Show. Even in the 2021 COVID season, around 100,000 people came, meaning attendance was down by just a third.
In Nomadland, Fern was gently assimilated into the community with the help of the Rubber Tramp Rendezvous sessions, which included lectures on topics like bucket toilets (4 gallon or 12 gallon?) and were introduced by Bob Wells, who plays himself in the movie. Or for nighttime fun, there are the Quartzsite Yacht Club, the quaint motel, restaurant, and bar with rooms outfitted as different boats/ships, and The Desert Bar in nearby Parker.
4. The Desert Has A Lot Of Outdoor Experiences To Offer
The rugged land around Quartzsite is ideal for many outdoor activities in winter. Land sports like biking, hiking, rollerblading, skateboarding, geocaching, target shooting, hunting, kiting, metal detecting, rockhounding, stargazing, photography, and the big craze of off-roading are all things to do. In fact, the largest off-road trail in the U.S., the Arizona Peace Trail, passes through Quartzsite. Water sports — fishing, boating, kayaking, canoeing, wakeboarding, water skiing, jet skiing, rafting, floating, sailing, paddle boarding, and even scuba diving — are also available at Alamo Lake and on the Colorado River. Enthusiasts of remote-controlled planes and cars have a lot of space. There are also wildlife refuges to visit.
Quartzsite, AZ Is A Destination In Itself
From 1863 to the 1880s, when the Arizona Territory was still newly created, Quartzsite was the site of a waterhole and later a stage station called Tysons Well. There were many places worked by individual prospectors around the valley during the Colorado River Gold Rush from the 1860s to the 1950s. Large-scale operations did not succeed, but at one time, 39 mines were operating in the area served by two landing stations in the Colorado River. Today, there are still mines operating, and there are unique places in and around town with stories to tell.
5. Its History Is Preserved At The Quartzsite Historical Museum
Also known as the Tysons Well Stage Station Museum, unfortunately, the Quartzsite Historical Museum, which is housed in the Oasis Hotel of mining boom times, was closed when we were there. The outside exhibits were interesting, though. We got to see mining equipment, the Assay Office from the Margarita Mine, and Barrett's Miniature Village, created to scale with small rocks painstakingly glued together. And I couldn't get over the skeleton of the Giant Saguaro with 47 arms! How I wish I was there when it was still alive!
6. Hi Jolly Tomb And Cemetery Is The Most Visited Place In Quartzsite
Hi (Hadji) Ali was an Ottoman citizen of Greek-Syrian parentage who became one of the very first lead camel drivers in the U.S. Camel Corps, which had aimed to use camels as a major means of cargo transportation across the American Southwest. These efforts failed because the large animals caused the horses, burros, et cetera to panic, so Hi Jolly stayed and prospered in the town instead. When he died, he earned for himself a place in history, and the town erected a Hi Jolly Tomb, which is now surrounded by the Jolly Cemetery.
7. Celia's Rainbow Garden Is The Largest Free Botanical Garden In The State, And It Was Built By Volunteers
Celia was a miracle baby, born 12 inches long weighing only 1.25 pounds, to a couple who was told they could not have a child. Celia grew to be a caring, positive, curious "old soul" in a tiny body, beloved by everyone in all age groups for her outlook on life. When she was eight and a half years old, however, she caught a viral infection that killed her. The whole town mourned and the city gave her parents a plot of land for a garden in her memory. Volunteers came and still continue to come to Celia's Rainbow Garden, which everyone in Quartzsite can visit for free.
Quartzsite, AZ Is A Great Stop For The Weary Traveler
Quartzsite is at the crossroads of I-10 and I-95. It is midway between Phoenix and Palm Springs and is three and a half hours from Los Angeles and Las Vegas. We've made stops in Quartzsite numerous times. Perhaps the success of Nomadland will generate more curiosity, and people will stop not only to fill up or charge up at Tesla stations but also for food, shopping, and the quirkiness of Quartzsite.
8. Stopping For A Bite Will Leave No One Disappointed
Silly Al's Pizza is the town's watering hole with a bar and three billiard tables. But it is their pizza, especially Al's Special House Combo, that we are ready to go back for. It is better than the big-name pizzas in the cities. We also had lunch at the Mountain Quail Cafe, where Frances McDormand and the Nomadland crew had meals while on shoot. My husband delighted in the chili cheeseburger, the likes of which he hadn't seen on a menu for a long time.
9. Shopping Is A Must In This, The "Rock Capital Of The World"
The name Quartzsite comes from the quartz that abounds in the area, and other rocks and gems are common, too. During our most recent visit, rocks were on sale in a few smaller front yards that remained open despite it being the off-season, while some of the larger retailers had "See You in October!" signs out front.
The Main Trading Post and other shops with tons of jewelry and artwork remain open year-round. You will love the Trading Post's "World's Biggest Buckle," which measures several feet in height and width. And they will surely be selling Nomadland T-shirts and other movie souvenirs come October when tourism picks up again.
10. Having A Talk With Town Legends Is A Thrill
A good day became great when we met Joanne Winer as she sat in front of the legendary Reader's Oasis Books. Her husband, Paul, was the local celebrity called the Naked Bookseller (he wore just thongs) who performed his own composition "Next to the Track Blues" in the movie. It is now part of the soundtrack and is on the Nomandland CD. Sadly, Paul died after filming Nomadland, and Joanne received the $1,000 for his role. Their legendary bookstore also served as Paul's Music Hall, and the piano that he played in the movie is still there. Joanne entertained us with many stories and gave me a copy of the Quartzsite Encyclopedia, which she cowrote.
The beauty of Dome Rock Mountain, which overlooks the town, always greets me as we drive from California. Granite Mountain is to the southwest, Old Man Mountain to the northwest, and the Plomosa Mountains to the east. It is a big valley that never quite made it to be the metropolis that Phoenix and Los Angeles have become. But Nomadland may yet bring more traffic to this small town of character. Even if you do not stay for the winter, get a whiff of this town built by freedom-loving nomads who are trying to eke out a life in the desert, just like the cowboys did before them.