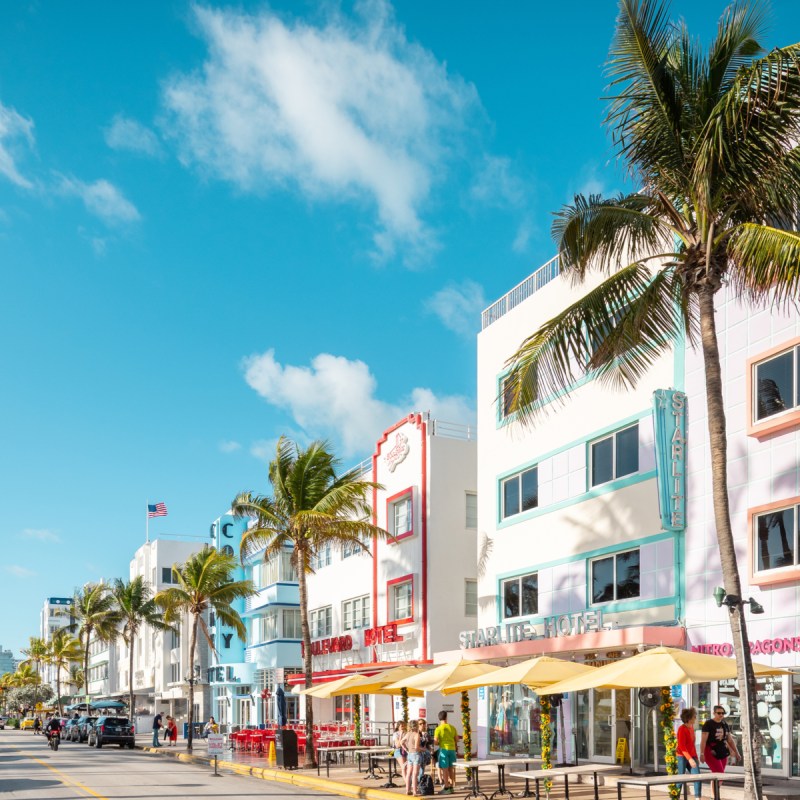 Whether you're visiting Miami for a weekend or a week, you're going to want to eat at some of the best restaurants in town. We've gone on the hunt to find the best hidden gems in Miami to help you avoid the busy tourist traps and get a real taste of what this wonderful city has to offer.
The next time you're looking for really great food in Miami, check out one of these five hidden gems.
1. Andiamo! Brick Oven Pizzeria
Pizza is a simple dish that, if done right, can make for a great meal. Andiamo is a brick oven pizzeria that serves up New York-style pies so authentic that you'll wonder if you're actually in the Big Apple. The atmosphere at Andiamo is not to be missed, which is part of the reason it has made its way onto our hidden gems list. It was actually converted from a garage and tire shop into an authentic brick oven pizza joint. The interior decoration highlights the building's unique roots while still serving its purpose effectively as a restaurant.
Andiamo is located in the MiMo district of Miami at 5600 Biscayne Boulevard. Be sure to stop in for lunch or dinner if you're spending any time in Miami's Upper Eastside. Andiamo serves authentic New York-style pizza, and their attention to detail shows in the presentation and flavor department. Expect to experience a thin, crispy-but-foldable crust that is piled with fresh sauce, salty cheese, and your favorite toppings. They have reasonable prices. Their personal sized, 10-inch pies run $10 and up while large options hover around $20.
It's hard to go wrong with any selection from Andiamo's extensive menu. They have something for everyone, with options such as eggplant, pesto chicken, and even tuna. Those looking for a more traditional pizza will love the New Yorker, which includes mozzarella, parmesan, olive oil, and aromatic basil.
2. Cayo Esquivel
When you're this close to the ocean, you're going to want to fit at least one seafood meal into your trip. If you're looking for some incredible Cuban cuisine as well, Cayo Esquivel is the perfect spot.
The outside of Cayo Esquivel is unassuming enough. Nestled in the southern end of Miami at 7725 SW 40th Street, the restaurant looks like any other urban concrete spot. You could drive by Cayo Esquivel 100 times without ever going in, and that's where you'd make a mistake. The inside has a completely different vibe from the exterior.
Once you step through the door, you're transported to an interior that's sure to be fun for you and anyone you're traveling with. Cayo Esquivel's nailed the seafood theme with reclaimed wood and rope accents throughout. The centerpiece of the restaurant is the bar, which looks like it was cut out of a boat.
Cayo Esquivel specializes in Cuban-style seafood with fresh catches arriving from the Keyes, the Gulf of Mexico, and the Carribean. The fish are filleted in house for peak freshness. You can even purchase fish at their in-restaurant market to take with you if you have a kitchen in your hotel, resort, or vacation rental.
The entrees are sure to leave you satisfied, and those looking for tropical flavors won't have to squint to find what they're after. The Corvina Morocco and Mahi Mahi Delight are bursting with salty ocean fish flavors and bright citrus notes that will leave a lasting impression on your taste buds. Make sure everyone you're traveling with is in the mood for seafood before making a reservation, as there are only three non-seafood items on the menu. Entrees don't creep too far over $25, and there are plenty of choices under $20.
If seafood is what you're after, Cayo Esquivel should be one of the first restaurants on your must-visit list. They actually have two locations (the other is in Hialeah, Florida). Despite being a multi-location restaurant, it's still worth checking out. It will be new and exciting for those outside the Miami area.
3. Clive's Cafe
Sometimes a hidden gem is almost too good to be true. Clive's Cafe is one such example. Despite the pile of awards it has won over the years, Clive's Cafe continues to fly under the radar at its new location in Little Haiti. The Jamacian-style restaurant moved from Wynwood to 5890 NW 2nd Avenue in Miami, and the restaurant's earned its hidden gem status thanks to its incredible food and local, community-first feeling. In addition to frequent live music to add to your experience, the restaurant also hosts several events throughout the year.
The menu features humble, flavorful, and affordable dishes that will remind you of real home-cooked meals that are hard to replicate, regardless of what world-class chef is preparing your meal.
Entrees run the gamut, and ultimately, you'll have a ton of control over what you're served. Entrees come with your choice of two sides. The chicken entrees give you a selection of seasoning and flavors such as jerk, curry, baked, fried, and even barbeque. Other meat options include goat, beef, and pork. Travelers looking for a truly unique dining experience can choose from oxtail or cow's foot. The menu is extensive and is sure to have something for everyone.
Whether you're looking for a quick lunch at a cool spot or a unique and less-rushed dining opportunity, Clive's Cafe will deliver on dishes that invite you to celebrate your Florida getaway.
4. Crackers
This restaurant has a unique name, but it's take on Southern-style food will provide the ultimate comfort while you're away from home. Simple yet delicious entrees are what Crackers prides itself on. Part of what makes this place a true hidden gem is the overall atmosphere, in addition to the delectable food, of course. It's located right in Miami Springs, but you wouldn't know it once you're seated. The surrounding foliage and garden take you out of the hustle and bustle completely and transport you to a tropical oasis.
The atmosphere is casual and comfortable, and the authentic and affordable menu features classic Southern food. Chicken fried chicken and eggs, portobello breakfast caps, and fried green tomatoes await you when you arrive Saturday or Sunday morning for Crackers wonderful brunch. Lunch and dinner service is available throughout the week with tasty entrees such as shrimp and grits, pan-fried catfish, and finger-licking barbecued ribs.
Be sure to check out this hidden gem at least once the next time you find yourself in Miami. The friendly staff and tasty food will be a favorite part of your trip.
5. Airport Cafe And Liquors
We aren't the first to declare Airport Cafe and Liquors a Miami hidden gem. We may not be the last either. However, the accolade stands as long as the incredible food found in this unassuming location remains the same. Once you've landed at Miami airport and have your rental car checked out, you won't have to go far to reach this hidden gem which, if you haven't guessed it by now, is located right next to the airport. Without knowing about its incredible food, you likely would have driven right by it in anticipation of hitting some of Miami's hottest spots.
The menu is inspired by the area and features dishes with cuban, Jamacian, and South American flair. Everything on the menu is packed with flavor, and you won't find anyone saying the food is bland or boring.
Start your meal off right with some stuffed potatoes or Argente-inspired empanadas. If you get the chicken wings, spring for some with flavor upgrades such as guava or parmesan garlic to give your meal a more adventurous feel.
The food is inspired and delicious but won't break the bank, either. Most entrees are well under $20, so you can start your vacation off without blowing the budget, or end it on the right foot with a memorable meal before your departing flight. Don't leave without trying the Dr. Pepper bourbon-glazed pepper jack burger, which is just as juicy, sweet, spicy, and delectable as it sounds.
Miami is a very popular tourist destination. This, on top of being a bustling city, can make it difficult to separate the best hidden gems from the behemoth tourist traps and simply mundane. If you're looking for a winner in the restaurant department on your next Miami adventure, these hidden gems have you covered.