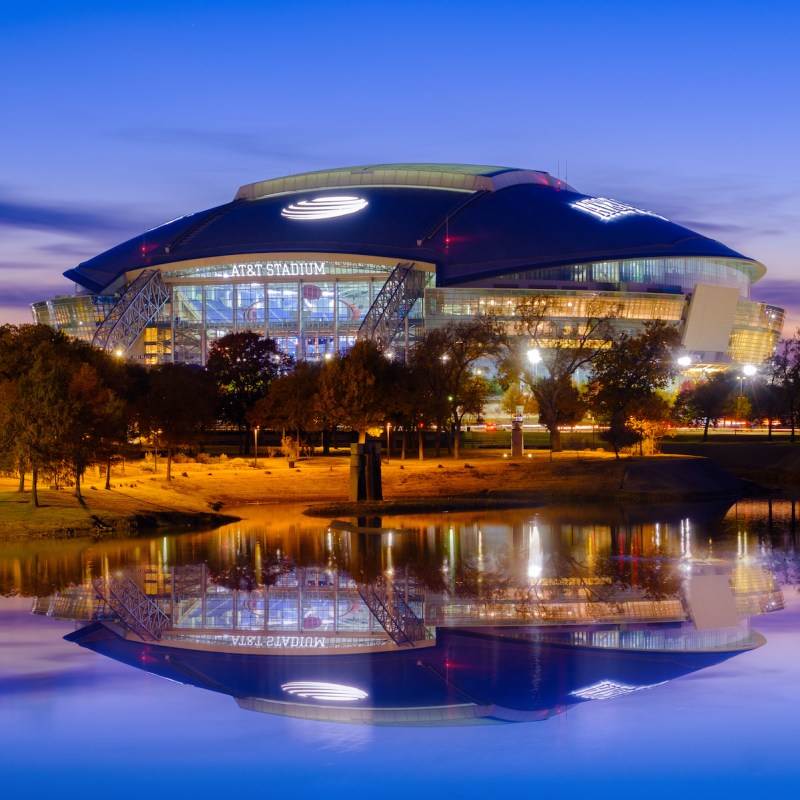 You may know Arlington, Texas, as the home of the popular amusement park Six Flags Over Texas and to the University of Texas at Arlington. Arlington has also evolved into a valuable place to visit to see your favorite sports team play ball and has boasted quite a few other attractions in the past several years. But what you may not know is that the city is home to thriving art, entertainment, and music scenes, with its historic downtown being at the heart of it all.
Arlington is about halfway between Dallas and Fort Worth and 15 minutes south of the Dallas Fort Worth International Airport. I was hosted at The Sanford House to see how Arlington has grown since treading my feet there years ago, but all opinions here are my very own.
Things To Do In Arlington
From sports venues or the huge shopping scene to a quaint historic downtown that's recently been updated, there's no doubt you'll find something to do that your family will enjoy.
You'll always find something fantastic to do in any area of Arlington. The Urban Union district, in particular, is an up-and-coming area that helped put downtown back on the map. With a recent facelift, this area now offers fun, food, and a fabulous time with family and friends, all in a walkable area. I had a nice time touring the area and finding fun places to eat to share here.
1. Catalyst Creative Arts
On the corner of art and creativity in downtown Arlington is Catalyst Creative Arts — an art studio and event venue where art is for everyone! They offer birthday parties, girls' nights out, lessons, and more. If you have something to celebrate, they will help you succeed with any art creation you want. And if you're lucky, you may get to love on Cookie, the studio's four-legged family member!
2. Stay And Spa At The Sanford House
One of Arlington's premium boutique hotels, The Sanford House is located in historic downtown surrounded by gorgeous greenery, a beautifully manicured lawn, and a large courtyard that's perfect for parties and weddings. You can choose between house rooms, cozy cottages, or villa suites next to the courtyard. It's a perfect setting for romantic stays and girl trips, and it's a female traveler's best getaway – always safe, always beautiful. While you're there, make a reservation for a self-care treatment at the spa. With each overnight stay, a hot breakfast is served in the Manor House dining room. I was hosted in a cottage for an overnight stay and loved their gated community.
3. Book A Charcuterie Board Pairing Event
Have you ever wanted to know how those wonderful charcuterie boards are put together? There is a right and wrong way to make one of these, and at Inspirations Catering & Events, that's exactly what you can learn to do. Reservations are required for 2 to 18 people, and it's located downtown.
4. Arlington Music Hall
From the first day of opening its doors in 1950, the Arlington Music Hall has been the go-to place for live entertainment. It's still going strong in the heart of downtown and has a few of its original pieces still attached, including the marquee sign. The Music Hall is the perfect place to experience all types of music, comedy, and theater. Bring the whole family for a great time.
5. Texas Live!
Texas Live! is one of Arlington's newest entertainment venues that combines entertainment, restaurants, and accommodations into one exciting destination. Next to the Texas Rangers' Globe Life Park and AT&T Stadium is where you'll find this spectacular event venue. It's the perfect destination for sports fans, and a family destination as well. There are live outdoor events almost every night of the week, and if you're hungry or thirsty, there's plenty of restaurants and bars to explore. Texas Live! is also adjacent to Live! by Loews luxury hotel, the perfect setting for all the above. Put on your dancing shoes and come out to listen to country, rock, indie, pop, and electronic dance music … a little bit of everything for its diverse crowd.
6. Take A Tour Of AT&T Stadium
I'm sure you know, but in case you don't, AT&T Stadium is home to the Dallas Cowboys. But did you know you and your family can take several different types of tours there? Some tours will appeal to all interests and ages and are available daily. Experience the field and throw the ball, marvel over the art displayed throughout the stadium, or opt for a self-guided tour. There's something for everyone, for a price. Be a kid for the day and have fun!
7. Take A Hike At River Legacy Park
Inside River Legacy Park is eight miles of paved hike and bike trails, a 10-mile mountain bike trail, picnic areas, a pavilion you can reserve, gorgeous river overlooks, restrooms, playgrounds, and more. A canoe and kayak launch is also available — plan for a full day at this park.
8. Rent A Pontoon Boat On Lake Arlington
When I was growing up, my family had a deck boat similar to a pontoon boat that we took out on the water almost every weekend at our lake house. This, by far, was one adventure this girl couldn't wait for. I loved sitting at the front of the boat, sometimes dangling my legs off the side and letting the wind blow my hair as I watched birds fly over and skiers jump over the wake. I caught myself daydreaming a lot. So if you're in Arlington for a long period of time, rent a pontoon boat and let the wind blow your hair! Check out what all there is to do at Lake Arlington.
9. Enjoy Nature At Crystal Canyon Natural Area
Enjoy a walk along a half-mile gravel path inside this 40-acre area in its natural state. Crystal Canyon Natural Area is one of North Arlington's hidden gems in nature. If you're into geology at all, this area is for you. Fossilized clams, gypsum layers, and fine grain sandstone have been found here. Immerse yourself in nature while reading educational signs along the way. Benches are along the path in case you need to sit a spell.
Pro Tip: It's a hilly path — wear good hiking shoes.
Best Restaurants In Arlington
Arlington is a metropolitan area, the second-largest city in the county next to Fort Worth. Restaurants in Arlington, TX, are widely diverse, with every type of cuisine imaginable, including a large mix of international cuisine. In downtown alone, you'll find many quaint restaurants with wide-open spaces outside on lawns and patios.
Restaurant506 At The Sanford House
For contemporary American cuisine, head to Restaurant506, located at Arlington's boutique hotel, The Sanford House. They serve lunch, dinner, weekend brunch, and a hot breakfast to their house guests. You do not have to stay at the hotel to eat at the restaurant. Reservations are recommended but not required. Closed Monday and Tuesday.
The Tipsy Oak
What's better than eating dinner and listening to live music? Eating on The Tipsy Oak's large outdoor patio, of course! What a cool place to hang out at night! Save room from the day's eats for house specials of sirloin, blackened salmon, or fried shrimp, or go for their mouthwatering hamburger and fries. It's a very quaint and laidback place downtown to hang out with friends and family. Order up a big helping of their smoked brisket cheese fries — you'll be glad you did!
Prince Lebanese Grill
Inside an old converted Sonic is home to Prince Lebanese Grill. Family is the center of it all. I love their story — it's a must-read and can be found on their website. Prince Lebanese Grill is also a favorite place to eat among the locals, says Jaime, owner of Catalyst Creative Arts — he says he goes there at least twice a month just for the rice. If that doesn't get you excited, Guy Fieri featured their famous rice recipe on Guy's Big Bite and on Diners, Drive-ins and Dives.
Legal Draft Beer Co.
A taproom with a huge outdoor covered patio serving up world-class full of flavor beer. Legal Draft Beer Co. is located in the Urban Union district of downtown Arlington. You must check out their locally brewed beer selection. I'm sure you'll find a favorite, and if you can't hang around, they sell beer to-go as well. Once a month, they hold an Urban Open-Air Market with fresh local vendors that come out and sell their wares.
Vila Brazil Steakhouse
When dinner rolls around, out comes a not-to-miss-steakhouse. Vila Brazil is one of Arlington's premier dining experiences, and they aim to please. And they know a thing or two about pairing your favorite wine with your dinner of choice. Reservations are open, and dinner starts at 5 p.m.
The Social House
An indoor-outdoor bar-type restaurant with wide opened doors that serves local cuisine made right in their scratch kitchen. The Social House is set up with the bar in the middle and TVs all around. Watch your favorite team play here, and socialize with your friends on any given day — open every day of the week.
Cane Rosso
Everyone loves pizza! When you try Cane Rosso, you may not want to eat it anywhere else! Your dining experience can be indoor or out on their large yard with picnic tables. It's a great place for the kiddos to run around. You'll love knowing they use the highest quality ingredients, and they make their own dough and mozzarella. The perfect pair — Texas Rangers and pizza! Just look for the red pig out front.
Pro Tips
Locals love downtown Arlington, especially now that it's been revamped and excellent family-friendly restaurants have come to the area. They love sitting outside on the patio of these restaurants.
Related Reading: