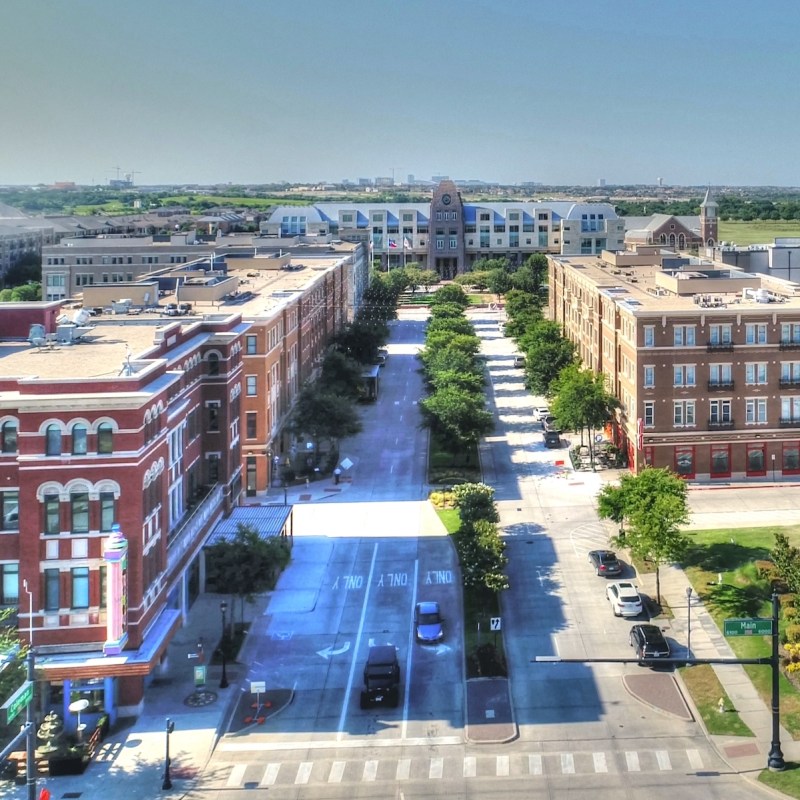 When you think of visiting a fun place in Texas that has it all, Frisco might just come to mind — after all, it's known as the city that plays. Frisco is also one of the fastest-growing cities in the country and a great place to raise a family. It's your go-to place for all things sports attractions, entertainment, and a foodie paradise. And it's only a 25-minute drive from the Dallas Fort Worth Airport north of Dallas.
Frisco, Texas has more than a couple one-of-its-kind experiences, and the newest is the PGA, coming to town in 2022. There's certainly a lot of excitement going on in Frisco for everyone to enjoy. Pack your bags for a long weekend in Frisco!
I was hosted for a long weekend in Frisco. All opinions are my own.
Things To Do In Frisco
The range of experiences in Frisco is wide opened and plentiful. I got to know Frisco a little better during my long weekend stay. Frisco is an old town with new vibes. Not only can you enjoy what I call the "old part of town," you can enjoy what put Frisco, on the map — The Star District, Soccer Hall of Fame, Stonebriar Centre, et cetera. But don't go to the city that plays without visiting downtown. It's so adorable with old houses that have been renovated into awesome, sweet, charming restaurants and boutiques.
Pro Tip: Most of what to experience in Frisco is walkable, and you'll find free parking everywhere.
The Star District
Are you a Dallas Cowboys fan? Okay, you don't have to be a fan of the Cowboys to enjoy this sports and entertainment district. The Star in Frisco houses several attractions, and one is the Ford Center — home of the Dallas Cowboys Headquarters and practice facility. This area also houses over 20 restaurants, upscale boutiques, a spa, and the cutest tea room — all in a walkable venue.
Heirloom Haul
Heirloom Haul is the darling tea room positioned inside the Flea Style boutique that sits on the corner right in the midst of all the excitement at The Star. It's the perfect place for brunch or lunch with your bestie. Also, inside the boutique is a space called The Bar that sells ready-made custom hats, and –here's the best part — they help you design your hat with all their vintage accents, including brooches, scarves, hairpins, and unique items that they find at second-hand stores. It's the neatest thing we came across.
Shop At Stonebriar Centre
With over nine million square feet of retail space, the Hyatt Regency hotel connected, restaurants galore, name-brand stores, and more, it's possible you might find yourself captivated in all the shopping. Stonebriar Centre Mall is one of the largest shopping malls in North Texas. Not only is there all the above, but there's also an AMC Theater, a carousel, and a place where you can create your own mixed media art called Pipe and Palette. We were hosted here and had a great time splattering our canvases! This would be a great place to celebrate a birthday or get a group together to have fun.
KidZania
Bring along the grandkids to experience this one-of-a-kind built by kids for kids learning and play facility: KidZania. It's one of its kind in the United States. At KidZania, there are over a hundred hands-on educational learning experiences for children ages 4 to 14. Let your kids' creativity and imagination run wild while they explore diverse cultures and role-play in various career-oriented fields. This is also located in The Stonebriar Centre.
Take A Self-Guided Tour To See Outside Art All Around Frisco
Do you love outdoor art? Frisco features one of the largest collections of public art in Texas. Take a leisurely walk around Frisco Square and City Hall and view Frisco Public Art. Be sure to look for hearts around the city that say #IHeartFrisco for those picture-worthy snapshots for Instagram. You can't miss them — look for the red hearts. Also, take a self-guided walking tour of the outdoor Texas Sculpture Garden at Hall Park. If time allows, take a tour inside for more art and information about the artists.
National Soccer Hall Of Fame
Calling all soccer fans! The National Soccer Hall Of Fame (NSHOF), where you can find fun and interactive experiences, is open to the public. It's also home to US Soccer, and it's located in the Toyota Stadium. The NSHOF honors the past, present, and future and includes virtual reality and interactive digital video boards to celebrate the players, veterans, and builders of American soccer. It features interactive exhibits and iconic soccer memorabilia and serves as the home for Hall of Fame induction ceremonies. Closed Monday and Tuesday.
Stroll Through The Rail District
Every town has a downtown, and this is Frisco's historic downtown all in a walkable area. It's quaint, eclectic, and full of charm. The Rail District comprises several things to do with family, couples, and groups, including dining, shopping, food trucks, and experiences. And, while you're there, look for the big beautiful white house that houses the longest-running family-owned and operated restaurant in Frisco: Randy's Steakhouse. I love this area and I love how business owners take old homes and turn them into quaint restaurants and boutiques. And, if rambling at a farmers market entices you, there's one here on Saturday mornings.
Pro Tip: There's free parking everywhere, including side streets.
Go For An Escape Room Experience
At Countdown 2 Escape downtown, if you dare, ask to be put in the hardest room they have! My friend and I experienced it, and though we can't say we escaped, we can say we had a lot of fun trying! I mean, how many clues can one group get?
Best Restaurants In Frisco
You'll find a great variety of food offered in Frisco. There is truly something for everyone, from family-owned restaurants and one-of-a-kind establishments to food trucks, upscale diners, hamburgers, and chips. You will not go hungry in this town!
Pro Tip: No matter where we ate, I noticed every restaurant asked their guests if they had reservations (even at establishments where reservations were not required). Luckily, we had reservations everywhere we dined. Our takeaway: It's wise to make reservations when dining out in Frisco, especially on weekends, including Friday nights.
J. Theodore Restaurant And Bar
Local fresh cuisine, hand-juiced cocktails, just-brewed espresso, made in-house bakery items, and a neighborhood favorite — what's not to love about that! Whether you want brunch, lunch, or dinner, J. Theodore is your place for fancy dining.
And while you're there, step over to the Rare Books Bar, a hidden speakeasy lounge accessible via the phone booth. What an experience that was. I picked up the phone and was asked what kind of book I wanted. I answered, and we were let in!
Eight 11 Place
Locally owned and located in The Rail District in a quaint old home, as I was explaining above, Eight 11 Place is your go-to for craft beers, curated wines, an unforgettable happy hour, and, of course, great fun and food. Make yourself at home out on the patio with live music most days of the week. At night, the patio is lit up with light strung above you. The ambiance is even more reason to come for a visit.
Pro Tip: Reservations are highly encouraged. Closed Sundays and Mondays.
The Heritage Table
As we sat across the street from where we had dinner, I kept looking over at this large old home painted a country hunter green, thinking that someone must live there as I didn't see any commotion. But, as soon as the lights came on inside and out, people were starting to arrive for dinner. I couldn't help but go over there and grab a menu so I could share it here. The Heritage Table is a scratch kitchen serving dinners that include salmon, steak, pork chops, fish, chicken pot pie, and more. The ambiance inside was dark, with candles lit at every table. To me, this would be a perfect romantic dinner for two.
Haystack Burgers And Barley
Located in The Rail District of Frisco, Haystack Burgers is a family affair featuring some of the best burgers in town and local Dallas/Fort Worth beers. It's definitely a place to take the family.
Tupelo Honey
When a friend recommends you try a restaurant she travels an hour to just to eat the biscuits, you probably should check it out. Tupelo Honey is that place: a made-from-scratch southern Carolina-inspired national chain located in The Star District. My first thought when I heard the name was the song "Tupelo Honey" by Van Morrison. I asked the waiters behind the counter if they've ever heard of the song and who sung it. They had to ask Siri — I guess I was showing my age. Okay, back to the biscuits! Not only are they known for their giant-sized buttermilk biscuits, they serve two on a plate for only $4, and all biscuit proceeds go to Tupelo Honey employees should they ever need assistance.
Best Hotels In Frisco
From luxury to mid-luxury to family affordable, you'll find a place to stay that fits your needs and wants. Here are a few to check out.
Hyatt Regency
The upscale Hyatt Regency in Frisco is connected to Stonebriar Centre. This is where we were hosted for the weekend. Our rooms were nice, spacious, and comfy. We enjoyed walking out of our rooms through the Copper and Steel Market through the glass doors to the mall. Very convenient for the mall shoppers. There's even a small children's library to the right as you walk out the glass doors. Parking is free.
The Westin Stonebriar Golf Resort And Spa
The Westin Stonebriar recently reopened after a $32 million renovation and features an on-site spa, golf course, and kid's club. Luxury at its best.
Omni Frisco Hotel
Adjacent to The Star is this luxury property that opened in 2017 and is the perfect spot for football fans. At the Omni Frisco Hotel, you walk out of the hotel and into the sports and entertainment district right at your footsteps. I enjoyed staying here a while back. The hotel is gorgeous, spotless, and eye-catching.
Pro Tips
Frisco's old and new is what locals love about their town. They can enjoy the newest things and also enjoy the laid-back feel of the downtown Rail District, and you will, too.
For more Texas inspiration, consider