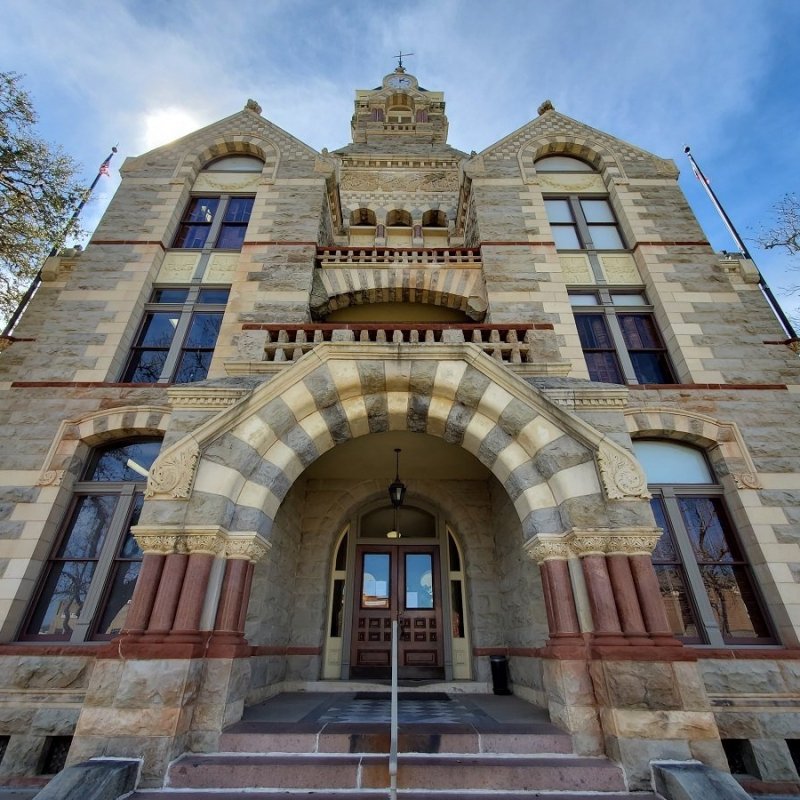 Founded in the early 1800s, the town of La Grange is loaded with history, going back to the days of Texas's battles with Mexico. If this isn't ringing a bell, but images of Burt Reynolds and Dolly Parton mysteriously pop into your head, maybe it's because La Grange was home to the Chicken Ranch — and the subject of The Best Little Whorehouse in Texas. An illegal brothel running from the early 1900s to 1973, during the Great Depression, chickens were used as payment for services rendered. The "ranch" is in ruins now and sits on private property.
Despite this part of the town's history, La Grange is a wholesome destination about an hour east of Austin and 1.5 hours west of Houston, situated in rolling hills along Texas's Colorado River (not the Colorado River that runs from Colorado to Mexico). With museums, a state park, and delicious kolaches, here's how to spend a perfect day in quaint La Grange
Things To Do In La Grange
Begin At La Grange's Visitor Center
The visitor center is located in the historic Casino Hall, built in 1881, not as a gambling hall but a place for German immigrants to gather and socialize. Within the ADA-compliant building, you can see the town's timeline, consider available attractions, pick up a walking tour map, and shop for local souvenirs.
Pro Tip: Allow 30 minutes for your visit.
Visit La Grange's Downtown
A number of attractions are in La Grange's historic downtown area, many housed in buildings dating back to the 1800s. With a walking tour brochure from the visitor center in hand, you can spend a little or a lot of time learning about La Grange's early settlers and the immigrants who built the town.
The Fayette County Courthouse is worth a visit and a look past its granite, blue and red sandstone, and limestone exterior to its inner courtyard and fountain. War memorials on the courthouse square pay tribute to fallen soldiers.
Nearby, the Muster Oak, an old-growth, gnarled, living oak tree has been the rally point for soldiers beginning with the War with Mexico and continuing through World War II. Today, it's supported by concrete but said to be in good health.
For cooks, drop in Le Petite Gourmet Shoppe, housed in a former billiard hall and opera house. Here you can find all the kitchen things you didn't know you needed or attend a cooking class.
Visit The Depot
The green and gold M-K-T Passenger Depot, built in 1897, is home to the Depot Museum. Inside, you can learn about its most famous visitor — Teddy Roosevelt.
The museum is open on Saturdays only. Check their Facebook page for details.
Tour The Texas Quilt Museum
This 1892 downtown building was a furniture store for more than 80 years. In 2011, the space was opened up, the woodwork restored, and natural light let in to display historic and mind-blowing contemporary quilts on a rotating basis.
Adjacent to the ADA-compliant museum, the butterfly gardens are a nice spot to sit and admire the quilt mural painted on the building's entire southwest-facing wall.
Pro Tip: Allow an hour for your visit.
Before You Leave Downtown
Pay a visit to the Old Fayette County Jail. Used as a jail for 102 years, typical "guests" included those arrested for DUIs, although two members of Bonnie and Clyde's gang were imprisoned here after robbing the Carmine State Bank in 1931.
The historic sandstone building is now home to the Texas Heroes Museum. Volunteer-led tours point out artifacts dating back to the area's Republic of Texas days and relate stories of local veterans of more recent wars.
Pro Tip: The museum is open only for pre-arranged tours. To arrange a tour of the ADA-accessible museum, send a message via Facebook and allow one to two hours for your visit.
Parking is free in front of the courthouse and all of these downtown attractions are within walking distance over level ground.
Learn About La Grange's Czech Immigrants
Fayette County was home to more Czech immigrants than any other county in Texas. On the north edge of La Grange, the Texas Czech Heritage and Cultural Center highlights the history of Czech immigration to Texas, beginning in the 1850s. Starting in the impressive Main Center, decked out with Czech crystal chandeliers, I recommend watching the short introductory video about the perilous journey immigrants took from Moravia, across the Atlantic, and into Galveston, Texas, to become cotton sharecroppers in Fayette County. The Main Center has a museum with a mural depicting the move to America and artifacts donated by local families.
Genealogy researchers are on site to help trace families' journeys from the Czech Republic to the U.S., including the names of ships, sailing dates, and ports of call.
Beyond the Main Center, the heritage center's grounds showcase original Texas-Czech homes and stores that have been donated and moved to the center's grounds. They are completely refurbished and furnished with period furniture and artifacts.
Check out the combination hospoda (tavern) and general store that had one-stop shopping, drinking, barbering, and shoe shining. The Czechy Noviny Muzeum is a replica of a newspaper print shop with printing presses and typesets.
Pro Tip: Allow two to three hours for your visit. The Main Center is wheelchair accessible. The grounds are level and wheelchair accessible. The tavern/general store, newspaper museum, and barns are ADA-compliant, as well.
Pay Tribute To Freedom Fighters And Beer
Monument Hill and Kreische Brewery State Park, about a mile south of La Grange, offer the rather odd combination of a monument to men who fought and died in the battle for Texas's independence from Mexico and early beer brewing.
Beginning at the visitor center (temporarily closed for renovation), a wheelchair-accessible, 0.5-mile trail leads to the burial place of Republic of Texas soldiers who were killed by the Mexican Army in the 1840s. A kiosk explains the black bean lottery that pegged the one in 10 Texan prisoners of war that would be executed. Their remains, as well as those from the 1842 Dawson Massacre, were collected and buried here in a mass grave in 1848.
Heinrich Kreische, a German immigrant and stonemason who built several buildings in downtown La Grange, purchased the property and maintained the tomb. Kreische built a three-story stone house with fine architectural details around 1855. The home has been refurbished and contains period furniture and clothing.
Perhaps Kreische thirsted for the Old Country's brew, because he built a brewery in the valley below his home next to a spring that supplied fresh water for brewing. The ruins of the stone brewery that produced German-style beer from about 1870 to 1884 are visible from an overlook.
Overlooks from the ADA-compliant, looped trail offer panoramic views of the Colorado River and La Grange. Additional trails (not wheelchair accessible) drop into the ravine for closer inspection of the brewery ruins and through the Kreiche forest. Leashed dogs are welcome on the trails.
Pro Tip: Allow about two hours for your visit.
Take A Farm Tour
Consider a tour of the Jersey Farm, especially if you're visiting La Grange with grandchildren. Farm tours include feeding the animals (chickens — not previously used as payment elsewhere — goats, and calves) and hayrides that can accommodate differently-abled individuals.
Pro Tip: They sell fresh milk, eggs, and cheese and cute souvenirs in their ADA-compliant store.
Best Restaurants In La Grange
Whether you're looking for breakfast, a sandwich, or a Texas-Czech favorite, you're in luck in La Grange.
For coffee and breakfast, try Latte Cafe in downtown La Grange. Or if you live by the adage "Life is uncertain, eat dessert first," treat yourself to a homemade Latte Pecan Bar or one of their coffee cakes.
Bodega is open for takeout and serves light fare. I recommend grabbing a panini and having a picnic in the Texas Quilt Museum garden that is a block and a half away.
Until I moved to Texas, I had never heard of kolaches. Kolaches are Czech pastries that are traditionally filled with fruit or farmer's cheese. A Texas version involves the same yeast bread around sausage plus or minus jalapenos. With Fayette County being home to so many Czech immigrants in the 1800s, you can bet great kolaches are found here.
The quaint, family-run Lukas Bakery serves kolaches as well as freshly made cookies and desserts in their downtown shop. They close at 1 p.m. most days.
Weikel's Bakery, in a newer section of town, looks to be part of a quick stop/gas station. But don't let its appearance fool you. Dozens of kolaches are made here each day and literally fly off the shelves. Go ahead and grab a six-pack of these kolaches for the road to see if you agree with them ranking among the top 10 in the state.