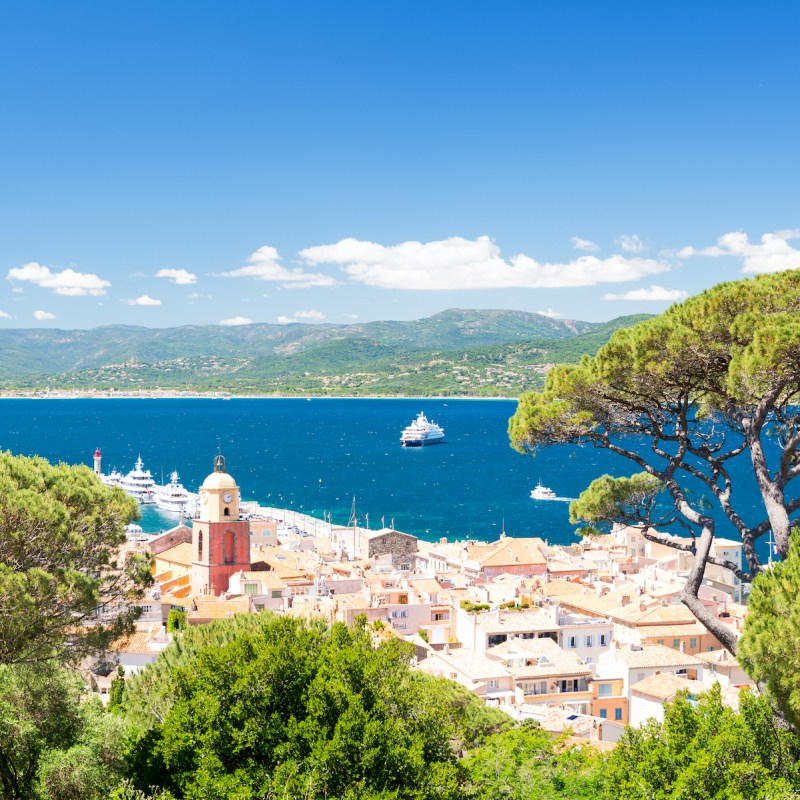 France has thousands of miles of coastline on many bodies of water, including the Mediterranean Sea and the Atlantic Ocean. It is therefore blessed with a wide variety of beaches, from the rocky beaches of Normandy, to the smooth sands of Cote d-Azur, to the shores of Brittany.
Here's a list of the top beach resorts that are favored by the French.
Saint Tropez
At one time a modest fishing village in the early twentieth century, Saint Tropez is now the most glittering and glamorous beach resort in France, attracting the rich and famous, although you don't have to be either of those to visit. The actual town of Saint Tropez is low-key and charming, with low rise, sun-kissed colored buildings, casual cafes and restaurants, chic clothing and home boutiques, outdoor food markets, and a picturesque harbor lined with sailboats and yachts.
Just a few miles from the village of Saint Tropez are where their fabled beaches are located. Pampelonne Beach was made famous by Brigitte Bardot, a longtime local resident, when she starred in And God Created Woman in 1956. The white sand beach on the azure blue Mediterranean has warm waters and extends for 3 miles. There's a mix of public beaches with public showers and bathroom facilities and private beach clubs that feature chaise lounges and umbrella rentals, restaurants, and beachside food and drink services. In the town of Ramatuelle is Escalet, a quiet, clothing-optional beach with great snorkeling, water sports, and walking trails.
Where To Eat
For excellent, casual fare, La Table Du Marche is a cafe and bakery offering high-quality baked goods and familiar French dishes such as croque monsieur, quiche, and tarte Pissaladiere, a local specialty.
Where To Stay
If you truly want to experience the Saint Tropez lifestyle, the five-star La Reserve Ramatuelle hotel and resort is the epitome of luxury. In addition to deluxe rooms, there are 14 private villas, and the top villa has seven bedrooms and a private pool. The hotel also features a spa and an upscale restaurant with a Michelin-star chef.
Biarritz
Located in southwest France near the Spanish border and the Basque country, Biarritz has been a longtime beach getaway. At the turn of the century, Biarritz was where the upper class would vacation in their seaside mansions. Today Biarritz has a very different vibe and is now a surfer's paradise. Considered the best surfing resort in all of Europe, Biarritz is on the Atlantic Ocean and is a surfer's haven with waves reaching crazy heights. The Grande Plage is an extra-wide sand beach in the center of town by the Hotel du Palais Biarritz, and Le Port Vieux is a beach with calmer waters. Take a stroll on the Quai de la Plage promenade to take in the gorgeous views of the Atlantic Ocean and also have a meal at one of the seaside restaurants.
Pro Tip: Since the ocean has such a strong current and surf, there are certain times when it's forbidden to go into the water, so make sure there are lifeguards on duty when you swim.
Where To Eat
Some of the best views await in Biarritz await you at Olatua, which overlooks the ocean and the Rocher de la Vierge, an incredible rock formation. Enjoy a casual daytime menu of bagels, salads, veggie bowls, and pizza, and at sunset, there's a tapas and cocktail menu.
Where To Stay
The Hotel du Palais Biarritz has an impressive history, having been first built by order of Napoleon III for his wife, Eugenie de Montijo. The elegant hotel has recently undergone a major renovation but has retained much of the opulence from the Belle Epoque era of the late 19th century, including rare paintings and tapestries. Wonderful Basque cuisine is offered at the La Rotonde Restaurant, and the 32,000-square-foot Imperial spa is laid out over four floors with an indoor saltwater pool, jacuzzi, sauna, and hammam. The outdoor pool has cabanas and overlooks the ocean.
La Baule
Measuring almost 6 miles, the La Baule coastline in Brittany is one of the longest and most beautiful beaches in Europe. Mostly visited by the French, La Baule is a melange of quaint towns from Pornichet to Pouliguen that make up the coastline with charming cottages, summer villas, and mansions, which are also located in pine forests, and modern, low-rise condos. The sand beaches are located on Pouliguen Bay, which has crystal blue, calm waters, ideal for families and grandchildren. Some of the more desired beaches include Plage Benoit, Grande Plage, the main beach of La Baule, and Plage des Libraires. There are also beach clubs, where you can rent a cabana, chaise lounge, and beach umbrella.
Guided tours are an informative way to learn about the area and include architectural, market, garden, bird watching, and chateaux and villa tours. Another fun activity is to visit the nearby Guerande salt flats that produce some of the finest salts in France.
Where To Eat
You can seize the day with a fantastic meal at Carpe Diem, with chef Frederic Lehuede working his culinary magic in the kitchen. The seasonal-driven menu changes weekly, and the restaurant offers three-course prix fixe, starting at 43 euros per person and a la carte menus.
Where To Stay
A charming hotel with villas from the early 1900s, Le Saint Christophe is surrounded by a lush garden and is a few hundred feet from the beach and a 5-minute walk to the center of town and the local market. The hotel also has a highly rated restaurant preparing the cuisine with fresh, regional produce and ingredients.
Deauville And Trouville
Two neighboring towns, Deauville and Trouville, located on the Normandy coast, offer two distinct seaside experiences.
Deauville is where wealthy and well-healed Parisians have their summer homes and mansions. Many prestigious events are held in Deauville, including an antique car show, an American film festival, the Rothschild Cup at the Hippodrome Deauville-La Toques, the Deauville racetrack, and a classical music festival for young musicians.
The well-maintained, sandy Deauville beach stretches 1.5 miles and has an Olympic-size freshwater pool, a tennis club, brightly colored beach umbrellas and cabanas, and 450 art deco cabins from the 1920s, with names of movie directors honored at the Deauville film festival painted on the doors.
More relaxed and casual, Trouville has the feel of a Bohemian fisherman's village. As you approach Trouville from the train station, you are immersed in stalls selling the freshest, just-caught seafood, with vendors proudly showing off their sea treasures of lobsters, clams, mussels, oysters, and sea scallops. The boardwalk is lined with blue benches that display the names of famous artists and writers who have resided in Trouville, including Claude Monet, Marguerite Duras, Guy de Maupassant, Gustave Caillebotte, and Gustave Flaubert. Rent one of the colored, striped canvas beach cabanas on the wide sand beach. Visit the Trouville Casino if you are in a gambling mood, which features English and French roulette, slot machines, blackjack, poker, Boule, and War.
Where To Eat
An old classic that's been around since the 1920s, Les Vapeurs serves up big pots of steamed mussels served with crispy fries, oysters, clams, and Calvados, a local-made apple liqueur in a brasserie-like atmosphere.
Where To Stay
The four-star Hotel Mercure, just 300 feet from the beach and close to all the attractions in Trouville, has comfortably appointed rooms at reasonable prices. Amenities include an in-room Nespresso machine, free Wi-Fi, and a restaurant serving lunch and dinner.
Pro Tip: Deauville/Trouville is a perfect day trip from Paris, just 2 hours by train. Both towns are within walking distance of each other, just 10 minutes from the Trouville train station.
Arcachon
Just under an hour from Bordeaux, Arcachon sits on a calm bay in the Atlantic Ocean and has fine sand beaches. Plage Pereire is an almost 2-mile-long beach with a view of the Cap Ferret peninsula, a bicycle path, and grass lawns to picnic on. Plage des Abatilles and des Arbousiers are directly on the Atlantic Ocean and have bigger waves that attract wind and kite surfers.
Just across from Arcachon is another lovely resort, Cap Ferret, known for its oyster farms, producing the freshest oysters. Ferries frequently run between both ports, so you can easily go for lunch. Discover the extravagant, turn-of-the-century villas while walking through the hills of La Ville d'Hiver/The Winter City. At the very top is Parc Mauresque, a lush park perfect for a picnic.
Pro Tip: If you can't manage the many steps to get to the park, there's an elevator.
A must-see attraction in Arcachon is the Dune du Pilat, a true natural wonder. Rising an astounding 360 feet high, it's the tallest sand dune in Europe. During the high season, May to November, there's a stairway to assist your climb. Once at the top are magnificent views of the neighboring pine forest, the Banc d'Arguin nature reserve, and the Cap Ferret peninsula. This is an unforgettable experience.
Pro Tip: You can bicycle to the Dune du Pilat, or there's a bus that runs hourly from the center of Arcachon.
Where To Eat
Serving some of the freshest seafood in Arcachon, Chez Pierre has reasonably priced pre-fixe menus, with two courses for 27 euros and three courses for 33 euros.
Where To Stay
Appartement Panoramic is a highly rated beachfront bed and breakfast with two bedrooms, good sized kitchen with a dishwasher, a balcony, and free parking.
Pro Tip: The ideal time to visit the above beach resorts is May, June, September, and early October. If you have to visit in July and August, make sure to reserve your accommodations at least 4 months in advance.
Related Reading: