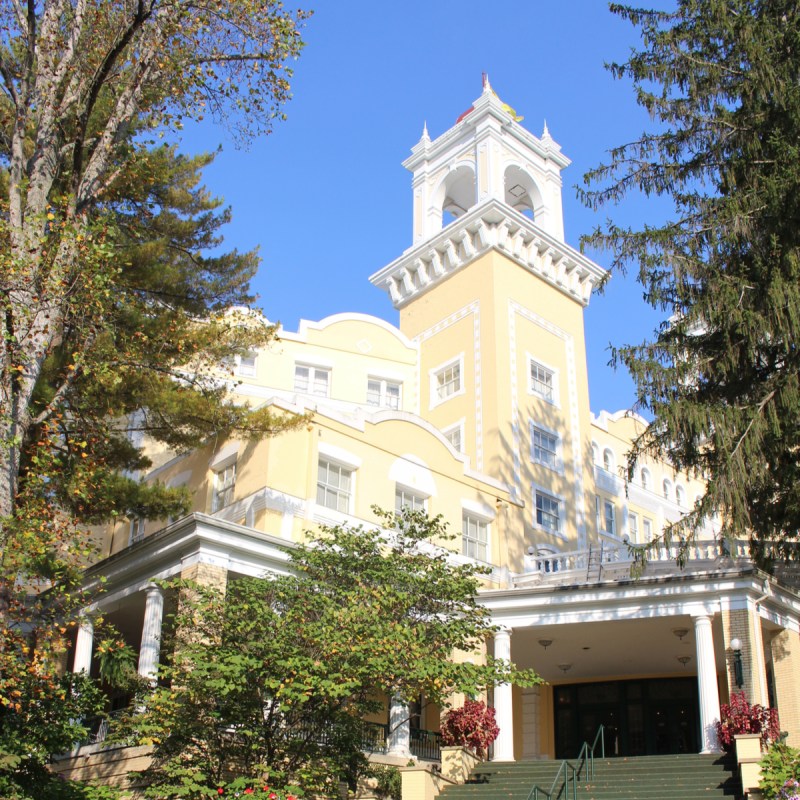 Southern Indiana is filled with several small towns of under 15,000 people. Each adorable small town offers experiences unlike any other. If you are looking for a small-town experience, you can have an enjoyable time in Indiana. These small towns will lure you in with their love of Indiana products and an opportunity to welcome you into their community. Antique fans will love this area of Indiana, as the majority of these adorable small towns have several antique shops waiting for you. The two-lane highways are a great place to begin your journey in visiting smaller towns all across the country. Small towns play big when it comes to offering things for you and me to see and do. Here are several adorable small towns in Indiana that you need to have on your radar.
1. French Lick
French Lick, Indiana, is home to rolling hills and a resort that you will fall in love with. The West Baden Springs Hotel is an award-winning property with an atrium that spans more than 200 feet. It's vast, beautiful, and an experience you will never forget. The French Lick Springs Hotel is an American Classic with memories of a lifetime. Golfing, hiking, spas, gardens, and historic tours are amenities offered at these properties. The well-known restaurant, 33 Brick Street, is where you can dine and see legendary basketball player Larry Bird's trophies and jersey. You can also troll the streets and shop in the stores that carry unique products to the area. I would recommend that you stay as busy or relaxed as you choose when you visit French Lick.
2. Corydon
Corydon is an outdoor enthusiast's dream come true. Kayaking, canoeing, hiking, and biking are all very popular in this area in Indiana. History comes to life in all corners of this town. Indiana's first state capital was in Corydon. You can tour the Federal-style limestone capitol building that was built in the early 1800s. The signage around town will help you identify all of the historical sites and understand more about the history of Corydon. Explore The Battle of Corydon Battlefield and learn stories that run deep with local history. Before you leave town, enjoy a winery, shopping with local artisans, and enjoy a good meal or two.
3. Rising Sun
There's something to be said about a river and the charm of a small town. Rising Sun, Indiana, is no exception. Enjoy the views of the Ohio River as you stroll the riverwalk. Rising Sun Riverwalk park offers an incredible picnic area as well as playground equipment. This park is the area where several events and festivals are held throughout the year. Antique lovers will enjoy the shopping opportunities in this river town as well as an opportunity to meet fellow antique enthusiasts. A fun fact about Rising Sun is that the state's oldest courthouse in continuous use is located in this river town.
4. Madison
Madison, Indiana, is where rolling hills and bluffs meet the Ohio River. If a road trip is part of your visit, be sure to travel the Ohio River Scenic Route. Many people visit Madison to see Broadway Fountain, one of only four remaining of this style in the world. Originally exhibited in Philadelphia in 1876, it was presented to the city in 1886 by the Independent Order of Odd Fellows. In 1976, this fountain was recast in bronze to celebrate America's bicentennial. Shopping in the area offers Indiana-made products, and antique shops are abundant. If you are on the hunt for a specific treasure, there's a good chance that you will find it in Madison. Kick back and enjoy the slower pace that Madison has to offer.
5. Salem
Outdoor fans will appreciate Salem, Indiana, and the history that goes along with it. Beck's Mill showcases a slice of a quieter time and an opportunity to go back in time. This old mill sat still for years and was recently brought back to life through the work of volunteers. The majority of the mill is wheelchair accessible, and cash and check are the forms of payment accepted on-site. Hunter's Ridge Winery is a popular spot for locals and visitors to hang out. Railroad lovers will enjoy the depot railroad museum in the town of Salem. There's a little something for everyone in this small town, including the Salem Speedway.
6. Paoli
This small town in Southern Indiana offers an experience that you can't find in many other places. It's located near French Lick and can easily be incorporated with a visit there. Willstem is a 1,100-acre outdoor attraction. You can bathe an elephant, take a zipline tour, participate in an ATV tour, and take a trail ride by horseback. I have not visited Wilstem, but several of my friends have and they have bathed elephants. This type of animal encounter puts this town high on my list of places to visit in Southern Indiana. Several specialty shops make this a favorite place to shop for souvenirs and gifts.
7. Linton
Linton, Indiana, knows how to celebrate Independence Day. They have the largest 4th of July parade in the state of Indiana. The town swells to more than 40,000 people over the week-long celebration known as Freedom Festival. Small-town charm with a patriotic theme makes for the perfect time to visit Linton. Several other events and festivals are held in this small community throughout the year. Sunset Park is nearby and offers camping and outdoor activities, including fishing.
8. Marengo
Caving is popular in Southern Indiana and Marengo, Indiana, is no exception. The Marengo Cave is a U.S. National Landmark and visited by thousands every year. If you are looking for a different type of outdoor adventure in a small town, this national landmark is perfect for you. The rural setting and opportunity to explore something new make Marengo a small Indiana town to have your eyes on.
9. New Harmony
New Harmony, Indiana, offers antiques, art galleries, history, and numerous outdoor experiences. A highlight of New Harmony is 12 buildings from the early 19th century and 20 properties from other mid-19th century timeframes. Are you curious about whiskey and how it tastes? Rod Clark's Whiskey Experience is a popular thing to try when you visit. The New Harmony Dulcimer Company brings music to the town. Listen and you may hear a dulcimer playing while you stroll the streets of New Harmony. If a nighttime thrill is something you desire, book a ghost tour and experience New Harmony in the dark. No matter what time you visit, you will enjoy yourself in this small Southern Indiana town.
10. North Vernon
Situated North of Madison, this town could be incorporated into your visit to Madison. The Classic Stained Glass and Gift Gallery is a favorite shop of mine. I have never taken a class, but you can learn how to make stained glass in this gallery in North Vernon, Indiana. Muscatatuck County Park is nearby and includes camping; also nearby is Cali Nature Preserve, where you can find Rock Rest Falls, pictured above.
Pro Tips For Visiting Southern Indiana
Southern Indiana does experience all four seasons, making it a destination to visit different times of the year for different experiences. Many nature areas offer hiking trails in the warmer months and cross-country skiing in the cooler months. Shoulder seasons, from April to May and September to October, are ideal times to visit. Some of the attractions are closed for the season, but many things are open and the crowds are gone.
Southern Indiana has several distilleries and wineries for you to experience. Some of them offer indoor and outdoor music as well as a fun shopping experience.
Southern Indiana offers a beautiful landscape that includes cliffs, valleys, and overviews of the rivers that border Indiana in many different spots. Take the two-lane highways and you will come upon some of the most adorable small towns in the country. Bakeries and pie shops are located in some of America's smallest towns, Indiana included. There's something special about having a baker serve up a hot slice of pie that they made with their hands and served to you with love. When you visit these small towns, you will experience the heart of the people in these smaller communities.
The shopping is often unique and the hours sometimes vary. Many shop owners are sole business owners and run the business themselves and have to step away for short periods of time. Be flexible and realize that the sign on the door that says, "Opens noonish and closes at 3:30ish" is a real note. There is a real person behind those words. It's often someone who is working hard 7 days a week for more than 10 hours a day.
Allow yourself to become acquainted with the folks in these small towns. The chances are fairly good that you will find yourself staying connected with the people you meet up with. I have met many people in small towns all across America, and it's not uncommon to meet up with them in a restaurant and enjoy some local cooking.
Related Reading: