Inflatable kayaks are an excellent option for the casual kayaker or someone looking to test out the waters. They are on the rise in popularity and it is easy to see why! The benefits of inflatable kayaks over traditional hardshell kayaks are their ease of transport and their lower cost. They are more stable than the unpredictable hardshell model and typically move a bit slower. Read on for the best inflatable kayaks to buy for all budgets.
Buy Now
The Intex Sports Series Tacoma K2 Kayak is an excellent option for the beginner kayaker. This durable 10-foot-long kayak is designed for two and has high-buoyancy side chambers for maximum stability and function. It is super easy to inflate and deflate for transportation and includes inflatable backrests for all-day comfort on the water.
Low Cost Beginner Option
Buy Now
The extremely affordable Intex Explorer K2 Kayak comfortably fits two people and has up to a 400-pound weight limit. This kayak is designed for those looking to travel on lakes and calm rivers and is not quite equipped for high rapids, making it ideal for the couple wanting to spend a leisurely afternoon on the water. It is also designed specifically for inexperienced paddlers and comes with its own 86" aluminum oars.
Buy Now
This single-person Advanced Elements Lagoon Inflatable Kayak is 8 feet long and has a 250-pound weight capacity. Even though it is inflatable, it has a rigid bow and stern to cut through waves and easily handle rocky water conditions. This kayak also has a tracking fin on the bottom for quick maneuvering. It has quick-inflating Twistlok and high-flow spring valves for simple inflating and deflating. Don't sleep on this advanced-level kayak for a budget-friendly price!
Best Family Kayak
Buy Now
This 3-person Sea Eagle 370 Deluxe Inflatable Kayak is ideal for the family looking to explore together. The kayak is large and sturdy enough to handle up to 650 pounds yet still deflates to a manageable 26 pounds and comes with a carrying bag for easy transport. Don't let the larger size fool you, the Sea Eagle 370 is suitable for up to Class III whitewater rapids for more extreme adventurers.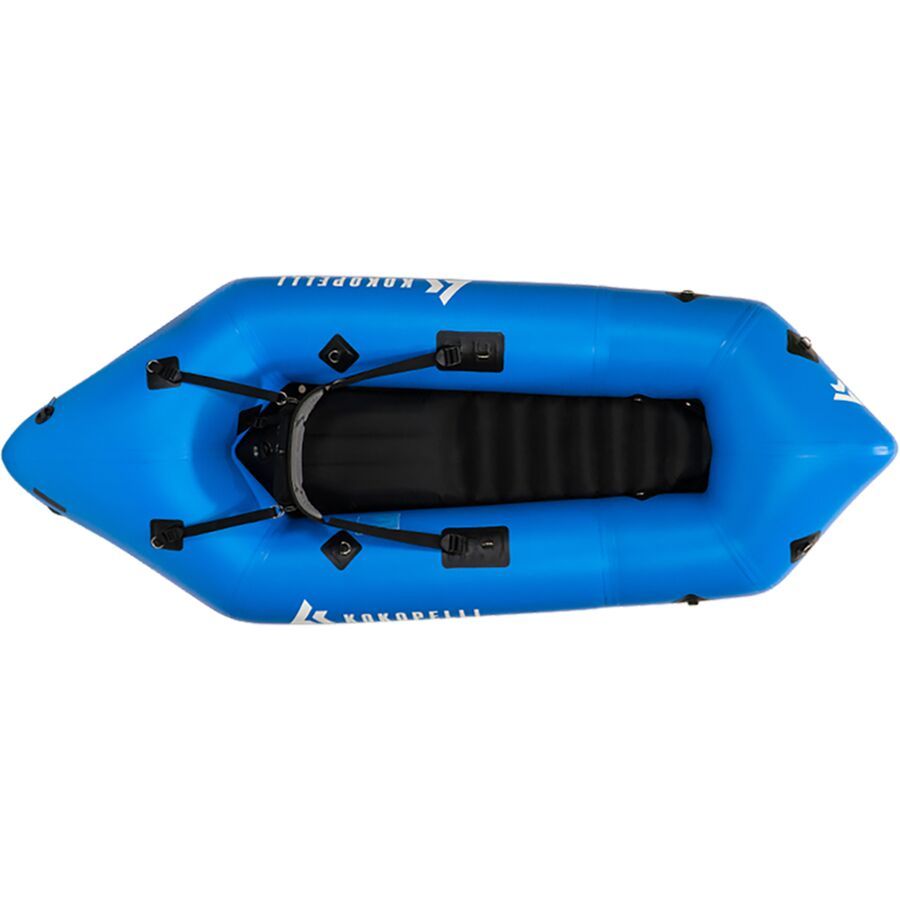 Buy Now
The Kokopelli Recon Inflatable Kayak is designed to be durable above all else. It is also enhanced with PVC and has a narrow trim and increased rocker to comfortably handle more advanced water adventures. The floor is "self-bailing" so the water quickly drains out as you travel through the rapids. This model is also compatible with a 3-Point Thigh Strap accessory kit (sold separately) for those desiring enhanced responsive control while navigating. Lastly, the kayak comes with an emergency patch kit for peace of mind.
Top High-End Pick
Buy Now
The Star Paragon 1-Person Inflatable Kayak comes with a 3-year STAR guarantee warranty. This inflatable is designed for the high performance that hardshell kayaks offer, with a high-pressure drop-stitch PVC floor insert, rigid keel inserts at the bow and stern, and an adjustable, highback seat and foot braces. The tracking fin is removable for easy transition between whitewater kayaking and serene river cruising. It also has plenty of splash-protected storage under the bow and stern.