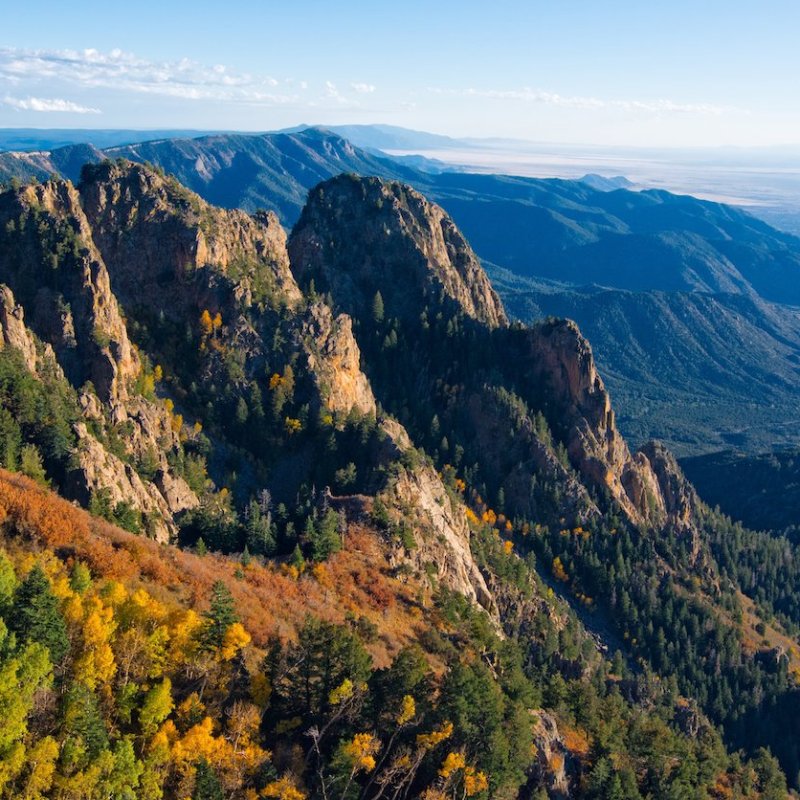 I always like to take the scenic route. Albuquerque's scenic route to Santa Fe is the Turquoise Trail National Scenic Byway, New Mexico Highway 14. The trail runs east of the Sandia Mountains through eclectic little towns with loads of history, including quirky museums, artsy galleries, mountain vistas, picturesque hiking trails, champion green chili cheeseburgers, and settings for several motion pictures. Now's the time to explore the Turquoise Trail of New Mexico.
1. Tijeras
Tijeras, the Spanish name for scissors, where the Sandia and Manzanita Mountains come together, is considered the gateway to the Turquoise Trail. At the Cibola Ranger Station, find information about day-use passes, plus the hiking trails in the Cibola National Forest. Piedra Lisa Trail leads you to a ridge called "El Rincon" with mighty granite formations. Embudito Trail, a challenging 11 miles long, takes you from 6,240 to 9,300 feet through steep canyons and peaceful meadows. Tree Spring Trail is the most popular four-mile round-trip trail, with scenic views at the top of the Sandias.
Pro Tip: At the top, be sure to go the extra 100 feet or so to the edge of the crest overlooking the valley with Albuquerque in the distance, a perfect picnic spot.
Visit the Tijeras Pueblo Archaeological Site, situated in a beautiful valley between the mountain ranges. Walk the quarter-mile path through the Pueblo Indian Village inhabited more than 700 years ago. Visit the native garden, lectures, and workshops to learn more about the Pueblo people.
2. Cedar Crest
Horseback riding is a must, and Cedar Crest Country Cottages and Stables offers the only ranch with a permit to ride horses in the Cibola National Forest. Whether you are a beginner or an experienced rider, ride horses from one to four hours with a real cowboy as your guide.
Stay at Elaine's B and B, between Cedar Crest and Sandia Park, a log home nestled in the Sandia Mountains. Elaines is only seven miles from Sandia Mountain Ski Area and five miles from PaaKo Ridge Golf Course, listed in 2000 as the #1 best new golf course in America by Golf Digest.
Ribs Hickory Pit BBQ in Cedar Crest has served lunch and dinner Wednesday through Sunday since 1998. The ribs are famous here — finest quality St. Louis style pork spare-ribs rubbed with proprietary spices and smoked slow and low, in whole or half slabs. You can order dinners, platters, burgers, steaks, salads, or the green chili stew. Save room for bourbon pecan pie, my husband's favorite.
Ale Republic Brewery, in the heart of the East Mountains, features house-crafted beers and famous brick oven pizzas, sandwiches, and salads. Promoting a selection of Belgian specialty ales and American favorites, this brewery offers beers in four-packs or growlers to go.
3. Sandia Park
Get up close and personal with the alpacas at Bill and Kathy's Hollywick Farms, a working alpaca farm east of the scenic Turquoise Trail. Please note that pets or service animals are prohibited since they frighten the alpacas, putting the alpacas and visitors at risk. Visit the gift shop for custom weaved fleece products. Dress in layers, wear sturdy shoes, and don't forget your camera.
If you are a fan of all things quirky, stop for a visit at Tinkertown Museum. You'll find a kitschy collection of 22 rooms overflowing with over 50,000 colorful bottles, a miniature Western town, a three-ring circus, scenes of animated figurines, hand-carved tiny displays, with a gift shop to boot. Ross Ward created the collections over 40 years, starting in the 60s while he was in the Army. It is open April to November.
The best view awaits you when you reach the Sandia Peak Tramway at 10,378 feet. North America's longest aerial tram carries you down the mountain on the Albuquerque side through deep canyons and forested, rocky terrain.
Pro Tips: Ten 3, a brand-new building on Sandia Crest denoting 10,300 feet above sea level, serves carb-loaded lunches and exclusive high-end dinners, open Thursday to Monday. Also, watch for the Weigand Sandia Mountain Coaster, opening soon. Starting on the eastern side at the top of the Ski Area between Chairlift #1 and #2, the track traverses downhill approximately 2,825 feet at 25 miles per hour and then ascends back up the mountain to the start/finish.
4. Golden
El Real de San Francisco and Tuerto — both spawned when gold was discovered on Tuerto Creek in the 1820s — merged and became a new town called Golden. The new gold mining district opened a post office and supported several saloons, retail businesses, schools, and even a stock exchange.
After gold mining declined, the post office closed, businesses left, and Golden became a ghost town. The San Francisco de Asis Catholic Church was restored by historian and author Fray Angelico Chavez in 1960, while he was padre of the St Joseph Church in Los Cerrillos.
The Golden General Merchandise Store opened in 1918 and is the only business in town operating today. It is now known as Henderson General Store.
Pro Tip: At Henderson's, I found the most competitively priced turquoise earrings on my trip. I purchased four pairs, with information about the designers and the type of turquoise.
Editor's Note: Our own Teresa Otta has some tips on finding the best turquoise jewelry in New Mexico.
5. Madrid
Madrid's (pronounced MAD-rid) rich coal mining history dates from the early 1800s. The company town became famous for its Christmas lighting displays, Fourth of July Parades, and minor league baseball games in the West's first lighted stadium. When coal use declined, the town evaporated and soon became a ghost town.
The Mine Shaft Tavern survived the town's decline. In the 1960s and '70s, hippies settled the old homes and built an art colony that persists today. You will usually see motorcycles parked out front since Madrid was the home base for the film Wild Hogs in 2007, with John Travolta and company. Get all the details about Madrid when you read my article about how to spend a perfect day in historic Madrid, New Mexico.
Don't miss the award-winning Mad Chile Burger, the number one green chile cheeseburger in New Mexico, with a fried hatch chile, aged cheddar, and homemade onion rings. You have a choice of four types of meat, and the wagyu version is mighty tasty!
To satisfy your sweet tooth, visit Shugarman's Little Chocolate Shop for amazing chocolate made with the finest ingredients, a little magic, and a lot of love. I can vouch for the dark matcha with strawberry or the dark green chili cashew with Thai lemongrass, lime, and margarita salt.
Pro Tip: Once you return home, order your favorites online.
6. Cerrillos
Turquoise is still mined today at several private claims, including Todd and Patricia Brown's Little Chalchihuitl Turquoise Mine, yielding a unique green stone. Visit the Casa Grande Trading Post for jewelry made of the natural Cerrillos Turquoise stones, the Cerrillos Turquoise Mining Museum with displays of the colorful mining history, and the petting zoo with goats, fancy chickens, pigeons, and a friendly llama.
For dinner, step back into the Old West at the 1880s Black Bird Saloon. Indulge in Western-style grub like The TrailBlazer, an elk burger with blue cheese, greens, blueberry mustard on a Kaiser roll, or the Rogue Cowboy with wagyu beef pastrami, grilled onion, cheese, pickled jalapenos, and slaw on a Kaiser. Treat yourself to the Petrified Forest Picnic for vegetarians or the Spaghetti Western, a grilled tuna steak with lemon capers — oh my! Quench your thirst with a cold pint of local New Mexico beer.
7. San Marcos – Lone Butte
Amid scenes of Georgia O'Keefe's familiar landscapes, this area was once a farming and pottery-making center, then abandoned after the 1680 Pueblo Revolt. Look for herds of antelope as you drive toward the Sangre de Cristo Mountains. A side trip on Highway 45 takes you past two private New Mexico movie ranches, home to more than 100 movies.
Beer Creek Brewing Company is a brewpub and pizzeria with a scenic outdoor dining patio. Sip a traditional style brew, get your growler filled, and enjoy pizzas like Bonanza or Ranch Hand. Also, savor salads, signature sandwiches, or Chicken Freddie with creamy alfredo sauce smothering a grilled chicken breast and spaghetti.
Santa Fe's most contemporary historic inn on Bonanza Creek Road, Rancho Gallina Inn and Eco-Retreat features beamed ceilings, romantic Kiva fireplaces, private baths, courtyards, luxury bedding, and kitchenettes with French press coffee. The facility is 100 pecent solar-powered, with water and energy conservation.
8. Top Of The Trail
Santa Fe Skies RV Park, nestled on the slopes of the Sangre de Cristo Mountains with views of Santa Fe, boasts azure blue skies, scenic sunrises, sunsets, and starry nights across the vast Rio Grande Valley.
Pro Tip: The New Mexico Public Lands Information Center is your resource for outdoor recreation with guidebooks, permits, maps, and other materials.