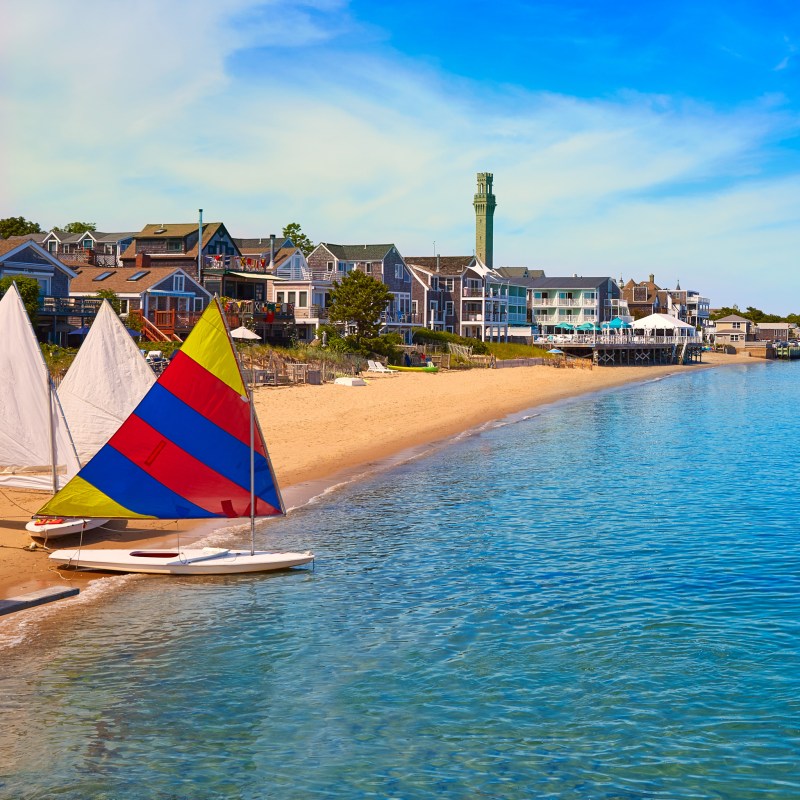 Unlike in winter in Provincetown, when this unique destination is cozy and relatively empty, P-town (as it is called by many) in summer has a feeling of constant celebration; it is chock-full of parades, outdoor entertainment, bikes zipping through crowds on the street, and sugar-charged children and adults.
Getting to Provincetown in the summer also takes some creative planning. Although P-town is only about 60 miles from Boston as the crow flies (and, although pricey, you can fly to the small Provincetown Municipal Airport), it can be a multi-hour trek by car to the very tip of Cape Cod during the summer. On weekends, more than 100,000 cars will cross the Bourne and Sagamore bridges from the mainland.
3 Stress-Free Ways To Arrange Your Journey
1. Practice Meditative Driving
And don't go on Friday afternoon or return on Sunday. You may enjoy your journey more if you stop at Moby Dick's Restaurant or other spots along the way. You'll get there eventually.
2. Drive While A Festival Is In Progress
That's what we did last year. I arrived while the Carnival parade was going on. It was a breeze — and we even got to see the end of the parade.
3. Leave The Car At Home
Take a bus (Greyhound goes out the cape) or, much more pleasant, a fast ferry from Boston (it's a 90-minute journey with Bay State or Boston Harbor Cruises). There are also less frequent ferries from Plymouth.
Things To Do In Provincetown
1. Take A Trip From MacMillan Wharf
When you step off the boat you'll be right on MacMillan wharf, with boats lined up for whale-and-seal watching trips, schooners and fishing boats, flocks of seagulls, and happy tourists already relaxing. Almost everything is in walking distance or, if you are traveling light, you can rent a bicycle at Provincetown Bike Rentals, Arnold's Bike Shop, P-town Bikes, or others.
2. Wander Commercial Street
The main street in Provincetown is lined with charming houses, many surrounded by brightly-colored gardens, as well as a plethora of shops, historic inns, great views to the bay, and dogs (and their owners) of all shapes and sizes.
3. Discover The Long Point Floater Homes
A fun walk into history can include looking for distinctive white-on-blue plaques that mark buildings that were moved by rafts and floated across the harbor from Long Point (site of the Long Point lighthouse) to Provincetown beginning in 1850 because of challenges to their fishing industry.
The beach at Long Point is accessible in summer from MacMillan wharf via a boat shuttle or a strenuous eight-mile round trip hike.
4. Head Out To The Beaches
Thousands of people end up either at Herring Cove or at Race Point in the summer months. Both beaches are part of the Cape Cod National Seashore. Everyone — on bike, car, or foot — has to pay a fee to get on the beach from June through Labor Day. Cape Cod National Seashore annual passes may be purchased online, or you can use your America the Beautiful National Park Pass.
5. Peruse Art
Provincetown is America's oldest continuous art colony. You'll see art — painting, sculpture, folk art, and crafts — all over town. But P-town's amazing collection of museums and art galleries include the 100-year-old Provincetown Art Association and Museum (PAAM), the Fine Arts Work Center, and the Pilgrim Monument and Provincetown Museum, as well as such galleries as the Albert Merola Gallery, the Cortile Gallery, the Schoolhouse Gallery, and the Julie Heller Gallery.
Where To Eat In Provincetown
Eating (and drinking) are main activities in Provincetown in the summer, and there are a variety of places, from shops selling sandwiches to casual outdoor cafes to high-end restaurants overlooking the bay. Here are some that are memorable:
1. Nor'East Beer Garden
Choose from an extensive menu of craft beers, herb-infused cocktails, and fresh Wellfleet oysters, pasta, and more, all while sitting in a cool, plant-filled haven right on Commercial Street.
2. Aqua Bar
Enter the Aquarium Mall from Commercial Street, grab something to eat at the food court, and wander back to the Aqua Bar to drink and gaze at the beach and bay. On a sunny day, you may have to wait for a seat, but lots of tourists aren't aware of this pleasant escape from the crowds.
3. Relish Bakery and Sandwich Shop
Relish is a great place to pick up provisions for the beach, with everything from breakfast sandwiches to salads and vegan dishes to sweets.
4. Provincetown Portuguese Bakery
Famous for its fried dough with granulated sugar and cinnamon called malasada in Portuguese, this storefront is unprepossessing but an appreciated remnant of the large Portuguese community in P-town.
5. The Lobster Pot
The Lobster Pot has been in business for more than 70 years. This family-run restaurant is the go-to place for fish chowder and lobster rolls — their steak has fans, as well.
6. Spiritus Pizza
A long (50-year) beloved go-to place for reasonably priced pizza and other snacks, Spiritus Pizza is especially popular with night owls (the kitchen stays open until an hour after the bars close).
7. Lewis Brothers Homemade Ice Cream
Worth a sometimes long line, Lewis Brothers features flavors like maple walnut and black raspberry, along with such originals as Grape Nut and green tea. They also have a solar-powered ice cream truck that visits the beaches.
Where To Shop In Provincetown
Shops in Provincetown largely rely on the summer crowds to keep them going year-round, as do restaurants and hotels.
1. Provincetown Bookshop
Pick up a copy of Michael Cunnigham's Land's End: A Walk in Provincetown in this 90-year-old bookstore to give depth to your visit. Current and past P-town residents wrote many books sold here. Also check out Ted's Used Books nearby.
2. Botanica
Botanica is a home and garden store that features everything from plants to pots to birdhouses and candles, all designed with love and an original eye.
3. Captain's Daughters
A teahouse and boutique, Captain's Daughters has been described as "one part tea bar, one part gallery, and one part boutique."
4. Mad As A Hatter
Whether you are looking for a beach hat, a fedora, or a straw boater, Mad as a Hatter will provide toppers that you never knew you needed.
5. Map
Map is an eclectic kind of alternative shop with everything from t-shirts to hip home decor and cool posters.
Where To Stay In Provincetown
Wherever you stay in Provincetown in the summer, make sure that you make reservations well in advance. Few places are inexpensive in high season (although there are some Airbnbs that are bargains).
1. Inn At Cook Street
On the east end of town, the historic Inn at Cook Street was built in 1836 and has been lovingly maintained. Built in Greek Revival style, it has a main house, two cottages, and gardens.
2. White Porch Inn Art Hotel
A mixture of modern and classic, many rooms at the White Porch Inn include fireplaces and spa tubs and provide views of either Pilgrim Monument or the bay.
3. Lands End Inn
Set on a hill overlooking the town, Lands End Inn offers panoramic ocean views and a sunny dining room with a great room featuring a fireplace and a solarium.
4. Secret Garden Inn
Near the center of town, the small seven-room Secret Garden Inn was once an 1830s sea captain's home; it has a private garden and views of the harbor from a balcony.
5. Carpe Diem Guesthouse And Spa
Featuring a Zen garden and Namaste Spa with free access for guests, Carpe Diem Guesthouse features 18 rooms and a full breakfast.
Travel Tips
Attend A Celebration
The nightly throb of music emanating from P-town's infamous bars and cabarets is heard up and down Commercial Street — especially on weekends — but some of P-town's most happily raucous celebrations happen during the daylight hours.
Some of these have been canceled in 2020, like the giant LGBTQ-friendly Family Week in August, but so far others are still on the schedule. Still, be sure to check ahead of time.
In June, the four-day Provincetown Portuguese Festival is filled with traditional Portuguese music, dancing, and food. It ends with the Blessing of the Fleet, during which a statue of Saint Peter, the patron saint of fisherman, is carried to MacMillan wharf. Boats — many bedecked with flags and pennants — are blessed by the bishop.
Other Summer Highlights
July: July 4 Parade and Fireworks
August: Whale Week, Provincetown Jazz Festival, Carnival Week
September: Antique Car Show and Parade, Pet Appreciation Week and Blessing of the Animals
For more recommendations (many of which are accessible during the summertime, too), see our take on Provincetown as a perfect winter weekend getaway.