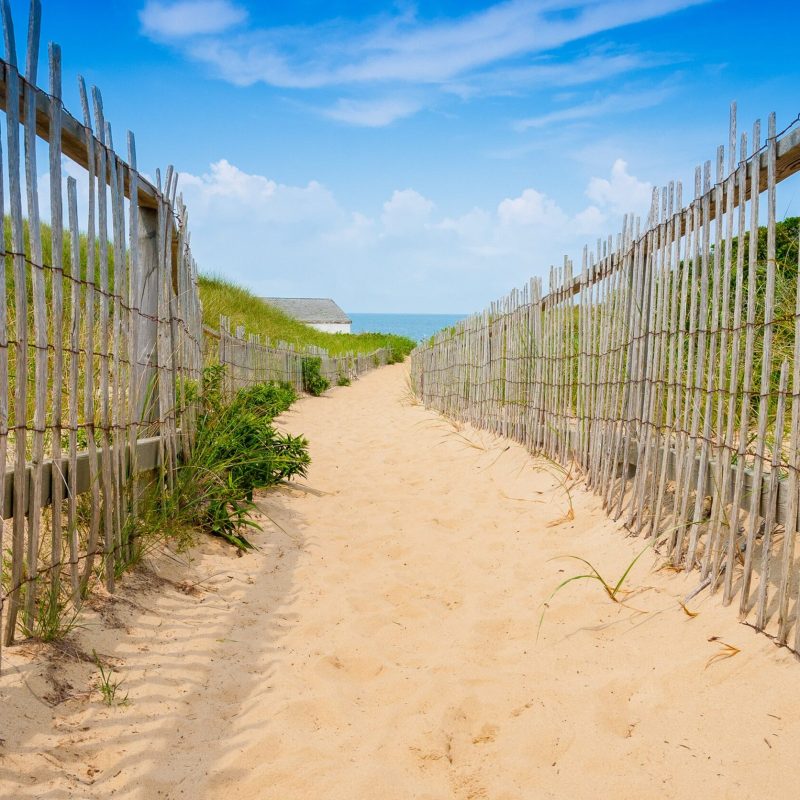 Pristine beaches, maritime history, and beautiful scenery are all part of an island escape. In New England, two of the most picturesque island destinations await: Nantucket and Martha's Vineyard, both located off the southern coast of Cape Cod, Massachusetts. Join us in our Martha's Vineyard vs Nantucket debate!
Martha's Vineyard and Nantucket, the two iconic New England islands, boast picturesque landscapes, historic charm, affluent communities, and typical coastal experiences. Both can only be reached by boat or air, and on both islands, the peak season begins on Memorial Day weekend and ends on Labor Day weekend.
A few shoals and about 30 miles separate the two islands, which were both formed during the Ice Age. While each destination inspires fierce loyalty, there are key differences between them to keep in mind when deciding which to visit.
You can't go wrong with a visit to either Nantucket or Martha's Vineyard. On both, you'll find a vibrant arts and culture scene that's active throughout the year, as well as great restaurants and chefs serving up fresh seafood. Both destinations offer family-friendly hospitality that encourages multigenerational travel. Either would make an ideal celebration location for an anniversary, birthday, or retirement party.
Keep in mind the things that set these two former whaling capitals apart, and you'll be guaranteed a memorable stay, no matter which New England island you choose.
Martha's Vineyard vs Nantucket – 9 Key Differences
1. Location, Size, And Population
About 30 miles off the coast of Cape Cod, New England, Nantucket beckons to visitors to experience its coastal beauty. Just 14 miles long, the crescent-shaped island is easy to explore by bike, and the island shuttle buses have bike racks. Nantucket is home to just one town and two zip codes, and many of the restaurants and shops are located downtown in Nantucket proper, making it a perfect weekend getaway.
Martha's Vineyard is located closer to the mainland, only 7 miles offshore across Vineyard Sound. With about 125 miles of coastline, the island comes in at close to 96 square miles, about twice the size of Nantucket, making a car more of a necessity. The town's population soars from 17,000 to close to 200,000 in summer — about twice the number of seasonal visitors to Nantucket.
Insider Tip: Up island, down island, on-island, and off-island are all part of the local vernacular used to describe someone's whereabouts or give directions.
2. Transportation Options
You can travel to both of these New England award-winning destinations by air or sea. The frequency of transport, however, is quite different.
Ferries to Martha's Vineyard leave from several locations along Cape Cod as well as from New Bedford, Massachusetts, and Kingston, Rhode Island. (By taking the ferry from Rhode Island, you can avoid the Cape Cod traffic on a busy weekend.) The ride only takes about 35 minutes. In addition, there is a SeaStreak ferry from New York City that takes 5 hours. Flights to Martha's Vineyard depart from big city hubs as far south as Washington, D.C.
Nantucket's car ferry is booked months in advance, so planning is essential if you want to bring a vehicle. The Steamship Authority (car ferry) and Hy-Line Cruises (passenger ferry) are both based in Hyannis, Massachusetts. A SeaStreak ferry departs from New Bedford. The ferry ride can take anywhere from 1 hour to 3 hours, depending on the boat you choose. Flights to the Nantucket Memorial Airport run from Boston, New York, and Hyannis.
If you plan to visit both islands, you'll be interested to know that there is an interisland boat that runs during peak season and takes 1 hour.
3. Geography And Architecture
Nantucket, Martha's Vineyard, and Cape Cod all border a New England triangular area of the sea referred to as the Sound. However, the geography and architecture of Martha's Vineyard are quite different from those of Nantucket.
Martha's Vineyard features many high cliffs and rolling hills. It's also home to six towns, all with their own personality and rich history: Tisbury, which offers an excellent natural harbor; Oak Bluffs, with its multicolored gingerbread Victorians; Edgartown, which includes the infamous island of Chappaquiddick; Chilmark, with its rolling hills and green space; West Tisbury; and Gay Head, now called Aquinnah, which boasts dramatic, colorful cliffs leading down to the sea.
If you want to stay a few days and visit all of the sites in Martha's Vineyard haven, you can rent some of the charming cottage vacation rentals on Martha's Vineyard.
Nantucket is so flat that almost everything can be seen from the roads. The highest point on the island, Sankaty Head, home to one of Nantucket's three lighthouses, is located 111 feet above sea level. You won't find any box stores or traffic lights, and the town of Nantucket is the only one on the island.
At the eastern end of the island is the small hamlet of Siasconset, with its rose-covered former fishing cottages on white shell paths. The Nantucket Historical Association's strict building and restoration codes allow only a few paint colors on the island, and most of the buildings are clad in weathered gray shingles. Stepping off the ferry onto the cobblestone streets of Nantucket is like stepping back in time.
4. Beaches
The main attractions on both Martha's Vineyard and Nantucket are the beaches. Martha's Vineyard has 124 miles of coast, while Nantucket has only 80. The beaches on both islands run the gamut from small spots with calm waters, perfect for children and families, to challenging waters with pounding surf. Lifeguards are only present on some of the beaches, so make sure to check before heading out, especially if there are little ones in your party.
All of the beaches on Nantucket are open to the public. On Martha's Vineyard, there are public beaches in Edgartown and Oak Bluffs, but many of the others require a parking permit, so be sure to ask about access when booking your vacation in New England.
5. Vibe
Nantucket has more of a buttoned-up vibe than Martha's Vineyard. Nantucket Reds™, cotton canvas pants or shorts that fade to a dusty rose, are de rigueur for men and are often worn with a collared button-down shirt and blue blazer in the evening.
Like the beach pass bumper stickers, which are a status symbol on cars, faded pants are stylish — they indicate that you're an island regular! Women will be quite comfortable in their Lilly Pulitzers with cardigans draped over their shoulders. The social scene on Nantucket attracts captains of industry and the country club set.
On Martha's Vineyard, you'll rarely feel underdressed in flip-flops and shorts. Don't let the island's name fool you — the only vineyard you'll find on the island is Vineyard Vines, a preppy line of clothing and accessories that is very popular both on and off-island. Effortless style rules here: think understated, simple, and chic. The island is popular with politicians and Hollywood types.
6. Cost
There's no denying that these New England islands are pricey. Some of the most expensive real estate in the country can be found on both, and the shops, restaurants, and hotels are mostly high-end. The sheer size of Martha's Vineyard, however, allows for more variety, so it will be easier to find budget-friendly accommodations and restaurants there.
7. Fog
There's something hauntingly beautiful about fog. Both islands get plenty of it, but on Martha's Vineyard, more often than not, the fog departs by noon. If you are a lover of misty mornings and harbors clad in gray, get around the island and enjoy the sailboats parked in Menemsha Harbor as the sun rises. All is covered in a mysterious blanket that provides great photo opportunities.
Nantucket is nicknamed "the Gray Lady" for a reason. Sometimes, the fog sticks around for an entire weekend. While I would never dispute the picturesque beauty of this shadowy covering, be sure to plan alternatives to the beach. One of the many museums would be a great place to spend a few hours with the family. Keep in mind that, while one part of the island (frequently Cisco) may be covered, it is often bright and sunny down the island or on another beach.
8. Nightlife
Even though Nantucket attracts an affluent young crowd that likes to party, it is still the quieter of these two islands, so you'll find fewer nightlife options there. Nonetheless, you'll be hard-pressed to find a bad cocktail bar on Nantucket. In that sense, Galley Beach is everything Nantucket is about.
Martha's Vineyard, on the other hand, has a livelier and busier nightlife scene.
The Ritz dive bar in Oak Bluffs has been around since the 1940s and has live music, while Edgartown has the college kids hooking up at The Seafood Shanty and the preppy 20-somethings hang out on Main Street near the Port Hunter.
9. Culture 
Matha's Vineyard and Nantucket have a rich tradition that has been well documented on film, TV, and in books.
Because Martha's Vineyard thrives on movies, you can catch several notable film festivals like the Martha's Vineyard Film Festival or the African-American Film Festival. Meanwhile, Nantucket festivals celebrate everything from books to cranberries, with the most popular Daffodil Festival taking place every spring.
You can't fall short with a visit to either Nantucket or Martha's Vineyard. Both islands offer vibrant arts and culture scenes that are active throughout the year. There's almost always something going on. 
FAQs
Which Island Is Busier, Nantucket or Martha's Vineyard?
Both islands are very busy in July and August. Things begin to quiet down when people with kids in public schools generally depart. Both islands suffer from daytrippers and people who invade private spaces and sometimes sit on people's doorsteps.
Which Island Makes a Better Day Trip, Nantucket or Martha's Vineyard?
They are both equally fantastic options. For the more active types, Martha's Vineyard is better for its larger size and more diverse attractions. However, if you prefer walking or a laid-back beach day with beautiful scenery and fresh seafood, Nantucket will not disappoint.
What Is the Best Time to Visit Nantucket and Martha's Vineyard?
That would be September. The water remains warm, rain is scarce, and the number of tourists is down dramatically. The shops and restaurants are all still open, and restaurant reservations, ferry reservations, and flights are much easier to get.
What Are Martha's Vineyard and Nantucket Like in Winter?
Winter is the quietest season. From January through March tourist-oriented establishments on the Cape and islands traditionally close. To avoid letdowns during the off-season, always call ahead to check schedules.
Which Island Is More Accessible, Nantucket or Martha's Vineyard?
Although smaller and less busy than Martha's Vineyard, Nantucket is more accessible and open. You have the option to explore the surroundings on foot or bike, and it's less hilly than Martha's Vineyard. As a bonus, Nantucket's more than 30 beaches are all open to the public.