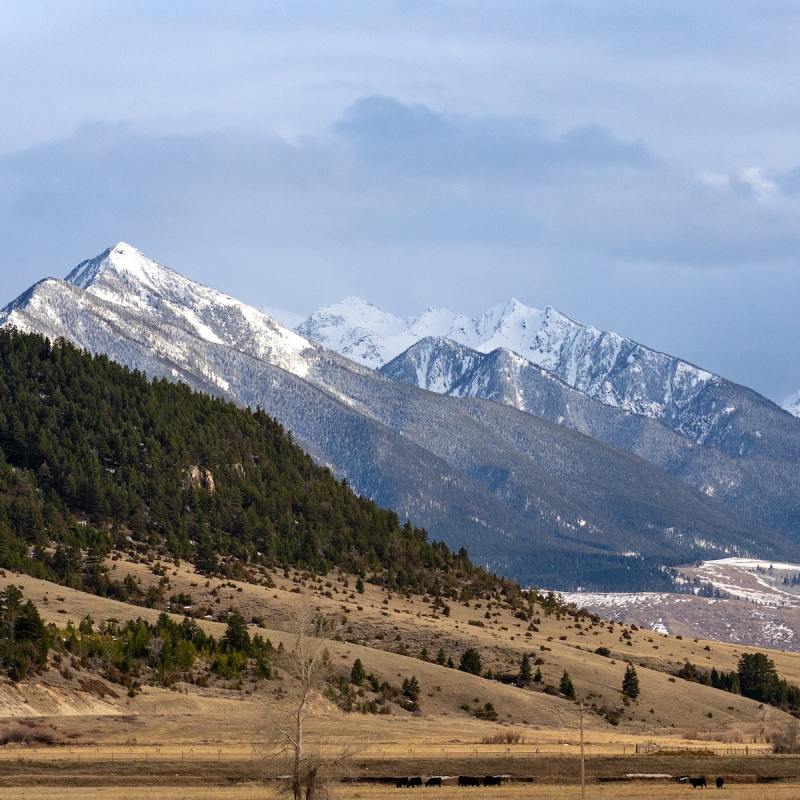 Paradise Valley links Livingston, Montana, with Gardiner, Montana, and the North Entrance to Yellowstone National Park — the only entrance open all year to private vehicles. Paradise Valley is certainly scenic with the Yellowstone River running through a fertile valley with rustic barns and majestic mountains towering over the valley on either side.
Traveling through Paradise Valley reminds me of the adage "It's not about the destination, it's about the journey." And the journey can easily be tailored to your interests. For avid fishermen, Paradise Valley is a dream come true. For those who love a leisurely soak in natural hot springs, you're in luck. And for all of us who enjoy photographing beautiful scenery and wildlife, Paradise Valley is worth the drive whether you travel on U.S. Highway 89 South or the East River Road — Highway 540.
No matter the season, Paradise Valley is a perfect place to spend a few hours or a whole weekend. Here are the best stops along the way, beginning in Livingston, Montana.
1. Livingston's Historic Downtown
If you saw the 1992 movie A River Runs Through It, you've seen Livingston. Tidy brick buildings line Livingston's main thoroughfare, Park Street, across from its 1902 railroad depot. As early visitors to Yellowstone National Park arrived by train, the town grew to include hotels, restaurants, and shops. Passenger trains no longer drop visitors off here, but the town continues to thrive because of its proximity to Yellowstone and its access to outdoor activities.
Vintage neon signs still hang from many of the well-preserved downtown buildings, like the ones at Gil's Goods and the Murray Hotel. Gil's serves a great breakfast, and the historic hotel is accessible and has pet-friendly rooms.
2. The Yellowstone Gateway Museum
Located in a 1906 schoolhouse, the Yellowstone Gateway Museum has exhibits that range from Native American artifacts to those of early pioneers, including a display on the Lewis and Clark Expedition that passed through the area in 1806.
The "Pull Up a Chair — Tales from the Seats of History" exhibit uses 29 things people sat on (saddles, chairs, stools, and a wheelchair) to tell historical tales from the county. Visitors then cast votes for their favorite seat.
Pro Tip: Allow one to two hours for your visit. Outdoor exhibits are ADA compliant, but the building is not yet wheelchair accessible.
3. The Fly Fishers International Museum
This museum displays antique fishing rods, reels, and baskets. Works of art include M. C. Simon trout watercolors and framed tied-flies by noted fishermen Art Flick and Bernard "Lefty" Kreh.
Pro Tip: Allow 30 minutes for your visit. The museum is ADA compliant.
4. The Original Rib and Chop House
If you're in Livingston for dinner, have a steak at the original Montana Rib and Chop House — farm to fork at its finest. Besides beef, the restaurant serves chicken, pork, and seafood. Vegetarians can put together a tasty meal, but options are limited.
Pro Tip: The restaurant is wheelchair accessible.
5. Tom Miner Basin And Petrified Forest
The grizzly bear population has rebounded from a low of 600 to 800 bears in the lower 48 states to an estimated 2,000. If your ultimate destination is Yellowstone, you may see grizzlies there and may find trails closed due to bear activity.
Outside of the park, 8 miles off U.S. Highway 89, Tom Miner Basin attracts bears, particularly in the fall, because the roots of caraway plants that grow here are a prized food source for grizzlies.
As a child, my family camped in Tom Miner Basin — long before the growing population of grizzlies reoccupied the area. My parents were drawn to the area because of the other wildlife — black bears, mountain sheep, and mountain goats. But the biggest reason to visit was to explore the 50-million-year-old petrified trees that still stand here.
Pro Tip: Tom Miner Campground has 16 campsites and ADA-compliant restrooms. Given the bear population, I wouldn't sleep in a tent — but I'm a chicken when it comes to bears.
6. The East River Road
About five miles south of Livingston, the East River Road (Highway 540) branches off U.S. Highway 89 South. Traffic is heavy on Highway 89, particularly in the summer. Few visitors take the East River Road. If you do, you'll be rewarded with the same beautiful views of the valley, and the mountains that rise on each side (Absarokas on the east and Gallatins on the west), but with less congestion.
Pro Tip: Three roads link the two highways that parallel each other so you can easily go back and forth depending on which stops you want to make.
7. Fishing Access Points
The Yellowstone River flows between U.S. Highway 89 and the East River Road. Enjoy year-round fly fishing for trout in the Yellowstone River and Spring Creeks. This map shows a number of Yellowstone River access points between Livingston and Gardiner.
If you prefer a guided fishing excursion, Montana Anglers will help you have a great fishing day in Paradise Valley (and any fisherman will say the worst day fishing is better than the best day working). Montana Anglers offers year-round fishing tours provided the temperature is above about 30 degrees Fahrenheit.
8. Watch For Wildlife
Yellowstone National Park's animals know no boundaries. Along the Yellowstone River, you're apt to see bald eagles and migratory birds, sandhill cranes and pelicans. Elk frequent the area between Yankee Jim Canyon at the southern end of Paradise Valley and Gardiner, 15 miles south.
Editor's Note: As you plan your trip, consider our tips for safely viewing wildlife in national parks.
9. Pine Creek Trail
On the east side of East River Road, the Absaroka Beartooth Wilderness stretches on for miles. A popular hiking trail leads to Pine Creek Falls over fairly level terrain and follows Pine Creek. The hike to the falls is 2.5 miles out and back. The trail continues 4 miles with a lot of elevation gain to a pristine alpine lake.
Pro Tip: Traveling on East River Road, look for signs to Pine Creek Recreation Area/Luccock Park Road soon after you pass Pine Creek schoolhouse. Be bear aware as you hike — make noise and carry bear spray. Allow one to two hours for the hike to the falls.
10. Emigrant
The site of a small gold rush, Emigrant Gulch and the town that grew up as a result of mining survives now on tourism and outdoor recreation. It's roughly midway between Livingston and Gardiner, off U.S. Highway 89. If you're making a whole day of the trip between Livingston and Gardiner, Emigrant has a few restaurants to check out. The Wildflour Bakery makes breakfast and desserts from scratch. Follow Yer Nose BBQ serves award-winning barbecue. Both are closed during "freezin' season."
11. Chico Hot Springs
Yellowstone National Park and the surrounding area are active geothermal areas. Yellowstone is home to a giant volcanic caldera. Chico Hot Springs Resort and Day Spa has captured this naturally heated mineral water in two outdoor pools.
The resort opened in 1900, but the hot springs were a place to wash "dirty duds" well before that according to an 1865 diary left by a local miner, John S. Hackney. From its humble beginning as two wooden tubs filled with hot mineral water, the resort has expanded to a hotel, cabins, fine-dining and casual restaurants, a bar with live entertainment, and the pools that allow for amazing stargazing if you opt to spend the night.
Pro Tip: Located at the southern end of East River Road, the resort has ADA-compliant rooms and pools. Cell service is spotty, so sit back and enjoy being unplugged while you're there.
12. Yellowstone Heritage And Research Center
Located in Gardiner, this is not a typical museum but rather a repository for artifacts collected in Yellowstone National Park. It is an affiliate of the National Archives and has within its collection about 720,000 artifacts that are rotated through temporary exhibits, including "Archeology on Ice," which is slated for this summer.
The center's artifacts span centuries with arrowheads from Native American hunters that are 11,000 years old to a collection of 150 wolf skulls collected since wolves were reintroduced to Yellowstone National Park in the 1990s. Diaries from early explorers and a collection of watercolors painted by Thomas Moran during the 1871 Hayden Expedition are in the collection.
Pro Tip: Call (307) 344-2264 or visit their website for information about the hour-long behind-the-scenes tour of the museum that will happen on Wednesdays at 2 p.m. during the summer once the park's visitor facilities reopen. The building is ADA compliant.
13. Yellowstone Hot Springs
If you haven't had your fill of hot springs, Yellowstone Hot Springs is located 7.5 miles north of Gardiner. Three natural mineral water pools give you a choice of temperatures — from the 60-degree Fahrenheit cold plunge pool to the 104-degree hot pool. The main pool is a perfect 98 to 100 degrees.
Pro Tip: The facilities are ADA compliant.
14. Yellowstone River Float
Cool off in the Yellowstone River with either whitewater rafting or a scenic float. The Yellowstone River is one of the longest undammed rivers in the continental U.S. Paradise Adventure Company, based in Gardiner, offers rafting, horseback riding, and trips combining the two.
Pro Tip: They can accommodate differently abled individuals on their raft trips. Allow about two hours for float trips. Reservations are required.