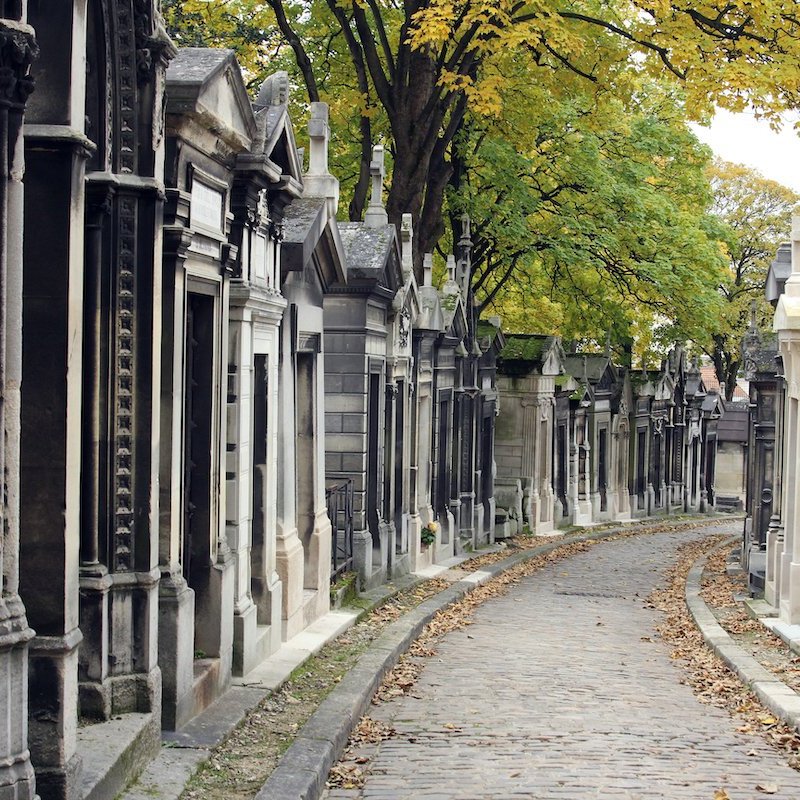 Wandering one of Paris's historic cemeteries invites the opportunity to discover both famous and ordinary people who have lived and died in this great city. Simple tombstones and elaborate mausoleums grace these tree-lined cemeteries, which are the perfect place to stroll.
In the early 19th century, Emperor Napoleon closed all the small cemeteries inside Paris and replaced them with larger cemeteries just outside the Paris city limits. Pere Lachaise Cemetery was built in the east, Montmartre Cemetery in the north, and Montparnasse Cemetery in the south. The Passy Cemetery, although built a bit later, was also part of Napoleon's order. Of course, all of these cemeteries are now well within Paris.
I love wandering through Paris's cemeteries. I feel that it provides me with a connection to Paris's history and culture and opens up a treasure chest of underlying stories about the city.
I lived near the Montparnasse Cemetery during one of the Covid-19 confinements of 2020 and found myself taking great solace meandering under the flowering trees and searching out the greats. A very special time to visit a Paris cemetery is on All Saints Day (November 1) when families bring chrysanthemums to honor their deceased family members.
Pro Tip: The first four cemeteries on my list are free to enter. The cemeteries are divided into numbered areas which are indicated on maps by the entrance ways. The location of famous gravesites are marked. Try not to be in a hurry on your cemetery visits. It takes time to find specific tombs, and you will certainly start to investigate something unexpected!
1. Pere Lachaise Cemetery
Pere Lachaise Cemetery is the largest cemetery in Paris and draws 3.5 million visitors per year.
Built in 1804, there are over a million people buried here, and one can still be interred today, as long as you have lived or died in Paris.
Pere Lachaise Cemetery is the largest green space in Paris at 110 acres. It is situated on a hill crisscrossed with winding cobbled pathways and thousands of towering trees. It is the perfect place to wander, explore, and find peace as the noise of Paris here is virtually non-existent. Find a park bench on the hill and enjoy a glimpse of the Eiffel Tower.
Certain tombs are high on everyone's list to view. I recommend the following, but take the time and see what you can discover on your own.
Famous People Buried In Pere Lachaise Cemetery
Edith Piaf (1915-1963) France's greatest popular singer with famous songs such as "La Vie en Rose."
Frederic Chopin (1810-1849) the legendary Polish composer and musician. Don't be surprised to see plenty of fresh flowers or a musician playing a Chopin sonata.
Jim Morrison (1943-1971) the famous American singer and songwriter who died in Paris has the most visited tomb in the cemetery.
Oscar Wilde (1854-1900) Irish playwright and novelist whose white angel tombstone is covered in red kiss marks and messages.
Marcel Proust (1871-1922) famous French writer known for In Search of Lost Time, published in seven volumes.
Getting There: Pere Lachaise Cemetery is located at 16 Rue du Repos in the 20th arrondissement. Metro Stop: Pere Lachaise, lines 2 and 3 or Gambetta, line 3.
Pro Tip: If you get off at the Gambetta station, your walk through Pere Lachaise will be downhill. Start at Pere Lachaise and you'll be walking uphill! There are several entrance ways to Pere Lachaise.
2. Montparnasse Cemetery
Montparnasse Cemetery, which opened in 1824, is 47 acres and the second largest cemetery in Paris, with more than 300,000 people buried here.
The Montparnasse Cemetery is beautifully laid out with ancient trees and pathways to follow. Once farmland, there is even a remaining bladeless windmill, Moulin de la Charite, standing amidst the tombstones. Wander the shady alleys amongst artists and philosophers and stop a while to ponder the public's offerings to the dearly departed. Masses of writing pens sit on top of Marguerite Duras's tombstone, and lipstick kisses decorate Simone de Beauvoir's grave.
Famous People Buried In The Montparnasse Cemetery
Frederic Auguste Bartholdi (1834-1904) French sculptor most famous for designing the Statue of Liberty.
Charles Beaudelaire (1821-1867) French poet whose muse is sure to inspire your creativity.
Simone de Beauvoir (1908-1986) French writer and philosopher buried with her partner Jean-Paul Sartre (1905-1980) also a French writer and philosopher
Serge Gainsbourg (1928-1991) famous French musician
Marguerite Duras (1914-1996) French writer
Man Ray (1890 – 1976) American visual artist
Getting There: Montparnasse Cemetery is located at 3 Boulevard Edgar Quinet in the 14h arrondissement. Metro Stop: Montparnasse-Bienvenue, lines 4, 6, 12, and 13.
Pro Tip: At one time, the Montparnasse Cemetery was one parcel of land. Today rue Emile Richard divides the cemetery into two parts. Make sure you spend time in both the big and the small cemeteries.
3. Montmartre Cemetery
Another delightful walk through Paris's cultural heritage, Montmartre Cemetery is 11 acres and the third largest cemetery in Paris. Inaugurated in 1825, there are over 20 000 individuals buried here. Although surrounded by some busy roads, Montmartre Cemetery is tranquil, tree-lined, and ripe for exploring. Look out for the 30 or so cats that call this their home.
Famous People Buried In The Montmartre Cemetery
Francois Truffaut (1932-1984) French film director, one of the founders of the French New Wave.
Dalida (1933-1987) French singer and actress who sold 170 million albums worldwide.
Edgar Degas (1834-1917) French impressionist artist best known for his paintings of dancers.
Stendhal (1783-1842) 19th-century French writer famous for his novel of 1830, The Red And The Black.
Getting There: Montmartre Cemetery is located at 20 Avenue Rachel in the 18th arrondissement. Metro Stop: Blanche, line 2 or Place de Clichy, lines 2 and 13.
Pro Tip: Walking from the metro across the Caulaincourt Bridge provides great views over the graveyard. Look for the stairs to descend to the cemetery. I missed these the first time.
4. Passy Cemetery
At just over 4 acres, the Passy Cemetery is small compared to the ones already introduced, with just 2,600 graves. But, believe me, it is a delight to explore with its views of the Place du Trocadero and the Eiffel Tower peeping between the trees (at least in the winter).
Upon entering the Passy Cemetery, notice the sculpted memorial on the outside to the soldiers who lost their lives during WWI.
The village of Passy in 1820 was just outside of Paris and home to many aristocratic families. Today Passy is one of the most expensive areas of the city in which to dwell. Perhaps this is why there are many aristocrats buried here.
Famous People Buried In The Passy Cemetery
Bao Dai (1913-1997) Emperor of Vietnam
Claude Debussy (1862-1918) French composer
Hubert de Givenchy (1927-2018) French fashion designer
Edouard Manet (1832-1883) French modernist painter and his sister-in-law
Berthe Morisot (1841-1895) French Impressionist painter
Getting There: Passy Cemetery is located at 2 Rue du Commandant Schloesing in the 16th arrondissement. Metro Stop: Trocadero, lines 6 and 9.
Pro Tip: If you are viewing the Eiffel Tower from Place du Trocadero, walk a few minutes to the Passy Cemetery. You'll be off the beaten path of Paris and surrounded by some greats in a peaceful environment. Here are my recommendations for where to discover the nine best views of the Eiffel Tower.
5. Picpus Cemetery
Picpus Cemetery is a lesser-known cemetery in Paris but holds a rich history. This tranquil oasis in Paris is the final resting place of 1,306 people who lost their lives to the guillotine during France's Reign of Terror in 1793-1794. Guillotines were set up in major squares in Paris, and these victims were beheaded at the nearby Place de la Nation (formerly Place du Trone-Renverse).
For an American visiting Paris, this is a historical place to spend some time. The Marquis de Lafayette (1757-1834) fought both in the American Revolution under George Washington and the French Revolution. An American flag flaps over the Marquis de Lafayette's tomb.
Getting There: Picpus Cemetery is located at 35 Rue de Picpus in the 12th arrondissement. Metro Stop: Picpus, line 6.
Pro Tip: There is a charge of 2 euros to enter the Picpus Cemetery, and it is open to the public from 2 to 4 p.m. in the winter and 2 to 6 p.m. in the summer.
Related Articles: