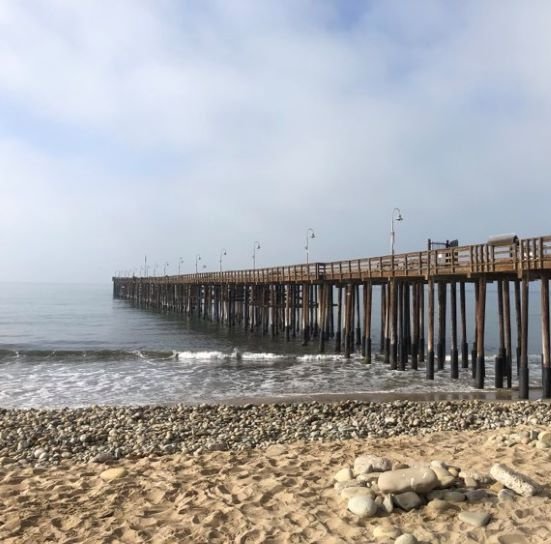 Nestled on the West Coast between Santa Barbara and Los Angeles, with 9,000-foot mountain tops on one side and the Pacific Ocean on the other, Ventura (officially San Buenaventura) is full of history and charm, with a relaxed Southern California (SoCal) beach town vibe.
Visitors have plenty to choose from while visiting Ventura, including a lively arts scene, galleries, and museums. The vibrant downtown area is a shopper's delight, with unique shops and dozens of local eateries.
Whether you take in the scenic views from the hilltops, sit on the beach watching the world go by, or anything in between, there's something for everyone in Ventura.
1. Ventura Pier
No trip to Ventura is complete without visiting the Pier. Originally built in 1872 as the San Buenaventura Wharf, it is California's oldest wooden pier. The iconic pier is close to downtown on Ventura's central beach.
Enjoy the cool ocean breeze as you stroll along the pier. Sit on one of the many benches and watch fishermen, swimmers, and surfers. Enjoy the coastline and Channel Islands views. Grab a bite to eat on the pier or picnic on the beach below. Watch in awe as the suns sets over the Pacific.
On the pier, you'll find a snack bar, restaurant, brewery, and restrooms. The pier is accessible but may be a bit of a walk depending on where you park. The main entrance to the closest parking is south of the pier. There is a parking structure on the north side (both have small fees). A third, and free, option is over the bridge that crosses Hwy 101. Wherever you park, wear sturdy shoes so you can enjoy your stroll.
2. Harbor Village
One of my happy places is Harbor Village in Ventura. It's a one-stop fun, adventure, shopping, and dining destination. With the Pacific Ocean on one side and a marina on the other, it's a perfect place to soak up the Ventura vibe. Stroll around the promenade, shop at over two dozen specialty shops and art galleries. Enjoy lunch at one of the many Village restaurants, or pick up some fresh locally caught fish from Wild Local Seafood on your way home.
Spend a couple hours or all day at Harbor Village. It's the perfect place to enjoy a getaway without having to do much driving. There are hotels adjacent to the Village which are within walking distance, as is Harbor Cove Beach (see my beach recommendations below).
At the marina, visitors will find paddleboards and kayak rentals, harbor tours, and dinner cruises at Ventura Boat Rentals. Whale watching tours, Channel Islands tours, and sportfishing all begin at Ventura Harbor.
There is plenty of nightlife at Harbor Village, too. After dinner, take in a show at The Comedy Club or challenge yourself and your travel companions in one of The Ultimate Escape Rooms.
3. The Robert J. Lagomarsino Visitor Center At Channel Islands National Park
Just down from Harbor Village and worth the visit is the Channel Islands Visitor Center. It's a great little visitor center with displays of local marine life, a live tidal pool, and exhibits about the Channel Islands, gift shop, and bookstore.
Visitors will enjoy the 25-minute movie A Treasure in the Sea, narrated by Kevin Costner. Be sure to go up to the viewing tower for one of the best views of the Channel Islands and the Ventura coastline.
Time spent at the Visitor Center can be less than two hours. It is fully accessible with free parking both on site and at Harbor Village.
4. Mission San Buenaventura
Built in 1782, San Buenaventura (St. Bonaventure) is the ninth California mission founded by Padre Junipero Serra. The mission is more than just a church building. Its history is rich and colorful. The mission has endured everything from earthquakes and fires to tidal waves and even pirates. It stands today as a symbol of perseverance and hope for the future.
The mission is still an active Catholic parish celebrating Mass daily throughout the year. The interior of the mission church is just beautiful, as are the courtyard and church grounds. Last February we were fortunate enough to arrive just as morning Mass began. Afterward, we strolled the grounds, soaking in the mission's amazing history.
In the small museum, visitors can watch a 30-minute video and see Chumash Indian artifacts and mission-era displays. There is also a gift shop which is steps from parking, including one handicap space. The museum, gift shop, and church building are all accessible.
Pro Tip: A short distance (2-minute walk) from the mission is Ventura City Hall. Originally the Ventura County Courthouse, this Neoclassical structure built in 1912 is on the National Register of Historic Places.
5. Botanical Gardens
The Ventura Botanical Gardens is a 109-acre, world-class site located in the foothills behind City Hall. The Gardens is currently home to 10,000 "low-water" plants and trees representing the world's five Mediterranean climate zones: Southern Australia, South Africa, Central Chile, the Mediterranean Basin, and California.
The trail begins at the Welcome Center behind City Hall. There are lookout points at various spots along the trail where visitors are treated to spectacular panoramic views of the coastline, the Channel Islands, and the surrounding mountains.
The Summit Plateau is 1.25 miles (view map) from the Welcome Center and is partially wheelchair accessible. The trail is for pedestrians only.
6. Whale Watching
Did you know that there are 28 different species of whales and dolphins off the coast of Ventura? The waters of the Santa Barbara Channel are known for their marine mammal diversity. Take a whale-watching cruise and see seals, sea lions, and several species of dolphins, along with occasional orca whale pods or migrating gray whales.
Since 1968, Island Packers Cruises has been the premier whale-watching outfit in Ventura. They offer year-round whale-watching and wildlife boat tours. Seasoned captains narrate the 3- to 3.5-hour cruise. Gray whale watching trips are from late December through mid-April while blue and humpback whale watching trips are available from mid-June through mid-September.
Pro Tip: Island Packers also offers Channel Island birding excursions, kayaking trips, plus day trips and overnight camping excursions to all the Channel Islands.
7. Ventura Beaches
Whether you want to soak up the sun, swim in the surf, hunt for seashells, or play beach volleyball, you'll love the beaches in Ventura. Spend an hour or two, all day, or even go camping at the beach.
Emma Wood State Beach is on the northern end of Ventura. With 7,600 feet of ocean frontage, it is popular for walking, fishing, swimming, and surfing. There are also WWII artillery emplacement remains.
The campground at Emma Woods offers 80 campsites for self-contained RVs (no tents). No water, restrooms, electricity, fire rings, or dump stations are available. Dogs are allowed in the campground and day-use area but not on the beach.
Surfer's Point Beach at Seaside Park is just that, a great surfing locale. It's also popular for windsurfing and kiteboarding. It's fun to just sit and watch the water activity, but it's also a good bird-watching location. Seaside Park has picnic tables, restrooms, and showers. The promenade, a paved pathway, connects Surfer's Point to Ventura Pier.
The Promenade also runs south from the Pier to San Buenaventura State Beach. This white-sand beach stretches for two miles to Marina Park and its own beach, where visitors are pleased to find a pirate ship "sunk" in the sand. There are three separate parking areas for San Buenaventura Beach as well as a large, free parking lot at Marina Park.
Across the street and over the dunes from Harbor Village is Harbor Cove Beach. It is a small but very nice beach, perfect for families, flying kites, and watching the boats come and go out of the harbor.
8. Eat Well
Ventura is loaded with great eateries, everything from taco shacks to five-star seafood and steak restaurants. Here are just a few of my (and the locals') favorites.
Dinner at Prime Steakhouse is an experience. The elegant supper club is the ultimate in sophistication matched by friendly, attentive service. Open every night, Prime serves only the best USDA Prime cut steaks and seafood. Along with a full bar, dinners are paired with an award-winning wine list and handmade specialty cocktails.
If you are in the mood for seafood (and who isn't?), family-owned Lure Fish House is the place to go in Ventura. Their seasonal menu offers classics like lobster, mussels, fish tacos, chowder, and ceviche. Of course, the fresh catch-of-the-day and a variety of oysters, including their renowned charbroiled oysters, are always on the menu. Lure is open for lunch and dinner and is located downtown on California Street.
Located in Harbor Village, Brophy Bros. is a casual, relaxed seaside restaurant with spacious waterfront patio seating. They have a great seafood selection and their chowder is off the charts. Not to worry, they also serve burgers, chicken, steak, and pasta.
9. Stay In Luxury
My two favorite places to stay in Ventura, the Crown Plaza and Clocktower Inn, are completely different.
The Crown Plaza Hotel is the only high-rise hotel in Ventura right on the beach. It is the perfect location, next to the Pier and Promenade and just two blocks from downtown.
The historic Clocktower Inn is warm and welcoming. If you're looking for charm, look no further. The Inn is a converted 1940s firehouse located in Ventura's downtown area, just a short walk to shops, dining, and other historical locations. For more area inspiration, consider: