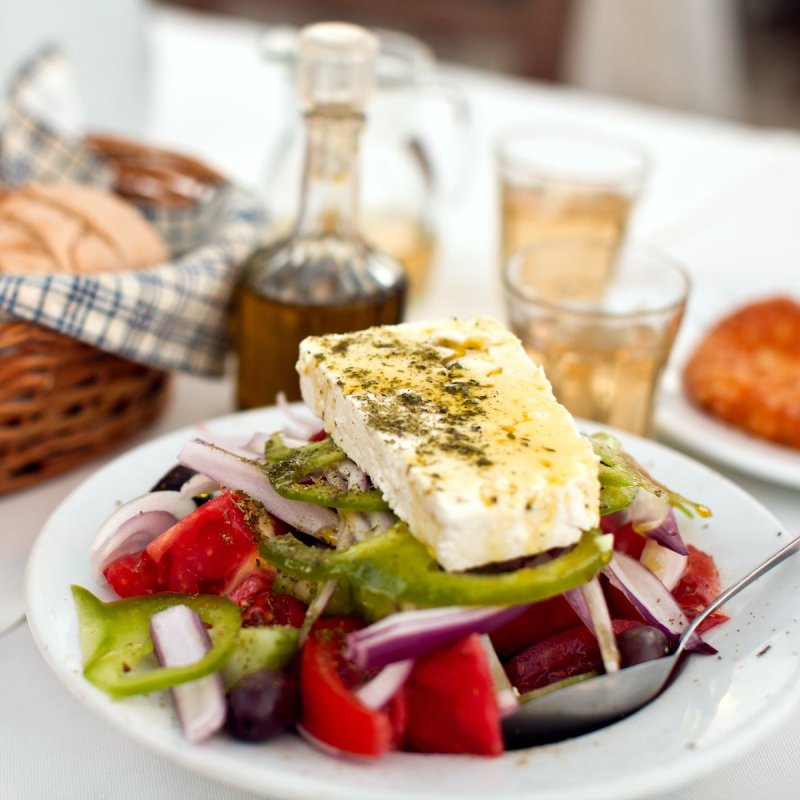 The food and culture of Greece are so appealing they delight all of our senses and spark our imagination. So even when we're not traveling, we love to bring the spirit and flavor of this Mediterranean wonderland home with us. A fun way to do that is to create our own Greek taverna at home. We convey the essence of dining in a traditional Greek environment by bringing together the sounds, sights, flavors, and fun of Greek culture and cuisine with easy things you can do too. Here are our top tips for creating your own Greek taverna at home.
1. Choose Your Taverna Location
One of the most important aspects of a Greek taverna is its location. The same goes for when you create your own personal Greek taverna experience at home. What is the environment you want to create? A Greek taverna in the robust and busy city of Athens is much different from one in a tiny village on an island. Think about the place you'd like to be. Do you want to be surrounded by echoes of Greek history like in a taverna with a view of the historic Acropolis? Or on a bustling street in an Athens neighborhood? Perhaps you would rather be on a small terrace dining in a garden, surrounded by grapevines or even a view of the sea? Let your imagination soar and select your ideal Greek taverna location. A quick online search of Greek taverna images should give you plenty of ideas.
2. Decorate Your Taverna
The colors of the Greek flag are blue and white. So many images of Greece include these colors. A fun way to start decorating your Greek taverna at home is to incorporate blue and white elements. Tablecloths or placemats and napkins are a great place to begin. You can use solid colors, stripes, chevrons, or checks and immediately start to feel their effect. You'll also want to include visual images that conjure your favorite Greek scenery and activities. Create a slideshow of Greek photos on your computer or print out several images and put them around the room.
If you like, add a few flowers found in Greece like the cyclamen, hyacinth, gladiolus, and daffodil. It's easy to find online Greek decor such as toothpicks with Greek flags, paperware with Greek key designs, artificial olive leaves or grapevines, and even replicas of Greek statues. You can take it as far as you want, but ultimately, decorate your taverna with what you enjoy about Greek culture. A few simple items and images will set the mood.
3. Decide Your Food And Beverage Menu
Of course, one of the best reasons for creating your own Greek taverna at home is to enjoy the wonders of Greek cuisine. Planning the menu is only difficult because there's so much you'll want to taste. You have your choice of cooking yourself or ordering from your favorite resources. We think it's fun if you do a little of each. You'll want to decide whether to make a meal of mezze (small plates) or an entree such as roasted lamb or moussaka. One of the most respected experts in Greek culture and cuisine, Diane Kochilas, has a great blog with tons of recipes and ideas.
One of our favorite recipes is Keftedes, traditional Greek meatballs. You can also create a vegetarian version using tomatoes. Dips and pita are another good choice. Making your own tzatziki sauce is as easy as combining plain Greek yogurt with dill weed, garlic, olive oil, vinegar, and salt in a blend that pleases your taste buds. Feta cheese, just as it is, with a side of olives and a lemon wedge, makes a great mezze plate too. Your favorite grocer has many of the items you'll want, and online specialty providers like Parthenon Foods have an even wider array of Greek ingredients and even prepared frozen versions of classic dishes.
Don't forget some good Greek wine like Moschofilero or Assyrtiko whites or Agiorgitiko and Xinomavro reds. Greek wines have become much better known around the world, and you will likely be able to find them at your local beverage warehouse or from a wine vendor online. Beer lovers will enjoy trying Mythos, Alfa, or Fix Hellas brands, which are popular around Greece.
4. Add Music To Enhance The Ambiance
Greece is a land of music, and you'll want to light up your Greek taverna ambiance with Greek music. Depending upon what you prefer, you can include traditional instrumental bouzouki and sirtaki music, modern Greek pop, or great vocals, both old and new, that transcend time and genre. There are also soundtracks from movies like My Big Fat Greek Wedding that include a fun variety of Greek music. You can find plenty of visuals with current Greek music, traditional songs from the Islands, and dreamy instrumentals on YouTube.
We enjoy a mix of instrumental music and vocal music to change the mood as we move through our meal. In addition to the well-known classics, we like contemporary artists such as Anna Vissi and Nikos Karvelas. And, of course, we love when they sing together too! Don't forget to play some Greek music while you're setting up your Greek taverna or cooking.
5. Do Some Dancing
Something is likely to happen when you have a little good wine, a little good food, and a little Greek music in your home taverna. It's the same thing that happens in Greek tavernas everywhere. First, you'll start tapping your toes. Then a finger snap or two might emerge. Pretty soon, you'll just feel like you can't stay in your chair anymore. You'll want to get up and dance! This is one of our favorite parts of Greek culture, and tavernas are a great source of joy for those who like moving to music.
You can choose to dance as you normally do, especially when contemporary music is playing. Or you can learn a folk dance or two before you create your Greek taverna and do some dancing Greek-style. Greek dancing is easy and fun. You can even learn it through free videos. A quick online search will provide lots of options to learn the Hasapiko, Kalamatiano, Zeibekiko, and other Greek folk dances. Once you give it a few practice tries, you'll be a pro and can teach anyone else who would like to join in the fun.
6. Learn To Speak A Little Greek
Greece is known as the cradle of civilization. So we think everyone is a little bit Greek. That's why it's simple and fun to learn a few helpful expressions in the language when you plan on creating your own Greek taverna at home. Just a few words will help you get in the spirit and fill the ambiance with Grecian delight. Here are some words we often use in a Greek taverna that may come in handy.
OH-pah! This is a word that people say when they're dancing and for general expressions of happiness, kind of like Yippee! YAH-mas! is like Cheers! when drinking.
YAH-soo is like hi! or howdy! (if addressing more than one person, you would say YAH-sas). KRAH-see is the word for wine. Psoh-MEE means bread. These are common words you will hear around a Greek taverna. If you want to learn more, check out a free lesson on Greek basics. There are several to choose from of varying depths.
7. Don't Forget Dessert
A Greek taverna begs you to finish off your meal with any number of famous Greek sweets. Baklava is a universal favorite made with honey syrup, crushed nuts, and layers of buttery phyllo dough. Cinnamon-infused rice pudding with raisins is another common dessert. There are lots of pastries, cakes, and cookies that you can purchase or make at home. If you'd like to try your hand at a simple recipe shortcut — we love using phyllo dough and orange juice — try our Portokalopita recipe for a delicious orange cake. If you're planning on having family or friends join you for the evening, making dessert together is a lot of fun for everyone involved.
Bonus Tip
If you are not too tired or you've made a Greek taverna meal during the day, treat yourself to a fabulous movie that celebrates the essence of Greece. A few ideas are Mamma Mia!, Mamma Mia! Here We Go Again!, Shirley Valentine, Summer Lovers, Zorba the Greek, Captain Corelli's Mandolin, The Big Blue, For Your Eyes Only, or My Life In Ruins. Check out this list for even more inspiration.
Greek culture and cuisine are easy to love. That's why even if we're not traveling, we have fun recreating the experience of a meal in a Greek taverna at home. These are just a few of the ideas you can use to help you produce a fun Greek taverna experience of your own.
Related Articles: