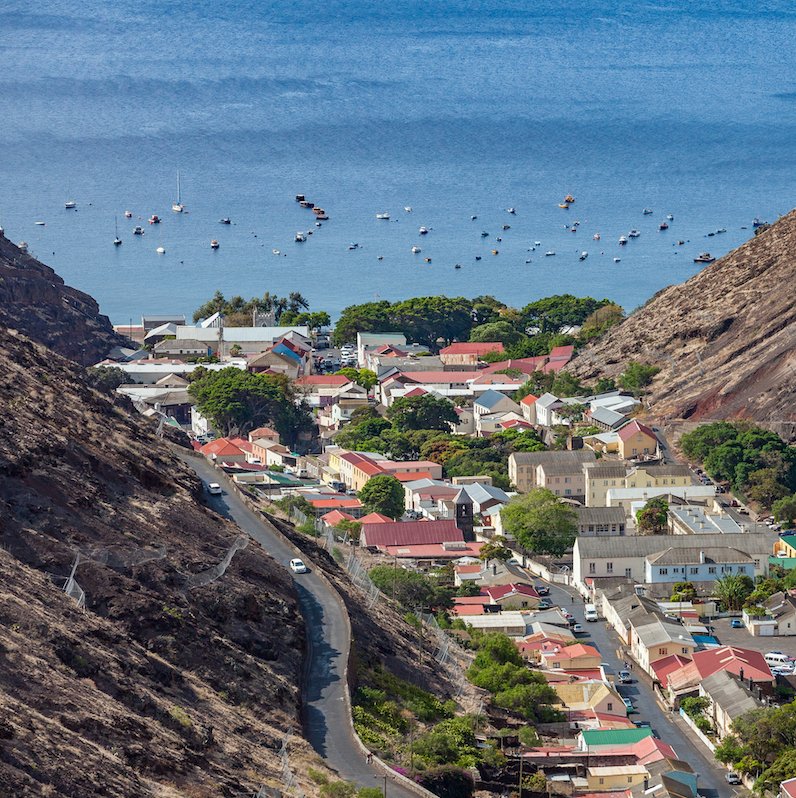 A small chain of underwater volcanoes lies off the coast of Africa, 1,120 miles due west of Angola in the South Atlantic Ocean. Only one of these volcanoes actually breaks the surface though, and this is the tiny island of Saint Helena. Regularly hidden in cloud and mist, the island was uninhabited and undiscovered until the Portuguese stumbled upon it in 1502. Incredibly they managed to keep this extraordinary place a secret for almost 90 years. In 1659, the British East India Company took possession of the island and began a fortification process that has left the island covered in old cannons and crumbling stone forts. In the years that followed, a parade of now famous and infamous people have found their way to Saint Helena, including astronomer Edmond Halley (of comet fame), Captains Cook and Bligh, naturalist Charles Darwin, as well as numerous exiles, prisoners of war and, of course, probably the island's most well-known exile, Napoleon.
For more than 500 years, the only way to reach Saint Helena was by sea. In its heyday, more than 1,000 ships a year called in. However, with the opening of the Suez Canal in 1869, the island became an isolated and forgotten outpost. Over the last 50 years, only the most intrepid travelers have ventured to her shores. This most isolated of British territories and its people were for years only connected to the outside world by a five-day boat trip from Cape Town. That was until the island's airport opened, connecting Saint Helena and its population of around 4,000 people with the outside world with twice-weekly flights from South Africa. Nowadays, cruise ships also call in at Saint Helena.
For such a tiny island, there is so much to do — much more than you would expect. My husband and I spent a wonderful week on Saint Helena, doing and seeing everything there was to see and do. Read on for some tips on how best to experience this extraordinary place.
1. Island Tours
We spent our first day on Saint Helena getting orientated, driving the length and breadth of this tiny 77-square-mile island. Deadwood, Longwood, Blue Hill, Man and Horse, Sugar Loaf, Half Tree Hollow, The Gates of Chaos — all places with names sounding straight out of a fairy tale, and perfectly suited to this enchanted island. From the black volcanic sand beach to cloud forests and historic fortifications perched high over churning seas, we saw it all. We lunched in one of the breeding grounds of the so-called wirebird (the Saint Helena Plover), the island's only surviving endemic bird, and one of the rarest birds in the world. We passed the donkey sanctuary, the golf course, a curious rock called the Bellstone that, when struck, sounds just like an old church bell, ending the day with sundowners at South West Point, we looked down the dramatic coastline and out over water that glistened like liquid silver as the sun sank low in the sky. Driving back to the capital, Jamestown, we watched as sea mist slide over the landscape, enveloping the island in mystery.
For island tours, I can recommend Aaron's Adventure Tours.
2. History
In 1815, Napoleon, after meeting his "Waterloo," was exiled to Saint Helena. The former French emperor, who had once ruled an empire that stretched across Europe, died six years into his exile on the island and his various residences and tomb (now empty) were on our itinerary. Also on our must-do list was afternoon tea at Plantation House. Built in 1792, Plantation House is home to both the island's governor and to Jonathon, a Seychelles giant tortoise, who at 185 years old, is simultaneously the island's oldest resident and probably the world's oldest land animal. Jonathon has been on the island since 1882, and he, along with a couple of younger and smaller companions, can be visited as they graze the lawns of Plantation House.
3. Whale Sharks
Saint Helena is one of the best places in the world to see whale sharks. Every year between December and March they can be found here. The island may even be the key to whale shark reproduction in the Atlantic, as the whale sharks here congregate in an equal split of adult males and females. This 50/50 mix of adults is incredibly important because the mating behavior of these animals has never been recorded.
We set out one morning to look for whale sharks, bouncing across the water in a boat. We were out of real whale season, and after looking for some time, were starting to lose hope of success. Suddenly, just below us in the water was a gentle giant, the biggest fish in the sea: a whale shark. We quickly got ourselves into the water. We swam beside her for over half an hour. She was immensely inquisitive and seemed as keen to get a good look at us, swimming slowly in our direction as we back paddled out of her way. No underwater experience I've ever had can compare to swimming with my first whale shark.
For whale shark tours contact Dive Saint Helena.
4. Scuba Diving And Snorkeling
In addition to whale sharks, several other special creatures are found in the waters around Saint Helena, including humpback whales, turtles, fantastic colorful fish, and resident populations of dolphins.
Balancing on the edge of the dive boat, my husband and I exchanged glances. Neither of us had dived for more than a year, and yet here we were, on a boat, with a bunch of experienced divers who clearly knew what they were doing. I was feeling a little out of my element as we headed out to sea! I needn't have worried though. The minute I entered the water, I was surrounded by clouds of brilliantly colored fish. Mesmerized, I forgot all my nervousness. It is easy to love diving at Saint Helena. The clear water was a balmy 73 degrees, and the visibility was somewhere around 65 feet. Before I knew it, my tank was almost empty and it was time to clamber back on board the boat. Wrecks, reefs, islands, and caves abound in the waters around Saint Helena, all within a relatively short boat ride of the capital, Jamestown.
Our final morning on Saint Helena, we decided on a last-minute snorkel in Jamestown Harbour, just a stone's throw from our hotel room. We clambered down slippery stone steps into the water and just feet from the harbor wall, found ourselves swimming through schools of fish that scattered like confetti, revealing below us a shipwreck. In 1911, the SS Papa Nui exploded and sank in only 40 feet of water right in Jamestown Harbour. The ship laid stretched out on the harbor floor below us. A migratory green turtle swam past, burrfish and groups of goatfish appeared, and there were glimpses of anemones and octopus amongst the tangled wreckage.
For expertly run scuba diving and snorkeling, reach out to Sub-Tropic Adventures.
5. Hiking
Hiking is one of the most popular outdoor activities on Saint Helena. There are numerous popular trails available around the island's coastline, giving people the chance to experience Saint Helena's rugged exterior and capture some of the most magnificent coastal and cliff-edge views.
Hiking through a surreal and barren landscape, we headed to Lot's Wife's Ponds, one of Saint Helena's best-known trails. It's a strenuous but rewarding hike with breath-taking scenery. We encountered breeding colonies of black-faced boobies and looked down over the brilliant blue waters waiting, enticingly, below. Reaching the last stretch of our hike, we clambered down a length of rope that hung casually over the side of the cliff. Reaching the water, we stripped off for a swim. Waves crashed against a natural stone breakwater, leaving the rock pools calm and undisturbed. Rock formations towered above us and tropical fish surrounded us, nibbling on our toes. Octopus, sea urchins, and starfish nestled amongst the rocks below us.
There are also numerous inland hikes to enjoy on Saint Helena. The severe coastal cliffs give way to ridges and valleys with lush green vegetation. We headed inland to the island's highest point, Diana's Peak (2,690 feet). We climbed through the cloud forest, a much easier and cooler walk than our coastal hike, and from the top were rewarded with stunning views across the island, from its green heart to its barren edges and the endless ocean beyond.
Terrific guided hikes and walks are run by MY St Helena Tours.
6. Coffee
For a change of pace, we called in at one of the island's coffee plantations. Coffee, more specifically, the Green-Tipped Bourbon Arabica variety, was first introduced in 1733 from Yemen by the East India Company and is still being cultivated here today, unchanged. We had a guided tour of the plantation and were talked through the process from picking and pulping to hulling and roasting, and ultimately got to drink some for ourselves. Napoleon, after years of isolation and exile, apparently said, "The only thing good about Saint Helena is the coffee," and whilst my husband, who is a bit of a coffee aficionado, definitely concurred that the coffee was good, we would have to disagree about the "only" part of that statement, as Saint Helena is without a doubt a destination that just keeps on giving.
7. For A Physical Challenge
In 1829, a funicular railway was built to connect Jamestown, up the side of the rather steep Ladder Hill, with Ladder Hill Fort. Just a few steps from our hotel and past the oldest Anglican Church in the Southern Hemisphere are the 699 steps that are all that remains of this railway. The angle of ascent is a taxing 40 degrees, and before breakfast each morning I challenged myself to the climb. I gave it my best shot, but never managed to get near the record ascent time, currently standing at an impressive 5 minutes and 16 seconds! Having only managed to convince my husband to join me a couple of mornings, most days I reached the top of the ladder and looked down over what is regarded as the best-preserved Georgian town in the world, knowing that he was still tucked up in bed, awaiting bacon and eggs!
Pro Tips
Saint Helena is a tiny, wonderful island, a volcanic peak jutting out of the South Atlantic, quite literally in the middle of nowhere. A welcoming island, where people wave, say hello, and have time to chat. A place with something for everyone, from history to hiking, birding to boat trips, diving, snorkeling, whale sharks, and more.
Getting There: The only airline offering flights to Saint Helena is Airlink
When To Go: Saint Helena is a year-round destination, but whale shark season is December to April
Language: English
Climate: Warm to hot
Currency: British Pound
Medical Insurance: Compulsory, proof must be shown on arrival
Vaccinations: There are no vaccination requirements
Travel insurance: Essential
Note: There are no ATMs on the island and credit cards are not accepted in most places beyond the Mantis Hotel (which takes all major credit cards)
Where To Stay: Mantis St Helena
For more bucket-list trip inspiration, consider: