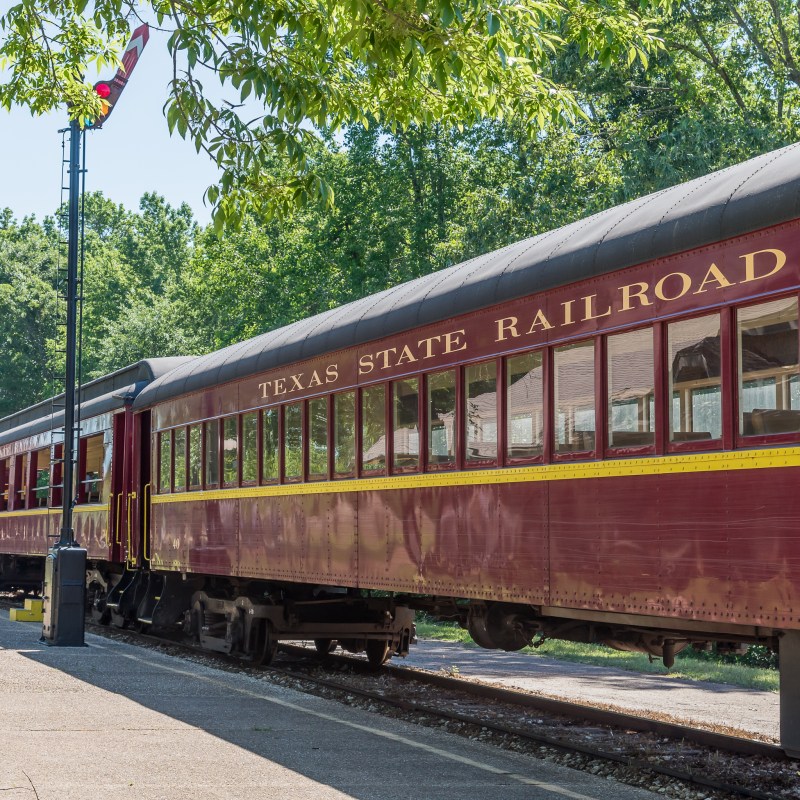 Founded in 1846, Palestine (rhymes with "teen") is just over a two-hour drive from the Dallas/Fort Worth area. You'll find the Texas state train, scenic dogwood trails, antique shopping, and more than 1,800 National Historic buildings (second only to Galveston), making it a unique destination, especially for a spring weekend escape.
Remember The Legends Of The Dogwood Tree
The Romans made Jesus's cross from a dogwood tree that used to grow tall like an oak. God transformed the dogwood tree to a slender tree with gnarled branches. The flower appeared as a cross with blood-stained nail prints at the edges with a crown of thorns in the center.
According to a Native American legend, a powerful chief demanded rich gifts from his four daughters' suitors. Angry with his greedy behavior, the gods transformed him into a small tree with low branches. His four daughters represent the four petals of the bloom.
With this renewed appreciation of the dogwood tree's beauty and symbolism in mind, let's explore this quaint East Texas town.
1. The Piney Woods Excursion Train At The Texas State Railroad
For kids of all ages, the Texas State Railroad's 2021 season starts March 13 with the four-hour historic Palestine Diesel Round Trip to Rusk and back among the dogwoods. Other trips include the Dogwood Brunch Train, Easter Egg Run, Pints in the Pines, and Wines in the Pines. Visit the Palestine Depot for railroad history, The Whistle Stop Cafe, and Roundhouse 1909 gift shop. At the Rusk Train Depot, don't miss the Roundhouse 1883 gift shop and the Mail Car Cafe. All aboard! Reserve your train ticket here.
2. Davey Dogwood Park, 900 N Link Street
The 254-acre Davey Dogwood Park is the main attraction overflowing with dogwoods among the five miles of roads and eight miles of hiking and biking trails. Enjoy two picnic areas; one is a scenic overlook called Manley Mountain, one of the highest points in Anderson county. The other is at the center of the park with a pavilion. A non-profit organization is fundraising, and construction has begun for restrooms in the park.
3. Fairy Garden Trails At Davey Dogwood Park
If you visit Palestine in spring, follow the signs to the pavilion at Davey Dogwood Park, then to the Fairy Gardens (see webpage for specific dates). Two routes take you along a magical fairy garden trail that is a quarter-mile on level ground and easy walking — which made it perfect for my grandchildren. The second trail is a half-mile long and a bit more challenging. It invites you to enjoy the sunshine, fresh air, and more delightful fairy gardens.
4. Texas Dogwood Trails Celebration
For over 80 years, the Palestine Dogwood Trails Celebration has taken place the last two weekends in March and the first weekend in April. If you're in town for the celebration, enjoy the dogwood blooms in Davey Dogwood Park and the surrounding forests of east Texas.
5. Downtown Walking Tour
The Historic Downtown Walking Tour is easily accessible by downloading the Visit Palestine app on your phone. The tour starts at the Carnegie Library, one of the 13 remaining Carnegie Library buildings in Texas, then it's on to the Redlands Hotel, my suggestion for your place to stay while visiting Palestine.
Other historic buildings on the tour include The Dilley Building housing the Chamber of Commerce and the Victorian Italianate-style Hinzie Building. Also, explore the Kolstad Building, which houses the oldest retail store in town. Stop into Star of Antiques in the Gardner Twin Building and the Texas Theatre, a movie palace that opened in 1930. I love seeing the old restored architecture and especially the gargoyles.
6. Main Street Farm And Flower Market, 834 W Spring Street
The first Saturday of the month, the Farmers Market sponsors Market Days, packed with homemade goods like bakery products, jams, jellies, cookbooks, hand-painted gourds, soaps, lotions, crocheted items, and more.
7. Art Tracks Sculpture Tour
Annual Art Tracks Sculpture Tour's goal is to encourage parks and arts in Palestine. This juried exhibit features outdoor sculptures you can explore along the main streets of the town.
8. Tour Of Homes
Make sure to drive the Historic Driving Tour, Northside or Southside, using the downloadable Visit Palestine app. View the Elmwood home at 601 E Hodges, the John and Emma Hearne House at 503 E Hodges, the Henry and Hypatia Link House at 1003 N Link, The Joost-Ozment House at 922 N Link Street, and the Wilson-Wright-Brooks House at 310 E Kolstad, to name a few. The Bailey-Summers House at 921 N Cedar is a two-story Classical Revival home with gigantic columns and is still family-owned. I love these old historic homes, and only Galveston has more.
9. The Howard House Museum, 1011 North Perry
The Howard House, constructed in 1851, is a historical example of Greek Revival architecture by James Bunda. Listed on the National Register of Historic Places, enjoy period furnishings. Open weekends.
10. Columbia Scientific Balloon Facility, 1510 FM 3224 E
Operated by NASA, balloons as large as 300 feet in diameter were launched to study the upper atmosphere and outer space. Arrange a tour for the kids through the public relations officer at the base.
11. Lake Creek Blueberry Farm
Did you know that blueberries grow in East Texas? Lake Creek Blueberry Farm in nearby Montalba offers pre-picked or you-pick options in late May and early June with the best fruit, service, and family experience in East Texas.
12. The Anderson County Courthouse
The Anderson County Courthouse features restored neoclassical architecture with a double spiral staircase leading to a beautiful stained-glass dome. In Texas, the Texas Historical Commission has facilitated courthouse restorations and Main Street updates; see the fruits of its labors with a visit to this striking courthouse.
13. Old Pilgrim Church
Said to be the first Protestant Church in Texas, the log cabin that stands today is a reconstruction of the original 1833 Old Pilgrim Church founded by Elder Daniel Parker. He came to the Texas frontier in 1828. Before Stephen F. Austin settled the Mexican land grants, he stipulated that only Roman Catholic churches could organize in Texas. Later, Austin gave Elder Parker permission for the first Protestant church in Texas to attract his family to settle there.
14. Sabor A Pasion Estate And Vineyard, 110 Anderson County Road 406
Twenty-five acres of peace and tranquility outside of Palestine offer the perfect getaway at Sabor a Pasion, with charming accommodations and full-service dining at Restaurant Aubergine, led by Chef Simon Webster, who was born in England and raised in New Zealand. The menu changes weekly, offering locally sourced meat, produce, handmade pasta, wood-fired pizza, wine tastings, and artisan desserts. You'll find your choice of four romantic cottages and two estate bedrooms with spectacular views of the gardens, vineyard, and piney woods of East Texas. Follow a narrow winding road lined with dogwoods, pine trees, and horse pastures to Sabor a Pasion.
15. Texas Vineyard And Smokehaus
A tasting room, restaurant, and vineyard with gift shop and patio, Texas Vineyards and Smokhaus is located five and a half miles from Loop 256 at 2442 Anderson County Road 2133. It's hard to find since the GPS may not have anchored the location. You may need to call (903) 538-2950 for help with directions. Once you get there, enjoy award-winning Rosa Blanca, Chardonnay, Cabernet Sauvignon, and Syrah, to mention a few. Try the signature wine, Red Sangria, purchased by the half-gallon, or the Black Silk, an after-dinner wine that tastes like chocolate.
Best Restaurants In Palestine
16. Oxbow Bakery And Antiques, 215 E Crawford Street
Voted among the best places for pie in Texas by Texas Highways Magazine, South's Best Pies by Southern Living magazine, and Hidden Gem in Texas by Texas Monthly, get your pecan pie at Oxbow. I love the chocolate meringue or coconut meringue pie the way Mom used to make it. Chocolate pecan, lemon icebox, chocolate icebox, and more can be ordered by the slice or the whole pie. Open Thursday to Saturday, 10 a.m. to 3 p.m.
17. Eilenberger's Bakery, 512 N John Street
The Oldest Bakery in Texas, Eilenberger's Bakery opened in 1898 with secret recipes from Germany for the Fruitcake, named Best in the World by ABC TV. Order Eilenberger's baked goods via Goldbelly.com. The Chocolate-Covered Praline Pie is impressive, and the Texas Pecan Pie is chocked full of pecans. Try the Pecan Toffee Gift Box or The Puds and Pies Samplin' Gift Box. You'll want to buy one of each!
18. Old Magnolia Mercantile, 120 West Oak
At the neighborhood sandwich and coffee shop in Palestine, the chicken salad stuffed avocados are great for lunch. Choose the Hearty Chicken Salad sandwich, the French Dip, or the Barnyard with chicken salad, turkey, pepper jack, and lettuce on pita bread. Relax and add a latte, cappuccino, or freshly ground brewed coffee to your order.
19. Pint And Barrel Drafthouse, 302 E Crawford Street
The go-to spot on a weeknight for dinner is Pint and Barrel Drafthouse. There's a selection of craft beers on tap, plus order a BBQ Bacon Cheddar Burger topped with bbq sauce, bacon, melted cheddar, and grilled fresh jalapenos and Texas toothpicks, batter-fried onions. Enjoy pulled pork sandwiches or french fry baskets. The Reuben sandwich is the real deal here.
Pro Tips
Constructed in 1914, Stay at the Redlands Historic Inn in the center of town at 400 N Queen Street, which offers apartment suites from efficiency to two bedrooms, fully furnished with all kitchen equipment, cookware, and dishes included. Enjoy casual, fine dining in the hotel at Queen Street Grille with gourmet foods by Chef Sam Moffit for lunch, dinner, and Sunday brunch.
Editor's Note: You can learn more about Palestine at www.visitpalestine.com. For more area inspiration, consider our picks for the 11 best campgrounds in the Piney Woods of East Texas and how to spend a perfect day in Athens, Texas, too.