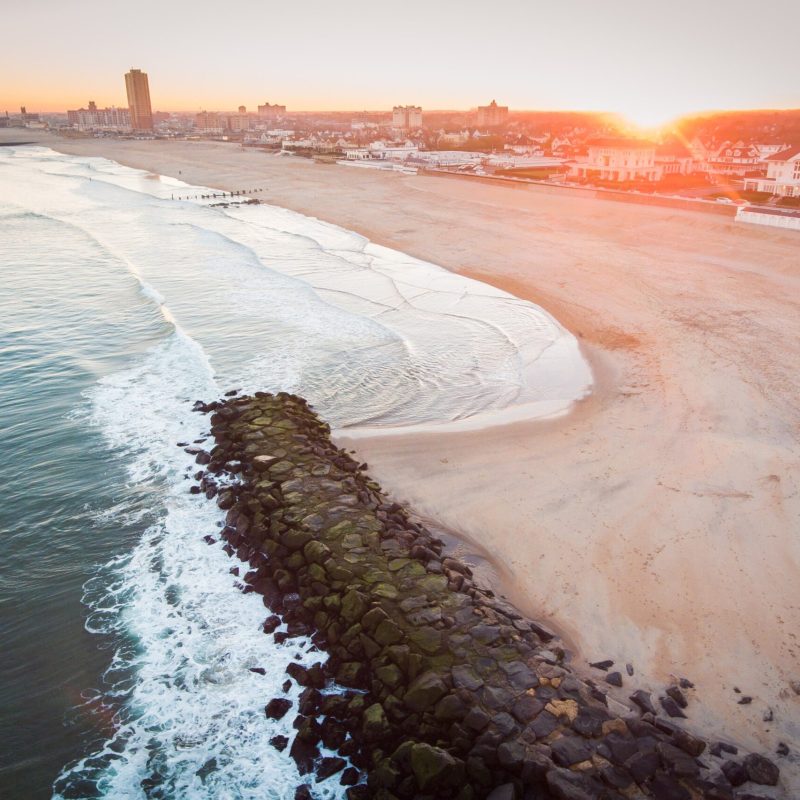 New Jersey may not be famously synonymous with romance, but there is a veritable bouquet's worth of opportunities for couples to spend time reconnecting and rediscovering their love for each other in the Garden State. From beaches to mountains, quiet rural retreats to bustling cities, there are destinations to appeal to every duo for Valentine's Day, anniversaries, special celebrations, or just to spend time together.
1. Love Language In Montclair
The hip suburb of Montclair is an ideal spot for literature-loving twosomes who want to be serenaded by the sound of spoken word and the opportunity to get lost in a world of books. Montclair boasts two indie bookstores: The sprawling Montclair Book Center with a mix of used and new titles, plus a separate room of vintage vinyl perfect for a literary interlude. Across town, Watchung Booksellers has a curated selection of tomes in a space that's connected to a cozy Italian restaurant. Tables tuck up next to the travel and cookbook sections, so you may have to choose between holding hands and holding on to another great read.
Montclair also hosts a popular literary festival, where famous writers hold large events (we've seen everyone from Joyce Carol Oates to local star Christina Baker Kline to Patty Smith strumming her guitar while she recited spoken word on stage), for a word-filled outing. Couples can also catch the "Halfway There" series of writers working on their next "big thing" at local coffee shop Red Eye for an inexpensive date night with big word appeal.
Pro Tip: Montclair is also a great spot to spend a weekend and check out its arts and dining scene. Consider my take on how to spend a perfect weekend in Montclair, NJ.
2. Victorian Cape May
Forget what you've heard about the raucous Jersey Shore, Cape May is the beach town for grownups with fabulous Victorian architecture, boutique shops, and gourmet dining. With its grand Painted Ladies (brightly colored, wide-porched Victorian homes), this is a place to stroll the cobblestones and take in the town, much like the original visitors to Cape May did more than a century ago (the beach town is listed on the National Historic Register as the oldest resort in the country).
Although the southernmost point in New Jersey is a lovely beach destination, you don't need to visit Cape May in the summer to have a great getaway here together. In fact, the shoulder seasons in the spring and fall may feel even more romantic since with fewer visitors you'll have the charming cobblestone streets almost to yourself. See the streets on a guided tour; horse-drawn carriages are an especially cozy choice for couples. Wrap up a visit with a seafood dinner overlooking the ocean at the Pier House, a perfect spot to watch the sunset together.
Editor's Note: Planning a holiday visit? Read up on these 10 Wonderful Things To Do In Cape May, NJ, During Christmas. And if you're going any other time of year, we've got you covered with The Best Things To Do In Beautiful Cape May.
3. Back To School For Sweethearts In Princeton
Princeton is synonymous with its ivy-covered university, and the historic campus has a way of transporting visitors, if not back to their own college days, then to a more unplugged, serene time. The red brick pathways of Princeton's historic campus easily lend themselves to a couple's stroll or some time talking under one of the old oaks. Or head indoors to the art museum that holds a treasure trove of medieval sculptures and renaissance paintings, or to the jewel-box like Gothic cathedral. The two of you can also listen to classical music recitals in the school's performance spaces or take a guided tour of the campus that was home to greats from Albert Einstein to Woodrow Wilson.
After you've explored the university, it's a short walk to nearby Palmer Square, where you can easily explore boutique shops before stopping at The Nassau Inn for a cocktail in front of the massive hearth, a Princeton tradition for 250 years.
4. Music Lovers Mecca In Asbury Park
Asbury Park is the Jersey Shore's cultural hub, and it's the perfect date day destination for couples who are as in love with rock and roll as they are with each other. The legendary arts and music scene is probably best known as the place where Bruce Springsteen got his start. That was at the Stone Pony, where you can still catch live music, either at the original indoor venue or at the outdoor summer stage in season. Either way, you'll be able to hear some of the best local up and coming acts, and also see some Jersey classics (who knows, the Boss could even show up to make your date even more memorable?).
Other music venues fill the streets here, too, including Asbury Lanes, where you can bowl a game and then listen to a live set. There are plenty of singer-songwriters in this hip beach town as well. Tim McLoone's Supper Club is both a great spot for waterfront dining and for live music, including cover bands, singer-songwriters, and big bands.
Pro Tip: From strolling the boardwalk to playing pinball and digging your toes in the sand, see our full lineup of fantastic things to do in Asbury Park here.
5. Outdoors For Adventurous Couples In Vernon
In winter, Vernon is New Jersey's winter wonderland; a ski resort with 1,000 vertical feet of winter slopes at Mountain Creek with four peaks traversed by trails and gondolas, plus a snow tubing park so even the ski-averse can have fun in the snow.
This isn't just a winter getaway though, in warmer months the mountain transforms into a green getaway with downhill mountain biking trails, a waterpark that utilizes the hills for particularly zippy waterslides, and a treetop zipline as well. Off the mountain resort, there's plenty of other greenery, including several golf courses, plus access to hiking trails that include large swaths of the famed Appalachian Trail.
Pro Tip: You don't need to be an experienced hiker to enjoy the Appalachian Trail if you approach it one mile at a time, which I write about here.
6. Skyline Views In Hoboken
Here's an insider tip from a native New Jerseyan: The best views of the New York skyline are actually from the Jersey side of the Hudson River. And the bustling 1-mile-square arts enclave of Hoboken is ideally located to take advantage of the sparkling cityscape, with panoramas of the World Trade Center, One World Trade Center, and Manhattan's southern tip all along the expansive 14 block waterfront. Stroll hand in hand to Pier A, where live musicians often play in the warm summer months, to see the glistening water roll across the river, traversed by water taxis and ferries and even the occasional sailboat. And you can even spend the night watching the twinkling lights from the stylish rooms of the waterfront W Hoboken Hotel.
Pro Tip: There's even more to explore in Hoboken; check out the highlights in "From Bars To Ol' Blue Eyes: The Best Things To Experience In Hoboken.
7. Vintage Finds In Lambertville
Known as New Jersey's antiquing capital, for couples who love to unearth unique finds and search for special souvenirs, the streets of Lambertville are custom made for amour. The town dates back to 1700, and its well-preserved Victorian and Federal buildings house shops, restaurants, and inns that all feel like you've stepped into a sepia-postcard from the past.
Nestled along the Delaware River, Lambertville is connected to the historic center of New Hope, Pennsylvania, by a footbridge; stroll either side of the river along centuries-old footpaths, then head to Lambertville Station, a restored 1800s train station, for dinner alongside the gently rolling river, the same view couples from the past enjoyed a century ago.
8. Immersive Spa Day In Edgewater
Edgewater is, as its name implies, right on the water, perched on the Hudson River across from midtown Manhattan. While its scenic setting is a big draw, there's another reason couples make special trips here: to submerse themselves in the waters of SoJo Spa. This isn't a 1-hour massage-for-two spa, but a true destination, with several floors spanning 140,000 feet of watery ways to relax, unwind, and spend time together.
The traditional Korean spa is an immersive wellness retreat. There are volcanic sand baths where you and your love will be buried next to each other in hot sand. There's an outdoor heated infinity pool with a birds-eye view of the city, plus numerous onsen soaking tubs with warm healing waters. Inside, there are hot tubs, a reflexology pool, steam rooms, and even a Himalayan salt sauna, plus an ESPA beauty spa with a couples suite, so you can get a more traditional treatment for two. At the end of the day, you could leave and dine by the waterside, but SoJo also offers dining, so you can kick back in your robes and enjoy some Korean specialties. Still not ready to leave? SoJo has overnight accommodations, too.
For more Garden State inspiration, consider these 11 quaint New Jersey towns you must visit, too.