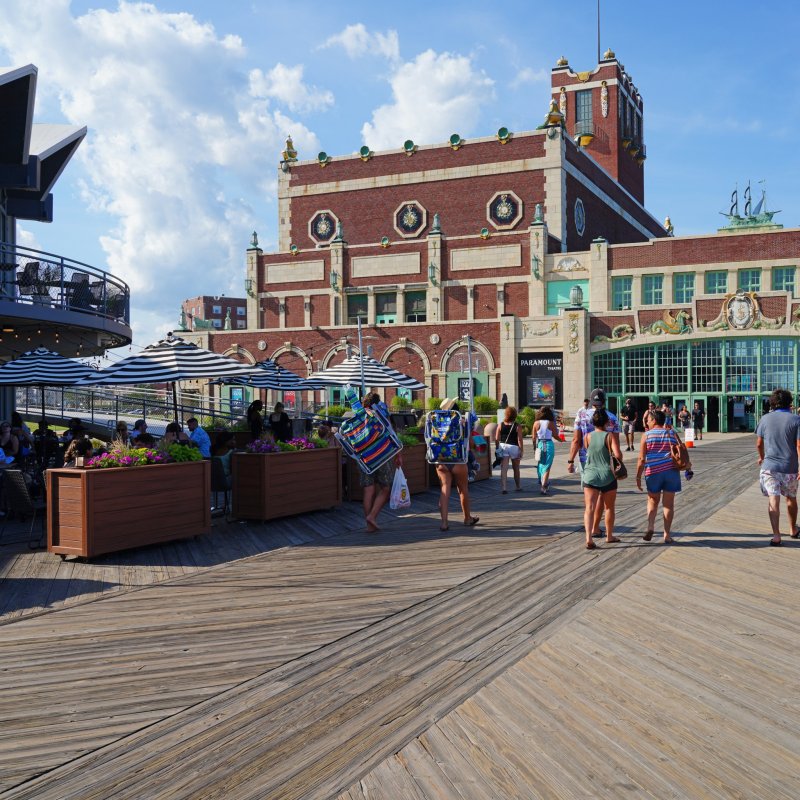 Asbury Park is simply the coolest place "down the shore" (what Jerseyans call the Jersey shore, no matter if you are traveling from north or south). You can smell the place as you near it: the aroma of wooden boardwalk planks mixes with suntan lotion and the salty sea air to create what I call the perfume of my childhood.
Asbury Park has certainly had its ups and downs, from its birth in the 1870s through its popularity as a family vacation oasis in the 20th century to the site of race riots in the 1970s, its iconic music venues with stars like Bruce Springsteen and Bon Jovi to the destruction wreaked by Hurricane Sandy in 2012, and now the pandemic realities of 2020. But, as it has in the past, the city seems to be once again rising like a phoenix. Its diverse fans and visitors — old and young, black and white, gay and straight, hip and not — keep coming back to this little (1.6 square-mile) stretch of heavenly beach and sky.
How To Get To Asbury Park
This seaside destination is located about 60 miles from New York City and 75 miles from Philadelphia by car (but count on several hours in traffic from either place on summer weekends). You can also reach Asbury Park by train, bus, or ferry.
A Destination For Every Season
Summer in Asbury Park is a daily celebration, but I also like the crisp days of fall on the boardwalk and beach, when there is room to move. Christmas is a great time to visit as well, when the Christmas Bazaar takes over the 1930 Convention Hall and the town abounds with great shopping, food, music, and holiday parties. Spring is when the warming sun begins to hit the boardwalk, and the seagulls are joined by their other avian friends en route from the south. There are things to see, do, explore, and experience all year long in Asbury Park and environs. Here are some of them:
1. Asbury Park Boardwalk
North and south of Asbury Park Convention Hall you'll find people skateboarding, bicycling, jogging, walking, and eating and shopping. It takes about 15 minutes to walk the length of the boardwalk straight through from the Convention Hall to what is now the ruined shell of the Asbury Park Casino and Carousel House (once an ornate beaux-arts building). You'll spot some great murals on the walls of the casino.
2. Asbury Park Convention Hall and Paramount Theater
The Asbury Park Convention Hall and Paramount Theater have been gathering crowds for almost 90 years. This grand structure was completed in 1930 and is an eclectic combination of Italian and French design, festooned with nautical motifs. The Paramount Theater occupies the old 5th Avenue Arcade section of the building and is a 1,600-seat venue.
3. Asbury Park Beach
Summer admission is currently $5 on weekdays and $7 on weekends and holidays (free for children 12 and younger accompanied by an adult as well as disabled veterans and active-duty soldiers and their dependents). Season badges cost $70, or $20 for those 13 to 17 or 62 and older.
4. Walk To Town
It takes about 15 minutes to reach Asbury Park's charming city center on flat sidewalks along Cookman or Lake Avenues. There are many interesting places (and some lovely neoclassical architecture) to peruse once you get there, especially when all the shops and restaurants open.
5. Pinball
The Silverball Museum Arcade is a boardwalk staple — a wonderland of some 600 vintage and modern-working pinball machines that date back to the 1950s. There is an hourly rate to visit the interactive history lesson and play all-you-can-flip on the machines.
6. More Amusements
Miniature golf at Splash Park and Asbury Eighteen Mini-Golf is certainly family-friendly fun for kids and adults. Note that both the mini-golf course and the splash park are on the boardwalk, but they're at separate locations.
7. Music
The Stone Pony
The Stone Pony opened in 1974 with a performance featuring local musician Bruce Springsteen. Since then, the club has been called the beating heart of Asbury Park and has become the center of the Asbury Park universe for those who love music. Southside Johnny and The Asbury Jukes and Jon Bon Jovi, among many others, have played there. Springsteen still is known to drop by every so often for a set or two.
Wonder Bar
Wonder Bar, instantly recognizable thanks to Asbury Park's mascot, Tillie, on its facade, is another stop on the music tour. It's also known for Yappy Hour, when canines are allowed to join their owners in a fenced-in outdoor area for food, drink, and music.
8. Food
MOGO Korean Fusion Tacos is a delicious quick-service fusion restaurant on Cookman Avenue in town.
Festhalle and Biergarten Rooftop Bar is a 6,000-square-foot indoor festival hall with some 39 kinds of draft beer, bratwurst, and some pretty impressive giant hot pretzels. There's also a great outdoor rooftop area.
Pascal and Sabine is a popular French brasserie featuring escargot, French onion soup, and steak tartare … and some pretty decadent desserts.
Cubacan Restaurant and Bar's menu offers modern Cuban cuisine and features its signature mojitos.
Located at the north end of the Asbury Park boardwalk at 7th Street, food trucks feed scores of hungry and thirsty beachgoers, and there are picnic tables nearby. Here are a few food truck choices I recommend:
Seoul Fusion
Igloo Italian Ice and Ice Cream
Johnny's Pork Roll and Coffee Truck
9. Art
Widely known for its colorful and creative wall murals along the boardwalk, Asbury Park has also been the home (since 2015) of the Wooden Walls Art Project, a collaborative initiative with the creative shore community that features artwork and murals throughout the town.
Art galleries in Asbury Park include art629, Parlor Gallery, and Exhibit No. 9, with work from both local artists and creative folks further afield.
10. Shop
Before the pandemic, Paranormal Books and Curiosities offered ghost tours and seances. Right now, you'll need reservations to partake in any activities they're offering.
Flux Modern is housed in an 1889 building that was once a Woolworth store. Twenty shops now fill the space, including Backward Glances, a vintage-clothing shop; Groovy Graveyard, selling records; and Kill Screen Games, which sells used video games.
11. Cool Places To Stay
The Asbury Hotel is a hip hotel with small but clean rooms just a block from the beach, with parking in the rear.
Hotel Tides is a boutique hotel with a restaurant.
Asbury Ocean Club Hotel opened in 2019. The Ocean Club offers suites and lofts (and has a pool terrace with a bar and grill). If you really like it, you can purchase a condo there for a million dollars (or two or three). Nearby Ocean Grove has several old-fashioned inns with porches. These include:
12. Beaches Nearby
For a little more peace and quiet, you may want to visit Ocean Grove, a charming community with attractive old-fashioned bed and breakfasts (many with porches from which to watch folks go by).
Ocean Grove has a very different vibe. Founded in 1869 as a Methodist retreat, Ocean Grove is home to the Great Auditorium — a 6,000-seat structure for religious services that dates back to 1894. The Tent City's 114 tents are used seasonally by congregants and visitors, some of whom are families with small children and many of whom have been coming for generations. You probably should not plan on snagging a place in Tent City — the waiting list is about 10 years long!
Two other popular destinations, Bradley Beach and Belmar, are just a few minutes away from Asbury Park by car. If you want an even larger boardwalk and beach than Asbury Park's, visit Point Pleasant Beach and Jenkinson's Boardwalk, which has rides, an aquarium, an arcade, and a funhouse, about a half-hour drive south of Asbury Park.
Still not settled on where you're going to hit the beach (or vacation in the Garden State)? Read up on these seven quaint coastal visits on the Jersey Shore, 11 quaint New Jersey towns you must visit, and why Cape May is New Jersey's best-kept secret.