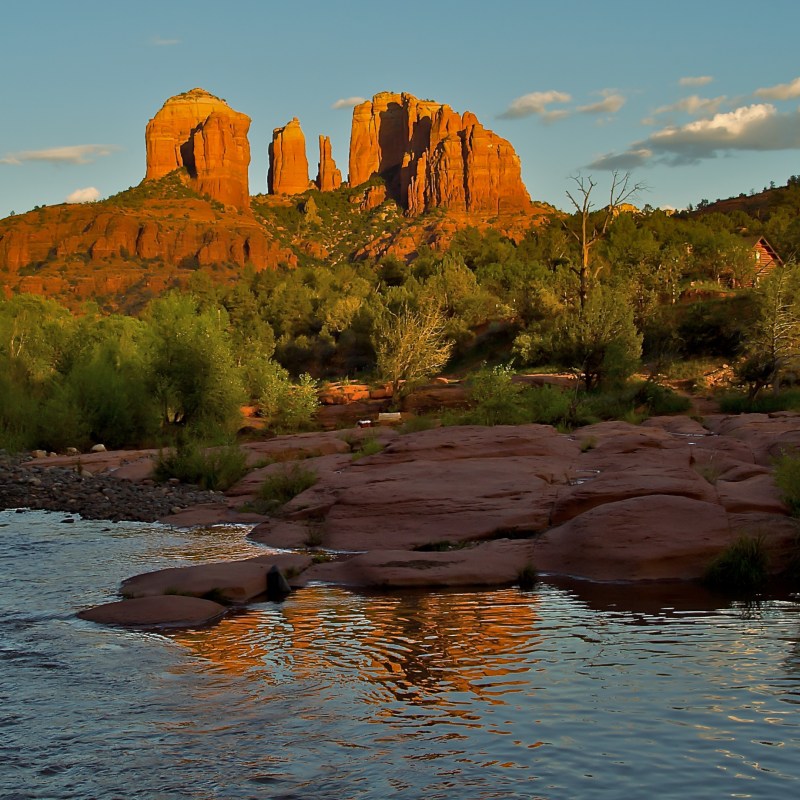 Even with 2020 in the rear-view mirror, the stress and anxiety many have been living with didn't just disappear. 2021 will hopefully bring a bit more stability, peace, and calm. Perhaps a journey to a place where you can stop and breathe could do some good? Luckily, seven such places can bring to you the sense of calm you may be seeking.
Sedona, Arizona
There is just something about Sedona. Even to a skeptic, Sedona has something that just gives off a peaceful vibe. No one can deny the physical beauty of the red rock landscape and the river valleys, and there is some kind of undeniable energy here. Many believe that this energy comes from the spiritual vortexes located around Sedona.
The vortexes are described as places where lines of natural electromagnetic energy intersect. This energy flow can be nurturing and welcoming and assist in meditation, reflection, and inward contemplation. The belief in the vortexes' healing powers can be traced back to the Native Americans who lived in the area. The Native Americans there recognized and honored the energy and spiritual power in their sacred ceremonies.
You can visit dozens of vortex areas, but the most popular are Airport Mesa, Bel Rock, Cathedral Rock, and Boynton Canyon. All are accessible by hiking and you are welcome to visit on your own, but a guided tour is highly recommended.
Crater Lake, Oregon
Born from the violence that is a volcanic eruption, Crater Lake and its dazzling blue waters offer calm and tranquility to anyone lucky enough to visit.
Also, known as "Lake Majesty," the crater was formed when Mount Mazama erupted and collapsed 7,700 years ago. Located in the Cascade Mountain Range, it is the deepest lake in the United States and because its sparkling blue water comes only from snow and rain, it is also one of the cleanest and clearest lakes in the entire world. Swimming is allowed in designated areas, but note that the water is very cold.
To best experience the beauty of the area, take a drive around Rim Road, with access to more than 30 scenic stops. Pinnacles Valley Trail will give you awe-inspiring views of ancient volcanic ash frozen into 100-foot-high solid rock formations. Another great stop is at Pumice Castle Overlook. Here, you'll see how a large layer of pumice eroded that now resembles a royal castle. The entire journey is about 33 miles and can make for a tremendous day trip.
Mount Shasta, California
Maybe there is something about volcanos in the Cascade Mountain ranges that provide us with such calmness. Another such place is Mount Shasta in northern California. Located just 60 miles south of the Oregon border, this pine-covered, double peak, extinct volcano is the largest of its kind in the United States.
And while there is plenty to do and see, most people come to the area for a more transcendent experience, as the mountain is known globally for its spirituality. The mountain is held sacred by the many Native American tribes in the area. For centuries the tribes would venture to holy sites on the mountain for healing and spiritual experiences. Among the legends, Mount Shasta is a place of "powerful earth energies" and, like Sedona, is thought to be at the middle of a powerful vortex, providing healing energy.
Because of this, Mount Shasta has developed a spiritual following all its own. A popular activity is to take a spiritual tour of the mountain. "Mount Shasta is a dimensional doorway to the frequency of love," writes Mt. Shasta Spiritual Tours on its website. These companies lead guided meditations and vision quests to the mountains' most sacred sites.
Halibut Cove, Alaska
If unwinding in a remote, beautiful, and quiet town sounds like paradise to you, Halibut Cove needs to be your destination. Tucked, quietly away inside Alaska's Kachemak Bay State Park, this little town is a welcoming respite from the pressures and anxieties of big city living.
Halibut Cove is accessible only by water as there are no roads to or in the town, and in 2019 had a population of only 91 people. You can find a water taxi in Homer, Alaska, a short ride from Halibut Cove. Stroll the 12 blocks of boardwalk, home to dozens of quaint art galleries, shops, and one restaurant serving freshly caught seafood. Halibut Cove is built right up along the water's edge providing incredible views of the mountains on the east side of Kachemak Bay.
Among the more popular activities is to take a ferry cruise from Homer Spit. The cruises will take you past Gull Island where you will see tens of thousands of seabirds such as puffins, kittiwakes, murres and cormorants nesting.
Ojai, California
Located in Ventura County, California, the Topatopa Mountains are home to another destination popular with anyone seeking spiritual renewal. Nestled quietly in the mountains is where you'll find the sleepy little town of Ojai. Like Sedona and Mount Shasta, Ojai is thought to be centered on an energy vortex that releases healing vibes for spiritual awakening.
For more than a century, Ojai has become the home to many seeking the power of spirituality, with many opening spiritual centers and meditation schools. Krotona has called Ojai home since 1924. It is a residential community of Theosophical Society members dedicated to "service in a center where Ageless Wisdom is studied and lived." Meditation Mount is a non-for-profit meditation center where you'll find a welcoming atmosphere dedicated to enlightenment through the power of creative meditation.
The calming vibes of Ojai don't end at the vortex. Ojai is also home to two ancient natural hot springs. Ecotopia Natural Hot Springs is located in Matilija Canyon. The area around the springs is lush, beautiful, and welcoming. Swimsuits are optional. The Matilija Springs is located along the Matilija River in the Los Padres National Forest. There are five rock-bottomed hot pools, with temperatures ranging from 100 to 106 degrees.
Mount Mitchell, North Carolina
The Appalachian Mountains have always been a source of peace and wonderment. Since the last half of the 19th century, the area near Asheville has been a mecca for people seeking healing and a spiritual journey. Some say it's the climate, some believe it's the hot springs, while others believe it's the 24 active vortices, making it one of the most concentrated vortex centers in the country. Mount Mitchell is a designated vortex location and is at the heart of this majestic group of mountains. It is said to have a very high crystalline energy.
To best visit and experience the power of the area, it is recommended that you take one of the many guided tour opportunities located in Asheville, including healing walks and guided meditations.
Hot Springs National Park, Arkansas
For thousands of years, people have believed in the healing powers of hot springs, and for good reason. A soak in a hot spring is known to provide many therapeutic benefits including boosting blood circulation, reducing stress, improving sleep and pain relief.
Hot Springs, Arkansas, is aptly named for the natural thermal water that flows from 47 hot springs. The waters reach temperatures around 147 degrees, and the Native Americans who lived near Hot Springs Mountain believed the water possessed healing properties.
The national park is home to Bathhouse Row, and that is where visitors can schedule a soak in the thermal waters from a variety of spas and bathhouses. Here, the waters are piped in, allowing you to relax privately or in a more open setting.