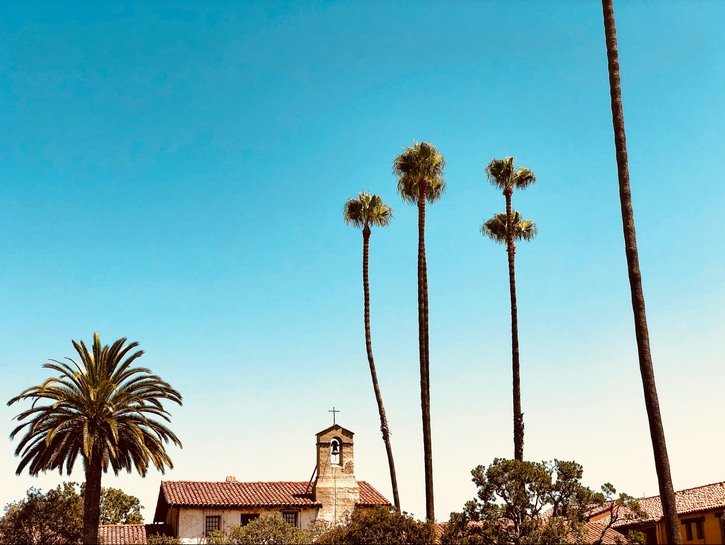 For many of us, travel is the pursuit of natural healing. It's about discovering places we've never seen, engaging with cultures different from our own, and ultimately uncovering a side of ourselves that has yet to be revealed. We return to our "real lives" with a deep sense of renewal.
But to have a truly transformative travel experience, not just any destination will do. You need to go somewhere that lends itself to a journey of both the body and soul. Fortunately, there are a number of natural healing places around the world, from therapeutic hot springs and mystical mountains to restorative monasteries and earthly wonders, where you can dig in deep to whatever kind of wellness you crave.
Want to take a spiritual journey? Here are 12 popular natural healing places around the world.
1. Ganges River
Varanasi, India
When it comes to natural healing, few places are more renowned than India's Ganges River. Hindus throughout the country make the journey to Varanasi, on the banks of the Ganges, to spread the ashes of their deceased relatives, believing the river will transport their souls to heaven and help them escape the endless cycle of rebirth.
Visitors can witness the devout taking spiritual baths in the river each morning and watch priests perform the famous Aarti ceremony (which includes flaming lamps and chanting) in the evening. And for your own natural healing, you can release an offering of floating flowers and candles on the river.
2. Blue Lagoon
Grindavík, Iceland
Renowned for its mineral-rich geothermal seawater, Iceland's Blue Lagoon is natural healing at its finest. The steaming blue lagoon, set within a striking volcanic landscape, promises to rejuvenate your skin and relax your body. Premium entrance to the outdoor spa includes a cozy bathrobe, slippers, and two mud masks, which you apply to your skin in the water.
The exfoliation will leave you with a noticeable glow, but the internal radiance you'll get from a visit to the Blue Lagoon will last much, much longer. Pro tip: Icelandair offers bus rides between the Blue Lagoon and Keflavík Airport, allowing travelers to get some natural healing during their layovers.
3. Camino de Santiago
Various Routes Throughout Europe
Every year, hundreds of thousands of people from around the world embark on "the Camino" — a Catholic pilgrimage via a network of trails that culminates in the Spanish city of Santiago de Compostela. This is where the martyr Saint James is said to be buried. The most popular route, the Camino Frances, starts at St. Jean Pied-de-Port in France and takes hikers along 500 miles of small towns and larger cities (including Pamplona and Leon), and participants stay in pilgrim accommodations along the way.
Regularly called "the trip of a lifetime," people take this journey on foot for a variety of reasons, including natural healing, historical appeal, physical achievement, and spiritual enrichment. This 30-plus day journey is best taken between April and June or September and October. Travel companies like Follow the Camino can take care of the logistics so you can focus on the most important thing: walking.
4. Healing Forests
Japan & Elsewhere
Ever hear of forest bathing? The trendy wellness ritual involves taking a meditative nature walk in the woods to experience the scientifically proven natural healing benefits of the outdoors, including immune system stimulation and improved self-esteem.
The practice's birthplace — Japan — now has 62 "Forest Therapy Bases", many of which offer guided forest bathing experiences in Japanese or English. But travelers can try this natural healing practice on their own by mindfully stepping into and walking a forest in Japan, or anywhere else in the world.
5. Medicinal Mayan Gardens
Near San Antonio, Belize
Natural healing can be found around every corner in Belize, from the kitchen gardens at many hotels to outdoor yoga classes hosted on beaches and in jungles. But one of the best places to check out this unique part of Belizean culture is by paying a visit to the Garcia Sisters, the 13th generation in a family of Mayan natural healers who offer tours of their medicinal garden.
You'll learn how they ease stomach aches with brewed herbs, treat the flu with soursop leaves, and mash oregano into a paste that relieves inflammation. For even more natural healing, ask one of the sisters to perform a spiritual ritual to cleanse your soul of negative energy.
6. Table Mountain
Cape Town, South Africa
One of the most iconic sites in South Africa is Table Mountain — a massive flat-topped granite and sandstone mountain that stands more than 3,500 feet above the city. Table Mountain's large quantity of quartz (considered a natural healing stone) makes it a magnet for spiritual travelers on retreat.
The postcard-perfect views of the entire city and the ocean from the top of the mountain humble visitors and offer a stark reminder of the sheer beauty and vastness of the earth.
7. Mount Shasta
Siskiyou County, California
Known as the place where heaven and earth meet, Mount Shasta has been attracting spiritual seekers to Northern California for decades. Believers point to Native American legends and energy vortexes along the trails as evidence that Mount Shasta is a sacred place for natural healing.
To see what this special place is all about, book a sacred site tour or guided vision quest with Shasta Vortex Adventures.
8. Dead Sea
Jordan and Israel
The natural healing powers of the Dead Sea draw visitors from around the world to the Middle East for therapeutic floats in the lowest body of water on the surface of the earth. Resorts along the banks of the sea in both Jordan and Israel scoop buckets of Dead Sea mud every day so guests can slather themselves in the black, mineral-rich substance, then feel buoyant as they rinse off in the highly salty and dense water. You'll emerge with silky smooth skin (exfoliated by the salt) and relaxed muscles (thank you, Dead Sea potassium!).
9. Ubud
Bali, Indonesia
No list of natural healing places around the world would be complete without a mention of Bali. Nicknamed "the Island of Gods," the Indonesian island is home to spiritual traditions that date back centuries. While you can find temples and healers all over, Ubud is known as the go-to place for a spiritual escape, with its welcoming shamans, art classes, yoga, and healthy food.
Is peace and quiet your path to natural healing? Time your trip to Bali so that it falls over Nyepi. The Balinese Day of Silence, which happens every spring, bans all noise and distractions. It's a fascinating cultural experience. And if you need a recommendation for a home base near Ubud, give Fivelements a try. The award-winning eco-resort can help you book traditional spiritual ceremonies with a Balinese healer.
10. Pamukkale Hot Springs
Denizli, Turkey
Take one look at the Pamukkale Hot Springs in Turkey and you'll think you've stepped onto another planet. The smooth, terraced hot springs with chalky-white water look otherworldly. Legend has it that a dip in these natural healing pools can actually make you more beautiful and provide health benefits like relief from asthma and arthritis, reduced blood pressure, and a burst of energy.
Are these thermal pools all they're cracked up to be? There's only one way to find out — make the journey to the UNESCO World Heritage Site (Pamukkale Tours offers daily visits from various places in Turkey), toss on a bathing suit, and dunk yourself in.
11. Le Monastere des Augustines
Quebec City, Canada
Need a little natural healing for your soul? Get thee to Le Monastere des Augustines, where you can eat, sleep, and restore yourself in an original cloister. Each day of your wellness retreat will start with a healthy breakfast held in complete silence, followed by a range of activities to help travelers get whatever kind of healing they're looking for.
Perhaps you spend your days time traveling through four centuries of history at the monastery's museum, indulging in an aromatherapy massage, going on nature walks, practicing meditation, or doing yoga. No matter what it takes to find complete rejuvenation, you'll find it at Le Monastere des Augustines.
12. Uluru (Ayers Rock)
Northern Territory, Australia
Despite receiving visits from some 300,000 travelers each year, Ayers Rock is anything but touristy. It's a sacred place protected by Australia's indigenous Anangu people. Climbing the 1,142-foot-tall rock will be banned in just a few months in order to respect its ancestral owners and protect the stone.
However, believers in the natural healing powers of Ayers Rock say you can feel the spiritual vibes just from standing near the important site. Longitude 131° offers a luxury desert basecamp, where you can soak up the magic from your own private pavilion in view of the site.
Photo Credit: James & Carol Lee / Unsplash