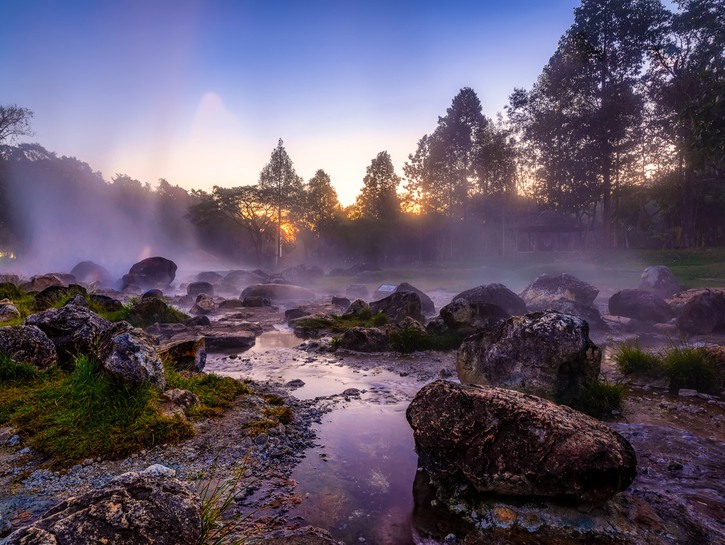 Nestled away in the Ouachita Mountains, Hot Springs, Arkansas, is an underrated southern gem. Named for its naturally heated springs and its lush green national parks, Hot Springs is an affordable vacation getaway with a plethora of both relaxation-centric and adventure-filled activities.
Whether you're after hiking, shopping, boating, horse racing, sports events, or outdoor amenities, there is fun to be had for yourself and the entire family.
We asked frequent visitors and Hot Springs locals to share their insider insights on the best activities in the area. You'll find that they did not disappoint. So, pack your bags and ready your travel itinerary as we share the best things to see and do in Hot Springs.
Must Do: Roast Marshmallows And Stargaze On Catherine's Landing
When asked about the best activities to do in Hot Springs, the responses were passionate. The ballots are in, and the locals we consulted agree unanimously — if you're a visitor to Hot Springs, you've got to check out Catherine's Landing.
Sitting on 400 pastoral acres and occupying a mile of waterfrontage on Lake Catherine, this venue is the perfect place to breathe in the beauty of the great outdoors.
Joi Taylor, a frequent visitor to Hot Springs, told TravelAwaits, "You can [keep it traditional and] pitch a tent, or glamp in a yurt, or stay at an RV site or cottage." No matter your camping style, Joi said, "Catherine's Landing invites you to spend your day kayaking, canoeing, boating, trail hiking, mountain biking, fishing, or even zip lining."
Rated number one in specialty lodging in Hot Springs on TripAdvisor, according to Joi, "Catherine's Landing offers a wide variety of accommodation options and a smorgasbord of on-site activities." Our takeaway: This is the perfect Hot Springs destination for all travelers.
Be sure to grab your camping gear, pack extra sunscreen, and roast a bag of marshmallows at the fire pit while gazing at the idyllic sight of Lake Catherine.
Must Do: Cleanse Your Body And Spirit At One Of Hot Springs' Historic Bathhouses
The Bathhouses in Hot Springs are without a doubt a national treasure. Constructed in the late 1800s and early 1900s, physicians and healers traveled from all around the country to experience firsthand the medicinal benefits of Hot Springs' mineral waters.
For a time, physicians would prescribe their patients soaks at the bathhouses. These days, travelers and locals get to experience their own taste of Hot Springs' miracle elixirs by treating themselves to traditional bath and first-class spa experiences.
Buckstaff and Quapaw are the only bathhouses still fully operational since the 1900s. At Quapaw, you get the added benefit of a complete spa treatment. With four thermal mineral pools and a thermal steam cave, you'll find the perfect mixture of rest and physical rejuvenation.
After a long, arduous hike or drive (Hot Springs is a great road trip destination, after all), be kind to yourself and enjoy a private bath or a spa facial and soak up the steam at the historic bathhouse of your choice.
Must See: Experience The Beauty Of Flora And Fauna At Garvan Woodland Gardens
"Garvan Woodland Gardens is a beautiful destination" Tatiana Sorokina, the avid traveler, mom, and planner behind Family Roadtrip Guru, told TravelAwaits. "To make it especially memorable, [you should] visit in early spring when thousands of tulips and daffodils are in bloom."
Named one of the top five Botanical Gardens in America, this wooded wonderland is a unique part of the University of Arkansas and a prime example of Arkansas' Ouachita environment. Consisting of 210 acres, Garvan Woodland Gardens is one of just eight public woodland gardens in the country and is the only one located on a body of water. It features over five miles of trails, unique bridges, waterfalls, a Children's Adventure Garden, and a famed architectural wonder: the Anthony Chapel wedding complex.
Can't make it in spring? Not to worry. You can view brilliant blooms year-round and behold one of the most elaborate outdoor holiday lights displays during the holidays. With over 4 million lights surrounding visitors, you can walk through mazes of twinkling lights embedded in Garvand Woodland Gardens' foliage.
Don't forget to wave to the peacocks before you leave!
Must Do: Blaze The Trails On A Grand Adventure In Ouachita National Forest
Ah, the Ouachita National Forest.
We would be remiss if we didn't mention one of the most picturesque and highly valued attractions in Hot Springs.
This national treasure will afford your wanderlust front-row seats to outstanding mountain views overlooking several valleys of streams, rivers, and lakes. The area's wonders amount to breathtaking views, scenic driving routes, hunting and fishing opportunities, and ultra-private camping.
Speaking of treasure, have you ever dreamed of excavating the earth like Indiana Jones or Captain Long John Silver, and finding your own bundle of precious gems?
Good news, you still can! Sorokina told us "not many people know that Arkansas soil is full of precious and semi-precious stones. One can find lots of white and pink quartz crystals of various shapes and sizes."
Just an hour drive outside of Hot Springs, you'll find Crater of Diamonds State Park. The name says it all: Visitors are free to mine for diamonds and other precious stones here.
And what's more, locals like Tiffany Bertram, owner of the 5-star Tiffany's Bed and Breakfast, will issue you a free night's stay if you discover a diamond at the volcanic site.
You can have your bed and breakfast and your diamond too! How cool of an incentive is that?
Must See: Travel Back In Time At The Gangster Museum Of America
During the roaring '20s, it was more than natural beauty that brought mobster attention to this quaint little area in Central Arkansas. Not long after Al Capone famously advised his people to "vote early and vote often," Hot Springs became the epicenter of American bootlegging and gambling.
The Gangster Museum of America provides a historic and entertaining account of how some of the most notorious American criminals coexisted in the charming town of Hot Springs.
Relive the experiences, bathe in the rawness of the time, discover the tantalizing stories of undercover federal agents, and hear eyewitness accounts as the museum serves up candid testimony of what it was like to be affiliated with the largest illegal gambling operation in the United States.
Must Do: Reward Yourself With Good Eats At Mr. Whiskers
Are you looking for a dining experience where the food is delicious, the people are friendly, and everyone is treated like family at Sunday's dinner table? If so, you should stop by Mr. Whiskers' for some good ole American eats.
This place may not be the fanciest in town, but the locals couldn't care less. The catfish is freshly caught, and oyster, shrimp, and chicken baskets also grace the menu.
Help yourself to all of the southern fixin's and sides galore and bring your family, and your appetite, to Mr. Whiskers.
Must Do: Delight The Palate At DeLuca's Pizzeria
Mama mia! Who doesn't enjoy a delicious slice of pizza?
Owner Anthony Valinoti has learned the art of the Neapolitan pizza. Think New York style, but mixed with the richness of Italian culinary flair. With the perfect combination of homemade Italian-inspired sauce and the hearty deliciousness you deserve after a day of playing tourist, DeLuca's is bound to steal your pizza-loving heart.
Pizza isn't the only item on the menu that Hot Springs locals are raving about. Looking to cut calories while on vacation? Deluca's has an abundance of antipasto and hearty salad options served family style, plus vegetarian and vegan pizza offerings.
DeLuca's is located in the center of town — just down the street from the Muses Cultural Arts Center, Hot Springs National Park, and so much more.
Must Do: Oh, We Almost Forgot to Mention…Shopping!
Because no vacation would be complete without a bit of shopping, right? Frequent travelers and locals all agree that the shopping scene in Hot Springs is an essential must-do.
If you're lucky enough to be in Hot Springs over the weekend, the first shopping stop for your consideration is the Farmers and Artisans Market.
Here, everything is homegrown, homemade, and handmade. You can select from a vast assortment of agricultural goods, or get a jump start on this year's Christmas list by shopping the beautiful crafts made by local artisans.
Looking for more ideas? We've got you covered. Another shopping favorite is Historic District Antiques. Located in the heart of Hot Springs, this store specializes in period lighting, chandeliers, sterling silver, rare clocks, fine porcelain, and art glass.
If you find yourself about the center of town, Historic District Antiques is the best place to peruse and reclaim antique gems. Maybe you'll even bedazzle yourself or a loved one in vintage jewelry that commemorates your time in Hot Springs.
Of course, Hot Springs is just one of the world's stunning natural healing destinations. Check out 12 more natural healing places — including international hot springs destinations!
Photo Credit: _YPStudio / Shutterstock
Photo Credit: Jeremy Janus Photography / Shutterstock