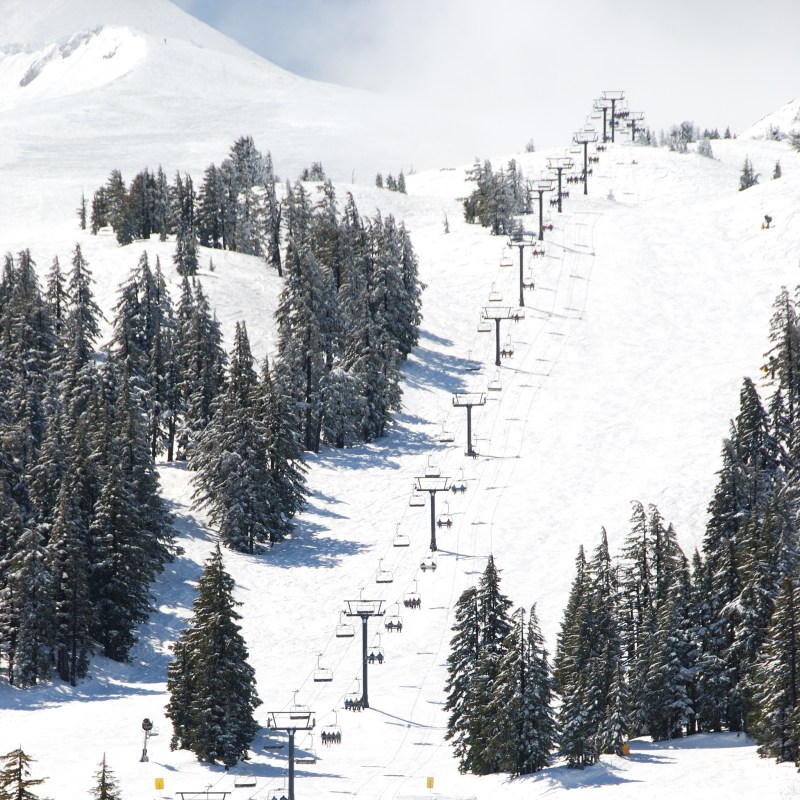 The Cascade Mountains in Oregon offer four great ski resorts, all within driving distance of Portland and Bend. Mt. Bachelor, Timberline Ski Area, Mt. Hood Meadows, and Mt. Hood Ski Bowl all have their own charms. You can ski at one of the U.S.'s largest resorts, enjoy near year-round skiing, or ski and stay at the historic Timberline Lodge. Graced with lots of sunshine and great snow, the four ski resorts have runs for skiers' and snowboarders' abilities.
You can fly into Portland International Airport. Car rentals are available. Three of the resorts, Timberline, Mt. Hood Meadows, and Ski Bowl, are all within 70 miles of the airport. Mt. Bachelor is 22 miles from Bend. so many options for dining and apres-ski refreshments is 166 miles from Portland, so I suggest you plan two or three days there if you plan to ski Mt. Bachelor. Amtrak also offers a daily run from Portland to Bend.
While I lived in Alberta, Canada, for my first 40 years and skiing there was one of my passions, since I moved to the Pacific Northwest, these are my four favorite ski resorts in Oregon.
1. Mt. Bachelor
Mt. Bachelor is the largest ski resort in Oregon, the second largest single mountain ski resort in the U.S., and the sixth-largest ski resort in the nation. Located on the northern side of Mt. Bachelor in the Cascade Mountain Range, there are over 4,000 acres of skiable area with over 101 runs to choose from and a vertical drop of over 3,000 feet. Check out your options on the trail map here. Base elevation is 5,700 feet, and the highest elevation is over 9,000 feet. There are runs suitable for all skiing abilities, beginner to expert. The regular season runs from mid-November to the end of May.
The variety of terrain offers wide and open spaces, narrow and steep areas, and runs through trees and around gullies. Mt. Bachelor is known for its light, dry snow and extended hours of sunshine.
The average snowfall is 462 inches. The resort has four permanent towers for snowmaking as well as nine portable stations.
Other Activities
Mt. Bachelor also has 35 miles of nordic skiing trails with runs for all abilities. The Mt. Bachelor Nordic Lodge is located across from West Village north of the parking lot.
Accommodations
There are no overnight accommodations at Mt. Bachelor. I suggest you stay in Bend or Sunriver. There is a shuttle to Mt. Bachelor from both areas. My preference is to stay in Bend because there are so many options for dining and apres-ski refreshments.
Parking at the mountain can be tricky, so I suggest you use the shuttle. If you decide to drive up, you need reservations for parking. Here is a link to the parking pass.
Dining
Hungry or thirsty? For dining and spectacular views of the Cascade Mountain Range, head up to Pine Marten Lodge at the 7,800-foot level.
Another choice is the Sunrise Lodge with menu options for all tastes and a Grab-N-Go station. There are also food trucks available. Thirsty? Check out the new glass-walled outdoor bar for great libations and atmosphere. Tip: Avoid the lunch rush — eat before or after the usual lunchtime.
2. Timberline Ski Area On Mt. Hood
My second favorite ski area in Oregon is Mt. Hood Timberline Ski Resort. Timberline is the only ski area in North America that is open 12 months of the year, offering world-class skiing and snowboarding on one of the most recognizable mountain peaks in the Pacific Northwest. With 41 trails over 1,415 acres, eight lift systems provide a range of runs from beginner to expert. The longest run is 3.12 miles. Elevation ranges from 4,850 feet to 8,540 feet. The summit of Mt. Hood is 11,245 feet. The average snowfall is 540 inches.
Other Activities
A unique feature at Timberline is the Take Me To The Top Package. Enjoy a one-hour scenic snowcat ride, a bottle of wine, and a fruit and cheese platter to celebrate reaching the peak, all in an enclosed and heated snowcat. This event is subject to favorable weather conditions. Getting to the snowcat and entering might not be suitable for all — stairs are involved, there is walking on snow, and bending to enter might be difficult for some folks.
Enjoy a stroll along the three-quarter-mile snowshoe trail near the lodge. Gaze over the unique high alpine terrain above the treeline of Mt. Hood as you marvel at the winter wonderland. Snowshoe rentals are available at the Wy'East Day Lodge. Consider also the Full Mountain Snowshoe Package, which includes one night at the lodge for two, snowshoes, and two guided twilight snowshoe walks.
Editor's Note: Considering snowshoeing at Timberline Ski Area? Here's why this winter is a great time to try snowshoeing.
Accommodations
Timberline Lodge was built in 1937 and opened by President Roosevelt. The 55,000-square-foot structure sits at 6,000 feet on the south slope of Mt. Hood. Mt. Hood Lodge is a member of the Historic Hotels of America and is recognized as a National Historic Landmark. The term given to the architecture is Cascadian Architecture because the main lodge's steep pitch resembles the steep slope of the peak of Mt. Hood.
The lodge offers a wide range of accommodations ranging from economy to luxury to European-style bunk rooms with shared bathrooms.
Movie buffs will recognize the Timberline Lodge exterior from scenes in the 1980 movie The Shining. The two mascot Saint Bernards love to greet each guest.
Dining
There are five cafes and bars at Timberline — something for everyone. Choose from Cascade Dining Room, Ram's Head Bar, Blue Ox Bar, Wy'East Cafe, or Y Bar.
3. Mt. Hood Ski Bowl
Located less than 60 miles from the Portland International Airport, Mt. Hood Ski Bowl is recommended by Powder Magazine "as the best terrain on Hood." Mt. Hood Ski Bowl West is also America's largest night skiing area. Although only 960 acres of terrain, there are 36 lighted runs, 69 day runs, and the most diamond runs in all of Oregon. The longest run is three miles, and the average snowfall is 300 inches. The regular season runs from December through mid-May.
Daytime skiing is offered daily from 9 to 4 p.m. Night skiing runs from 3 to 10 p.m daily. Check out the trail map here. You may also check out the conditions through the webcam.
If you wish to leave your car behind, consider the Mt. Hood Express, a public transit offering shuttle service to Mt. Hood Ski Bowl. The shuttle runs seven days a week from the city of Sandy, 32 miles from Portland Airport, east to Ski Bowl and Government Camp. For convenience, the shuttle has ski boxes so passengers can store their equipment.
Other Activities
Snow Tube and Adventure Park, located at Ski Bowl East, offers both day tubing and cosmic tubing. Enjoy over 600,000 LED lights and laser light shows. Reserve tickets are sold in one and one-half sessions and are available online. Snow tubes are provided.
Also available are snowmobile tours.
Accommodations
Accommodations are available within a short distance from Ski Bowl. Consider the town of Government Camp, the city of Sandy, or Collin's Lake Resort.
Dining
There are two options for lunch at Mt. Hood Ski Bowl: Mt. Hood Starlight Lodge and Multorpor Cafe at Ski Bowl West. Multorpor has a fuller menu along with a roaring fire where you can relax.
4. Mt. Hood Meadows
Mt. Hood Meadows, located on the southeast flank of Mt. Hood and just 67 miles from Portland, claims to have the most varied and exciting terrain in the Northwest. It boasts of being one of Oregon's largest ski resorts and the largest ski resort on Mt. Hood, featuring 85 runs and 11 lifts over 2,150 acres. The highest elevation is 7,300 feet, where you feel like you are literally on top of the world. Heather Canyon is a separate area for experts. Meadows also offers night skiing from Mid-December through Early March during the season, which typically runs from late November through early May with average yearly snowfall of 430 inches.
Competitive ski racing and snowboarding events are offered. Check this link. The resort has hosted national events including the US Ski Team Qualifier and the US Snowboard BX National Championships.
You can check out current conditions here.
Three maps are accessible online: Trail Map, Snowshoe Map, and Nordic Map. At the Mt. Hood Meadows Learning Center, adaptive lessons are offered for skiers of all abilities. Mt. Hood Meadows offers competitive ski racing and snowboarding clubs and leagues.
Transportation options include the CAT Bus, a shuttle service that runs from Hood River to Meadows. Check online also for carpool options.
Dining
There are two lodges at Meadows. The Main Lodge has two restaurants, a ski and snowboard school, a rental center, two retails stores, a daycare facility, and day-use lockers.
Accommodations
One option for overnight accommodation is Cooper Spur Mountain, located approximately 16 miles from Meadows. Cooper Spur has varied lodging options, including cabins, condos, hotel rooms, and a log house that sleeps 12. They also have a restaurant and bar.
Another option to consider is Hood River, where there are numerous accommodations, restaurants, and breweries.
Although Meadows does not have overnight accommodation, they do have overnight RV parking. Vehicles must have a valid Sno-Park Permit. Registrations must be made online.
Pro Tip
Winter road conditions in Oregon are different than in many parts of the U.S. While traveling Oregon mountain passes during winter, keep in mind that highways can quickly become covered with ice. Be sure to have traction devices such as chains for your vehicle.
There are a number of excellent ski resorts in Oregon. Choose to visit one or more according to your interests and abilities. Whether you are a beginner, intermediate, or an expert skier, you will enjoy all that Oregon has to offer.