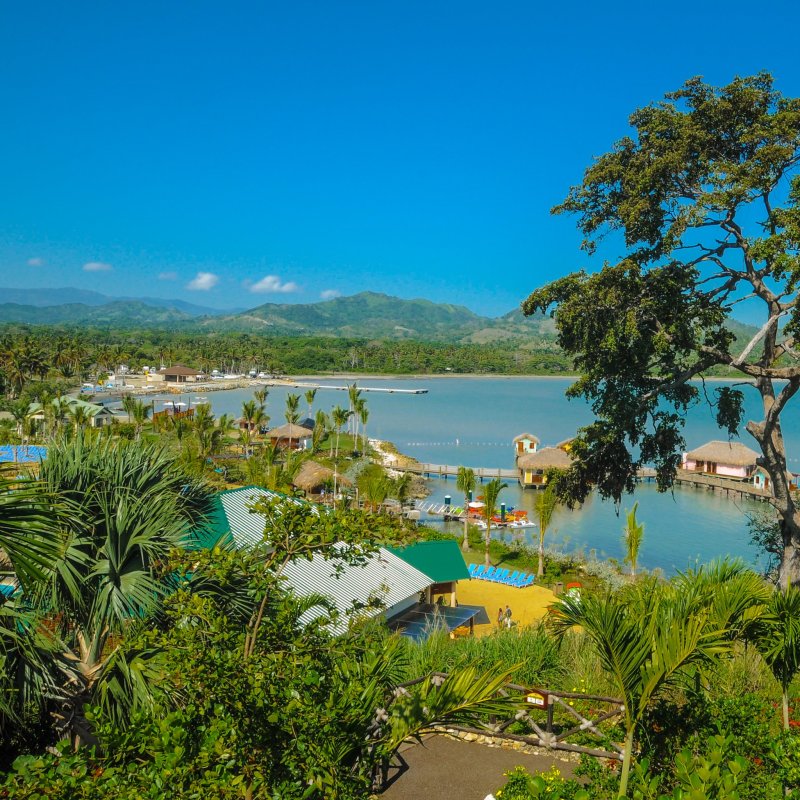 Amber Cove is a gorgeous, 25-acre cruise port complex in the city of Puerto Plata. It lies on the Maimon Bay in the Dominican Republic. If you were to land right in the northern center of the island, shared by Haiti and the Dominican Republic, you would be at Amber Cove.
This magnificent, $85 million cruise port was designed by Carnival Corporation to house their fleet of cruise ships for overnights and cruise excursions. It revitalized cruise travel to the Dominican Republic for the first time in over 30 years. You must be a passenger or authorized employee with a valid ship ID card to visit the Amber Cove cruise port.
Amber Cove is an excellent place to relax and unwind on 30 acres of waterfront property, plus enjoy the incredible swimming pools free of charge. There are plenty of things to keep you busy, and it is deemed very safe. While you can go into the Dominican Republic on your own or via the ship's hosted excursions, there is actually quite a lot to see and do right here.
I first visited Amber Cove back in 2015 for multiple overnights with Fathom Cruises, Carnival's former social impact cruise aimed at promoting volunteerism — a way of giving back to the places you travel to. While there, my husband and I taught English, planted cacao seeds, worked at a chocolate factory, and paved dirt floors in local homes. We have even kept in touch with the families we met during English lessons.
Since then, I have visited the Dominican twice as a guest of Carnival Cruise Line and, most recently, with Holland America. Carnival Corporation allows all of its cruise lines, including Holland America, Carnival Cruises, and Princess Cruises, to use Amber Cove's superb facilities. In typical times, the cruise port sees 8,000 guests per day and 2,000 crew members.
1. Sunbathing And Swimming
Amber Cove's Aqua Zone is where you will find the attractive swimming pools. Expect hundreds, if not thousands, of comfy sun loungers, a gorgeous landscape with palm trees around the pools, and a separate children's splash area. There are hammocks to relax in under the trees, and a Nathan's hot dog stand, which seemed to be a real crowd-pleaser on my visits. Again, the use of Aqua Zone is free of charge.
Private cabanas can be rented at Amber Cove, and get this: They are air-conditioned. Tahitian-style cabanas also include snacks, drinks, Wi-Fi, and complimentary zip line passes for your entire party. Some cabanas even hold 20 people. You can choose hillside, poolside, or overwater locations for your cabana rental. The overwater ones, pale in color, are picture-perfect.
The most popular attraction at the Aqua Zone would have to be the swim-up bar. Choose your favorite beer, wine, or tropical drink from the menu, then enjoy sipping on your adult beverage as you soak up the sun and enjoy the warm water. My favorite drink is so predictable, but it's hard to beat a good piña colada with scenery like this. Waiters come by your chairs, too, to take your drink and food orders.
2. Ziplining
It seems doubtful that you would expect to zip-line right over the central focal point of the Aqua Zone, but here it is — and it is so much fun! If you've never tried zip-lining, this one is easy, and you can ride the twin 650-foot zips as much as you want for around $20 per day. Kids receive a discounted rate.
Also, Sky Bar is at the top of the hill where the zip-line begins. This fun and popular bar offers stellar 360-degree views of the cruise port while quenching your thirst.
Editor's Note: Never taken to the wires? Here are some things to know before your first zip-lining trip.
3. The DR's Mesmerizing Beaches
The Dominican Republic's beaches are exquisite. The closest one is Maimon, a fifteen-minute walk from the cruise port. Be sure to have your cruise card and a valid ID with you before embarking on the journey. Maimon is perfect for relaxing in the soft sand, reading a book, taking a nap, or cooling off in the water.
If you don't mind springing for a taxi, I recommend Sosua Beach, about 30 minutes away from the port and minutes from historic downtown Puerto Plata. The water is stunning, with layers of blues, and it is a decent spot for snorkeling, which isn't too strenuous at this beach. There are places you can rent jet-skis, too. A little further away is Cabarete Bay, great for watching kites and wind-surfers and seeing huge waves.
Pro Tip: Please do not pet the stray dogs; they are not pets as we know them here in the U.S.
4. Amber Cove's Shopping And Scenery
The Amber Cove cruise port is a beautiful place to stroll around and is only steps from the ship. There are free tandem bike rides for those who need a little help getting to and from the ship. At the pier, take in the colorful Dominican carnival masks on display — they're great for photo-ops. There is also a man-made waterfall that makes for an excellent backdrop, especially for those who can't travel to Damajagua Waterfalls, the premier attraction in Puerto Plata.
Listen for the talented musicians scattered around the cruise port or in the transportation hub. They play relaxing island music or the local preference, merengue.
You will find quite good shopping at Amber Cove, and best of all, it is duty-free. I'm guessing there are a couple dozen shops with everything from jewelry, accessories, souvenirs, alcohol, Cuban cigars, and handmade goods. You can also rent cars at one of the shops and browse the Yvon International art gallery. As with all cruise ports, Diamonds International is one of the heavy hitters, with a lovely selection of high-end jewelry and many name brands.
Be on the lookout for larimar, a cloudy blue stone that is found in the Dominican Republic. Amber is another treasure found here, and you will see it in abundance.
Chocolate and coffee are both tasty Dominican treats. The chocolate melts quickly, so I would not recommend taking it home as a souvenir if the weather is overly warm. However, it's great to bring back on the ship with you for those late-night sweet cravings.
Then there is the sign: a fun and cool sign with Amber Cove spelled out in giant letters. The cruise ship adds a nice backdrop to the already great setting. While the Amber Cove photo opportunity is pretty during the day, you should see it all lit up at night. Wow!
5. Eating Local
When traveling, I always make it a point to indulge in the local cuisine. And at Coco Cana Lounge, you'll have the perfect opportunity to do just that. With two amazing locations in Amber Cove, both just a short walk from each other, you can choose the one that offers the most captivating view.
Once you're there, get ready to be amazed by their diverse menu, tantalizing drinks, impeccable service, and even free Wi-Fi! The flavors of Dominican cuisine will take you on a culinary journey, blending Spanish, African, and Taino influences. From mouthwatering meat stews to delectable plantains and seafood, there's something to satisfy every palate. And don't forget to try the national beer, Presidente, a refreshing lager that perfectly complements the vibrant spirit of the Caribbean.
While cruising, I tend to miss Latin food and am happy to get my fix of it at Coco Cana. I've had the chicken nachos, fajitas, and fish tacos, but they also have juicy burgers, fresh salads, and French fries, my husband's weakness. You'll also find a tasty, strong cup of coffee here. I go for the cortadito or a double shot of espresso.
6. Outside The Amber Cove Cruise Port
Your cruise ship will offer several excursions deeper into the Dominican Republic. Golf, waterfalls, and natural scenery are abundant, so partake in as many as you'd like.
The Dominican Republic has a fascinating history and is the most visited Caribbean country. I have taken a taxi where my driver acted as a tour guide through the historic Santo Domingo Colonial Zone. If memory serves me correctly, my friends and I paid $20 each for three hours of touring, and he took us to the best points of interest.
The Colonial Zone is a handsome area with jaw-dropping architecture, stately plazas, and churches dating back to the 15th century. This area is a UNESCO World Heritage Site and is where the first cathedral, hospital, and university in the Americas was built.
Other options for your day of exploring the Dominican Republic include the Brugal Rum factory, Amber World Museum, and shopping for local handicrafts at the sidewalk stalls. I have picked up some incredible art pieces at these kiosks for under $75. You are welcome to barter the prices listed.
Related Reading: