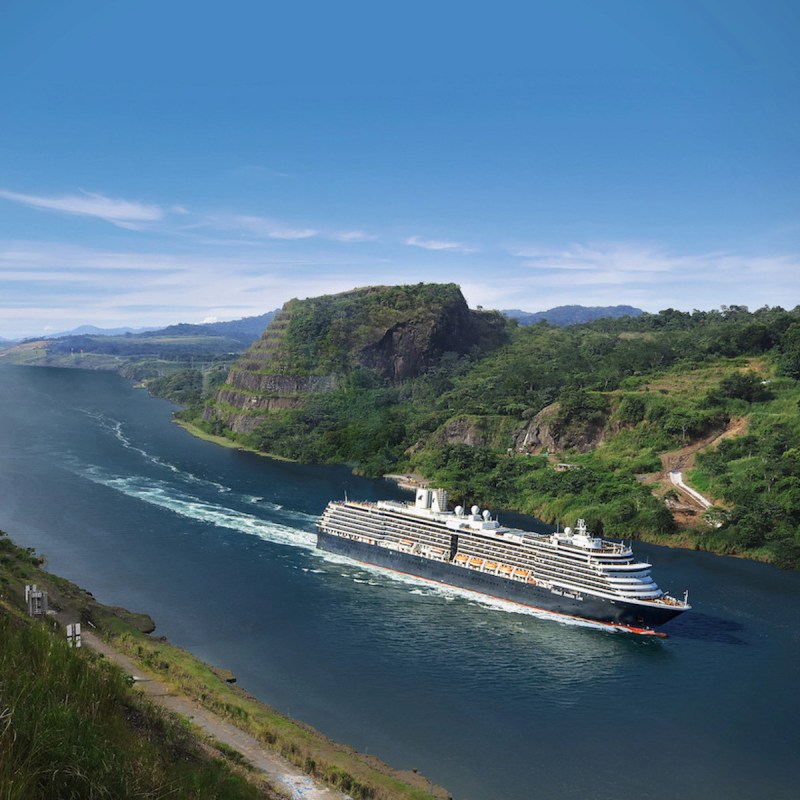 A sesquicentennial — or 150th anniversary — is quite an achievement in any industry. However, you've got to have serious staying power to make it that long in the travel business, and Holland America Line is getting ready to celebrate this special landmark in a big way.
When Rotterdam I made its maiden voyage across the Atlantic from the Netherlands to New York City, it began a long and storied sailing history. It's one that includes a rich immigrant tradition and a strong commitment to onboard excellence that's been there since the line's beginning.
Here's how Holland America is pulling out all the stops when it comes to the 15-decade milestone.
How Holland America Is Commemorating Its 150th Anniversary
The year-long celebration actually kicked off last October when Holland America launched its first special 150th-anniversary trans-Atlantic crossing. The newest Pinnacle-class ship in Holland America's fleet — the Rotterdam — left its namesake city on October 15, 2022, exactly 150 years after Rotterdam I did the same in 1872. The 2022 crossing recreated the iconic first voyage, traveling from Rotterdam to New York, with calls at Plymouth and Dover in the United Kingdom. Rotterdam stayed overnight in New York City for special celebrations, then traveled down the eastern seaboard to its final destination in Fort Lauderdale.
The experience proved so popular with guests that Holland America scheduled another commemorative cruise — with destinations in reverse order — coming up in April. The 16-night adventure starts in Fort Lauderdale and ends up back in Rotterdam for another 150th-anniversary bash on board the ship on April 18 — marking the actual founding of the cruise line.
"As we got deeper into planning the events surrounding our 150th, we knew that the best place to celebrate the date of our founding was in the city of Rotterdam where it all started," said Gus Antorcha, president of Holland America Line. "These voyages that mark our first departure and our anniversary are going to be incredibly memorable as we retrace our first sailing from the 1870s, but on a modern, luxury cruise ship. We anticipate the April cruise to be as popular as the October sailing."
The Company's Immigrant Backstory
Holland America Line was founded in the Netherlands in 1873 as the Netherlands-American Steamship Company. It brought immigrants from all over Europe to the United States well into the 1900s, carrying almost 2 million people to new lives and new homes across the ocean.
Holland America Line treated these passengers as guests, renaming its "steerage class" to the more accurate "emigrants' class." Staff also saw to it that each person on board got three meals a day and as much comfort as possible. That level of care earned the cruise company a fitting nickname: "The Spotless Fleet."
During its immigration heyday, the company also provided onboard doctors and a pre-departure hotel, plus English lessons and classes on American civics, culture, and history to ensure passengers a safe journey to — and through — New York.
That extra effort paid off for passengers who sailed to America on the line; 99 percent of the immigrants carried on the fleet were cleared for entry and passed through Ellis Island.
Heritage Cruises Through 2023
The 150th celebrations don't stop after April's voyage to Rotterdam. Through this year, Holland America is offering what it's calling "Heritage Cruises." These special sailings — ranging in length from 5 to 18 days — will include itineraries with deep links to the brand's history, including those in Alaska (Holland America was the first cruise line to explore the 49th state), the Caribbean, Northern Europe, the Mediterranean, Australia and New Zealand, Hawaii, South America, and Mexico.
The Heritage sailings will feature onboard and shoreside experiences that harken back to the past. Think throwback dinner menus in the main dining room, retro happy hours with lower pricing to match, special Dutch high tea services, classic cruise activities, and Dutch games, including a traditional egg walk. Get ready to work on your onboard sense of balance!
Culture vultures will love detailed daily "This Day In History" announcements about each port, plus enhanced ship-board display screens showcasing the ports' significant moments, vintage photos, and fun facts. Shore excursions will also focus on the cultural importance of each stop.
"These special Heritage Cruises allow us to continue celebrating Holland America Line with our guests in a meaningful way," said Antorcha. "We have a deep connection to ports around the world, and we're excited to show how each highlighted destination has shaped our brand."
Tips For Booking/Sailing
From a tropical, beachy getaway to grand tours of Europe and once-in-a-lifetime sailings to Australia and New Zealand, Holland America's Heritage Cruises are a special way to celebrate the line's grand anniversary. Guests who want to learn more about the itineraries still available should visit Holland America's dedicated homepage listing the offerings.
Holland America prides itself on superior dining options across its fleet, employing a culinary council of chefs to design menus and signature dishes. Word to the wise: Try to reserve your specialty restaurant seatings, as well as your excursions and spa treatments well in advance. You don't want to miss out on those onboard experiences because they are all booked up!
Free activities also take place on board each day, including live cooking demonstrations, and even pickleball lessons and tournaments. Be sure to check them out during your at-sea days.
Last but not least: Do your homework before packing those bags. Certainly, you want to plan for your destination's weather and your activities, however, you'll want to keep in mind Holland America still has formal nights and that means a dress code to also take into account. Check ahead of time to see how many there are on your sailing, so you'll have the fancy clothes covered as well as your daytime resort wear.
Related Reading: