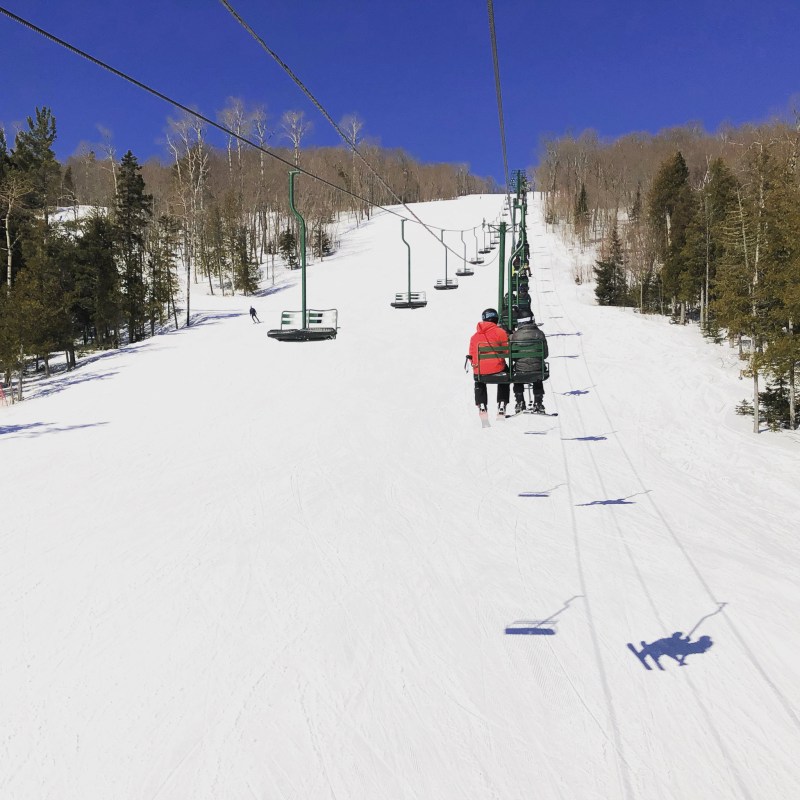 While summer and fall may be the best times of the year to visit Lutsen, Minnesota, because there is a lot to do and see, the area is perfect any season. My wife and I have become huge fans of the North Shore along Lake Superior. We've decided to make it an annual trip because we find something new to do on each visit. Lutsen is the perfect spot for basing your stay on the northern edge of the drive. The small town offers outstanding attractions and excellent dining options. From skiing the Lutsen Mountains to exploring Cascade River State Park and making maple syrup, you'll have a great time exploring the Scandinavian community.
Winter In Lutsen
Everyone we talked with in Duluth, about 2.5 hours south of Lutsen, enjoys winter skiing in the Lutsen Mountains. While the area attracts fewer visitors, most are looking to hit the slopes, which is great if you're a skier. If not, there are other options.
1. Ski The Lutsen Mountains
Averaging 10 feet of snow, whether it's machine grooved or natural, winter on the North Shore means skiing the Lutsen Mountains. With 95 runs over four mountains, Lutsen is the largest ski resort in mid-America. With views of Lake Superior, skiing the mountains offers some of the most beautiful scenery in the United States. Skiers can ride either the gondola or the old-fashioned open-air ski lift to the summit to start their runs. Lutsen's ski season usually runs mid-November through late April.
2. Snowshoe The Mountains
You don't need to be a skier to enjoy winter sports in the Lutsen Mountains. Snowshoeing is an endurance sport that challenges your cardio as you hike through the snow in snowshoes. Unlike cross-country skiing, you'll walk in deep snow as well as shallow spots. Explore the Lutsen Mountains' trails while taking in the beauty of the forests and Lake Superior.
3. View The Northern Lights
Beginning in late fall and lasting through winter, the night sky comes alive as colors dance on the horizon, creating a variety of shapes and patterns as the aurora borealis – northern lights – entertains Lutsen visitors. If you've ever seen the northern lights, they're hypnotizing, begging you to return to watch them over and over. No two viewings are ever the same. Lutsen provides the perfect setting, as you need a pitch-black night and clear skies to watch the arctic circle sun reflections dance the night away.
Editor's Note: Another great place to see the northern lights? Norway. Unbelievable northern lights views are one of the many reasons Norway should be on your travel bucket list.
Spring In Lutsen
As the snow begins to melt, more people make their way along the North Shore of Lake Superior. While it's far from shorts and sandals weather, spring in northeastern Minnesota can range from cool days to warm weather. While some outdoor activities are inviting, you may want to consider more indoor attractions.
4. Make Your Own Maple Syrup
The Lutsen Mountains' maple trees are ripe for the taking each March and April. Or, in this case, ripe for syrup. Tapping trees to create your own maple syrup is something everyone should try at least once. Some people enjoy making an annual event out of it. You'll need a drill, tap, bucket or milk jug, and patience. You'll need to wear snowshoes as you hike through the woods searching for maple trees to tap. Once you find a tree, drill a hole a few feet above ground, insert the tap, and hold the bucket under it.
While it sounds fun to make your own maple syrup, it takes about 10 gallons of tree sap to make a quart of it. Plus, there's the whole boiling process, which can be tedious and time consuming. So, instead, visit Caribou Cream, where they tap trees over a 65-acre forest, producing about 1,000 gallons of maple syrup annually. You'll find their syrup in several of the local eateries, where it's used to cover pancakes and waffles. They invite visitors to watch the syrup process; you'll be glad you skipped tapping your own trees. You can also buy your own bottle for home, or as a gift. Caribou Cream's syrup is so delicious that it's won more than 30 awards at competitions around the country, including the Minnesota State Fair.
5. Visit The North Shore Commercial Fishing Museum
Learn about what it's like being a commercial fisher on Lake Superior at the North Shore Commercial Fishing Museum in nearby Tofte. About a 10-minute drive from Lutsen, the North Shore attraction features a look into the history of fishing in the area and why people have been attracted to it over the centuries. With artifacts and memorabilia, exhibits showcase the lives of early fishermen and others on Lake Superior.
6. Window Shop In Lutsen
With unique shops and boutiques, Lutsen offers visitors an opportunity to browse locally-made products as well as holiday gift ideas with a Minnesota feel. Great Gifts features locally-made bags and jewelry as well as clothing and Minnesota-themed gifts. The Mountain Shop offers Lutsen-themed apparel, baseball caps, accessories, mugs, magnets, and ornaments. Home furnishings and decor highlight a visit to H Lil's Boutique and Design.
Summer In Lutsen
Ah, summer! Warmer days and nights, longer days, and tons of things to do along the North Shore. Lutsen is perfect for summertime. You can spend the day exploring the area and relax at night around a fire pit, or maybe at a lodge with a nice drink and company.
7. Hike Poplar River Trail
As part of the Superior Hiking Trail, the Poplar River Trail covers about six miles from the base of the Lutsen Mountains, taking you behind the mountains. There, you'll enjoy a view of the Poplar River Falls from a bridge over the river, as well as two overlooks along the way. The trail eventually connects with Moose Mountain, where you can continue your outdoor adventure, circle back on the Poplar River Trail back to the base, or grab a ride on the Lutsen Mountain Tram back to the base.
8. Ride An Alpine Slide
Open daily Memorial Day weekend through Labor Day, the Alpine Slide in the Lutsen Mountains offers an entertaining experience regardless of your age. Take the chairlift to the top of Eagle Mountain. Grab your sled and ride the .5-mile-long luge run to the base. You control the speed of your sled, either taking it slow and enjoying the view of the forests and Lake Superior or running it fast to see if you have what it takes to be an Olympian.
9. Canoe The Poplar River
Relive the days of the Ojibwe Native Americans or French fur traders as they made their way along the headwaters of the Poplar River. Following a half-mile hike to the landing, you'll climb into a 10-passenger Voyageur canoe, where a guided tour of the river ensues. As you paddle downriver, you may see wildlife, such as a deer, river otter, moose, or bear.
Fall In Lutsen
Autumn is my wife's favorite time of the year. And Lutsen creates postcard views. With cooler temperatures and a crispness in the air, trees in the Lutsen Mountains and the surrounding area change colors to bright red, orange, and yellow, and you'll feel like you're in heaven on earth.
10. Ride The Summit Express Gondola
You don't need to be a skier to enjoy riding the Summit Express Gondola up to Moose Mountain. Take the short ride in the enclosed gondola car and enjoy vibrant colors for miles and miles. Once at Moose Mountain, you hike the area or take in the views of the changing colors and Lake Superior. The gondola runs every few minutes during the day, so you can spend as much time as you'd like on Moose Mountain, including enjoying lunch at Summit Chalet. I suggest dining outside to enjoy the view.
11. Explore Cascade River State Park
Named for its descent of over 900 feet, Cascade River State Park offers a fun hiking experience as you walk along moss and ferns as well as birch and spruce trees. With waterfalls flowing over volcanic rock, you'll enjoy the views and sounds as the river flows 17 miles into Lake Superior. Known for wildlife such as deer, moose, wolves, and bears, you'll need to be constantly aware of your surroundings. The park has a few hiking trails, ranging from half a mile to almost eight miles long. You'll find bridges over the river, so you can easily navigate the trail's loop.
12. Raise A Glass At North Shore Winery
Since 2016, North Shore Winery (along with the adjoined Sawtooth Mountain Cider House) has called Lutsen home. Using grapes grown in California and Minnesota apples, they have created delicious choices for locals and visitors to enjoy. With wines promoting North Shore attractions, such as Boundary Waters white and red, Artists Point white, and Lutsen red, you'll want to take a bottle home as a souvenir. There are also four ciders on the menu. While visiting, enjoy a tour of the winery.
Best Restaurants In Lutsen
Papa Charlie's offers a casual dining experience, with a menu featuring pizza, burgers, and salads.
Located at Caribou Highlands Lodge, Moguls Grille and Tap Room features entrees such as Swedish meatballs and parmesan-crusted walleye, burgers, sandwiches, and salads. Their chicken wings make a tasty appetizer, whether Buffalo style or with Thai sweet chili flavor.
Sampling Fika Coffee's signature maple latte is a must, along with its menu of brewed coffees and cappuccinos.
Best Hotels In Lutsen
Caribou Highlands Lodge offers the feel of a cabin with the amenities of a hotel. The property includes an outdoor fire pit where you can relax and visit at night. Who knows? Maybe, you'll hear wolves or coyotes howling in the darkness.
Offering options from cabins to a lodge, Cascade Lodge has been part of the Lake Superior scene for nearly 100 years. With easy access to trails, the lodge is an excellent place to stay when visiting Lutsen.