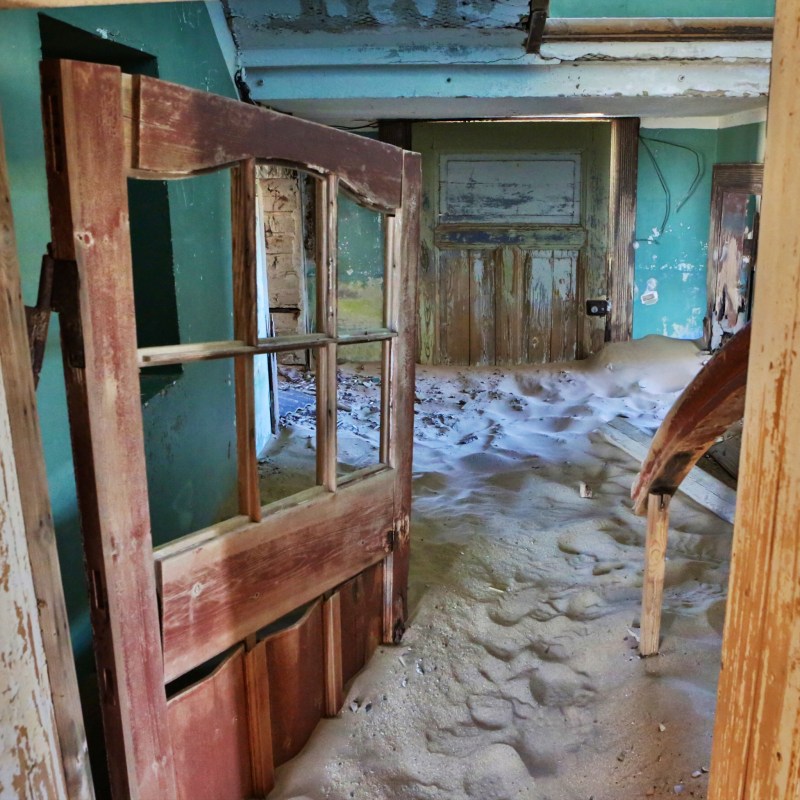 Like a snapshot in time, ghost towns can provide an eerie glimpse into the past, where time has stopped, but nature lives on around them. Our fascination with these places stems not from what we see but from understanding what happened there. Why did people come here and then leave? The mystery of the ghost town is why we seek them out. It's the stories that they tell.
Where Is Kolmanskop, Namibia
You will find just such a place, and a really good story, in the Namib Desert in the southwestern African nation of Namibia. Namibia is south of Angola, west of Botswana, and shares a border with South Africa. Its western border is the Atlantic Ocean, which is where you'll find the coastal town of Luderitz.
In the early 1900s, Namibia was a colony called German South West Africa, and Luderitz was a thriving German-influenced city composed of settlers and local tribes who had lived on the lands for centuries.
Kolmanskop was created after a startling discovery occurred along the railway, about 7 miles southwest from Luderitz. That is where you'll find the ghost town of Kolmanskop.
A Strange And Troublesome History
The legend of Kolmanskop began in 1908 when a railway worker named Zacharias Lewala discovered a few small diamonds while shoveling dirt off the tracks. Once the German colonists learned of the find, prospectors began to arrive, and a small mining town developed and grew along the railway.
Kolmanskop grew, and its population became quite prosperous. By 1912, the mining town was producing an estimated 1-million carats of diamonds per year, which was nearly 12 percent of the world's diamond market. The town became an oasis of wealth in the middle of the desert. Large and lavish, German-style buildings were built out of the sand, and life thrived until war erupted in 1914.
In 1915, as World War I raged in Europe, South African forces, loyal to the Allies, launched an attack on the German forces defending the colony. That July, those forces surrendered. In 1919, South West Africa was mandated to South Africa by the newly created League of Nations.
But, time was running out for the town of Kolmanskop. After decades of mining, the diamond fields began to dry up. Then, in the 1930s, discoveries of diamonds in South Africa pretty much sealed the town's fate. Prospectors and mining companies moved out, and the town began to die.
According to National Geographic, the town that was Kolmanskop was officially abandoned in 1956. As the years passed, the desert reclaimed the town in its own way, turning the once-thriving community into a sand-filled ghost town, which now has become a tourist attraction.
Know Before You Go
Namibia gained its independence in 1990, and Kolmanskop has become a must-see for tourists. The town continues to erode in real-time, but ironically a restaurant and museum have popped up to help welcome visitors.
Visiting Kolmanskop is a bit of a challenge. The official website is working, but most of the links are broken. It does list a phone number to call, as visiting the ghost town is only available by appointment. Permits for photography are also required. According to the website, they can be acquired at a place called the Desert Deli and Gifts in the coastal town of Luderitzbucht, located about 20 minutes west of the ghost town, as well as at Luderitz Safari and Tours. There are four types of permits offered.
The Adult Permit includes a guided tour and a photo permit. Children under six are free, but over six require a Child Permit. A Photo Permit is available for anyone wanting to take photos during sunrise or sunset, which is regarded as the optimal time for photography and also includes the guided tour. Special Permits are also offered but need to be arranged ahead of time.
Kolmanskop is in the desert, so plan accordingly. Desert weather can be tricky, so check on conditions before you visit and make sure you are current on what season it is. January and February in Namibia is summertime and the hottest time of the year.
Related articles: