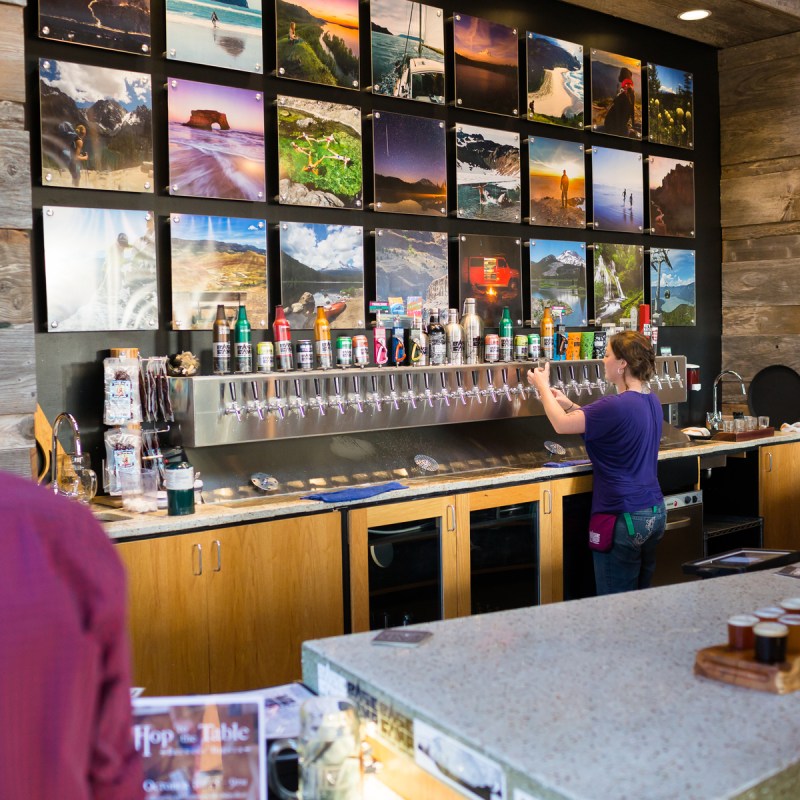 Portland, Oregon, is the epicenter of craft beer, and that becomes obvious to visitors as soon as they arrive. From the dozens of brewpubs around the city to the wide range of beers sold in every bar and restaurant, this city knows how to brew really good beer.
The only difficulty is deciding where to start. There are 58 breweries in the city, so visitors can easily become overwhelmed by the options. But with some help from locals, we've developed a list of nine that are definitely worth a visit.
1. Ecliptic Brewing
When you combine astronomy with beer, you get Ecliptic Brewing. Every six weeks, this brewery's menu changes to highlight seasonal and local ingredients, and many of the beers have names related to the solar system. Ecliptic's founder, John Harris, had a long career in the brewing industry working for well-respected companies like McMenamins before finally launching his own brewery and brewpub.
Many guests recommend the Starburst IPA, which is available all year round. And if you're a lover of sour beers, there are always a few varieties available. If you're hungry, be sure to order one of the highly rated burgers.
Located on Mississippi Avenue, Ecliptic has a large outdoor patio, making it a great place to hang out with friends on a weekend afternoon or evening. The neighborhood offers a nice selection of restaurants and shops, so consider exploring before or after enjoying a beer.
2. Hair Of The Dog Brewing Company
Brewers Alan Sprints and Denver Bon operate Hair of the Dog Brewing Company, which specializes in new and unusual beers. Many of their beers are bottle-conditioned or refermented in the bottle, resulting in beers that improve with age. Hair of the Dog also experiments with barrel-aging beer, sometimes in barrels previously used for spirits.
If you enjoy dark beers, definitely try the Adam, a rich brew with notes of chocolate. IPA lovers will like the Blue Dot, a double IPA. And if beer isn't your thing, try one of the ciders or barley wines. Just proceed with caution, since most of the beers have a higher alcohol content.
Hair of the Dog can be found in Portland's Southeast Industrial neighborhood and has a full menu featuring a wide variety of sandwiches and snacks. Meat lovers will appreciate the brisket, which locals say is excellent.
3. Base Camp Brewing Company
Outdoor-themed Base Camp Brewing Company is well known for its ales and lagers. Founders Ross Putnam and Justin Fay grew up together in Oregon and wanted their taproom to reflect their love of adventure and nature. As a result, you'll find tables made of large wooden slabs, a canoe hanging over the bar, and carabiners used as tap handles.
Locals recommend the Send It IPA, which features hops grown in Oregon. But if this is your first time visiting, definitely order the S'more Stout. This rich, dark beer has the subtle taste of chocolate and is served with a toasted marshmallow.
Located in Portland's Buckman neighborhood, Base Camp does not serve food, but there is at least one food truck on the premises every day. Food truck options may include Sherpa Kitchen, which serves Nepalese food, or Poblano Pepper, which offers Mexican food.
4. Sasquatch Brewing
If there are both beer lovers and cider drinkers in your party, then Sasquatch Brewing is the ideal destination. Founder Tom Sims and head brewer Mike Paladino are committed to using local ingredients in both their beverages and food, as well as giving back to the community.
Sasquatch offers a nice range of beverages, including sours, Belgian ales, IPAs, ciders, and even locally made wine. Regulars love the Woodboy IPA and Hairy Knuckle Stout.
There are two options for sampling these beers — Hillsdale Brewpub and Northwest Brewery & Taproom, each named for the neighborhood in which they are located. The first serves classic comfort food like mac and cheese and chili, while the second offers sandwiches.
5. Gigantic Brewing Company
At Gigantic Brewing Company, not only is the beer unique, but so are the labels on the bottles. For each new release, Gigantic commissions an artist to design the label and a corresponding commemorative poster. This unique idea was conceived by owners and brewers Van Havig and Ben Love.
This is definitely the place for IPA lovers. Be sure to try the Gigantic and Ginormous Imperial IPAs, which are always available, or the highly rated, seasonal Cloudberry IPA. Craft beer aficionados love the Hellboy Beer, created to commemorate the 25th anniversary of the publication of the popular comic book series Hellboy: Seed of Destruction.
Gigantic Brewing can be found near Reed College in the Eastmoreland neighborhood. Currently, food is not served, but guests are welcome to bring a picnic or purchase food from the nearby food carts.
6. Zoiglhaus Brewing Company
If you're looking for German-style beer, look no further than Zoiglhaus Brewing Company. Many of its beers are brewed with malts and hops imported from Germany. Head brewer Alan Taylor brings to Portland years of experience living, drinking, and brewing in Germany.
You'll typically find 10 beers on tap at Zoiglhaus, and if you're not sure where to start, try the pilsner for a typical German experience. Or if you want something more adventurous, order the award-winning dark beer, the D'light Schwarzbier.
Zoiglhaus is located in the Lents neighborhood of Portland. Classic pub food is served along with a few German specialties. This is an ideal spot for families, since it offers a large play area for kids.
7. Cascade Brewing
Sour beers were created in Portland, and Cascade Brewing is probably the best place in the nation to sample a wide variety of them. Owner Art Larrance and brewmaster Ron Gansberg were tired of hoppy beers and wanted to create sour ales using local fruit. Over the past two decades, Cascade has expanded to include a restaurant, a tasting room, and a blending house and production facility, making the company one of the most recognized names in the world of sour beers.
If you've never tried a sour beer before, then this is a great opportunity to ask the bartender or server to assist you. The range of sourness will vary, as the types of fruit used in these ales include pears, peaches, raspberries, grapes, and more. But if sour isn't for you, don't worry — there are IPAs available as well as cider and wine.
If you're looking for a sit-down restaurant to enjoy a full meal with your beer, then head to The Lodge at Cascade Brewing in Southwest Portland. Or, for a more intimate experience, visit Cascade Brewing Barrel House on the east side of the city.
8. Ex Novo Brewing Co.
Ex Novo Brewing Co. set out to brew great beer and donate 100 percent of its profits to local and international charitable organizations. Founder and owner Joel Gregory started out as a home brewer, but then decided to expand operations to a retail setting. Today he operates three brewpubs, two of which are in the Portland area.
Ex Novo offers a lineup that includes IPAs, lagers, and sour beers. Among the best-loved offerings are the Eliot IPA and the Most Interesting Lager in the World. If you enjoy reds, definitely try the Hollywood Moon Landing.
The original brewpub located in the Eliot neighborhood serves a variety of food, including burgers, tacos, and fried chicken. The second location in the suburb of Beaverton offers pizza and sandwiches. The third location is in Corrales, New Mexico.
9. Breakside Brewery
Breakside Brewery might just serve some of Portland's most popular IPAs. In a short period of time, owner Scott Lawrence and brewmaster Ben Edmunds have garnered over two dozen regional, national, and international awards. Their beers can be found in restaurants and stores in 11 states.
IPA lovers will definitely want to try either the Breakside IPA or Wanderlust IPA. Or try Rainbows & Unicorns, a beer that features the flavors of peach and pineapple. In addition to the six beers available year-round, there are at least three rotating brews offered each month.
Breakside offers three different brewpub locations: SE Taproom, NW Slabtown, and NE Dekum Pub, each named for its location. The taproom does not offer food, but it does allow customers to bring their own. The other locations offer classic pub food like burgers, wraps, and pretzels.
Tips For Enjoying Beer In Portland
Bartenders and serving staff in Portland are well versed in the beers on the menu, so don't hesitate to ask for recommendations. Or better yet, ask for samples of two or three that interest you. And if you really want to explore the beers at a particular brewery, order the sampler.
If you've enjoyed a beer, ask if it's available to go or at local retail outlets. Many breweries do sell their most popular selections in cans or bottles.
Try something new while visiting Portland. This is definitely the place to sample a hazy IPA, sour, porter, or stout. It would be a shame to order the same variety of beer you usually have at home. Again, ask the server for some advice, and you might just discover a new favorite.
For more on Portland, see this page.