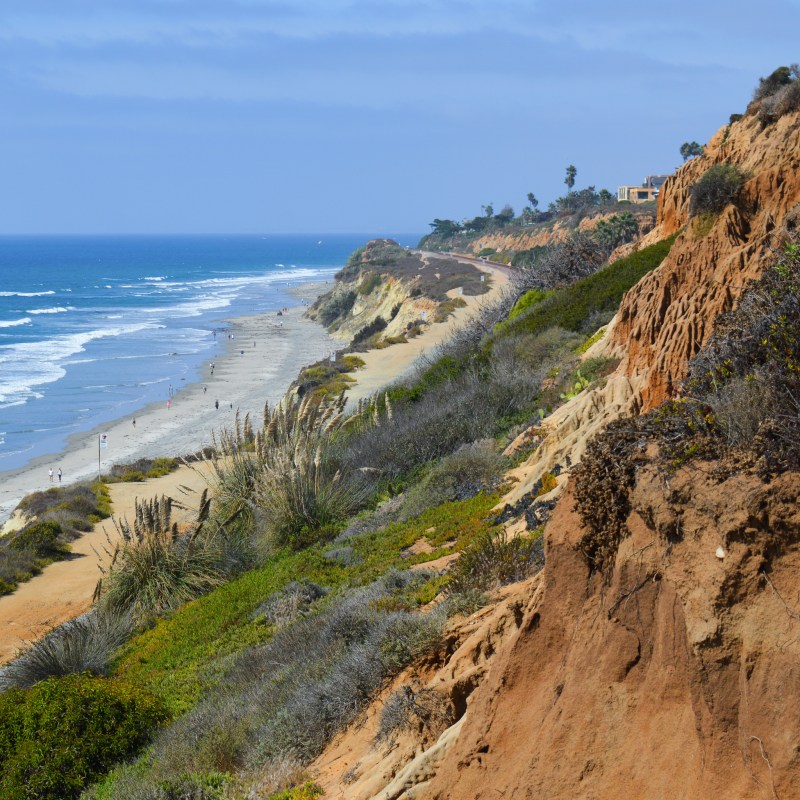 When it's time to head outdoors in California, national parks immediately come to mind providing vast forests, deserts, marshlands, and mountain terrains.
The Golden State is fortunate to be home to nine national parks, more than any other state in the U.S. But California also offers 280 state parks, the largest such system in the country. In combination, it could take a lifetime to explore all these places.
Southern California is home to some of the state's most scenic state parks and beaches. Whether you enjoy hiking, rock-climbing, swimming, surfing, kayaking, biking, or bird watching, there's a park for that. Or if you want to just relax and enjoy the scenery, there are plenty of ideal parks for that as well.
The parks selected represent the region's biodiversity and start in north Los Angeles County, move east to the Inland Empire, and then continue south to Orange and San Diego Counties.
1. Antelope Valley California Poppy Reserve
Each spring, the Antelope Valley California Poppy Reserve explodes with color as the bright orange poppies bloom in this Mojave Desert Grassland habitat. Typically the flowers bloom mid-February to May but will vary depending on weather conditions. There are 8 miles of trails through gently rolling hills, including a paved section for wheelchair access.
While the poppies are definitely the star of the show, there is plenty of wildlife to see as well, including hawks, meadowlarks, lizards, snakes, and coyotes.
From March 1st to Mother's Day, the Jane S. Pinheiro Interpretive Center is open and offers wildlife exhibits. If you can't make it to the park but are eager to see the flowers in full bloom, check out the park's Poppy Cam.
Pro Tip: Don't make the trek to this park before checking the website for the current status of the flowers. Also, do stay on the trails. While this is a lovely spot for photos, it is also a protected habitat.
2. Saddleback Butte State Park
Located on the western edge of the Mojave Desert, Saddleback Butte is a granite mountaintop that towers over the surrounding Antelope Valley. This state park was established in 1960 to protect a range of vulnerable plant and animal species in this high desert region.
Hikers should head to the 2.5-mile Little Butte Trail or the 2-mile Saddleback Butte Peak Trail for a challenging trek to the summit. The reward is a 360-degree view of the valley below. Come in the spring and there may be wildflowers in bloom, making the view even better.
A day-use picnic ground and campground are available at this park as well as a 4.5-mile equestrian trail.
Pro Tip: Summer is very hot in this park, so it's not an ideal time to visit. Instead, come in the spring and visit this and Antelope Valley California Poppy Reserve on the same day; the two parks are less than an hour apart.
3. Malibu Creek State Park
Northeast of Los Angeles is Malibu Creek State Park, an 8,000-acre oasis offering miles of streamside hiking as well as mountain biking, fishing, and bird watching.
Before becoming a state park, this was a popular filming destination for movie studios. Remains of vehicles from the television show, MASH, can still be seen along the Lower Malibu Creek trail. Several other trails can be accessed, ranging in difficulty from easy to strenuous.
Birdwatching is another popular activity at Malibu Creek, with up to 45 species of birds to be found. Loons, egrets, herons, geese, terns, and hummingbirds are just a few of the species that are commonly spotted.
Pro Tip: This state park is very popular with locals, so come early to avoid the crowds, and if possible, visit on a weekday.
4. Anza-Borrego Desert State Park
The largest state park in California, Anza-Borrego Desert State Park, features wildflowers, palm groves, cacti, and sweeping desert vistas. Visitors may have the chance to see a variety of wildlife including kit foxes, roadrunners, golden eagles, mule deer, and bighorn sheep.
A popular and easy hike is the Borrego Palm Canyon trail that leads to an oasis of California Fan Palms fed by an underground spring. Hundreds of miles of additional trails can be accessed in the park by both hikers and cyclists.
When weather conditions have been ideal, a spectacular wildflower bloom takes place in the spring at Anza-Borrego. This doesn't happen every year, but when it does, it's one of the best displays of wildflowers in the country. If you're hoping to see the flowers be sure to check the park's website prior to your trip.
Pro Tip: Anza-Borrego is susceptible to extreme heat in the summer, so that's not the ideal time to visit.
5. Mount San Jacinto State Park
High above the Coachella Valley, you'll find Mount San Jacinto State Park. Named for the highest peak in the range, Mount San Jacinto stands 10,084 feet above sea level. Here you'll see granite peaks, subalpine forests, and mountain meadows. And much of the year you'll also see snow.
Getting to the park involves taking the Palm Springs Aerial Tramway from Palm Springs. As you ascend the 2.5-mile route, you'll be treated to dramatic views of the mountains above and the valley below.
For an easy hike, try the three-quarter-mile Long Valley Discovery Trail and learn about the park's plants and animals. If you're ready for a challenge, hike to San Jacinto Peak, a strenuous 5.5-mile trail. If there's snow on the ground while visiting, try cross-country skiing or snowshoeing.
6. Crystal Cove State Park
Whether you're looking for a challenging hike with ocean views or a relaxing day on the beach, both can be found at Crystal Cove State Park. With 3.2 miles of sandy beach and 2,400 acres of wilderness, this park is one of Southern California's hidden gems.
The trails here are very popular with local hikers and cyclists looking for a great workout. Among the most popular is Moro Canyon Trail, a fairly easy 3-mile out-and-back hike or ride. There are several adjoining trails to choose from. For hikers looking for a challenge, add the half-mile climb known as Elevator and then enjoy the ocean views in the distance.
Located within the park is Crystal Cove Historic District, a collection of 46 vintage rustic coastal cottages built as a seaside community in the 1930s and 1940s. Some of these cottages can be reserved for accommodations at very reasonable rates.
7. San Onofre State Beach
Among the most visited parks in the system is San Onofre State Beach. Surfers have long known that this is one of the best spots to catch a wave in the country. Even if you don't surf, it's worth a visit here to relax on the beach, play volleyball, go for a swim, or just watch the surfers. Be sure to look out for marine life like sea lions, dolphins, and whales.
On the bluffs above the beach is a popular campground available for daytime or overnight use with advanced reservations. Six trails connect the bluffs to the beach, making this a great way to combine a surfing and camping trip.
8. Palomar Mountain State Park
If you're looking for an atmosphere like the Sierra Nevada, head to Palomar Mountain State Park where you'll find forests filled with large pine, fir, and cedar trees. Located in San Diego County, this park receives twice the average rainfall of the surrounding region making it a particularly lush and green space.
With 11 miles of trails, this is a nice destination for a day hike. For the best scenic view, try the Boucher Trail, which leads to Boucher Hill and the Historic Fire Tower. The current tower was built in 1948 and still functions as a fire lookout station staffed by volunteers.
Trout fishing is possible at Doane Pond with a valid California fishing license. This spring-fed pond is also a lovely picnic spot.
9. Torrey Pines State Natural Reserve
Perched on sandstone cliffs above the pacific ocean is Torrey Pines State Natural Reserve. This 1,500-acre reserve was created to protect sensitive plant life and wildlife, including the rare Torrey pine. Below the trails is one of the last salt marshes and waterfowl refuges in California. Head to one of the viewpoints and look out for sea lions, bottlenose dolphins, and gray whales.
The trails here are short — most under a mile — so try combining three or four to enjoy a morning or afternoon of exercise. Next to the reserve is Torrey Pines State Beach, so combine your hike with a swim for a great day of outdoor activity.
Pro Tip: The reserve and beach are very popular with locals, so arrive early in order to get a parking spot.
Most of the parks charge a day-use fee, typically around $15 per car. If you plan to visit California State Parks frequently consider purchasing one of their annual passes, ranging in price from $50 to $195 depending on the benefits.
The wealth of natural and cultural sights within the state park system is truly impressive and worthy of a day-trip, weekend getaway, or even a long road trip. Consider a visit to one of these parks soon.
Related articles: