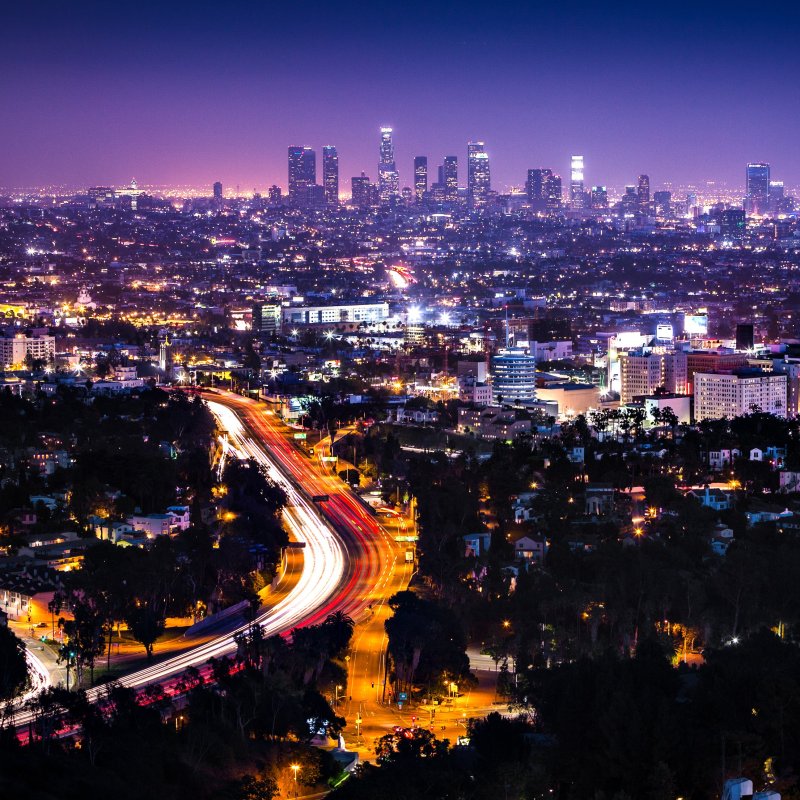 Travelers flock to Los Angeles to experience the glamorous lifestyle of the rich and famous in Hollywood, on Rodeo Drive, and on Mulholland Drive.
In addition to being an entertainment hub, the city abounds with cultural riches, from world-class museums like the Los Angeles County Museum of Art (LACMA) to the architecturally unique Walt Disney Concert Hall. And there's nothing like enjoying the beautiful sunny weather on the hills or on the beach after eating at one of the city's many esteemed restaurants.
The City of Angels provides plenty to see and do, but it's also the perfect home base for exploring the rest of Southern California. Within a few hours of Los Angeles you can experience everything from remote beaches and deserts to wine country and snow-capped mountains.
Here are eight fantastic day trips from Los Angeles that should be on your radar.
1. Santa Catalina Island, California
A 60-minute ferry ride from San Pedro Port, Santa Catalina Island is a charming getaway from the City of Angels. Avalon, the island's quaint main town, is surrounded by colorful homes nestled in the green hills. The town has everything visitors could ask for, from local boutiques and souvenir shops to restaurants offering happy hours and fresh seafood dishes.
The island is 22 miles long, so there's much to explore beyond Avalon. The water is perfect for aquatic activities such as sunbathing, snorkeling, kayaking, fishing, and sailing, among many others.
Since no cars are allowed on the island, the best way to get around is by renting a golf cart. Feel the wind in your hair as you drive up a steep road for a panoramic view of Avalon Bay at the Three Palms Overlook. If you stop to hike along the way, you might even see a herd of bison that was left on Catalina after a movie shoot.
2. Old Mission Santa Barbara, Santa Barbara, California
A 2-hour drive from downtown Los Angeles is the historic Old Mission Santa Barbara. Known as "the Queen of Missions," Mission Santa Barbara was the 10th mission to be built in California. The 13-acre complex comprises the mission church, a nine-room museum, a historic cemetery and mausoleum, and a garden. Guided and self-guided tours of the property are available ($12 to $40).
After a day at the Old Mission Santa Barbara, wander down palm-lined State Street for high-end shopping and lunch at a local restaurant. Continue past the end of the street to Stearns Wharf to see sea lions and the sun setting over the ocean.
3. Disneyland Park, Anaheim, California
A 35-minute drive from Los Angeles, Disneyland Park is, understandably, a domestic and international hot spot and one of the most popular amusement parks in the world. Disney buffs come from far and wide to experience the original Disney park and the Disney California Adventure Park.
Patrons of all ages can spend the whole day exploring Disney's fantastical parks. With more than 95 rides and attractions, 126 dining options, and live entertainment, there are plenty of ways to spend your day. The park's newest attraction, Star Wars: Galaxy's Edge, provides a different land to explore complete with rides, eateries, and shops.
It's best to purchase your tickets before arriving at Disneyland to maximize your time in the park. The cost varies depending on the date and time of your visit.
4. Temecula, California
An hour and a half from Los Angeles is the Temecula Valley, which is known for its delicious wine varietals. A day out in wine country is a great getaway from the hustle and bustle of the big city.
One of Southern California's hidden gems, Temecula boasts rolling hills and rows upon rows of vineyards. The region's 40+ wineries are best known for their sangiovese, syrah, Montepulciano, Viognier, zinfandel, and tempranillo. You can taste them for yourself at Vindemia Winery, Doffo Wines, or Robert Renzoni Vineyards.
Established in 1859, Temecula's Old Town is not to be missed. The historic Main Street features Western buildings, quaint shopfronts, and farm-to-table restaurants.
5. Balboa Park, San Diego, California
Another large (but more laid-back) city is about 2 hours south of Los Angeles. Although there are plenty of things to see in San Diego, from beautiful beaches to the downtown Gaslamp Quarter, Balboa Park deserves an entire day.
Balboa Park's 1,200 acres are home to a multitude of museums, including the San Diego Museum of Man, the San Diego Natural History Museum, and the San Diego Museum of Art. With an enormous amount of green space, it's also an ideal place to picnic, explore the gardens, or visit the zoo. Exhibitions, films, and plays are constantly going on in the park, and parkwide events include a conservation day in November and holiday celebrations in December.
6. Big Bear Lake, California
Boasting "four seasons of adventure," Big Bear Lake, California, offers activities for outdoor lovers regardless of the time of year. Whether you prefer hiking mountain trails, swimming in the lakes, or skiing, Big Bear Lake has got something for you. With its annual festivals and concerts — like the Grill and Chill BBQ Festival, Fishin' for 50k event, and Big Bear Chili Cook-Off — there's something to do every weekend.
This natural haven, located within the San Bernardino National Forest, is about a 2-hour drive from Los Angeles. Big Bear Lake offers miles of hiking trails, fishing spots, ski resorts, a history museum, and even its own charming Big Bear Village. Here you can find unique gifts at Mountain Witch Tea Company, try a craft brew at Big Bear Lake Brewing Company, and finish the day off with a game at the Big Bear Bowling Barn.
7. Palm Springs, California
Situated on the other side of the San Bernardino National Forest is Palm Springs, California, a desert oasis filled with palm trees and surrounded by three mountain ranges. To fully appreciate the height of the San Jacinto Mountains and the panoramic view from the top, take the 10-minute ride on the Palm Springs Aerial Tramway ($25).
A 2-hour drive from Los Angeles, the desert city offers hiking trails, golf courses, luxurious resorts, and museums and is a popular place for weekend getaways. It's also well known for its two massive music festivals, Coachella and Stagecoach. Music lovers from all over the world flock to attend these spectacular shows.
8. Salvation Mountain, Niland, California
Art lovers and those searching for an underrated day trip might consider a visit to Salvation Mountain in Niland, California. Recently made popular by social media, this unique attraction is 3 hours northeast of Los Angeles.
A man-made mountain dedicated to spreading love, faith, and peace, Salvation Mountain was created by Leonard Knight. It took him almost 30 years to construct the 50-foot monument from sand, cement, and junk like old tires, and it's completely covered in colorful paint. The highlight is the pinnacle of the mountain, which features the words "God is Love" under a large cross.
9. Joshua Tree National Park, California
Wake up early to make the 2.5-hour drive to Joshua Tree National Park. The park was designated a national monument by President Franklin D. Roosevelt in 1936 and made a national park in 1994. It covers about 1,235 square miles of the Mojave and Colorado Deserts.
The prickly Yucca brevifolia, also known as the Joshua tree, distinguishes the landscape. Part of the agave family, the Joshua tree is integral to life in the Mojave Desert and can live up to 150 years.
In addition to the beautiful flora, Joshua Tree National Park attracts visitors with its camping spots, hikes of all lengths, more than 8,000 rock-climbing and bouldering routes, and natural gaps for highlining. With so many outdoor activities, you won't be at a loss for things to do when you visit Joshua Tree National Park.
Planning a trip to Los Angeles? Don't miss the crowded city's hidden gems.