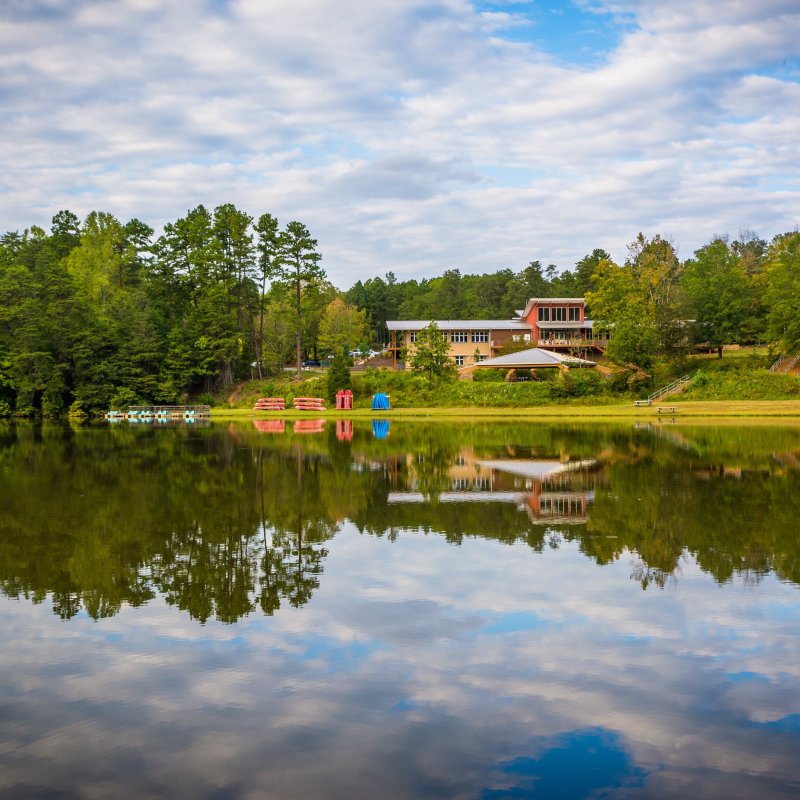 "In every walk with nature one receives far more than he seeks."

John Muir
For centuries, naturalists like John Muir held the belief that the benefits of immersing oneself in nature went far beyond just being healthy for your body. Paracelsus, the 16th-century German-Swiss physician, wrote, "The art of healing comes from nature, not from the physician."
Today, research proves what Muir and Paracelsus have known all along. Modern adults (and kids, too) often live fast-paced, busy lives, attached all the while to our electronic devices. Our bodies are exhausted, and so are our brains.
Studies have shown that being in nature allows the prefrontal cortex, the brain's command center, to rest and recover. This is extremely important for reducing stress and mental fatigue. When we slow down, shut off digital devices, and get out into natural surroundings, we feel restored physically and mentally.
This is not meant to be a medical report — I just think it's amazing that we can feel better and actually heal ourselves of disease by just getting out and exploring nature. You don't have to be a super athlete or buy expensive gear. You just have to find a green space, a forest, or even a beach somewhere — walk, and be mindful of your present surroundings.
One of our best, and often overlooked, natural resources are our state parks. Here in North Carolina, the state parks system includes 35 state parks, four recreational areas, and three state natural areas. Most parks are close to each other and often have no entrance fee.
Lake Norman State Park sits on the shores of the largest manmade lake in North Carolina, Lake Norman. The parklands cover 1,328 acres and have 17 miles of pristine Lake Norman shoreline.
Lake Norman was created in the early 1960s when Duke Power Company built the Cowans Ford dam across the Catawba River to generate electrical energy. The State Park was formed in September of 1962 when Duke Power Company donated land on the northeastern shore of Lake Norman to the state of North Carolina.
Getting to Lake Norman State Park is easy. It is located in Iredell County, 55 miles south of Winston-Salem and 32 miles north of Charlotte. Reach I-77 from any direction, then take exit 42 onto U.S. 21 north.
With so much to see and do at Lake Norman State Park, you will feel better and be happier while enjoying these incredible experiences.
1. Biking
Lake Norman State Park has over 30 miles of biking trails. The main trail, Itusi (pronounced "ee-too-see"), meaning "hawk," is named in tribute of the Catawba Native Americans that used to inhabit the area around Lake Norman State Park.
The trail is laid out in eight loops from one to 9.75 miles. The loops can be ridden separately or in combinations of two or more for different trail lengths. Seven of the trails are designated as easy to moderate with one, the Laurel, rated moderate. The trails are color-coded and have directional markers (one-way) that are periodically switched to help keep the trails maintained and to give regular visitors a "different" ride.
Pro Tip: Hikers are allowed on the bike trails, but right-of-way is always given to bikers.
2. Hiking
In addition to the Itusi Trail, there are several designated hiking-only trails throughout the park (see a PDF of the map). Starting near the visitor center, the Alder Trail (0.8-mile loop) is easy but does have some maintained timber steps throughout the natural surface trail. The child-friendly Dragonfly Trail (0.25-mile loop) is easy and fun for kids of all ages, with interactive educational exhibits along the way. Note: Dragonfly trail is paved and wheelchair accessible.
With two different trailheads, the Lake Shore Trail can be divided into three separate hikes. Group Camp Spur trailhead provides an out-and-back 6.3-mile hike. Starting further south on Shortleaf Drive, Lake Shore Trail hikers have more choices: a 2.6 mile or 3.2-mile loop in either direction or a combination of the two.
Whichever Lake Shore Trail you choose, you will traverse shaded forests of pine, hickory, maple, and oak trees, and hike past grassy marshes and along the lake's shore, providing scenic views of Lake Norman. Keep an eye out for flora and fauna.
All trailheads have parking with a short, paved walk to the trailhead and restrooms. All trails with the exception of Dragonfly Trail are natural surfaces and may have ruts, roots, and rocks. I noticed several resting benches along Lake Shore Trail.
Editor's Note: Here's our list of more stunning hikes in North Carolina.
3. Boating
Boating recreation of all kinds can be found at Lake Norman State Park. You can bring your own watercraft, launch at the free boat launch at the south end of the park, and spend the day out on Lake Norman's vast waters. Or you can rent pedal boats, kayaks, canoes, and stand-up paddleboards at the visitor center.
Rental equipment is for use in Park Lake only. The hourly fees are extremely reasonable, making it affordable to spend several hours out on the water.
4. Fishing
Lake Norman is a very popular fishing destination for anglers of all skill levels. Several professional and amateur tournaments are held at the lake throughout the year. Game fish include crappie, bluegill, yellow perch, as well as striped, spotted, and largemouth bass.
Fishing (with a North Carolina fishing license) is allowed from shore most anywhere in the state park, including the 33-acre Park Lake near the visitor center. There are two fishing piers available, one at the visitor center and the other at the south end of the lake, near the swimming beach.
The fishing pier near the swimming beach is accessible but is several hundred feet from the parking lot.
5. Picnicking
There are multiple picnic tables available throughout the park. Near the Lakeshore trailhead, the swimming complex, the fishing pier, and at the visitor center. Under the trees, out in the sunshine, overlooking the water, the choice is yours.
There are also three sheltered, large-group picnic areas — one near the visitor center and two near the south end of the park on Shortleaf Drive. Picnicking is on a first-come, first-served basis unless prior reservations are made for a shelter by a group.
All picnic areas have tables, grills, and restrooms and are accessible. The visitor center tables are a short walk, while shelters on Shortleaf Drive are close to the parking lot.
6. Swimming
Perfect for North Carolina's hot summer days, the park is home to a 125-yard-long sandy beach on the shores of Lake Norman. The swim complex includes a bathhouse with restrooms, changing stalls, warm showers, and lockers, plus a concession stand offering drinks, ice cream, and snacks.
The swimming area is open year-round, but the lifeguard service, locker rooms, and concession stand are only offered from Memorial Day weekend until Labor Day. The swim complex is accessible. Pets are not allowed.
Note: The park charges a fee to swim only when lifeguards are on duty. The swim beach accepts only cash. If you are paying with a credit card, stop at the visitor center first to pay. For more information, see the park's Fees/FAQs/Rules page.
7. Camping
Overnight camping is available in the park's 33-site family campground. All sites are equipped with tent pads, picnic tables, and barbecue grills. Some campsites can accommodate RVs. There are no hookups, but showers, freshwater spigots, and a dump station are provided.
Walk-in group campsites are available during warm weather months for large groups. Picnic tables and a fire ring are provided at each site. Drinking water and restrooms are available nearby. A community building with kitchen facilities, restrooms, and a fireplace can be rented for family and group events year-round.
Rental cabins and full hook-up sites with water, sewer, and electricity are currently being built and are expected to be available by spring/summer 2021.
Accessible family sites are available. Pets are welcome. Check the reservations page for more information, a campground map, and individual site details.
8. Events And Educational Programs
Throughout the year, Lake Norman State Park offers a variety of learning opportunities for all ages. Interpretive ecology programs, including nature hikes, are generally led by park rangers and are free to the public. Educational exhibits can be enjoyed throughout the visitor center and along the Dragonfly Trail.
Pro Tip: Before planning a trip to Lake Norman State Park, check their website or call for current events, weather, trail closures, camping reservations, and other pertinent information.
Nearby Amenities
The nearest amenities to Lake Norman State Park can be found in Troutman, less than 5 miles north of the visitor center. There you'll find groceries, gas stations, a post office, and a plethora of restaurants. You will not find a hotel.
Six miles north of Troutman is Statesville with all the modern amenities a traveler would need, including major chain hotels, restaurants, gas stations, and more.
Mooresville is 11 miles south of the park. Restaurants, gas stations, and hotels can all be found at Exit 36 on I-77.