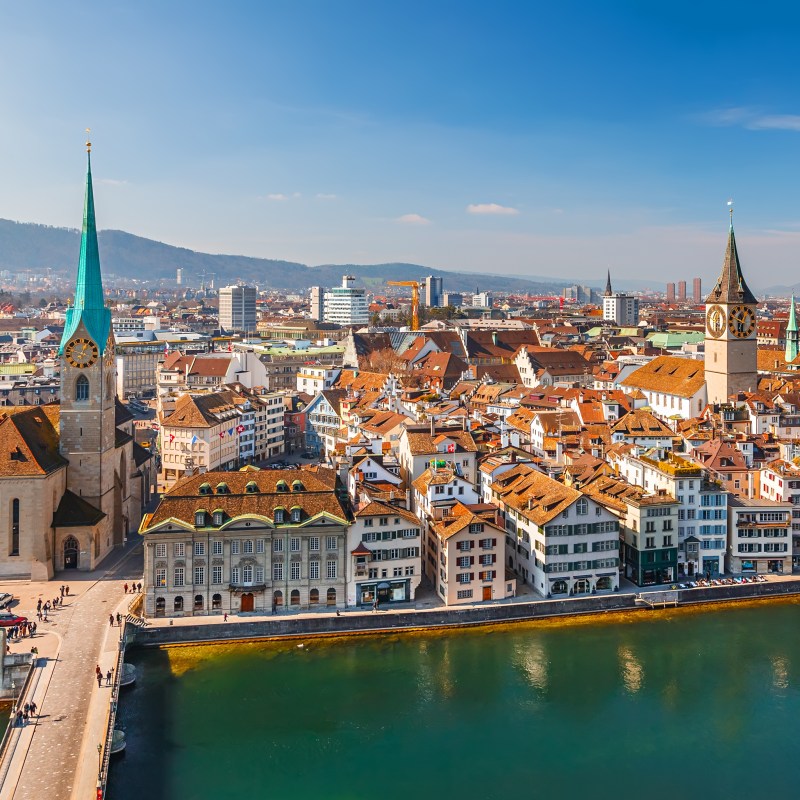 Zurich is Switzerland's largest city and a financial and tourist hub. Located on the river Limmat and the northwestern tip of the Zurich Lake with the Alps on the horizon, this city has so much to see and do that there is something special all year round, and no season is a bad season to visit.
With its picturesque old town, the famous Bahnhofstrasse with its extravagant shopping, and the scenic waterfront, you can spend your time simply meandering through the streets, stopping off regularly in the many cafes and restaurants. Shopping in Zurich, and the rest of Switzerland, is a delight, but it is pricey; indeed, it is so pricey that the Swiss usually take a day trip to Germany to fill their cupboard and wardrobes. So beware of your travel budget.
While simply ambling around Zurich all day long would be thoroughly enjoyable and not to be sniffed at, you would be missing out on a fair few attractions, exhibitions, events, and other fun and unique things to do in and around Zurich.
I am lucky enough to have a good friend living locally, so I have spent a lot of time in this attractive city and would love to highlight a few favorite things to do in Zurich, something for every season.
Winter In Zurich
Visit The Christmas Markets
A snowy Christmas is pretty much guaranteed, and few places are more atmospheric and picturesque than Zurich in winter. Not only are fountains and waterways frozen over and everything is covered in a snow blanket, but also lights, decorations, and, more importantly, lovely Christmas markets pop up everywhere. There is even a Christmas island in the river. This island is a beer garden in summer, where you can sit outside and spend a warm afternoon eating and drinking, but in winter, this turns into a little Christmas wonderland. Every small square has some traditional huts selling mulled wine and melted cheese snacks and offering traditional activities such as candle dipping.
Enjoy Winter Sports
In Switzerland winter, there is no getting away from winter sports. There is obviously lots of skiing in the nearby Alps, but if that is not for you, there are plenty of other fun activities which don't necessarily require any skill, just a willingness to have fun. There is a huge local interest in tobogganing, with many hills and slopes dedicated to slipping and sliding down through the snow, with slopes for all ages and levels of daredevil-ness.
If you have not packed your own sled, many rental shops near lifts rent out sleds for your use.
Go On A Torch-Lit Hike
Getting out of the city at night, going for an easy hike through the snow, with a group of other hikers, and the procession lit by torches, sounds romantic, no? And, if you finish off the evening, after the roughly 30-minute easy hike, with warming, mulled wine followed by a scrumptious fondue dinner, then that is pretty much Swiss winter perfection.
Shop For Christmas Presents
Viadukt is a fabulous place to shop, eat, and drink. Set in the arches of — you guessed it — an old viaduct, there are unusual shops and individual boutiques selling fashion, interior decor, and all sorts of stylish knickknacks in a great setting. There are a handful of cafes and restaurants, and a lovely market full of local specialties and fresh produce.
Pro Tip: Other than a warm jacket, what you really need to visit Zurich in winter are some decent shoes that are warm, waterproof, and have a decent profile. It will be snowy, slushy, and slippery at times.
Spring In Zurich
Enjoy The First Warm Weather
Once spring is in the air, Zurich and its surroundings burst into flower, and cafes open their terraces. To enjoy the beautiful tree blossom, head for Belvoir Park, Zentralstrasse, and Bertastrasse, all of which are especially pretty.
Climb Up The Uetliberg
For fabulous views across Zurich and the lake all the way to the white-capped Alps, climb the Uetliberg, the 2,900-foot-high "house mountain" of Zurich. There are several paths up the mountain, and the approaches are quite different. Try and avoid the Denzlerweg, as it might start easy enough but ends with lots of steps and even a ladder at the final ascent. Opt instead for the Laternenpfad, which is easier and is, as its name suggests, even lit at night. Once on top of the hill, there is a viewing platform and a nice restaurant, perfect for lunch.
Join In The Spring Festival
Dating back to the 16th century, the Sechsellauten, the ringing of the Grossmunster church's bells at 6 p.m. on the third Monday in April, officially rings in spring. The 2-day spring festival is celebrated with parades and the traditional burning of Boogg, a snowman figure. It is quite a spectacle.
Pro Tip: I love sitting outside the hotel-restaurant Storchen by the Limmat. Excellent people-watching, and a choice of either sitting on the square or the slightly more elegant terrace.
Summer In Zurich
Take To The Lake
On a hot summer's day, there is nothing better than being on the water, and, while there are plenty of Zurich Lake cruises with commentary along the way, there are also completely normal commuter shuttles, at a lower price and just as much fun. The shuttles cover the entire length of the lake, and the views of not only the surrounding countryside but also some of the world's most expensive real estate along the way are fabulous. See if you can spot Tina Turner's house in Kusnacht.
Catch The Rapperswil Blues And Jazz Fest
While you are on the boat, why not get off in Rapperswil and not only visit the sturdy castle in the lovely old town center but also catch the annual music festival? Every June, stages and food stalls are set up along the lake's shore and attract many well-known blues and jazz musicians as well as fans from around the world.
Find Treasure At The Flea Market
Is there anything more fun than scouring a flea market for treasure? Especially when you are abroad, you can find things you would never find at home, from true antique treasures to fun items straight out of someone's attic. This flea market, winding its way along a square just where the lake boats set off, is open every Saturday from 7 a.m. to 5 p.m., between May and October.
Swim In Clear Alpine Waters
As with all the lakes and rivers across Switzerland, the water quality in the Limmat and the Zurich Lake is exceptionally good, and you can swim everywhere without worries. Apart from 11 official outdoor swimming areas in and around Zurich, in summer, even more swimming areas pop up throughout the city, where you can rent sun loungers and towels and spend a day in the sun. While the temperatures are dictated by fresh alpine waters, the temperatures reach around 68 degrees.
Taste The Local Specialities
Switzerland has many unique dishes and specialties that need to be tasted. A food walking tour is a fun way to eat and drink while learning about the city's history and exploring the streets, lanes, and little cafes and restaurants. Trying out the local cuisine tells you so much about a country, and this is a great way to spend a couple of hours in Zurich.
Pro Tip: To save yourself some sweat and energy when out and about exploring Zurich, why not hop on the ridiculously cute and bright red funicular right in the center of town?
Fall In Zurich
Check Out Le Corbusier's Last Building
Controversial Swiss-French architect Le Corbusier designed this pavilion on the side of the Zurich Lake as a museum dedicated to his work back in 1962. Sadly, he died in 1965, two years before the completion of his only steel-framed building. The interesting structure has colorful panels reminiscent of Piet Mondrian's abstract works and showcases not only Le Corbusier's philosophy of architecture, his various buildings, his furniture, and artworks, but is also strewn with biographical insights into his life and work.
Sample The Local Wines
Most people will never even have heard of Swiss wines, as they don't really rank on the global market, but that does not mean they are no good. And is there a better way to while away an afternoon than by exploring hillsides that are turning in color and are overlooking the lake and the mountains while sampling a local tipple or two? You can book guided walking tours that set off in Zurich and show you around the vineyards, where you can learn something about these little-known wineries, which grow the unique white grape variety called Rauschling, producing crisp, fruity white wines.
To continue with a wine-themed day, why not pop into, or even stay at, the B2 Wine Library, a hotel whose most impressive room is a 2-story-tall bar lined floor to ceiling with books.
Visit Some Unusual Museums
If you catch a rainy day and have already visited the usual suspects when it comes to museums, such as the National Museum and the Kunsthaus, with its Swiss art, then there are some more museums that, let's say, are a little more eclectic. How about the rather unusual Moulagenmuseum, which showcases strange skin diseases represented in wax? Then there is the tram museum, the FIFA World Football Museum, or the actually rather lovely Toy Museum. Something to delight everybody on a rainy fall day.
Enjoy An Outdoor Sculpture Park
The Bruno Weber Park showcases the quite literally fantastic sculptures by Swiss artist Bruno Weber. Mosaic studded fantastical creatures frolic in this garden and form fountains and bridges. From dragons to unicorns, they are all there. A little Gaudi-esque, this is a fun take on art, and worth a visit. The park closes for the winter at the end of October.
Pro Tip: Every November, the Junker Farm, just outside of Zurich, creates amazing displays made from the very seasonal pumpkins. So, if you are away from home and miss all things pumpkin, this is for you.
Related articles: