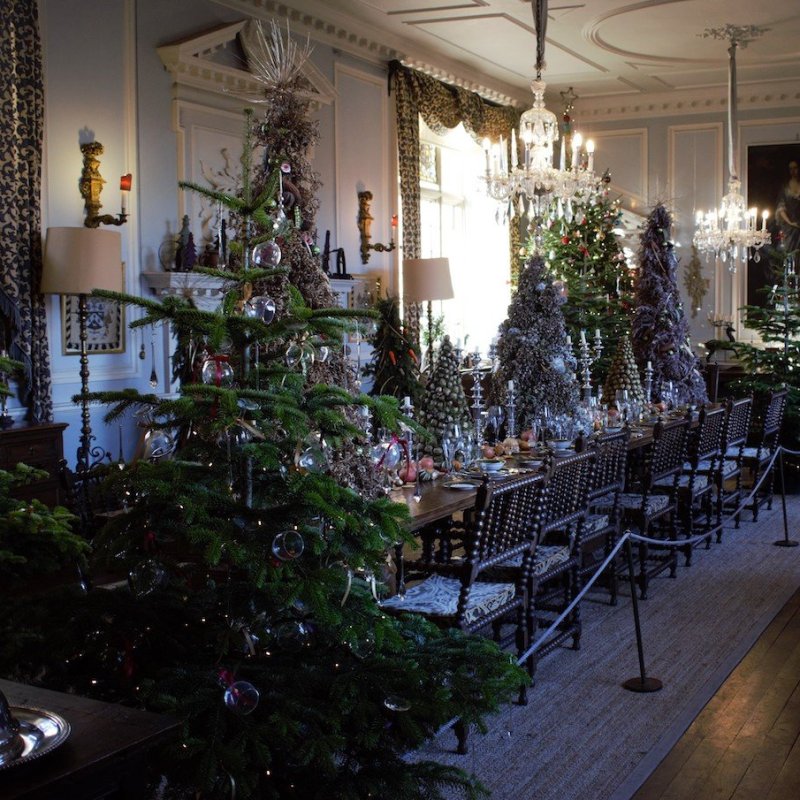 Doddington Hall in Lincolnshire, England, is well known to locals, but step outside of Lincolnshire and hardly anyone has ever heard of it. However, this is one of the most magical places to visit at Christmas time that I have ever been to. Just 5 miles from Lincoln, on the outskirts of the city, this Elizabethan stately home is a tucked away hidden gem but easy to get to once you know where it is.
The hall is an hour and a half's drive from East Midlands Airport and 40 minutes from Lincoln railway station. I love that this grand house is still a family home, even though parts of it are now open to the public. Since building work first began in 1595, it has remained in the hands of the same family, simply being passed down through the generations. Doddington Hall is a wonderful example of Elizabethan architecture and a much-loved family home.
1. The Dining Room Is Ready For Christmas Lunch
When you visit this time of year, this historic hall is beautifully decorated with Christmas trees in every room. The dining room will be the first room you see when you enter the hall and it's your first glimpse into Doddington's character. The dining hall, which the family still eat their Christmas lunch in, is all set up for the big day, complete with silver service and candlesticks. The table is set for 14 people, and when I visited, I counted an incredible eight Christmas trees just in this one room! You'll soon come to realize that Christmas trees are very important at Doddington Hall. Knowledgeable guides stationed around the hall will offer information about the house and its history as you walk through. The guide who welcomes you into the dining room will tell you about the room and the work that goes into setting it up ready for the family to have their Christmas meal in on Christmas day. It's quite something to realize you are having a good nosey around someone's actual dining room!
2. Handmade Decorations And Hanging Trees
As you wander around the house, you'll find that each and every room is decorated with trees and ornaments. The upper floor features original artworks and artifacts collected by previous family members, alongside modern displays of theatrical outfits and contemporary furnishings. But one thing that remains constant in every room is the Christmas trees. The displays of trees and ornaments will change from year to year, but the ornaments you see are always all handmade and use materials and items that are grown or produced on the grounds of the Doddington Estate. You'll get a good idea of the vast array of Christmas trees they have here, with some rooms being stuffed full of them, so much so that some trees are wedged into smaller spaces than they can fit, and some are suspended from the ceiling, creating a beautiful arty display of hanging trees.
3. Browse The Bauble Barn
When you enter the Bauble Barn at Doddington Hall, there's no mistaking what this incredible little shop is all about. But this is no ordinary Christmas ornament store; this is a very special bauble barn! For a start, it's not just baubles being sold in here. There's every kind of Christmas decoration and accessory. The Christmas wreaths are especially stunning, made with locally grown sprigs and pine cones. There are baubles and ornaments made of glass, wood, and tin, and everything has a distinctive country house feel to it, rustic but opulent at the same time. The most interesting ornaments in the bauble barn, and the most popular, are the Bollywood baubles. One of the few items not made locally, the Bollywood baubles are made in India of glass and papier-mache. These ornaments are unique, and you can be sure your neighbors don't have anything quite like this.
4. Buy Your Homegrown Christmas Tree
The Christmas Tree Yard, on the grounds of the hall, is open from November 21st until December 23rd. Christmas trees have been grown here for the past 60 years, in the natural woodland setting that's part of the estate. Doddington Hall mainly grows Norway Spruce and Nordman Fir trees, which are priced between 15 and 800 pounds, depending on the size and type of tree you want. You can also purchase flocked trees for that 'just snowed' look. The great thing about the Christmas Tree Yard is being able to wander around so many freshly cut trees to choose the one that's just right for you. You can even get some top tips from the experienced staff on how to choose the best tree for you and your home and how to take care of it once you have it in place in your house.
5. Shop For Christmas Treats In The Farm Shop
The Farm Shop at Doddington Hall is by far the largest farm shop I've ever been in; in fact, it's more like a small supermarket! The range of products in this on-site shop is very impressive, with favorites such as the gin and tonic cake and the chocolate sheep on a stick. There's a large fridge and freezer section and a deli to the rear. Outside the shop are displays of locally grown fruit and vegetables, but be aware these sell out fast. At Christmas time, the Farm Shop has the added delights of Christmas treats like candy canes, handmade mince pies, and mulled wine. You can buy a traditional Christmas fruit cake and miniature chocolate Santa, plus some unique gifts like jars of local honey and locally sourced beers and spirits. There's even a tasting area for the selection of fine wines.
6. Eat, Drink, And Take Afternoon Tea
Whether you want a filling locally sourced meal, afternoon tea, or just a quick coffee, Doddington Hall has something that suits you perfectly. For a stately home, there's an impressive selection when it comes to places to eat and drink. The cafe is where you want to head if you need lunch. Everything on the menu is homemade, and the hall prides itself on offering locally sourced, sustainable food wherever it can. You'll mostly find seasonal produce on offer, as all fruits and vegetables come straight from the hall's kitchen garden. For a little luxury in the afternoon, you can take afternoon tea in the tea rooms. You'll feel like you're aristocracy itself as you sit down to sandwiches, freshly baked scones with jam and clotted cream, a fine selection of homemade cakes, and pots of tea, or if you're feeling really luxurious, prosecco. Everything is served on vintage china, bringing you the atmosphere of regal opulence. But if all you want is a quick coffee while you wander the gardens, the coffee shop is situated next to the bike shop and serves hot drinks and a selection of snacks. Some of these snacks take the form of burgers and hot dogs!
7. Stay In One Of The Holiday Cottages
To really make the most of your visit, you can stay over in one of the four beautiful holiday cottages. The cottages are all in the hall grounds and have been lovingly decorated and renovated to create a home away from home. Shakespeare Cottage is a converted barn that sleeps up to eight guests. The Old Brewhouse was the original Elizabethan brewhouse and is now a beautiful cottage that sleeps up to 12 people. The Stable Yard, the former hall's stables, is a large property in the heart of the estate itself and sleeps up to 14 people. And Holy Farm is a traditional Georgian farmhouse that sleeps up to 10 people. All of the four cottages are in keeping with the house's atmosphere and have original features and lovely welcome packages on arrival. Note, Holy Farm is not suitable for anyone with mobility issues, but the other three properties are all accessible.
Pro Tip
Visit in late November/early December before it gets too busy. You'll have a leisurely Christmas trip around the house and gardens without the crowds. Be aware that the upper floor of the house isn't accessible to wheelchairs. There's no lift, but the stairways aren't steep and feature wide steps, so depending on your level of mobility, it may or may not be possible to reach the upper floor. If you can't get up there, there is a virtual tour of the upper floor available to you in the comfort of the ground floor.
Related articles: