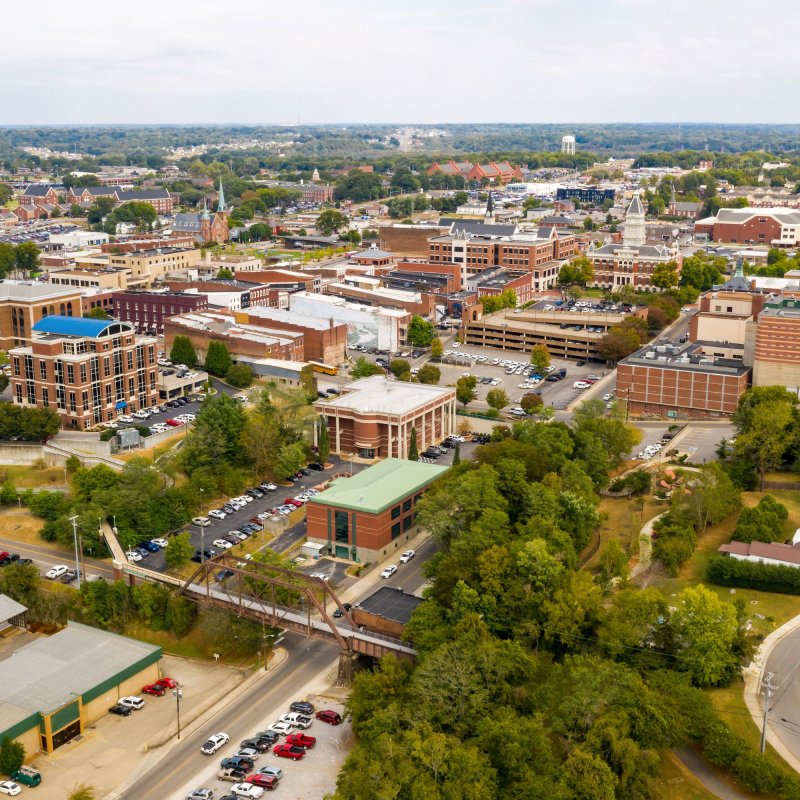 Clarksville, Tennessee, is one of the oldest cities in the state, yet it's anything but sleepy. Founded in 1784, it offers a small-town feel due to its historic downtown architecture and serves as an exciting outdoor playground due to its surrounding parks. A natural beauty, this city at the junction of the Cumberland and Red rivers is located 40 miles northwest of Nashville. It was named 2019's Best Place to Live by Money because of its affordability and dedication to helping small businesses thrive. You won't find a chain coffee shop in town. Instead, you will discover craft breweries, southern and world cuisine, unique art, funky antique stores, and military history from the Civil War to the present.
Winter, spring, summer, or fall, this charming southern city has events and seasonal activities that delight and entertain locals and visitors. With 210 sunny days a year (on average) and temperatures around 70 degrees (depending on the season), the weather is sure to cooperate. While it does get hot and humid in the summer, the shade in the 32 local and state parks and the rivers' calm waters come in handy. Here are four seasons of reasons to check out Clarksville.
Winter In Clarksville
Winter is a magical time in Clarksville. It is a creative, artistic season to explore museums, see a theatrical production, or learn how to create your own blown glass. In December, the town gets festive and decorates all the stores to the nines. This city puts the spirit of Christmas out there for everyone to enjoy. It's a glorious place to be around the holidays and into the winter months. Take part in making something unique, or shop for one-of-a-kind art or antiques to bring back home.
Turn On The Lights
Winter in Clarksville is a particular time where the city puts on quite a show — light show, that is. There are three glorious light experiences that make the town sparkle at Christmas time. First is Christmas on the Cumberland; a million lights illuminate the half-mile walk along the river. As you stroll at your own pace, you will marvel at the reflection off of the water. Next, head downtown for dinner and delight in the millions of lights that decorate the historic buildings. You will be wowed by the display. And, for even more dazzle, hop in your car and drive to the Clarksville Speedway. You can move around the track for a mile to experience a captivating three-million light extravaganza, all from the comfort of your vehicle.
Visit A Vintage Theater
The art-deco Roxy Regional Theatre opened in 1947 and showed first-run movies until 1980. In 1983, it became a regional theater. In 1995, it began offering live productions for entertainment purposes and school-curricular projects; the Roxy's legendary stage has seen professional actors and students in plays. Famous musicians have graced its boards while filming their music videos. The theater offers professional company and community offerings year-round, and for Christmas, modern and classic holiday movies are shown at the 40-seat black box space.
Wander Around A Museum
The Customs House Museum and Cultural Center was originally built in 1898 as a U.S. Post Office and customs house for the tobacco trade. Architecturally, it is a gorgeous structure that is one of the most photographed buildings in the region. Inside the 35,000-square-foot building is a general interest museum and art gallery that shows various permanent and rotating exhibits. In the Heimansohn Gallery sits one of the largest interactive model railroad layouts in the region, where automobiles move and helicopters fly. A joy for kids and adults alike. The museum gift shop, Seasons, is a must-stop for crafted jewelry, pottery, stained glass, home accents, art prints, books, and toys of all kinds.
Admire (And Create) Beauty On The Farm
Erin's Farm offers glass blowing workshops where you can watch, learn, and participate in making your own beautiful pieces. Then walk around the centuries-old farm to enjoy the trees with a cup of hot chocolate.
Spring In Clarksville
Springtime in Clarksville means rain showers bring beautiful May flowers. The budding trees and mostly sunny skies lead to plenty of outdoor adventures. The temperature is perfect for enjoying all the gorgeous colors and getting outside.
Step Back In Time To Historic Collinsville
The Historic Collinsville pioneer settlement is a living history museum depicting life in rural Tennessee from 1830 to 1900. JoAnn Weakly and her husband Glenn began work on restoring Collinsville in 1974. They wanted to preserve this particular piece of history. Today, there are 16 restored log cabins furnished with authentic period pieces and artifacts. This time capsule chronicles life before and after the Civil War. It's a history lover's dream. The 40-acre park-like setting includes a wildlife center detailing the Middle Tennessee region's flora and fauna, walking trails, and a picnic area to enjoy the blooms. The tours are self-guided. Take your time to enjoy the peace and quiet and reflect on the past.
Sip Tennessee Wine At Beachaven
Beachaven Vineyards and Winery is the oldest single-family owned winery in the state. After receiving their license in 1986, they started winning gold in the competitions they entered. Their award-winning wines can be sampled at their vineyard by booking either a tour or a tasting. A full experience includes viewing the grounds and winemaking facility, a full wine tasting, and grabbing a souvenir glass. Afterward, you can purchase wine in their gift shop or enjoy a drink with your picnic on their beautiful estate. Twice each month on Saturdays from May to October, Beachaven offers Jazz on the Lawn, an outdoor concert. Bring a picnic or lawn chair and grab a spot. If you arrive early, you are treated to a complimentary tasting flight.
Hit The Trails
A great way to discover the city is by bicycle. B-Cycle rental stations are available at multiple locations (Liberty Park, McGregor Park, the Clarksville Greenway, the Cumberland RiverWalk, and downtown). Plus you can rent and return them at any station. Trails like the 9.2-mile Clarksville Greenway are paved and include hills and flat sections. The Greenway is scenic. You will admire so many native plants as you ride along the trail that runs along the Red River and the Little West Fork creek. There are bluff walls, tree canopies, overlooks, and a 600-foot pedestrian bridge. You will enjoy being outdoors but love that you are still in the middle of town. Another trail with river views is the Cumberland RiverWalk. The RiverWalk is one mile but has an extension that connects it to the Red River Bridge. Other routes to explore by car include the Public Art Trail and the African-American Legacy Trail. The Legacy route features 20 people and places that helped shape both Clarksville and our nation's history.
Pro Tip: After you ride on the Cumberland RiverWalk, head uptown to Strawberry Alley Ale Works or Blackhorse Pub and Brewery for some delicious food and much-needed refreshment after all that pedaling.
Summer In Clarksville
The sun shines brightly and the heat turns up during the summer in Clarksville. It's the season to spend outside in a park to discover Tennessee's early history from its indigenous people through the Civil War. After that, a swim, paddle, or boat ride on the refreshing waters is a must.
Discover Fort Defiance Civil War Park
Due to its hilltop location, Fort Defiance (now Fort Defiance Civil War Park and Interpretive Center) has been a strategic spot since the beginning in Clarksville. First for Native Americans, then chosen by the Confederate Army as the site to build a fort to protect the rivers. It was renamed Fort Bruce when the Union Army captured it in 1862 and stayed in their control for the war's remainder. Runaway and freed slaves fled to the Fort to find work, and many were employed there. In 1982, Judge Sam E. Boaz and his wife Broecksie donated the property to the city. After securing grant money, construction began on an interpretive center and a mile of walking trails. The fort is well preserved, including the outer earthworks, powder magazines, and gun platforms. Reenactors explain what they experienced at the fort, and weaponry is on display. Visitors can watch a film, learn about emancipation, the United States Colored Troops, and the freedmen's camp at the fort.
Climb Inside Dunbar Cave
Dunbar Cave is cool. The temperature inside is a consistent 58 degrees, but it is also a public treasure where prehistoric Mississippian Native American cave art dating to the 14th century was discovered and preserved. The drawings are protected as part of Dunbar Cave State Park, and tours are conducted from June to September. Surrounding the cave is a 144-acre park that includes three miles of trails, a museum, and a gift shop. It is also a habitat for several rare animals. Dunbar Cave has a fascinating recent history that includes visits in the 1940s by greats from the Big Band era. Famous musicians, including Tommy Dorsey, Glenn Miller, and Lena Horne, performed for enthusiastic teenagers looking to enjoy a summer dance in a more relaxed location. Country music legend Roy Acuff made it a country music experience in the 1950s. It is an excellent site and a must-see when in Clarksville.
Cool Off In The Water
There are 650 miles of navigable water around Clarksville. When it's hot, locals and visitors hit the water to fish, kayak, canoe, boat, or tube. The Clarksville Marina at Liberty Park is an access point to the Tennessee River Blueway and a popular spot. Bronze statues of two Clarksville natives and Olympians, gold medalist Wilma Rudolph and famed basketball coach Pat Summitt, welcome visitors to the park. Liberty Park offers boat slips and launches, walking trails, fishing ponds, and a restaurant with a view. Robert Clark Park is another access point at the West Fork Red River and is a terrific place to explore nature and observe wildlife. Rentals are available at local outfitters.
Learn About The Screaming Eagles
If you like military history, the Don F. Pratt Museum covers the 1940s to the present. The museum's extensive collection traces the history of the 101st Airborne Division's Screaming Eagles. Reservations are required for guided tours.
Fall In Clarksville
As the temperatures cool, the beauty of Clarksville turns autumnal. The leaves start to change orange-red, and farms on the town's rural outskirts begin to harvest tobacco or open up for hayrides, pumpkin picking, and corn mazes. Exciting festivals in town make the most of the harvest season.
Party At Riverfest
Riverfest is a favorite event in Clarksville. Usually held in early September, this three-day event is a music and arts festival held along the Cumberland River banks. It is an end-of-summer block party with music, food, art, and activities for kids. Some of the events have included a cardboard boat regatta on the Cumberland, a 5K race, movies in the park, and a huge firework show to close the weekend.
Taste A Brew At Oktoberfest
Throughout the fall, German food and beer are served at Oktoberfests all around town. It is also the kickoff when Clarksville's wineries, breweries, distillery, and meadery release their unique seasonal offerings. Since the temperatures are less humid, it also becomes prime al fresco dining weather. One terrific choice, Liberty Park Grill, has a lovely patio that overlooks the Clarksville Marina. Reserve a table here and request one outside so you can enjoy a perfect river view.
Downtown Market
The Clarksville Downtown Market is a mini-festival. Considered a top-rated open-air market, it features locally grown produce and artisan made baked goods. Handcrafted products and gifts are also for sale. In true Clarksville fashion, there is art for sale and entertainment to serenade you while you shop. It's a party atmosphere that occurs downtown every Saturday morning from May through October.
A Helpful Resource
Clarksville has activities or events almost every month. It's one of those hidden gem destinations with so much to offer any time of the year. For more information about Clarksville events, check out their events calendar.
Further Reading: