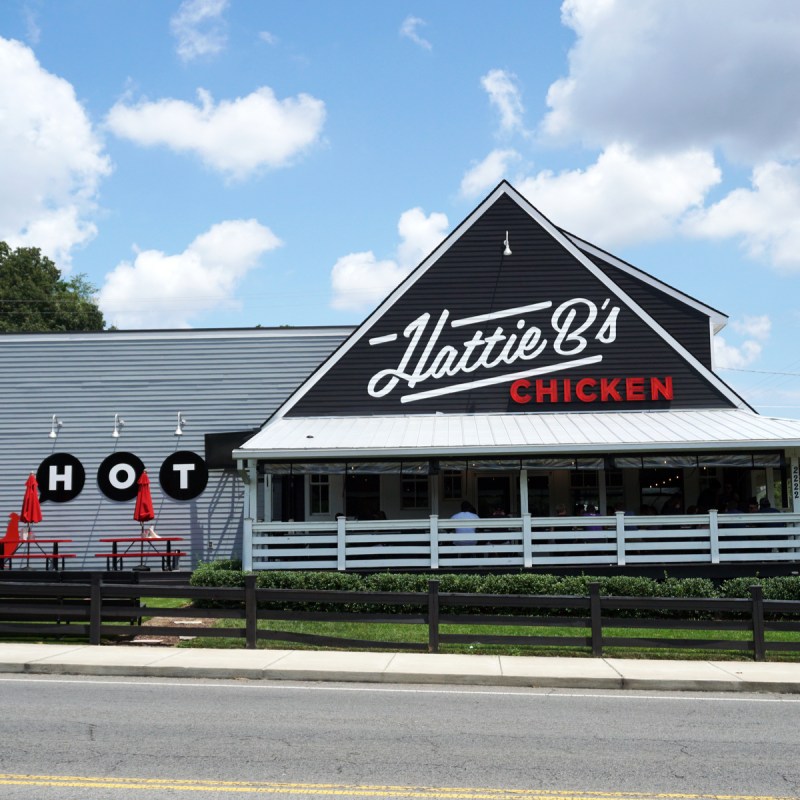 Nashville's reputation as a culinary hot spot has grown significantly in recent years, and the city's unique take on fried chicken certainly deserves some of the credit for that growth. However, unlike other flavor-of-the-month food trends, hot chicken has a rich history — including an appropriately spicy origin story.
These days, you can find a hot chicken spot in just about any major city, but given the dish's lore, Nashville is still the best place to try it for yourself. Here's everything you need to know about Tennessee's most delicious — and controversial — chicken dish.
Hot Chicken Is Exactly What It Sounds Like
Recipes vary, but hot chicken isn't an especially complicated dish. It consists of fried chicken — that's the easy part — and a blend of spices that typically includes cayenne or jalapeno peppers, chili powder, paprika, brown sugar, and buttermilk. Most restaurants marinate the chicken for hours, ensuring a burst of fiery flavor with every bite.
In most preparations, hot chicken has a bright red appearance. Grab a hold of a piece, and your fingers might be stained for days. The flavor is, in a word, extreme. In Nashville, restaurants push the spiciness to insane levels, and while the taste might get your mouth watering, your eyes won't be far behind.
Nashville Is Still The Best Place To Try It
Hot chicken is a thoroughly Southern dish, and it's best enjoyed in its original setting — preferably, with a large glass of milk for when the spiciness becomes unbearable. While restaurants throughout the United States serve the dish, the atmosphere is part of the draw.
Places like Prince's Hot Chicken attract thousands of customers per year, and those customers come to the restaurant specifically to test the limits of their taste buds, not to dine with foodies (no offense, foodies). The main course is often served up with an array of Southern comfort food sides, including macaroni, fries, and black-eyed peas.
One Family Holds The Classic Recipe
According to The New Yorker, Andre Prince Jeffries is the "queen mother" of hot chicken. She's the current owner of Prince's Hot Chicken, and her family claims to have invented the popular dish. The family has served hot chicken to Nashville residents for more than 80 years, and they fiercely guard their recipe; their workers have to sign agreements to keep the secret, and cameras aren't allowed in the kitchen area.
To many devotees, Prince's Hot Chicken serves the most authentic take on the dish. Even so, Prince's isn't the only place to get a quality plate of red-hot chicken. Pepperfire Hot Chicken, Hattie B's Hot Chicken, and Moore's Spicy Fried Chicken all offer their own excellent versions, so if you can't get in at Prince's, you'll still have plenty of options.
A Scorned Lover Came Up With It
Per local legend, hot chicken started with Thornton Prince III, the great-uncle of Andre Prince Jeffries. In the 1930s, Thornton allegedly came home late on a Saturday night, angering his girlfriend.
She decided to take revenge on him for his apparent infidelity: When he asked for his favorite dish, fried chicken, she added cayenne pepper and other hot spices to the recipe. He suffered, but several days later, he had a craving for more. Soon, he was selling hot chicken out of his home on weekends. Later, he opened a barbecue joint, and his family took over the operation when he passed on.
The Spice Is Intense
Be warned: If you don't enjoy spicy foods, you'll feel out of your element at a Nashville hot chicken joint. The spiciest recipes carry a serious punch that can last for hours. However, most restaurants (including Prince's) offer varying levels of spiciness, so you can start with a relatively mild spice level and work your way up.
So, is hot chicken worth seeking out? Definitely, but to outsiders, it can seem like an overrated food trend at first taste. Hot chicken devotees claim that the dish works its way into your subconscious.
Don't be surprised if you're underwhelmed by your first plate… and if you wake up late at night wishing you had leftovers. For dedicated culinary explorers, hot chicken is an essential bucket-list item, and Nashville is the only place to get the authentic experience.
Planning a trip to Nashville? Check out our local's guide to the city's music scene.