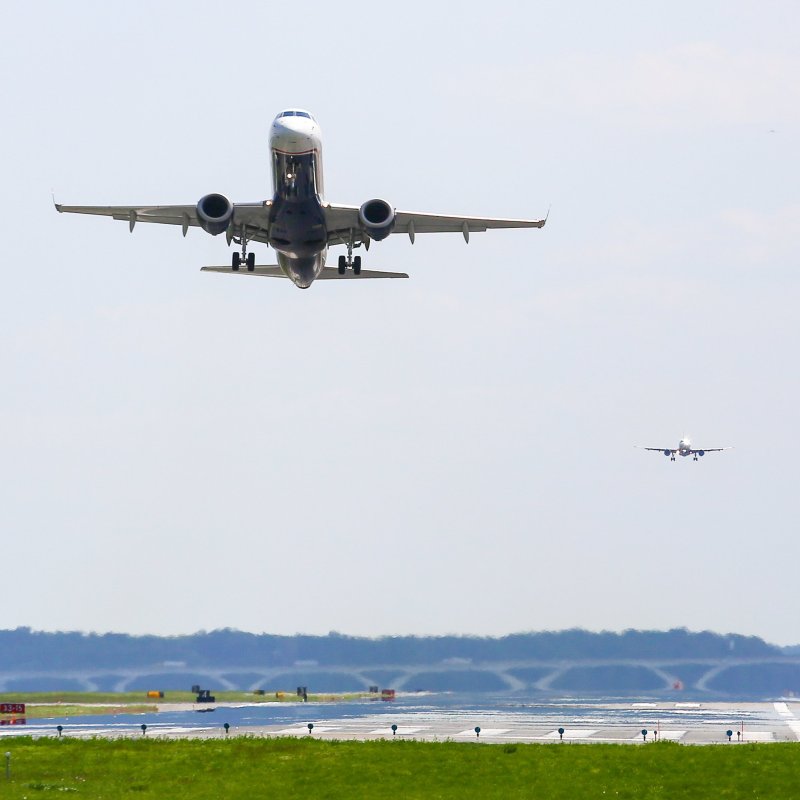 Traveling via plane is an exciting way to reach new destinations. But, watching planes take off and land can be equally as riveting. There's something about seeing a large plane land so close to you that you may be able to see the passengers onboard! Here is a list of some of the best and most unique places to watch airplanes take off and land in the United States.
1. Secret Surprise
Sorry tourists, this secret oasis requires a ticket to enter. That's because the observation area at Minneapolis St. Paul International Airport (MSP) is inside the terminal. But, not everyone knows about it. There's a secret entrance in Terminal D's atrium. Look for the staircase to the left of the atrium; it may be hidden by a vending machine. Climb those stairs, and you will find yourself in a room surrounded by large windows with a direct view of planes coming and going. And since it's relatively unknown, this observation area is not overly crowded and can be quite peaceful.
A lot of travelers go to this secret spot for its tranquility and escape from the airport's loud noises, especially during extended layovers. But, take note: There is no elevator! You have to climb a number of stairs up and down, so you may want to leave your bags behind.
If you aren't traveling but still want to watch planes take off and land at MSP, you can go to the public viewing area located just next to the airport. This free outside area has picnic tables, a parking area, and a direct view of planes landing and taking off from one of the airport's four runways.
For more to do in and around the Twin Cities, check out all our Minneapolis content here.
2. I'll Take Fries With That!
The most delicious place to go plane spotting in the U.S. belongs to Los Angeles International Airport (LAX). You can down a double-double burger while watching planes land from the nearby In-N-Out Burger. The popular fast-food chain sits on the northeast corner of LAX and has a direct view of planes landing on runway 24R. A popular picture taken at this location is a plane in between palm trees while on final approach. The planes in this area are pretty low to the ground, which means it can get pretty loud!
Keep in mind that In-N-Out Burger is a very popular fast food joint with tourists and locals alike, so most of its 350 restaurants are normally busy, but this location is especially packed. Don't be surprised to find a line out the door to order inside and a drive-thru line that wraps around the building. Make sure to allow plenty of time for this plane-spotting adventure.
Headed to Tinseltown? From how to get around in Los Angeles to how to do an LA taco crawl, here are all our Los Angeles recommendations.
3. Sitting On The Dock Of the Bay
Stroll or sit by the bay to watch planes take off and land at San Francisco International Airport (SFO). Bayfront Park is on the southern corner of the airport and provides unobstructed views of planes just over the San Francisco Bay. The park has a dedicated walking trail, so you can take a stroll as you look for planes. Or if you need a break, there are plenty of benches along the trail to sit and watch planes across the bay. The public park is within walking distance from several airport hotels, so it's easily accessible for travelers visiting the San Francisco area.
Inside the airport, there is a relatively-new observation area. The SkyTerrace is located pre-security in Terminal 2. The area is open to the public, but you will need to undergo screening in order to enter. The SkyTerrace has benches and landscaping, and there are plans to open a cafe in the future. In the meantime, you are allowed to bring food and drinks onto the SkyTerrace. And while you are watching planes, you can also take in a bit of the history of SFO. The observation area includes a museum dedicated to the architecture and innovation of the airport buildings that once stood where the SkyTerrace is today. There are historic pictures, narratives, and statues.
4. Listen While You Watch
Engage all your senses while watching planes land at Dallas Fort Worth International Airport (DFW) from nearby Founders Plaza. The plaza was built as a tribute to the founders of DFW and was dedicated in 1995. It features a large viewing area with picnic tables, an airport monument, and telescopes so you can really see the planes. The highlight, however, is listening to the air traffic controllers via speakers around the plaza. It's neat to listen to how air traffic controllers communicate with pilots while navigating a plane's final approach and landing. You can easily spend an entire afternoon at Founders Plaza. Pack a picnic, cozy up on a blanket, and listen while you watch the planes.
Pro Tip: Fort Lauderdale-Hollywood International Airport is another place when you can listen to air traffic controllers while watching planes land.
Get ideas for your time in Dallas here or your time in Fort Lauderdale here.
5. A View With A History Lesson
Planes landing at Washington D.C.'s Ronald Reagan Washington National Airport (DCA) take a unique approach. Since the capital city is so densely populated, planes are routed to create the least amount of noise possible over the city. To do this, planes landing at DCA must approach the airport over the Potomac River, then at the last minute, the plane must cut over Gravelly Point Park in Arlington, Virginia, before landing.
The close proximity to the airport combined with the unique approach to landing makes Gravelly Point Park one of the best places to go plane spotting in the U.S. It feels like you can literally touch the planes. The park is free and open to the public all year long. It has a large grassy area perfect for a game of fetch with your furry pet, a picnic, or just to sit and relax. The park is accessible by foot, bike, or car. You can easily drive to Gravelly Point Park by taking the George Washington Parkway; alternatively, a lot of visitors approach the park via the walking and biking trail that shoots off the popular Mount Vernon Trail. One note about plane spotting at Gravelly Point Park — since it's so close to the runway, it tends to get very noisy! Bring some earplugs if you're sensitive to loud noises.
Spending time in the D.C. area or Northern Virginia? Consider our perfect food and culture road trip from Washington, D.C., to Culpeper, VA.
6. Take A Dip
The newest plane-spotting location on our list is also the most hip. The observation deck at the newly-built TWA Hotel in New York has a direct view of planes landing at John F. Kennedy International Airport (JFK). You can watch planes land on two different significant runways. Runway 4L/22R — which you can see from the observation deck — is the fifth busiest runway in the country, and runway 13R/31L — which you can see from the infinity pool — is the second-longest runway in the U.S.
The TWA infinity pool is the only place in the U.S. where you can watch planes take off and land while taking a dip. The pool is cool in the summer and heated in the winter. It has a beach entry and seating underwater making it a comfortable and relaxing spot to watch planes.
The observation deck is called Runway Chalet, and it's a retro apres-ski inspired lounge. The chalet offers quick bites and creatively-named cocktails, like Jet Fuel and Quickie Vacation. The entire area is decorated in vintage TWA colors and decorations, all the way down to the original logo at the bottom of the pool. Be sure to check the hotel's website, as sometimes only hotel guests are able to access the Runway Chalet and infinity pool. Other times, day visitors are permitted.
Pro Tip
Make your plane spotting adventure even more fun by learning about the different airlines and types of planes they fly. You can easily find descriptions of airlines' markings as well as descriptions of different planes and how to tell them apart in the air.