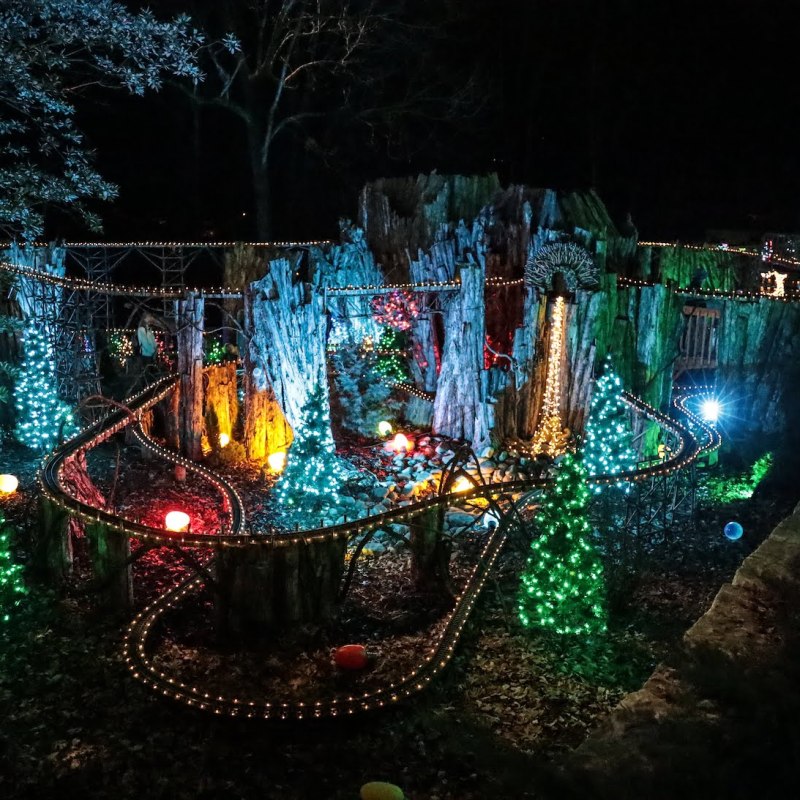 Spring — when most flowers bloom — may be the busiest time for botanical gardens, but this time of year can also draw very high numbers of visitors. That's because many botanical gardens are known for their elaborate displays of holiday lights.
Botanical gardens and holiday light shows are well suited for each other. First of all, botanical gardens have large, open areas tailor-made for walks. Secondly, bright, twinkling lights are appealing, especially during the shortest and darkest days of the year. What's more, seeing holiday lights can even improve your mood.
Here are our 10 picks for beautiful botanical gardens to visit during Christmas.
1. Atlanta Botanical Garden
Atlanta, Georgia
Located in Midtown Atlanta, Atlanta Botanical Garden's 30 acres really shine during the holidays. Year after year, Garden Lights, Holiday Nights has been named the best holiday event in metro Atlanta by readers of the Atlanta Journal-Constitution. This year, fan favorites such as the Ice Goddess return alongside an all-new installation of birds by French artist Cédric LeBorgne, flocking to the recently renovated Anne Cox Chambers Garden. Three giant sculptures from the spring/summer exhibition, "Origami in the Garden" get lit up.
2. Chicago Botanic Garden
Glencoe, Illinois
Lightscape returns to the 385-acre Chicago Botanic Garden for its fourth year, from Friday, November 11, 2022, to Sunday, January 8, 2023. A mile-long trail takes visitors through a 130-foot-long lighted tunnel filled with 700 handmade acrylic stars and an illuminated forest while they enjoy artistic installations.
Warm up in the Fire Garden. Spark Ballet features dancing lights in lanterns, while Flynn is made up of luminous objects that change colors and seem to be floating above the ground.
3. Missouri Botanical Garden
St. Louis, Missouri
MoBot's Garden Glow celebrates 10 years in 2022 with 2 million dazzling lights. At just a little over a mile long, the path takes about an hour and a half to walk. Enjoy light installations throughout the garden while stopping for photo opportunities. Santa will be onsite on select dates. During Family Nights, Wednesdays November 23–December 14, kids ages 3-12 can get in for just three bucks!
4. Boerner Botanical Gardens
Hales Corners, Wisconsin
Boerner Botanical Gardens is just 16 minutes outside of Milwaukee. Winter Wonders features over a million LED lights. What's different about this holiday light experience is that visitors stay in their cars and drive the nearly 1.5-mile route, which winds through the gardens, Whitnall Park, and the Root River Parkway. While looking at 2D, 3D, and animated displays made of theatrical LED colored lights, attendees can listen to an accompanying radio broadcast of holiday music. This year, look out for the new snow flurry tunnel!
5. New York Botanical Garden
Bronx, New York
Returning for its third year in 2022, NYBG Glow is home to the largest outdoor holiday light experience in New York City. The Enid A. Haupt Conservatory reflecting pool and surrounding gardens are lit up as well, with colorful choreographed lights and sound. Be sure to check out the Holiday Train Show® in the Haupt Conservatory.
6. Desert Botanical Garden
Phoenix, Arizona
Celebrating its 45th year in 2022, Las Noches de las Luminarias at the Desert Botanical Garden has become a holiday staple for many in the Phoenix area. Starting at the beginning of December and continuing throughout the month, the garden's lovely trails are lined with 8,000 flickering luminaria bags. In addition to lights dotting the garden's lofty saguaros and spiky agaves, the event features musical performances. This year, guests can head over to Webster Auditorium to create their own winter village out of stones and moss.
7. Dallas Arboretum And Botanical Garden
Dallas, Texas
At Holiday at the Arboretum, visitors can walk through the garden while looking at 25-foot-tall Victorian-style gazebos decorated to represent the 12 Days of Christmas. At night, the display is illuminated by more than 1 million lights. Decked out in 42,000 dancing lights, the 50-foot-tall Dazzling Musical Tree returns to its spot overlooking White Rock Lake this season as well. The new Artistry of Faith & Culture seasonal exhibit celebrates Christmas, Hannukah, and Kwanzaa.
Stop by the Christmas Village, inspired by European Christmas markets, or Christkindlmarket. The village features 12 shops, including a bakery, a candy shop, and Santa's House. Volunteers dressed as shopkeepers are in the stores in the evenings and during weekends.
8. Denver Botanic Gardens
Denver, Colorado
Blossoms of Light™ has been an annual tradition at the 24-acre Denver Botanic Gardens for more than 30 years. Twinkling LED lights illuminate the York Street location, turning its flora and naturalistic landscapes into a winter wonderland.
If you feel like having a snack or drink, the Hive Garden Bistro and Offshoots Café will be serving holiday treats and hot drinks. Visitors should plan to allocate between an hour and 75 minutes to see the entire display.
9. Cheekwood Estate And Gardens
Nashville, Tennessee
Holiday LIGHTS at Cheekwood is a holiday favorite in Nashville. The one-mile trail through the 55-acre garden is lit by more than one million lights. Visitors can see the Children's Wonderland of 17 tall, colorful cones and two of Santa's reindeer, who visit during the daytime. The Garden's TRAINS! exhibit is even decorated for the holidays. Don't forget to visit Cheekwood's beloved poinsettia tree. Located in the historic mansion, the 20-foot-tall tree makes for a great family holiday photo. Finally, s'mores and bar stations make spirits even brighter.
10. Longwood Gardens
Kennett Square, Pennsylvania
Longwood Gardens, just an hour outside of Philadelphia, presents A Longwood Christmas. More than 500,000 lights are used to illuminate more than 100 trees and special displays throughout the Gardens. Lights that sparkle are used to mimic the fountain jets of the Main Fountain Garden, while the trees bordering the Large Lake serve as the backdrop for a light show set to holiday music. Visitors are also able to walk through a 140-foot-long tunnel of light and exit to see a grove illuminated with colorful lights. Finally don't forget to check out the Wildlife Tree, which is decorated with hundreds of handmade ornaments that feed birds and wildlife.
Pro Tip: Don't wait to buy your tickets, many of these events are known to sell out!
Related Reading:
8 Gorgeous Holiday Light Displays From Around The World