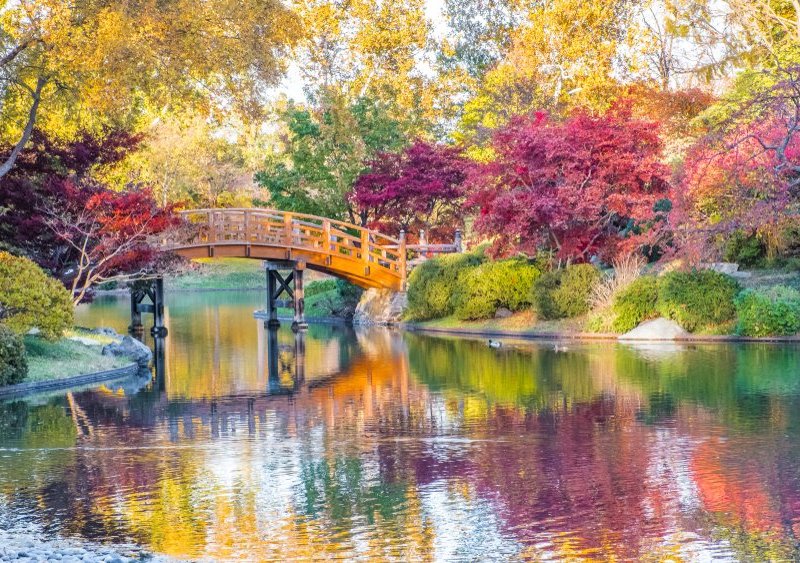 Where should you go to find peace and serenity as well as a long list of fun things to do? A botanical garden, of course. These beautiful retreats are not only a feast for the eyes but also a feast for the ears, nose, and sometimes even tastebuds. Across the United States, you'll find botanical gardens with massive redwood trees, tiny wildflowers, plants from around the world, and rare native species that are being carefully conserved. Some gardens offer an extensive list of tours and programs, while others are absolutely free. If you think that botanical gardens are nothing but tired roses, these 12 remarkable gardens will change your mind.
Longwood Gardens, Kennett Square, Pennsylvania
Just an hour outside of Philadelphia sits a slice of paradise otherwise known as Longwood Gardens. The lily pond alone is worth the drive — you'll feel like you're part of a Claude Monet painting. Other beautiful attractions include an orchid house, a meadow garden with walking trails, and an illuminated fountain. The fountain's water spurts are set to music, making it an especially fun attraction. If you ask me, the Fountains of Bellagio in Las Vegas have nothing on Longwood! Note that a timed ticket reservation is required in order to keep the crowds manageable.
Chicago Botanic Garden, Glencoe, Illinois
If Longwood gives you a touch of Monet's France, the Chicago Botanic Garden will transport you to John Singer Sargent's England. Its English walled garden contains primroses, wisteria, and thyme. The garden cites both Beatrix Potter and Jane Austen as influences — how romantic is that? It is also known for its extensive collection of spring bulbs, bonsai trees (some 185 of them), and prairie plants. There's even a children's garden for the little ones in your party.
Lewis Ginter Botanical Garden, Richmond, Virginia
Not many botanical gardens can claim to have an on-site maternity ward, but the Lewis Ginter Botantical Garden has just that — for butterflies! The garden's butterfly nursery hosts native butterfly species as they emerge from their chrysalides, and lucky guests have the opportunity to peek inside to see their progress. The adult butterflies will be happy to see you as well — they'll land on your shoulders as you walk through their enclosure. (Note that this attraction is only available between April and October.) The children's garden, with its giant treehouse, rose garden, and cherry tree paths, is especially photogenic, as is the classically inspired glass-domed conservatory.
Desert Botanical Garden, Phoenix, Arizona
You might not believe that a beautiful garden with bountiful blooms could thrive in the Phoenix heat. However, the Desert Botanical Garden is home to 140 acres of plants, all of which thrive in the desert. As you might expect, there are cacti and succulents aplenty, but you might be surprised at some of the other heat-tolerant plants, including the whimsically delicate desert wildflowers. The Desert Botanical Garden also features seasonal exhibits on butterflies and birds, and it regularly hosts art installations. The Electric Desert exhibit features plants, light, and sound after regular hours.
Missouri Botanical Garden, Saint Louis, Missouri
The Missouri Botanical Garden in Saint Louis has the distinction of being the nation's oldest continuously operated botanical garden. It opened in 1859, and the home of the founder, Henry Shaw, is still standing.
After immersing yourself in the garden's enchanting beauty, consider unwinding at one of the best hotels in St. Louis.
Far from being old-fashioned, the garden showcases a traditional Japanese garden (among the largest in the U.S.), a tropical rainforest under a glass dome, and an English woodland garden with over 300 rhododendrons.
It also offers programs for kids, teenagers, and Scouts members. The garden's schedule of events sometimes includes wine-tasting seminars. Hey, grapes are plants too, right?
United States Botanic Garden, Washington, D.C.
Budget travelers, rejoice! The United States Botanic Garden is for you. This garden, one of the oldest in the United States, is absolutely free to visit. That's enough to attract even the most casual of garden fans, but the garden's location in central Washington, D.C., is an extra perk. The garden's conservatory includes a Hawaiian collection, which showcases the native plants of Hawaii; a collection of medicinal plants from all over the world; and rare and/or endangered plants. Be sure to ask for directions to the really old ferns! Outside, the United States Botanic Garden features the First Ladies Water Garden, which honors the spouses of the American presidents. Meanwhile, the rose garden is a work in progress — the staff is experimenting with different organic gardening methods.
The Huntington, San Marino, California
The botanical garden at The Huntington is part of a much larger organization that includes an art collection and an archive of rare books and manuscripts. The garden itself is divided into themed sub-gardens, including one dedicated to California's native plants. I loved the Australian garden, complete with kangaroo paws, orange groves, blue hibiscus, eucalyptus, and mint bushes. The herb garden contains many varieties that have long fallen out of everyday use. Check out the tussie-mussie bed to learn how these handheld bouquets of yesteryear would contain hidden messages!
Denver Botanic Gardens, Denver, Colorado
While Denver might make you think of mountains, the Denver Botanic Gardens will take you through multiple landscapes and climate zones — all within 24 acres. The Gardens of the West will be of huge interest to ecologically minded travelers, since it demonstrates the resilience (and beauty!) of drought-resistant species. The garden hosts a lot of community events, especially during the summer: musical theater programs for kids, a summer concert series, and an annual plant sale.
Maui Nui Botanical Gardens, Kahului, Hawaii
While considerably more modest than many of the other botanical gardens on this list, Maui Nui Botanical Gardens wins my heart every time. A registered nonprofit organization, the garden focuses on environmental sustainability, cultural preservation, and community ties. It features native Hawaiian plants and plants from other Polynesian islands. Its calendar of events includes some truly one-of-a-kind workshops. Have you ever heard of Breadfruit Day before? A visit here is a unique way to get off the Maui tourist trail and meet the locals.
Dallas Arboretum And Botanical Garden, Dallas, Texas
If you love going all out for the holidays, the displays and exhibits at the Dallas Arboretum and Botanical Garden will blow you away. The garden is especially famous for its Halloween displays, featuring 100,000 pumpkins in an incredible Pumpkin Village. But if you can't make it for a special holiday event, don't fret. The garden is a fantastic year-round destination — and it frequently hosts cooking classes and demonstrations. Kids will love the children's garden and its 20-foot-high waterfall.
Washington Park Arboretum, Seattle, Washington
The Washington Park Arboretum, jointly managed by the University of Washington Botanic Gardens and the City of Seattle, is home to more than 40,000 specimens, including an assortment of plants found nowhere else in the Northwest. It's the perfect place for a scenic drive, especially in the spring when the trees are in full bloom. What really makes it stand out is its Japanese garden. It's the largest Japanese garden outside of Japan, and seeing the cherry blossoms in bloom is an essential Seattle experience. There are also serene wetlands and woodlands. For just $20, you can ride a tram through the park and enjoy a narrated tour.
San Francisco Botanical Garden, San Francisco, California
Fans claim that the San Francisco Botanical Garden is the most biodiverse botanical garden in the world. It has everything from gargantuan redwoods to one of the largest collections of magnolias you'll find anywhere. Add in a garden just for fragrant flowers, another for moon-gazing, and one for tropical gardens of the equatorial mountains. Don't forget the succulent garden, the ancient plants, the plants of New Zealand, and the flowers of Chile. The list goes on and on! There's also a children's garden and garden camp program.